Bitcoin Price Index - Real Time Price Graph
Bitcoin (BTC)
...
A Brief History on the Price of Bitcoin
Let's take you over some of the noteworthy events that have impacted Bitcoin's value in the recent past and also understand how this pioneering cryptocurrency has evolved over the past decade, by glancing at its historical timeline.
Key News for Bitcoin
Bitcoin's price history is a clear reflection of the price volatility that the cryptocurrency market is widely recognised for. Its first significant price jump happened in 2010 when BTC appreciated from $0.0008 to $0.08 within a short span of time. It witnessed multiple rallies and crashes thereafter, month after month, and year after year.
On the whole, it won't be wrong to state that Bitcoin investors have had to face quite a bumpy ride over the past 12 years. But the ones who stayed invested have reaped huge benefits.
Bitcoin's next significant ascent happened in 2011 when its price jumped from $1 in April that year to a high of $32 in June 2011. A pullback followed, with bullish and bearish forces settling the coin in the $13 region by August 2012.
Then came 2013, one of the most decisive years for Bitcoin's price. A couple of huge rallies that year, one in April, and another towards the year-end, spiked up its value to $1,121 by December 2013. Tyler and Cameron Winklevoss, the American entrepreneurs popularly known as Winklevoss Brothers bought $11 million worth of Bitcoins in April that year and did their bit to keep the bullish sentiment going.
In December 2013, multiple financial authorities in different countries including Denmark, China, Lebanon, France, Malaysia and Norway, issued warnings against Bitcoin and other cryptocurrencies. As a result, BTC price gradually went south, receding to under $300 level by January 2015, only regaining its lost ground later that year when it consistently maintained an above-$400 level, with a push towards $500 and beyond by mid-2016.
This was also the time when Bitcoin's adoption was growing consistently across multiple industries including Gaming, Public Transport, Hospitality and more. On the other hand, downtrends were witnessed whenever there were any government crackdowns on crypto in any part of the world.
BTC was hovering around $1,000 at the start of 2017, a period that preceded the 5th significant rally that catapulted its price close to $20,000 by mid-December 2017. This was on the back of the Japanese government having declared Bitcoin as a legal property and payment method earlier in April that year, and several other adoption measures that followed in other parts of the world.
A slow correction followed, which continued for the most part of 2018, pulling BTC back into lower $3000s in early 2019. A continued bull-bear tussle created a new resistance level at $10,000 by 2020, a trend that continued for the entire pandemic year.
With many people investing in Bitcoin due to the uncertain economic circumstances resulting from the Covid-19 pandemic, BTC was back in business, and was trading well over $20,000 by mid-December 2020.
Not many people were aware that it was preparing for a historic bull run that would push its price to an all-time high of $64,804.72 on April 14 2021. This was on the back of Elon Musk's significant announcement in early February 2021 about Tesla buying $1.5 billion BTC, and accepting it as a payment for its cars.
However, it was Elon Musk who also brought about BTC's downfall a little later in May when he announced his fallout with Bitcoin owing to its environmental concerns. The next major blow was dealt by the crypto crackdown in China that sent the entire crypto market crashing down on May 19, 2021, wiping off more than half of BTC's gains and pushing it below $30,000 for a brief period of time. A new resistance level of $42,000 has been created since then and BTC continues to chase it even at the time of writing, trading at $38,397.
Bitcoin Timeline
September 9, 2010 — r/Bitcoin, the primary Bitcoin sub-Reddit gets created. It has more than 3.2 million members at the time of writing. Bitcoin price – $0.06.
November 6, 2010 — The Bitcoin market crosses $1 million. Bitcoin price – $0.29.
January 6, 2011 — Bitcoin is used and documented for the first time to make payment for work. Bitcoin price – $0.32.
May 1, 2011 — BitPay, the widely recognised Bitcoin payment service provider is launched. Bitcoin price – $4.09.
July 29, 2011 — MyBitcoin, a Bitcoin wallet service shuts down abruptly. The founder goes missing and all the wallets are frozen. Bitcoin price – $13.8. (Don't get caught out like this check out our best Bitcoin wallets page)
November 29, 2012 — First-ever Bitcoin halving happens at block number 210,000, causing a drop in the new bitcoins issued per 10 minutes from 50 BTC to 25 BTC. Bitcoin price – $12.60.
February 14, 2013 — Reddit starts accepting Bitcoin for purchase of its premium Reddit Gold membership. Bitcoin price – $27.
May 17, 2013 — First-ever Bitcoin conference takes place in San Jose. Bitcoin price – $123.88.
October 29, 2013 — First-ever Bitcoin ATM opens in Vancouver, Canada. Bitcoin price – $204.20.
February 7, 2014 — Mt. Gox, a popular Bitcoin exchange stops all Bitcoin withdrawals owing to insolvency resulting from an undetected theft. Bitcoin price – $701.61.
March 25, 2014 — The Internal Revenue Service (IRS) of the United States announces that it will treat Bitcoin as a property for tax purposes. Bitcoin price – $584.44.
June 11, 2016 — Bitcoin's market capitalisation crosses the $10 billion mark. Bitcoin price – $671.71.
April 1, 2017 — A Japanese law comes into force that brings the Bitcoin exchanges under the purview of Know Your Customer (KYC) and Anti Money Laundering (AML) rules. It also recognises Bitcoin as a type of prepaid payment instrument. Bitcoin price – $1098.07.
December 27, 2017 — Algeria passes a law banning the use of any type of cryptocurrency, including Bitcoin. Bitcoin price – $15,067.90.
January 17, 2018 — Chinese authorities express their intent to strengthen the ban placed in late 2017 on use of cryptocurrency and Bitcoin exchanges. Bitcoin price – $11,569.42.
March 14, 2018 — Google bans advertisements related to cryptocurrencies including Initial Coin Offerings (ICOs) and Bitcoin. Bitcoin price – $8307.22.
September 14, 2018 — Hackers steal $60 million worth of Bitcoin and a couple of other cryptocurrencies from Zaif, a well-known Japanese cryptocurrency exchange. Bitcoin price – $6500.
May 7, 2020 — Paul Tudor Jones, the well-known American hedge fund manager buys a large amount of Bitcoin as an inflation hedge to guard against excessive money printing by central banks all over the world. Bitcoin price – $9959.17.
June 10, 2020 — Coca-Cola Amatil, a well-known Asia-Pacific bottling company, begins providing the Bitcoin payment option through its 2000+ vending machines in New Zealand and Australia. Bitcoin price – $9874.90.
October 21, 2020 — PayPal, the popular American financial services company, launches a new service for its US customers, allowing them to easily buy, sell or hold Bitcoin directly through PayPal. Bitcoin price – $12,806.44.
January 5, 2021 — JP Morgan Chase makes a bold prediction of Bitcoin price potentially crossing $146,000 over the long term, comparing it with Gold. Bitcoin price – $34,082.
January 29, 2021 — Elon Musk tweets the hashtag #Bitcoin through his Twitter account. Bitcoin price – $34,151.
February 8, 2021 — Tesla announces having purchased $1.5 billion worth of Bitcoin. Bitcoin price – $46,308.
May 12, 2021 — Elon musk announces that Tesla will not accept Bitcoin for car purchases. Bitcoin price – $50,005.
May 19, 2021 — Bitcoin's price plunges significantly after China announces a crackdown on cryptocurrency-related services. Bitcoin price – $37,287.
Compare Bitcoin with Fiat Currencies, Commodities and Crypto
While Bitcoin was created to serve as a digital currency, it has attracted a great amount of interest from both long-term and short-term investors. As its value has increased exponentially over the past decade, it is often compared with a number of other tradable assets. Let's look at how Bitcoin fares against certain commodities, fiat currencies and its closest competitor Ethereum.
Compare Bitcoin with US Dollar
As the global economy continues to be in a recovery mode, trying to find its feet after the financial blow dealt by the Covid19 pandemic, the US Dollar has been quite resilient and has held onto its value fairly well so far in the year 2021. However, the same can't be said about Bitcoin. BTC witnessed plenty of price fluctuations in the year's first half, impacting the rest of the crypto market as well. It touched an all-time high in April, and was testing the $42,000 resistance level at the time of writing, recovering well after the May 19 crypto market crash.
Compare Bitcoin with Gold
Often referred to as the Digital Gold, Bitcoin has been compared to the yellow metal time and again, since its inception. Both are commonly used as safe options for value storage today and witnessed notable price appreciation in 2020 and afterwards. While Gold was trading at $2,067 per troy ounce in August 2020, it has come down by a few hundred dollars over the past year, and had reached $1814 per troy ounce at the time of writing. But its performance pales in comparison to its digital counterpart that was trading at around $10,000 for most of 2020, but witnessed a phenomenal rally in the first few months of 2021, which led to its price increase by over 600%, reaching $64,804.72 on April 14, 2021.
Compare Bitcoin with Ethereum
Although Bitcoin and Ethereum are two completely different cryptocurrencies, with significantly distinct valuations and fundamentals, their price charts follow the same trajectory whenever any price fluctuations are witnessed in the crypto market. Hence, while Ethereum rallied from $738 per ETH on January 1, 2021 to an all-time high of $4,356.99 on May 12, 2021, Bitcoin too had a similar growth chart, appreciating from around $29,000 at the start of the year, to its all-time high in mid-April.
Bitcoin Future Price Predictions
As detailed above, BTC witnessed a significant price rally during the first few months of 2021. Considering that Bitcoin is by far the most widely-adopted cryptocurrency in the world, with huge amounts of investments coming in now from the institutional investors too, it won't be wrong to state that it'll continue to be the flagbearer of the crypto economy for a long time to come.
Bitcoin Price in 2021
As per a bold prediction, in April this year, just before BTC touched its all-time high, the Manhattan-based media and financial services major predicted that the coin will spike sharply by the end of 2021, and reach a whopping $400,000 valuation by the end of Q4, 2021. Obviously, they didn't foresee Elon Musk pulling the plug on the coin and the crypto crash that followed afterward on May 19, courtesy of a crackdown on the industry in China.
Nonetheless, the overall outlook for the coin is still bullish for the remaining part of the year. Let's refer to the BTC/USD price chart below. It's pretty clear that Bitcoin is on an upward trend here, with its price having crossed the 50 SMA at close to $35,000 on July 24, 2021. Most of the candles that follow are well above the 50 SMA mark, indicating a positive market sentiment. RSI is over 50 and MACD too crossed above the signal line on July 22; continuing to stay over the signal line since then.
All these accentuate a bullish grip. If things go its way, and more positive news flows in from multiple quarters, there's a very good possibility that BTC may witness another significant rally towards the end of the year. While the $400,000 price point may be quite off the mark, $100,000 looks achievable. One expert report concurs with that assessment.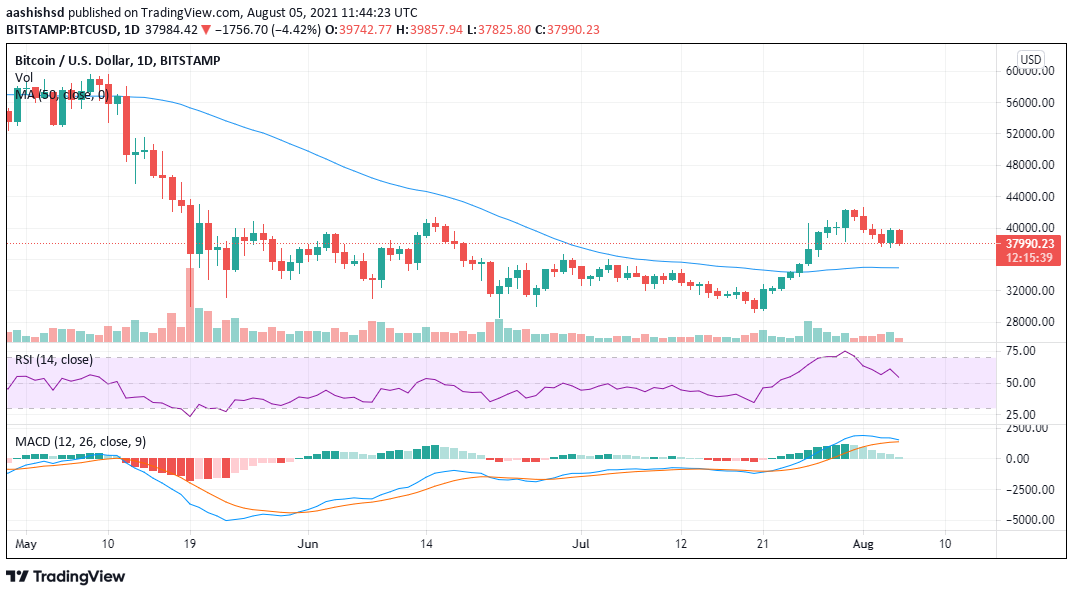 The BTC/USD chart shows a potential breakout. Source: TradingView
Bitcoin Price Predictions for 2022
There are multiple factors that will weigh in to determine Bitcoin's price in 2022. Despite continuing to receive institutional investments from multiple quarters like MassMutual, SkyBridge Capital, Guggenheim and more, and witnessing legalisation in various countries, there are certain factors that might slow its further gains in the future. It remains to be seen how the crypto crackdown unfolds in China. Bearish news from different quarters may also prove to be a deterrent in its price rise.
As per one analyst, Bitcoin will be trading comfortably above the $60,000 mark by July 2022. On the other hand, another expert expects it to be around $55,000 level by mid-2022, but getting closer to the $70,000 mark by the year-end.
Beyond 2022 for Bitcoin
Though it's extremely difficult to make any kind of reasonable forecast about a cryptocurrency's possible price, that far ahead into the future, the constant efforts being put in to make Bitcoin more environment-friendly and to increase its efficiency, all point to continuous appreciation in its value, in the next few years and beyond. Most experts have predicted BTC to be trading in the vicinity of $150,000 by 2025.
Bitcoin Price Conclusion
Bitcoin like any other cryptocurrency has its own set of detractors and advocates. However, it can't be denied that it has brought about a revolution in the financial world that's gone far beyond the point to be stopped now. People, businesses, and even governments are using BTC to hedge against inflation. Bitcoin has seen a lot of institutional interest and it seems like more retail investors will also consider buying the coin as most veteran investors predict that its price will rise considerably in the future.
Frequently Asked Questions
Normally, it's always better to buy a cryptocurrency when it is in a state of dip. Having peaked close to $65,000 earlier this year, BTC's current price at the time of writing was hovering over the $38,000 mark, which many may perceive as a dip. That being said, whether you choose to buy it now or wait for it to fall further, is entirely your choice and you should do your own research before investing.

Yes. With multiple entities like Facebook, Central Banks and governments working on their own digital currencies, people will have no choice but to get used to the idea of cryptocurrency in the future. Bitcoin is already very popular across the world and also has the first-mover advantage in this space, making it an obvious first choice of anyone willing to transact in cryptocurrencies.

Yes. El Salvador declared Bitcoin legal tender in the country, earlier in June 2021.

Bitcoin's market capitalisation at the time of writing was $729.8 billion.

The circulating supply of Bitcoin stood at 18,776,725 BTC at the time of writing, with a total possible supply of 21,000,000 BTC.

Bitcoin was founded by a mysterious individual or a group of individuals, widely known under the pseudonym, Satoshi Nakamoto.

The biggest uniqueness of Bitcoin lies in the fact that it is the first-ever cryptocurrency to get launched in the world. Its emergence has led to the creation of an industry that has already crossed the $2 trillion mark.

While there are many different ways to invest in Bitcoin in the UK, we recommend through an exchange, ATM or perhaps even directly from someone you know. We also highly recommend using a regulated and reputed platform.

The lowest price will depend on exactly when you buy it, however, there are other factors to consider that can increase costs such as transactions and exchange fees. While you can't usually buy for less than the current value we have compiled a list of the cheapest ways to buy Bitcoin here.