Oanda and eToro are two household names in the online brokerage business, transforming the way people access and trade financial instruments. In this article, we compare and pit eToro vs Oanda.
Since 2007, eToro has carved a niche for itself as a multi-asset platform offering investing services for stocks and crypto-assets. It also supports contract for differences (CFD) trading.
Oanda, on the other hand, has been in business since 1997 and is one of the original online brokerage firms still in business. It has also added support for cryptocurrencies. This guide will compare the two platforms in terms of major features and services offered.
Lets take a deeper look into both brokers
Minimum Deposit:
Coins:
Regulation:
Asset Coverage:
Trading Platforms:
Free Demo:
Unique Features:
our pick
$10
eToro Mobile Trading Platform, eToro Trading Platform
Accepts customers from the USA, Offers 15 crypto coins to buy&sell including BTC, LTC, ETC, NEO and more, Trade on the world's leading social trading and investing platform
$100
BCH, BTC, CRYPTO, ETH, LTC
CFTC, FCA, IIROC, MAS, NFA
Bonds, Commodities, Indices
MT4, fxTrade, Autochartist
24/7 trading when the markets are open, Trade the four big names in crypto- Bitcoin, Ethereum, Litecoin and Bitcoin Cash, Premium MT4 and MT5 with suite of bespoke trading tools and indicators
Oanda Security vs. eToro Security
Security is an important aspect when selecting an online broker. Scammers and fraudsters have upped their game and are looking for the slightest of loopholes to gain access to valuable information such as funds invested in brokerage accounts.
As a trusted global brand, Oanda accords the highest security to client's funds and personal information. The online brokerage firm offers 2-factor authentication that requires clients to verify their identity using email and a phone number. The two-layer security measure means anyone looking to access one's account must have a password and a phone where a verification code is sent.
eToro has also incorporated the 2-factor authentication security measure, thus ensuring hackers can never hack into peoples accounts by simply guessing passwords.
KYC/AML
All reputable and credible online brokers are known to adhere to the best industry standards when it comes to Know Your Customer (KYC) and Anti Money Laundering (AML) regulations. The regulations were put in place to ensure that brokers only deal with legitimate clients and to curb money laundering activities.
eToro and Oanda maintain rigorous processes for client verification. As part of the signup process, the brokers require customers to upload proof of identity documents such as a passport or a government-issued identification. In addition, a document verifying the area of residence is needed by the two brokers who could be in the form of a recent utility bill.
Supported Countries and Location: What's the Right Broker for You?
Varying regulations on how financial products are offered is the reason some online brokers are available in some countries and not in others. In addition, the investment services offered may vary from one jurisdiction to another. When selecting an online broker, it is important to settle on one that is regulated in the area of residence.
As a global brand, eToro maintains offices in the UK, US, EU and Australia. Consequently, it can afford to offer its investment services in most countries.
Oanda is registered in Kingston Chambers, British Virgin Islands. The company also maintains offices in the US, Canada, London, Japan, Singapore and Australia.
eToro
eToro is available in the following countries at the time of writing: Algeria, Andorra, Angola, Argentina, Australia, Austria, Azerbaijan, Bahrain, Bangladesh, Belgium, Bolivia, Brazil, Bulgaria, Chile, Colombia, Costa Rica, Croatia, Cyprus, Czechia (Czech Republic), Denmark, Dominican Republic, Ecuador, Egypt, Eritrea, Estonia, Finland, France, Georgia, Germany, Gibraltar, Greece, Holy See, Hungary, Iceland, Ireland, Israel, Italy, Jordan, Kazakhstan, Kenya, Kuwait, Latvia, Liechtenstein, Lithuania, Luxembourg, Malaysia, Malta, Mexico, Monaco, Netherlands, New Zealand, Norway, Oman, Peru, Philippines, Poland, Portugal, Qatar, Romania, Senegal, Seychelles, Singapore, Slovakia, Slovenia, South Korea, Spain, Sweden, Switzerland, Thailand, Ukraine, United Arab Emirates, United Kingdom, United States* (some states), Uruguay, Uzbekistan and Vietnam
Oanda
Oanda offers a broad range of financial products in the US and Japan at the time of writing. In addition, it offers forex and the option for trading CFDs in Canada, the UK, EMEA, APAC and Australia. The online broker does not provide services in blacklisted countries such as North Korea, Iran, Sierra Leone, Belarus and Syria.
Regulation
Oanda is regulated to offer financial services in six tier-1 jurisdictions making it a safe broker and low risk for anyone interested in forex and trading CFDs. It is regulated in Australia by the Australian Securities & Investment Commission (ASIC), In Canada by the Investment Industry Regulatory Organization of Canada (IIROC) and in Japan by the Japanese Financial Services Authority (JFSA). It is also regulated in Singapore by the Monetary Authority of Singapore (MAS), in the UK by the Financial Conduct Authority (FCA), and in the US by the Commodity Futures Trading Commission (CFTC).
eToro also boasts of tier-one regulations in a number of countries, including the UK and the CySEC in the European Union. It is also regulated in the US by FinCEN and by ASIC in Australia.
eToro vs. Oanda: Which One Has a Broader Crypto Portfolio?
eToro stands out when it comes to cryptocurrency trading as it has added support for 17 of the large cap cryptos led by Bitcoin and Ethereum. It also supports medium and smaller cryptocurrencies often referred to as altcoins.
Oanda on the other hand, has a much smaller pool of cryptocurrencies. The online broker is best known for enabling Bitcoin trading through contract for differences.
eToro Currencies
Bitcoin (BTC)
Ethereum (ETH)
Bitcoin Cash (BCH)
Ripple Dash (DASH)
Litecoin (LTC)
Ethereum Classic (ETC)
Cardano (ADA)
Iota (IOTA)
Stellar (XLM)
Zcash (ZEC)
EOS (EOS)
NEO
Tron (TRX)
Zcash (ZEC)
Binance Coin (BNB)
Tezos (XTZ)
Chainlink (LINK).
Oanda Currencies
Oanda is best known for Bitcoin trading.
Comparing Purchasing Methods
eToro has made it possible to trade cryptocurrencies paired with fiat currencies such as the US dollar, British Pound, Japanese Yen, Swiss Francs and Australian Dollars.
In addition, you can trade Bitcoin on Oanda as a Contract for Difference using the MT4 platform.
Buying Crypto on Oanda Vs eToro
Trading Fees
Oanda and eToro, like any other online broker, make money by charging trading fees. The fees vary from one instrument to another and since these are additional costs of crypto trading should always be taken into consideration as they eat into profits.
Flat Fee
Oanda applies an overnight financing charge on positions left open overnight. The broker also charges an inactivity fee on accounts that have not been trading for 12 months. The inactivity fee can be as much as $10 a month. However, the charge won't be incurred if there is an open position.
eToro, just like Oanda, also charges an inactivity fee of as much as $10 for accounts that are left dormant for several months.
Deposit and Withdrawal Fee
Neither Oanda nor eToro charges fees on deposits. Most of the costs associated with deposits arise from the service providers.
Oanda does not charge any fee for withdrawals to credit or debit cards. However, the broker does charge $20 for bank wire withdrawals. eToro charges a flat $5 fee on withdrawals.
Broker Crypto Trading Fee
Opening an account on eToro is free. Additionally, the broker does not charge any management or ticketing fees. In addition, investing in stocks on the stock exchange is commission-free with the broker. However, the broker charges spread for cryptos can be as low as 0.75% and as much as 4%, depending on the coin one is trading.
While Oanda claims to offer competitive spreads for all its instruments, its spreads for Bitcoin trading starts at $100.
Payment Methods
Both eToro and Oanda offer a wide pool of options for deposits and withdrawals. Both support credit/debit cards, bank transfers and third payment processors like Skrill and Paypal for deposits. When it comes to withdrawals, one can only withdraw using the option used to deposit in the first place.
For instance, if you deposited using PayPal, you can only withdraw the capital using PayPal.
Comparing the User Interface of Both Platforms
Oanda offers a user-friendly trading platform that is safe and easy to customise. However, it is not possible to set price alerts with the platform. eToro also offers a bright and user-friendly trading platform that new traders can use with ease. It also offers a 'copy trading' and 'social trading features' for traders to copy experienced traders trades.
Oanda Ease of Use
Oanda trading platform is designed to address the needs of traders just getting started in the business. A simple layout and intuitive candlesticks and line graphing features are on offer for traders just gaining their footing. Experienced traders can appreciate advanced charting options.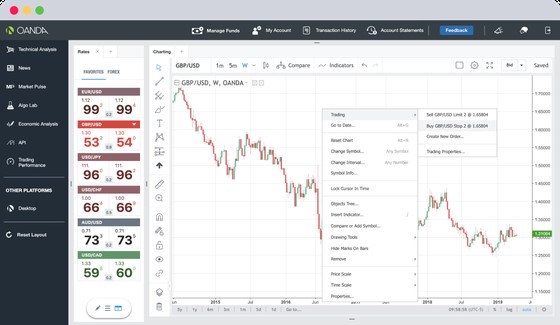 Source: Oanda.com
The intuitive platform is easy to use and can also be personalised based on individual trading preferences. In this case, you can create multiple trading profiles and set trade defaults in addition to being able to drag windows out onto multiple screens.
eToro Ease of Use
eToro offers a clean trading platform that features tabs on the left-hand side for easy navigation. A click of a button is all that is needed to access a portfolio, news and watchlist. You can also access the copy trading feature below the market tab.

Source: eToro.com
The simple platform design also makes it easy to access more than 2,000 financial instruments, including cryptocurrencies, stocks, ETFs, currencies and indices.
Trading Features
The trading features on offer are designed to enhance the art of trading. The opening and closing of positions has been simplified to a single tap. Both brokers also offer multiple trading orders, including stop and limit orders.
Traders wishing to engage in technical analysis can also make use of a robust pool of trading indicators. Additionally, the brokers have also enabled margin trading. One has to deposit a small amount of capital to leverage as much as x10 to trade big positions.
eToro vs. Oanda: Liquidity and Volume
Liquidity and volume are important components in the financial markets as they determine the amount of money and traders trading various financial instruments. The greater the liquidity and volume, the easier to open and close positions at desired price points.
Both eToro and Oanda, by virtue of being household names, come with some of the highest trading volume and liquidity. In this case, they offer tighter spreads which reduce the costs of trading. Additionally, they offer highly competitive prices that are close to the aggregate market price.
Who Offers the Best Customer Support eToro or Oanda?
Having been in business for more than a decade, eToro and Oanda have established robust customer support services for addressing client's queries. Oanda offers three options for contacting the customer service team. phone support, email, and live chat are the three options available.
eToro also offers live chat services where a client can talk one-on-one with a customer service representative. It also provides email support.
EToro Vs Oanda: Conclusion
Selecting between the two online brokers comes down to what one wants to trade and achieve. eToro is an ideal social copy trading online broker ideal for anyone looking to access a wide pool of cryptocurrencies. Additionally, it offers over 2,000 financial instruments. It also comes with a user-friendly web platform and mobile app for mobile trading on the go.
Oanda, on the other hand, is a top American forex broker regulated by top tier authorities. The broker is ideal for anyone looking to trade derivatives as it comes with great and easy to use trading platforms' it also offers powerful research tools.
Most Popular
Min. Deposit
$10
Promotion
Accepts customers from the USA
Deposit $100 and get a $10 bonus!* Build a diversified portfolio with crypto, stocks, and ETFs — all in one place.
Trade on the world's leading social trading and investing platform
Description:
eToro offers a wide range of cryptos, such as Bitcoin, XRP and others, alongside crypto/fiat and crypto/crypto pairs. eToro users can connect with, learn from, and copy or get copied by other users.
Payment Methods
Bank Transfer, Wire Transfer
Full regulations list:
CySEC, FCA
Frequently Asked Questions
eToro requires customers to deposit a minimum of $200 to start trading. Oanda, on the other hand, does not have any minimums when it comes to deposits.

It is impossible to detail the best online brokers as. Both are tailored for different classes of investors and traders. Selecting a broker comes down to what one wants to trade and the kind of service required.

Spreads which are trading costs, vary from one broker to another and from one instrument to another. They also depend on the prevailing market liquidity at a given time.

No. For instance, eToro offers a wide pool of cryptocurrencies paired with fiat currencies. Oanda, on the other hand, specializes in providing Bitcoin trading CFDs. While Oanda is available in the US, eToro is best suited for traders and investors outside the US.

For more platforms compared side by side, check out some of our other comparison pages: