Unable to load latest pricing data, please try again later.
High Quality Trading Platform
Most funds are kept in cold crypto wallets
YoBit Review 2022
YoBit is a cryptocurrency exchange based in Panama that was founded in 2014, making it one of the oldest trading platforms on the market. YoBit boasts eight years of skin in the game, as well as nearly 500 cryptocurrencies available to trade across over 8,000 trading pairs.
YoBit has also launched a native DeFi platform called YoFarm, allowing users to yield farm for passive income. YoFarm includes a range of liquidity pools, from low-yield stablecoin pools to high-yield (but high risk) altcoin pairs.
This review dissects the services offered by YoBit, and is designed to help you decide whether it is the correct exchange for your needs.
3 Steps to Sign Up to YoBit
1. Register and verify your ID
To get started with YoBit, you'll first need to create an account. Click the "Register" button on the homepage, and fill out the necessary details and contact information. You will receive a confirmation email after this—click the link in the email to verify your address.
Once you have verified your email address, you are ready to start trading—YoBit does not enforce any KYC or AML checks, so you won't need to upload any ID.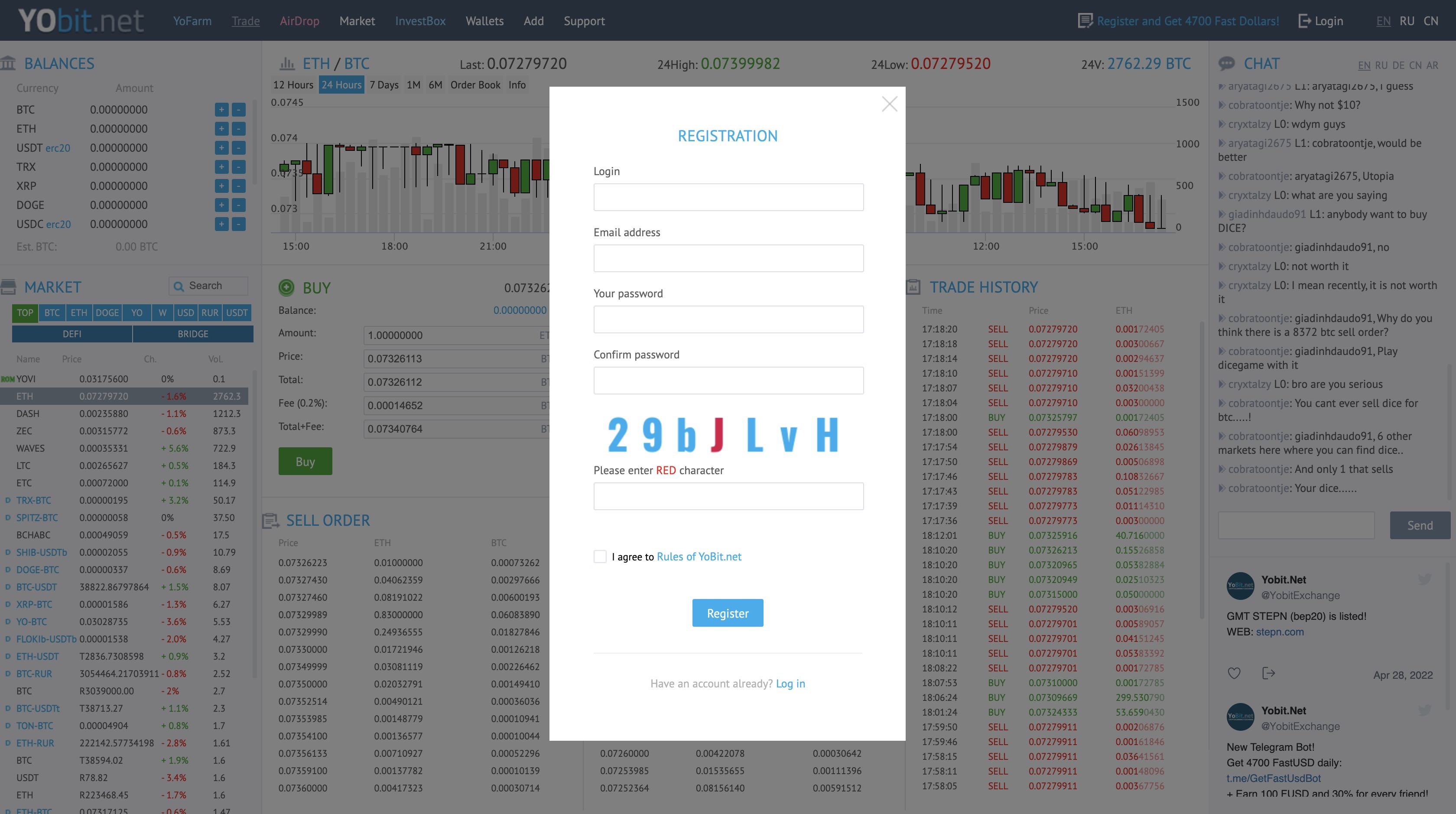 2. Make a deposit
To make your first deposit, navigate to the "Wallets" section of the exchange. Here, you can deposit a range of currencies. Choose either a cryptocurrency like BTC or USDT, or a fiat currency like USD, and follow the instructions to make a deposit.
Fiat (i.e. USD or RUR) deposits can be made via a range of methods including AdvCash, PerfectMoney, Payeer, and Capitalist, and the first three of these don't incur a fee.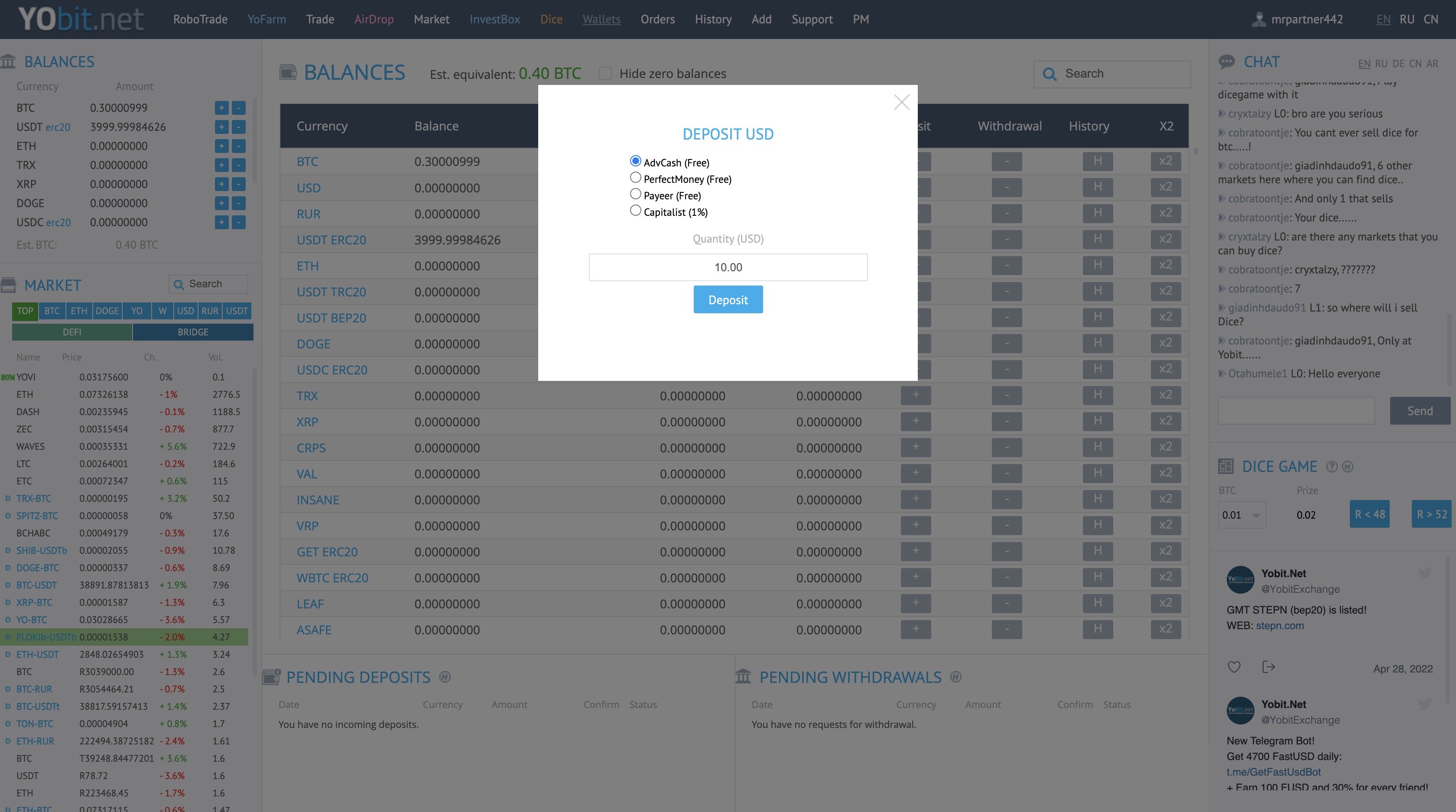 3. Purchase your crypto
To make a purchase, head over to the "Trade" tab. Here, select your chosen trading pair (select a pair denominated in USD or RUR for fiat purchases) to view the pair's details. Your screen will display a price chart, as well as a trading interface.
To make a purchase, input the amount you wish to buy, and the price you wish to trade for (the current price is shown at the top of the page—use this to make the trade immediately). Before you click buy, review the total price and fee shown to make sure you are happy.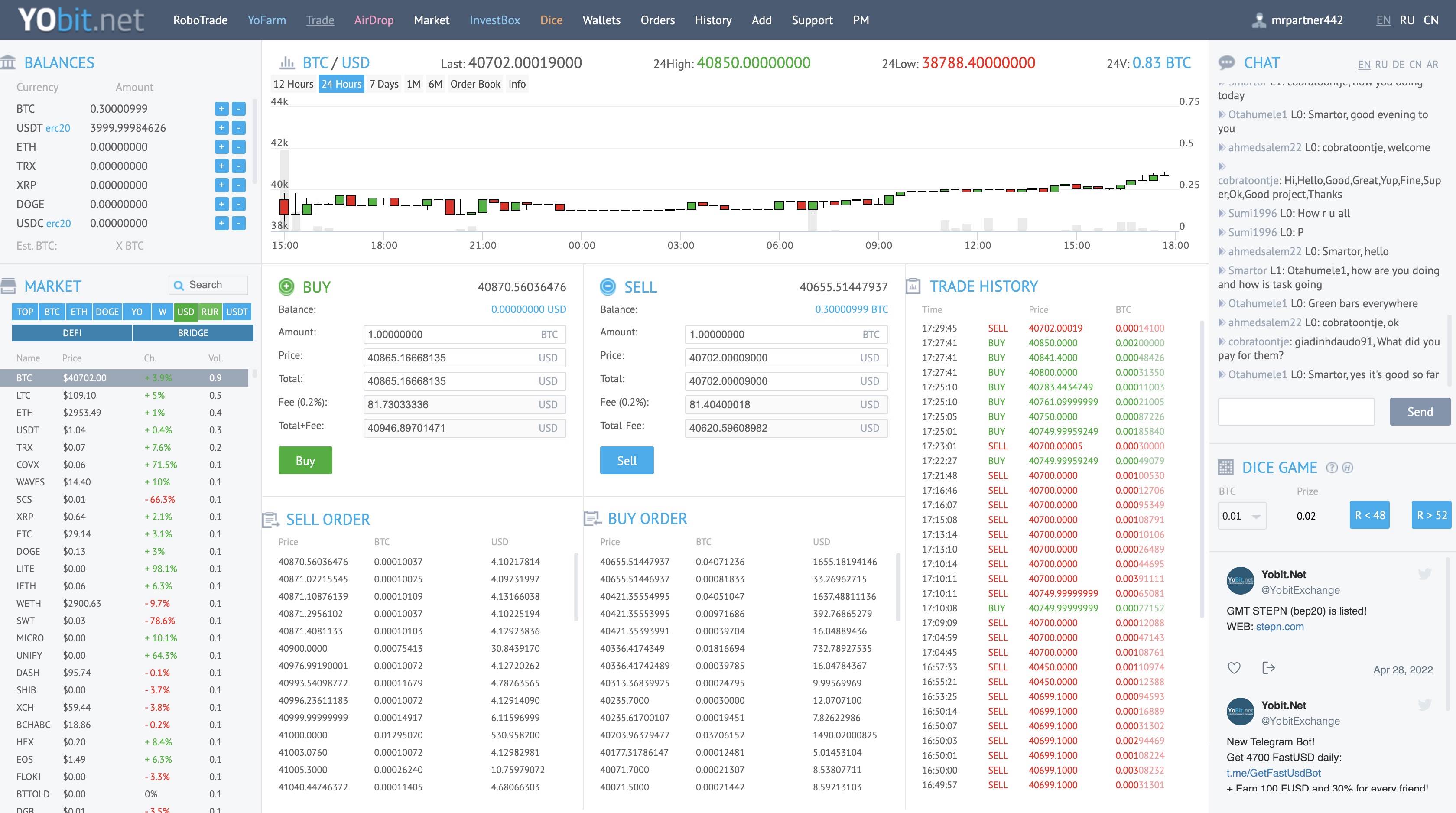 YoBit Pros and Cons
Pros
No KYC requirements means you can trade anonymously
Offers a huge number of coins and trading pairs
Fiat purchases available in USD and RUR, unlike many non-KYC exchanges
YoFarm DeFi pools allow users to earn passive crypto income
AirDrop section allows users to receive coins for free
"Dice" crypto casino game is a fun addition
Often runs sign-up bonuses including free tokens
Cons
Spreads can be wide on fiat pairs due to low volume
Not much educational material available
Interface can be intimidating for beginners
YoBit Compared
YoBit has a huge range of coins and trading pairs, making it an ideal choice for altcoin investors who want to avoid the pitfalls of decentralised exchanges. Add to this the YoFarm functionality, and YoBit is essentially a more "stable", centralised alternative to out-and-out DeFi exchanges.
Additionally, YoBit is one of very few exchanges that allows users to purchase crypto with fiat currency without undergoing KYC checks. This makes it an excellent option for traders who want to purchase crypto such as Bitcoin anonymously.
History of YoBit
YoBit was founded in 2014 by a collective of crypto enthusiasts and developers from Europe. The company was incorporated in Panama, and as such does not have to comply with any KYC or AML regulations. The exchange also operates online across geographical lines, serving clients in many countries.
In 2017, during the first mainstream cryptocurrency bull run, YoBit rose to prominence, attracting both new investors and seasoned traders with its range of altcoins pairs and simplified trading interface.
Over the last couple of years, YoBit has begun to diversify its product offerings, including the new "YoFarm" DeFi pools service. YoFarm allows users to deposit their crypto into liquidity pools in order to earn passive income on it.
YoBit Regulation and Security
As previously mentioned, YoBit is based in Panama and is regulated there. Panama does not enforce LYC (Know Your Customer) or AML (Anti-Money Laundering) laws; this can be seen as either a positive or a negative depending on your preferences.
Some investors will enjoy the lack of snooping and data collection that YoBit allows for, whereas others may prefer the perceived safety of a more tightly regulated environment.
Is YoBit Safe?
YoBit employs 2-Factor Authentication (2FA) in order to help keep users' accounts safe. 2FA is highly recommended by the platform (and by us) and adds a second layer of security on top of your username and password combination.
YoBit Reputation
YoBit has been around for a long time, and is well-known among crypto enthusiasts. It is yet to suffer a major hack, however on various crypto forums there are reports of slow customer service and account issues. It is worth diving into these threads on forums like Bitcointalk to investigate for yourself.
Additionally, YoBit has a limited social media presence, being minimally active on Twitter and Telegram, and there is virtually no available information about the founders. Users who prioritise factors such as transparency rather than anonymity and altcoin selections may want to look into this themselves before signing up.
Is YoBit for Me?
Depending on your level of experience, you are likely to have different requirements when it comes to selecting a crypto trading platform. In this section, we'll take a look at YoBit's features and how they serve different types of user.
I'm a Beginner
YoBit is perfectly usable for beginners. Although not as aesthetically pleasing as some competitors, the exchange's interface is very simple, and can be learned in no time at all. There is a lack of educational material, but its easy to find supplementary material elsewhere in 2022.
I'm Advanced
YoBit's extra features make it a good fit for advanced users, and it serves particular classes of traders with specific interests. For example, altcoin investors looking for off-beat tokens to trade will find plenty to be happy with here, as will anonymous traders and DeFi enthusiasts, thanks to the lack of KYC and the YoFarm feature respectively.
YoBit Wallets: Features, Supported Cryptocurrencies, and Security
YoBit operates a custodial wallet service. This means that you transfer your coins to a wallet operated by the exchange, and can then access this wallet using your username and password. Because your funds are held in custody on the exchange, we highly recommend the use of 2FA to secure your tokens.
A range of cryptocurrencies are supported, including larger coins like BTC, ETH, and USDT, as well as more obscure ones. There are also USD and RUR wallets on YoBit, which are used to make fiat purchases.
As with any exchange, we recommend that you leave funds on the exchange only when trading. For long term storage, hardware wallets such as those produced by Trezor, KeepKey, and Ledger are the safest options.
Fees and Costs of YoBit
YoBit operates a varied but reasonable fee schedule, with low commission on trades as well as reasonable fees for deposits and withdrawals.
Commission is charged at a flat rate of 0.2% for both the maker and taker, which is very competitive. It is worth noting, however, that bid/ask spreads can deviate from the market rate in lower volume pairs. Always check the final price before you make a trade.
Fiat deposits in RUR and USD can be made for free via a range of third-party payment processors such as AdvCash and Payeer. There is a nominal withdrawal fee of 0.00050000 tokens for all coins, whereas USD and RUR withdrawals are charged at 4% using AdvCash.
Payment Methods & Limits
Payment methods available on YoBit include QIWI (which facilitates Visa/Mastercard payments), as well as third-party options like AdvCash, Payeer, Capitalist, and Yandex. Fees vary between these, depending on the currency you opt for.
There are not any clear limits set for YoBit's deposit and withdrawal functions, which likely means the exchange defers to the limits imposed by the payment processors themselves.
Transaction Limitations
There's no lower trading limit on YoBit. You can start with as little as $1, and you can trade as large of a position as you want as long as there is sufficient liquidity in the trading pair you have selected.
YoBit: Performance, Features and Functionality
YoBit's functionality ranges from the basic to the advanced, and there are a range of features on offer that serve both beginners and more advanced traders. In this section, we'll examine the various features of YoBit.
Trading Platform
YoBit is a browser-based exchange and doesn't offer a dedicated mobile app, but the interface is easily navigable on most devices. Spot trading is made possible using two fiat currencies (USD and RUR) and a range of crypto pairs, and traders can make use of price charts to help them time trades.
YoBit also offers YoFarm, a DeFi-based yield farming program that enables users to earn passive income on their crypto. Users need only deposit a pair of tokens supports by YoFarm's pools, and they can begin earning interest on their coins straight away. APYs range from
Educational Resources
YoBit doesn't offer any educational material as of now. However, there are some third-party educational videos available online that explain how to use YoBit's more advanced features such as YoFarm.
Trading Options
YoBit is a spot exchange, meaning that there are no derivatives (such as CFDs or futures) available to trade. This makes it suitable for investors who want to purchase coins to hold onto, potentially to sell at a later date.
As we mentioned above, there is also a DeFi service available for traders to earn passive income on the coins they've bought. This makes YoBit a good choice for users who want to buy altcoins, as well as "blue-chip" tokens, and also those new to DeFi who want a more "on rails" experience.
Account Types
YoBit only offers one type of account. This account requires no KYC or AML checks, and is open to anyone regardless of their geographical location. Both of these factors owe to the fact that YoBit is regulated in Panama. There are no immediately apparent limits on trading, deposits, or withdrawals, save for the total liquidity available on the exchange at a given time.
Final Thoughts on YoBit
YoBit is ultimately a solid option for altcoin investors, DeFi users, and anonymous crypto buyers. Due to the range of altcoins and trading pairs available, the YoFarm functionality, and the lack of KYC, YoBit hits these three features strongly.
For investors who value heavier regulation and a wider range of fiat purchase options, there are other choices that may be better suited. Check out our full range of cryptocurrency exchange reviews for more information.
Frequently Asked Questions
There is little information available about the founders of YoBit, but reports from various users online report that the exchange was founded by a group of European or Russian crypto enthusiasts and developers.

YoBit allows you to stake tokens in pairs and earn passive income using the YoFarm yield farming feature. This can generate passive income of several hundred per cent on certain pairs.

Although the interface is not the most beginner-friendly out there, YoBit is sufficiently simple for novice traders and also offers most of the large-cap coins traditionally valued by those new to the crypto space.

Yes. There is no KYC process on YoBit, meaning that you can purchase Bitcoin without going through an ID verification process. 
About Joe Khalique-Brown
Title: Lead Crypto Editor Joe is the Lead Crypto Editor for CoinJournal and leads a team of two dedicated writers. A retired crypto trader and active Bitcoin community member, Joe has been writing about decentralisation and cryptocurrency since 2020. Joe spent…
Read More
Company Information
Account Information
Payment Options:
Credit Card,
Cryptocurrencies,
Debit Card,
Payeer,
Perfect Money