Unable to load latest pricing data, please try again later.
Start trading with KuCoin
Supports Multiple Altcoins
KuCoin Review 2022
Launched in 2017 and headquartered in Seychelles, KuCoin is a globally-recognised cryptocurrency exchange that has a 10 million+ user base, spread over 200+ countries. Apart from facilitating easy buying, selling and trading of over 600 cryptocurrencies, KuCoin also provides Futures, Margin and Peer-to-Peer (P2P) trading facilities to its users. Additionally, users can earn handsome rewards by lending or staking their crypto holdings.
KuCoin is especially popular amongst advanced-level traders who like the sophisticated trading features, often found missing on other exchange platforms. To top that, KuCoin charges lower fees for its services, as compared to other portals. Here's a detailed KuCoin review that will help you better understand its features and functionalities.
3 Steps to Sign Up to KuCoin
Register and Verify your ID
KuCoin has a fairly simple registration process. To initiate it, click the 'SignUp' button on the homepage's upper right-hand corner. Thereafter, input a valid email id or phone number, verification code (sent to the same email/phone) and a preferred password.
Providing these details will set up a regular account for you on the platform. Thereafter, verifying your identity by uploading a copy of your photo ID can make your account basic verified, which will avail you of higher daily withdrawal limits and enhanced trading features.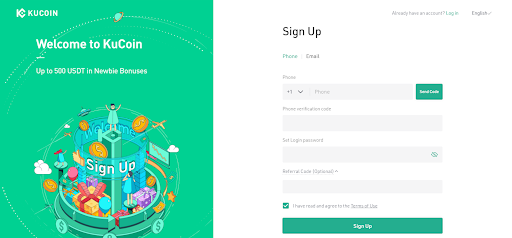 Make a Deposit
Once the registration process is complete, you can deposit funds to your account using the 'Deposit' button on the platform's dashboard. KuCoin permits both crypto and fiat deposits. The former can be any of the popular cryptocurrencies including ETH, MATIC, BTC, USDT and ADA.
For fiat deposits, you can use multiple payment methods which may vary depending upon your geographic location. In general, KuCoin accepts deposits via Visa/Mastercard Bank Cards, SEPA bank transfers and third-party wallets like Advcash. Please note, KuCoin doesn't levy any charge on deposits.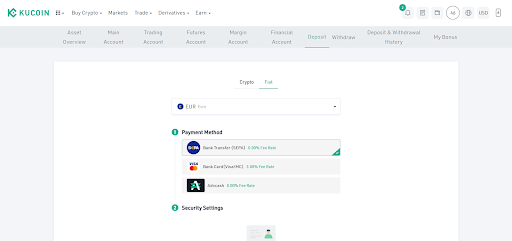 Purchase your Crypto
You'll be free to buy any cryptocurrency of your choice after the deposited funds show up in your exchange account. This can be done from either within the browser environment - on a laptop, desktop or mobile device; or through the KuCoin mobile app.
The portal facilitates crypto purchases through three different mediums – Fast Mode, P2P and via third-party providers.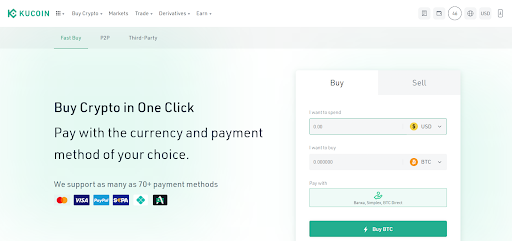 KuCoin Pros and Cons
Pros
Has a larger user base, with over 10 million users in 200+ countries
Is one of the few cryptocurrency exchanges that provides a margin trading facility
Users can stake their crypto coins and/or earn interest on their crypto holdings
Users get a wider choice with over 600 cryptocurrencies listed on the platform
Lower trading fees than other crypto exchange portals
Users can benefit from a trading bot that can be customised and potentially deliver profits in auto mode
Offers advanced-level trading features, and hence is popular among sophisticated traders
Cons
Was the target of a major hack in 2020
Lags behind in terms of educational resources
Isn't licensed to offer services in the United States
KuCoin Compared
KuCoin's extensive range of more than 600 cryptocurrencies, user-friendly interface, lower trading fees and advanced features, make it the preferred choice of the crypto investing and trading community.
Whilst it is a well-established platform, extensively used by investors and traders across the world, there are other noteworthy exchanges too that are worth giving a try.
History of KuCoin
According to the details available on the KuCoin website, the history of the platform dates back to 2013, when two young tech Geeks from Singapore, Eric Don and Michael Gan, wrote the first pieces of code for the crypto exchange, in a café! Their desire to create KuCoin stemmed from the difficulties Michael faced while trying to sell some Bitcoin on Mt. Gox back in those days. Mt. Gox was the world's largest Bitcoin exchange at that time but was still difficult to use for beginners.
With the continued adoption of blockchain, both Eric and Michael realized that this technology was going to create a financial system that would be all-encompassing, catering to everyone including the unbanked, unemployed and less educated. Their continued efforts led to the launch of the KuCoin crypto exchange in 2017.
KuCoin Regulation and Security
Unlike other popular crypto exchanges, KuCoin isn't regulated by any leading financial authority. Rather it practices a self-regulatory approach with which it implements thorough KYC (Know Your Customer), CFT (Countering the Financing of Terrorism) and AML (Anti-Money Laundering) measures. More details on it can be found here on this page. Other than that, the company runs its operations from its headquarters physically located in Mahe, Seychelles.
Is KuCoin Safe?
KuCoin adopts all industry-standard security measures to ensure the complete safety of its users' assets and account details. The portal claims to be armed with highly sophisticated security tech and an efficient maintenance workforce, which work round the clock to safeguard its interests. In addition, the platform regularly updates its security systems to stay ahead in the game.
KuCoin also implements multi-factor authentication and robust encryption technology on its portal. All its users are required to create a separate password for processing trades and withdrawing funds. This is different from the usual password entered at the time of login and delivers an additional security layer, normally not found in any other trading portal.
KuCoin Reputation
KuCoin exchange has built a stellar reputation as the 'People's Exchange', over the years. Since its launch in September 2017, the platform has grown exponentially, emerging as one of the most popular exchanges in the cryptosphere today. It already has more than 10 million registered users in 200+ countries and regions across the globe.
Furthermore, KuCoin is actively involved in creating multilingual communities for its worldwide users. At the time of writing, it had already established 23 such well-running local communities across Europe, SEA, and other regions. In addition, the platform has received industry-wide recognition from multiple platforms including Forbes Advisor, The Ascent, CoinMarketCap, TokenInsight and ICO Rating.
Is KuCoin for Me?
The present-day crypto trading and investment market comprises all levels of users. While some may be beginning their journey in this industry, looking for a platform that can hand-hold them till they become self-sufficient, others may be seasoned traders on the lookout for complex trading features. Let's help you learn if KuCoin is meant for you or not.
I'm a Beginner
Although many new crypto traders/investors feel intimidated by KuCoin's sophisticated features in the beginning, once they start using the exchange, they quickly find their feet and get comfortable in no time. It's quite easy to switch between different features and one never feels lost even when using the platform for the first time.
I'm Advanced
KuCoin exchange is best-suited for advanced level traders who prefer sophisticated products like futures, margins and more. They receive efficient customer service, a smooth GUI and a platform that speaks to them in their language, and helps them make the most of their trading knowledge. If you're an advanced trader, you can make good use of the detailed charts at your disposal, each one equipped with multiple indicators.
Exchange Wallets: Features, Supported Cryptocurrencies, and Security
KuCoin exchange provides both noncustodial as well as custodial services. This implies that the users are free to store their crypto coins in either the exchange's inbuilt hot wallet, or can connect their third-party wallet to directly trade or invest from there.
The latter serves as an excellent option for people who feel apprehensive about custodial hot wallets and would like complete control over their funds.
KuCoin's custodial wallet supports all cryptocurrencies listed on the platform. You can access any coin of your choice and obtain your own wallet address for it, which can then be used to deposit funds.
How to Transfer your Crypto Funds From/To KuCoin
How to transfer crypto funds to KuCoin?
You can easily deposit crypto funds to your account on KuCoin by following the below-detailed process:
Click the 'Deposit' option provided on both the dashboard as well as in the drop-down list under the wallet-shaped icon (on the top right-hand side), as can be seen in the screenshot below: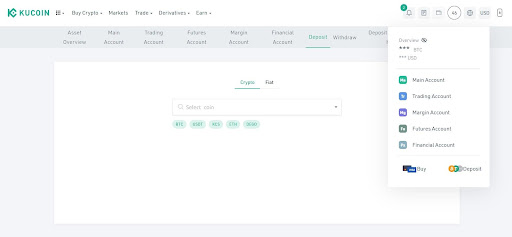 This will lead you to the page shown below, where you can use the 'Crypto' tab, and select any crypto coin that you'd like to transfer/deposit to the platform. Please note, you'll be asked to choose the account you'd like to deposit funds to (Main, Trading or Margin) and the network type, before proceeding. Once you've made your selections, you'll be shown the wallet address to which you must make the transfer.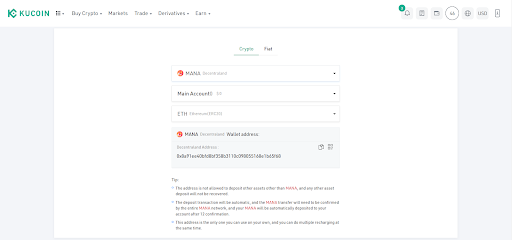 How to transfer crypto funds from KuCoin?
To transfer your crypto funds from KuCoin to some other wallet, click the 'Asset Overview' option on the dashboard. Doing so will bring up the following page.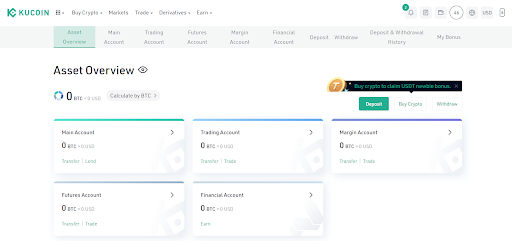 Here click the 'Withdraw' button which will lead you to the page shown below. Make sure that you've selected the 'Crypto' tab. Now, choose any crypto coin that you'd like to transfer, from the drop-down list. Specify the recipient's wallet address, amount, network, remarks and you'll be good to go.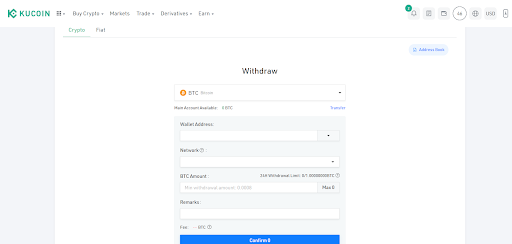 Fees and Costs of KuCoin
KuCoin has a fairly transparent fee structure, with all the fee details clearly laid-out on its website. Below are details on costs and charges associated with the KuCoin exchange:
Deposits – KuCoin doesn't levy any fee on deposits, whether crypto or fiat, and hence one doesn't need to shell out anything on this account.
Crypto transfers or withdrawals – Transferring any cryptocurrency from KuCoin to an external wallet involves a certain fee that varies from asset to asset. For instance, this fee is 0.0005 BTC for Bitcoin transfers, 0.00625 ETH for Ethereum and 18 MATIC for Polygon (ERC20).
Please note, this fee may change in the future based on the crypto asset's market performance.
Trades – KuCoin charges a varying trading fee based on its tiered maker/taker fee model. This fee may range from 0.1% / 0.1% (Level 0) to -0.005% / 0.025% (Level 12) in case of spot trades; and 0.02% / 0.06% (Level 0) to -0.015% / 0.03% (Level 12) for Futures trades.
Users can receive a 20% discount by using the platform's native token KuCoin Token (KCS) to pay the trading fee. You can visit this page to learn more about KuCoin trading fees.
Payment Methods & Limits
KuCoin exchange allows fiat deposits through Visa/Mastercard bank card as well as Advcash in case of some currencies. Alternatively, users can also buy crypto coins in 'Fast Trade' mode from the platform and pay with a currency and payment method of their choice. The exchange accepts 70+ payment methods including Visa, Mastercard, SEPA and PayPal.
As regards fiat withdrawals, the platform lists multiple currencies including GBP, USD, AED, CAD, JPY and EUR, but no specific details are available on the accepted withdrawal methods.
Transaction Limitations
There's no lower trading limit on the KuCoin exchange. In fact, traders can use the platform's various financial and trading products, by placing as low as $1 trades. Regarding the upper trading limit, users' fiat-to-crypto daily trades are capped based on their verification level.
Basic verified individuals have a daily trading limit of 1,400 USDT, while advanced verified individuals can trade up to 70,000 USDT per day. No information is available on the KuCoin site regarding any other trading limitations.
KuCoin: Performance, Features and Functionality
KuCoin has made huge strides from its humble beginnings in 2017 and is counted amongst the top crypto exchanges in the world today. Its USPs include the wide variety of crypto projects (630+) listed on its portal and more than 1,100 trading pairs. KuCoin focuses extensively on multilingual local communities and has established 23 of them so far, in different parts of the world.
Trading Platform
KuCoin's crypto trading platform can be accessed both through a mobile app as well as from within the browser environment. While it is geared more towards advanced level traders, even beginners can find their way around and learn a lot once they get started.
There are separate sub-platforms available for Spot Trading, Margin Trading and Futures Trading. Users can also utilise KuCoin's native trading bot to earn passive profits, without the need of constantly monitoring the market movements.
Educational Resources
As of now, KuCoin doesn't offer any educational resources like videos, online courses or guides for people keen to learn about cryptocurrencies or blockchain technology. However, it provides a detailed repository where it addresses all possible questions people may have about using the exchange's services. There's a blog as well, but it is again focused more on KuCoin's operations and announcements.
Trading options
Apart from the basic spot trading facility, the KuCoin exchange also provides peer-to-peer (P2P), futures and margin trading choices to its users. Users can opt for order types like limit, market, stop-market and stop-limit while placing regular trades.
The platform has a very efficient matching engine that supports up to 1 million transactions per second. P2P trading allows users to trade with other individuals and groups in a completely decentralised environment.
While margin trading on KuCoin, users can use up to 10x leverage and place trades on popular crypto coins like BTC and ETH. In addition, KuCoin offers easy-to-trade Futures contracts with up to 100x leverage. There's a welcome bonus offered to users as well as up to 40% rebate on commissions.
Account Types
There are two different account types offered on the KuCoin exchange – an Individual account and an Institutional account. Both cater to the needs of specific trading entities and provide distinct advantages based on the level of verification done for them, on the KuCoin platform. For instance, while basic verified individual accounts are allowed daily withdrawals of up to 1 BTC, this limit is increased to 100 BTC for advanced verified individuals. Users are also allowed to open up to 100 sub-accounts for better management of their crypto portfolios and trades.
Final Thoughts on KuCoin
KuCoin is a well-established and renowned cryptocurrency exchange that offers a large selection of crypto coins for investment and trading purposes. Moreover, it charges comparatively lower fees than its competitors. It also provides multiple trading tools and features that appeal to both new and advanced level traders.
KuCoin's interface is very easy-to-use and can be comfortably used by even beginners. The platform is particularly popular amongst advanced traders who prefer sophisticated trading products, with huge profit potential. Having stated all the above, please know, you must always conduct your own due diligence before using any such trading portal.
Frequently Asked Questions
KuCoin exchange has a native token known as KuCoin Token, which has a ticker called 'KCS'. This token allows the exchange's users to unlock discounted trading fees and multiple rewards.

Yes. You can use KuCoin exchange's staking feature to earn staking rewards as well as POL Credits, by staking your cryptocurrencies.

Coinbase and KuCoin both have their own distinct advantages and disadvantages. Therefore, one cannot be termed as better than the other. It essentially comes down to which one works for you the best, depending upon your trading/investment requirements.

No. It's not compulsory to undergo KYC verification on KuCoin. However, verifying yourself or your institution can help you enjoy higher withdrawal limits and make the best use of KuCoin's various services and features.
About Ashish Sood
Title: Freelance Crypto Writer Ashish is a Freelance Crypto Content Writer who started writing for CoinJournal at the start of 2021. An experienced writer and the founder of contentbuilders.net, he has been working in content for over 15 years. He's excited…
Read More
Company Information
Account Information