How to Buy Monero - Where to Purchase XMR?
Monero (XMR)
...
Monero is listed among the top 20 cryptocurrencies by market cap and records up to $121m in daily transactions. This crypto commands global patronage with transactions happening across the globe each day.
From our study of the operations of global brokers and platforms, we have arrived at best practices that will help every investor optimize Monero investments. This guide will show you how to buy Monero (XMR) with PayPal, credit cards, bank transfers, cash and other practices that describe the best way to buy and store Monero.
Monero (XMR)
Buy Monero in just a few minutes
Create a free account
Set up your trading account with eToro for free with your name, an email address and telephone number
Fund your account
Choose your preferred payment method and activate the account with the minimum deposit into your account
Start trading Monero
Choose a cryptocurrency by clicking 'Trading Markets', set your risk limit and click 'Get Started' to start your investment strategy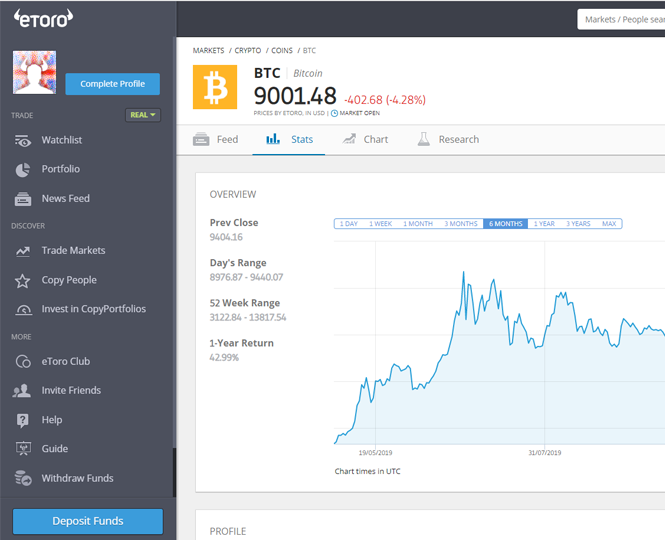 Why Trade Rather Than Buy Monero?
1
You Don't Need a Wallet
You trade on the price movement of the coin without having to buy and store it.
2
You Can Use Standard Payment Methods
All regulated brokers accept popular methods of payment such as credit/debit card and bank transfers.
3
Trades Are Fast and Withdrawals Are Easy
Trades are executed within seconds and withdrawals will reflect instantly in your account.
What is the Easiest Way and Best Way to Buy Monero? Compare the Top Monero Brokers
There are some brokers that provide top-notch services to investors in many countries in their daily trade of Monero. As the popularity of crypto investment soars across the globe, the best website to buy Monero is worth considering. While some brokers and trading platforms target niche markets and countries, others have a global user base, catering to the needs of investors everywhere. These are worth comparing to identify those with the integrated features and functionality that would serve you best.

Min. Deposit

$200

Exclusive promotion

Access the world's most popular Crypto assets including Bitcoin, ETH, LTC, XRP

Automatically copy the trades of top Crypto traders

Deposit using PayPal + 9 other deposit options available (not available to US users)

Description:

eToro is a multi-asset investment platform with more than 2000 assets, including stocks, ETF's, indices, commodities and Cryptoassets. eToro offers over 14 Cryptoassets to invest or invest in their CryptoPortfolio where investors can benefit from the accumulated growth of Bitcoin, Ethereum, XRP, Litecoin and other leading cryptocurrencies. eToro users can connect with, learn from, and copy or get copied by other users.

Payment Methods

Credit Card, Debit Card, Wire Transfer, PayPal, Skrill, Neteller, Yandex, WebMoney, MoneyGram

Full regulations list:

FCA, CySEC, ASIC, AMF

Cryptoasset investing is unregulated in most EU countries and the UK. No consumer protection. Your capital is at risk. CFD crypto trading is unavailable for clients residing in the UK and US.

Min. Deposit

$10

Exclusive promotion

24/7 Support for all Traders

Trade Margins, Indices & Futures

Highly-rated mobile app with super low rate fees

Description:

As one of the largest and oldest Bitcoin exchanges in the world, Kraken is consistently named one of the best places to buy and sell crypto online, thanks to our excellent service, low fees, versatile funding options and rigorous security standards -- but this is only part of the story. We've been on the forefront of the blockchain revolution since 2011.

Payment Methods

Credit Card

Min. Deposit

$10

Exclusive promotion

Description:

CedarFX is an eco-conscious broker offering 0% commission trading on 170+ assets, including Forex, Cryptocurrency Pairs, Stocks, Indices and Commodities. With up to 1:500 leverage, no-fee transactions and low spreads, traders can make the most of their funds. CedarFX also offers an Eco Account option to support tree planting and sustainability projects.

Payment Methods

Bitcoin, Credit Card, Debit Card

Please ensure that you fully understand the risks involved, taking into account your investments objectives and level of experience, before trading, and if necessary seek independent advice.
5 Things to Consider If You Want to Buy Monero
As you plan your Monero investment, these are top considerations to have in mind:
Carefully choose your preferred secure payment method
What is preferred for one might not be so for another. In some countries, particular payment methods might be costlier, and in others, may be limited or even unavailable. In deciding your preferred secure payment method, you must be able to decide if it is fast and cost-effective enough to have as a viable option.
Will you need to set up your own wallet?
Digital currencies are configured uniquely, and they require purpose-built storage for safety and easy retrieval. Before you buy Monero, you need to assess if you will have access to a ready-to-use digital wallet. Now, before you run with the thought of how difficult that must be, there are free Monero wallets on trading platforms these days. So, you can make use of platform wallets. But are you buying to trade or hold? Further explanations on wallets are provided in subsequent sections below.
Comparing costs
You are absolutely right to compare costs. For an investor buying a few units of XMR, a few cents or a dollar might not mean much, but anyone incurring a cost in a few hundred dollars or more might think twice. In this regard, comparing costs is a worthy consideration before you buy Monero. A perfect buy at the perfect price is always preferable.
Safety and security
Transactions of all kinds are completed online these days, not just for Monero or crypto purchases or sales. Because of this, added care is needed to ensure that your transactions are secure, and the platform is safe to use. Brokers have incorporated 2FA (2 Factor Authentication) for account holders such that log-ins and transactions are subject to further controls. Passcodes sent to your email or phone are required to validate logins and wallet access.
Security is further enhanced through the use of the MT4 platform, mostly used for foreign currency trading, and MT5, commonly adopted for use by stockbrokers, CFDs and cryptocurrency trading. These systems ensure that transactions are not interrupted or hacked using an end-to-end firewall that secures transaction details.
Can you understand and navigate the platform?
As a budding or experienced investor, you want to ensure that you have a grasp of the platform you are using for Monero trading. This is important as you do not want to be stuck in the middle of a transaction or miss out on an opportunity due to a poor understanding of how the platform functions. It is recommended that you try a few dummy transactions on the demo account, if available. You can also check on customer service to help you with the basics of trading. The FAQs section can also come in handy as you try your hands on the trading and account dashboard.
Ultimate Beginner's Guide to Trading Monero
What is a Monero Broker?
A broker provides a platform for the buying and selling of securities and financial instruments. The users of such a platform are able to open an account, deposit money, buy and sell their target stock in trade as well as make withdrawals. For all of these, the broker might charge a tiny fee at a rate that varies from one platform to another.
Traders of Monero need a platform to buy and sell the digital currency, and this is provided by a broker for a fee. Brokers take the pressure off investors with the platform they provide and are readily accessible. Whether a broker serves a few countries or a majority of countries around the world will depend on its focus, capacity, or interest. You should try to find a broker in your area that ticks all the boxes.
What is a Monero CFD?
With a CFD, you are able to speculate on the price of Monero in an effort to make a profit. A Monero CFD allows you to pick an expected future price by a given date and if this is realized, the broker will pay you the difference between the actual price at the date of the contract and the speculated future price. The broker has to be paid by the investor for the shortfall if the speculated price fails.
In practice, the investor can pay a fraction of the CFD value at the time of signing the contract while the full value gets paid at the maturity date. CFDs do not involve actual ownership of the underlying asset. It is more of a bet based on the rapid price fluctuations of Monero.
While Monero might be banned in a few countries, the CFD is not covered by such restrictions and it is within the legal framework to trade in Monero CFDs.
What is the Benefit of Regulation?
Most investors would care to know if they are dealing with a registered and licensed broker. And there is wisdom in this, as the terms of every license imposes some responsibilities on the license holder. With regulation, it is reassuring to know that your broker is in the good books of a sectoral regulator. In some countries, investors are insured so that they can have some payouts when an unpredictable occurrence takes place.
Brokers who are regulated are expected to operate by the rules and best practices.
What is the Best Payment Method for Buying Monero?
You might have a couple of payment options when buying Monero. These are presented below.
Buying Monero with Cash
It is commonly mentioned that cash is king, but not in this context. Buying Monero with cash is generally not recommended. A transaction of this sort will often entail transacting with an individual directly and leaves you extremely vulnerable to theft. Cash transfers using online banking may provide you with a digital receipt of the transaction, but this record would still not guarantee that you receive the Monero that you paid for.
Buying Monero with Credit Card
Credit card payments are a more popular choice for most investors. Using a credit card requires that you provide your card number, CVV and expiry date. Do not submit your pin if you are requested to do so. Your pin number is not required to complete any purchase of Monero and claims that state otherwise are erroneous.
Most brokers use payment processors that now route your card payments either through Mastercard Secure or Verified By Visa, These security layers are there in order to prevent fraud and assuage concerns about online payments.
Via Bank Transfer
To buy Monero with a bank transfer requires retrieving your broker's account number so that you can make a bank deposit. Since these payments are done online, they are expected to reflect immediately for in-country deposits, while international payments might reflect in a day or two. In terms of security, this payment method is highly rated, but for speed, it ranks low.
Purchasing Monero with Crypto Deposit
Using a crypto deposit is fast when buying Monero. Since most crypto transfers are processed within 30 minutes, the speed of processing is hardly a concern here. Also, lower fees will apply when you buy Monero with crypto.
Buying with PayPal
PayPal is available in many countries but not all. You can buy Monero with PayPal with no hassle if you have a verified PayPal account. This will ease your payment processing and ensure that you get immediate value for your payment. The fees are low, and the processor is trusted.
The Verification Process for Trading Monero
The verification process for trading Monero centers around account opening and the validation of payment method. Each broker takes steps to ensure that there is adherence to AML/KYC procedures.
To open an account, the investor has to produce an email address, full names, and a phone number. The email address is validated when the investor clicks on the new account confirmation link sent to the email inbox.
The next stage will be to provide some personal details like id documentation, a photograph from a driver's license or passport, and maybe even a credit card statement. Since these details are uploaded online, they are simple to complete. This may cause some slight annoyance to those who wish to jump straight into trading Monero, but it is a necessary process designed to protect all parties.
Long vs Short Term Investment
With short-term investing, the focus is on buying to hold Monero for a few days or for a few hours, which is often referred to as day trading. Short term investments are suited for those who want to see immediate returns, but this is a strategy that also carries greater risk.
For long-term goals, Monero is purchased and held for a few months or even years so that the owner can reap capital gains in price appreciation. This is generally perceived as a lower risk approach, but investors should seek knowledge on XMR itself, such as technological fundamentals, current developments and future plans for the coin.
Why Buy, Rather Than Trade?
If you buy Monero to hold rather than trading it, it is likely that you feel that the project holds value and will grow in popularity and relevance in the years to come.
If you follow the price history of this cryptocurrency, you will notice that price swings are a regular feature. So, those who have a long-term strategy, often choose to trade a little in the short-term as well in order to capitalise on this volatility.
What Fees Are Involved?
When buying Monero, you will have to pay other fees as an associated cost. These are:
Processing Fees
Any payment method you adopt will attract some processing fees. In most cases, these are small payments that sometimes go unnoticed because they are so minimal.
Network Fees
When buying Monero, the associated fees internal to the blockchain are network fees These cater for the transfer made from one wallet to the other in order for you to take possession of your Monero coin. These fees are barely worth mentioning, typically costing only fractions of a penny.
Transaction Fees
Transaction fees are charged by your crypto platform, and this is understandable. Whether you are buying, selling or making a withdrawal, most platforms will charge some form of commission or fee. For the largest and most reputable brokers, these charges will also be very small.
Safely Storing Your Monero
After paying for your Monero, you need to take possession of it. The medium for storage is called a wallet. There are different kinds of wallet, and they include:
Web Wallet
Platforms or brokers often provide investors with wallets for storing their crypto, and in this case, such are described as web wallets. You normally have to sign-in to use your web wallet using a password. Common web wallets are not paid for as the platform provides every account holder with one.
Exchange-base wallets are not considered safe to use if you are not having an ongoing trade. Rather, private wallets can be used for storage to avoid losses due to system or business failure.
Mobile Wallet
Most mobile wallets are easy to download from online stores directly to your mobile device. These are easy to use, convenient and good for people who are itinerant. These wallets are also easy to lose due to theft or device crashes. However, they can also be easily recovered when the user logs-in to another device.
Examples are MyMonero and Cake Wallets.
Desktop Wallet
To use a desktop wallet, you should have a desktop device. Most desktops are either at home or in the office and are safer. However, threats to desktop devices include household accidents, fire, and theft. Since these wallets are accessed with private keys and passwords, they are considered safe.
Poor management of a desktop computer, such as using unscanned flash drives can leave you vulnerable to viruses. Security measures must be observed at all times and your antivirus should be kept up to date.
MoneroGUI and Exodus are common desktop wallets.
Hardware Wallet
A hardware wallet is another safe option for storing Monero. This wallet type is recommended for users who want to buy and store Monero. Access is by password, and recent updates make it possible for email and phone passcodes to authenticate transactions.
Ledger and Trezor are common Monero wallets of this type.
Wallet Combinations
For wallet combinations, several brands are now available that support a multi-platform interface. You can log in and use these wallets on mobile, desktop, and on the web. MyMonero and Freewallet are common examples here.
What Other Coins Can I Trade or Use to Buy Monero?
When you are not using fiat payment options, you can apply other coins to buy or trade Monero. The major considerations with crypto purchases of XMR are that they are cheap to use and fast. When you buy Monero with Ethereum, you can be sure of the low network fees. You can also purchase Monero with Ripple, Bitcoin or Dash, depending on the platform you are using.
Most platforms allow up to three or four tokens as default trading currencies, and this accommodates the interest of more members of the community.
What's the Smallest and Largest Amount of Monero I Can Buy?
Monero has a 12 decimal place smallest unit, and this denomination of XMR is called a 'piconero' (0.000000000001 XMR). While it is not possible to buy a piconero as it is somewhat uneconomical to do so, it is recognized and exists to allow for all currencies to be converted to XMR no matter the value. However, if the question is can I buy a whole Monero? Then the answer is Yes. At the time of writing, one Monero was priced at $59.82.
For anyone interested in the buy limit or, more specifically, to buy Monero without limit, the solution is largely variable. The platform you are using determines how much Monero you can buy. Investors who have provided more personal details and attained higher account ratings are able to use customer care lines to buy as much Monero as they desire.
Can I Buy Anonymously with no ID? Is it Safe and Legal?
Monero is the foremost anonymous cryptocurrency, so you can certainly use it to transact without disclosing your identity or location. However, if you are using a regulated platform, while you will be allowed to buy Monero, your personal identification details must be provided.
Where Monero differs from other crypto is that it has a public explorer that only provides encrypted information. So, neither the seller nor receiver can point to the parties that they were in transaction with.
In terms of trading, it is legal to buy and sell Monero in many countries around the world, but not all. This is mainly due to the anonymity that it provides, depriving governments from tracking the enterprises of individuals and companies. In countries where Monero is restricted, investors can still hold and use their XMRs but regulated exchanges cannot sell it.
Will Buying Monero Make Me Money?
Monero reached a peak of $120.19 in July 2019 from a low of $45.94 in January of the same year, giving about 107 percent rate of return. Using this illustration, it is evident that Monero can really make you some money. Should I buy Monero? Many investors will answer this question in the affirmative. 107 percent return in 6 months is like a comet if you are on Wall Street.
You might need to read our Monero Price Page to glean more insights on the performance of XMR so far, so you can make better investment choices.
How to Spend Your Monero
Monero can be used for a wide range of payments online with no fuss. Apart from depositing into interest yielding accounts on platforms like NEXO, you can also use XMR to pay for website hosting on sites such as NiceVPS and Snel.
You can book journeys and holidays on Travala and settle your payments in XMR. Also, Hiri is an email client that accepts Monero while keyring Creative allows customers to pay for website designs using XMR. Several other online marketplaces accept XMR payments to date. More goods and services will be procured online and settled with Monero as more countries open up to cryptocurrency settlements.
How to Sell Your Monero
Monero can be sold on many platforms with ease. A few marketplaces allow investors to move funds from their XMR wallets to other crypto or fiat instantly without having to sign out. Others will require you to list your XMR for sale, and for a seller interested in immediate use of funds, it is advisable to use the market price option as the sales price. If you prefer to sell at an additional premium on market price, you might have to wait a bit longer. The present liquidity of crypto markets means that there is no need to worry whether anyone will be ready to buy your Monero when it is time to sell. The leading cryptos do not have such concerns.
However, since these exchanges differ from each other to varying degrees, if you are not able to sell Monero you can ask your broker for help. A broker which deals in XMR will provide an immediate value for your coins.
Frequently Asked Questions
You can buy as low as $10 worth of Monero.

Monero enjoys price volatility like most crypto. You can buy Monero when prices are down to get a better bargain.

Potentially, yes. There are different levels of return on Monero all-year round. So, making millions will depend on how much you can invest and when you are able to do so.

They can be. All financial instruments carry the potential for profit, and a Monero CFD is no different.

The 12 months high is $120.07

Yes. Monero has no rule that states you must retain some XMR in your wallet.

Yes. Monero officially recommends MyMonero wallet along with Ledger, XMRWallet, among others.

No. Monero is legal in over 100 countries throughout the world.