Where to Buy Chainlink?
Let's take a detailed look at some of the best platforms that offer LINK and their advantages and disadvantages.
1. eToro - Overall Best Place to Buy Chainlink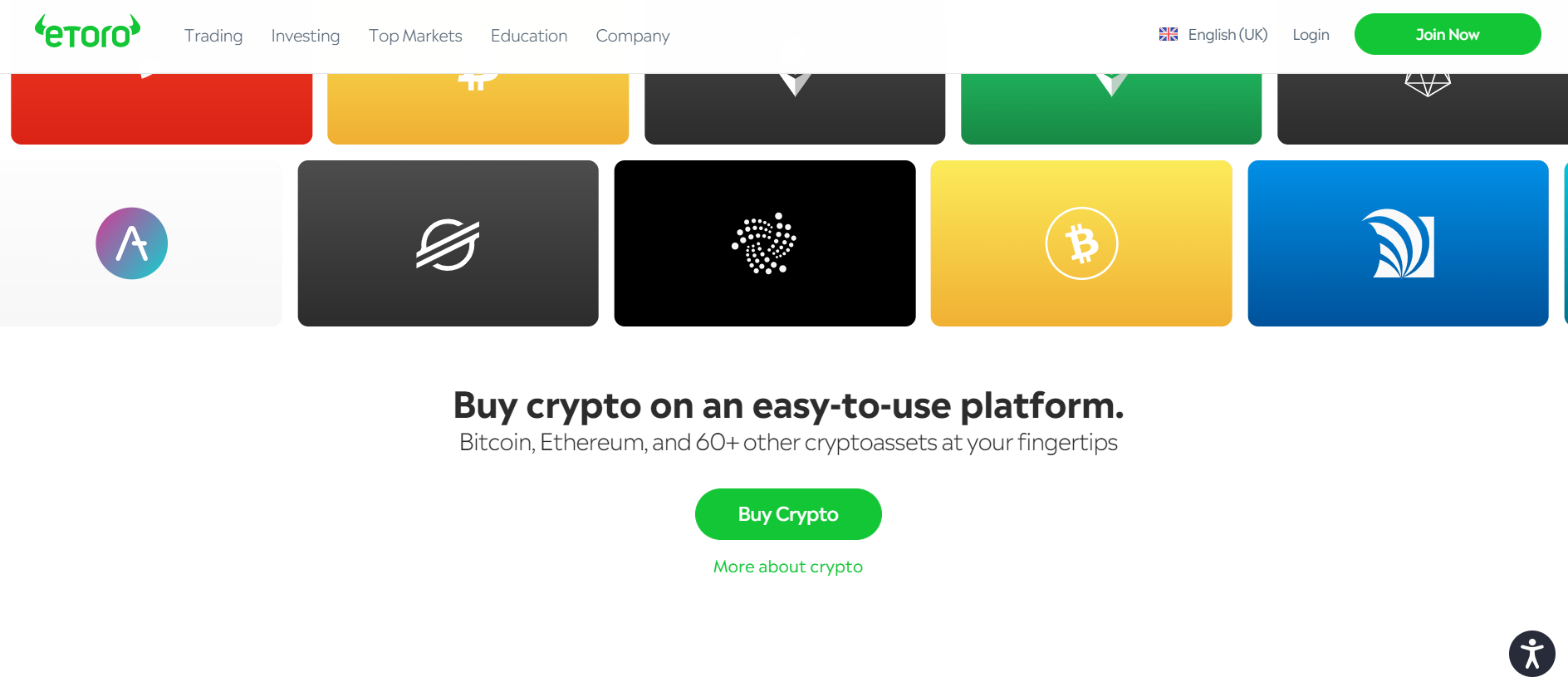 We believe that eToro is the top platform to buy LINK on as its clear, intuitive interface is easy to use for beginners, while the platform's charts and features also cater to more experienced users.
You can add Chainlink to your eToro watchlist to keep abreast of the latest market trends, and the Chainlink "Feed" and "News" tabs will keep you informed about developments. You can also use the "Stats" and "Research" tabs to conduct your own analysis.
It's not a problem, however, if you don't have the skills or time to do your own analysis. eToro is unique among competitors thanks to its innovative CopyTrader feature. This lets you choose other LINK traders based on their risk profile and profit margin and automatically copy their trades.
If Chainlink isn't your only interest, eToro gives you plenty of other investment options, including over 70 other cryptocurrencies, as well as traditional financial assets such as stocks, indices, and ETFs. You can even use thematic investment strategies based around LINK with the smart portfolio feature.
It only takes a few minutes to create an account with eToro, after which you can deposit a minimum of $10 for free through a range of payment methods including card, bank transfer, PayPal, and Neteller. The crypto trading fees are competitive at 1% plus spread and there is a $5 withdrawal fee.
Lastly, in the USA eToro is registered with FinCEN and a member of FINRA and SIPC. In the UK, the platform is regulated by the FCA, ensuring your investment portfolio is safe. Read our full eToro review here.
Pros
Low fees

0% commission

$10 minimum deposit (UK and USA)

Social investing features

Regulated, with strong security

Simple to use

Educational resources

Mobile app
Cons
Fewer coins than some crypto-specific platforms
2. Binance - Lowest Fees When Buying Chainlink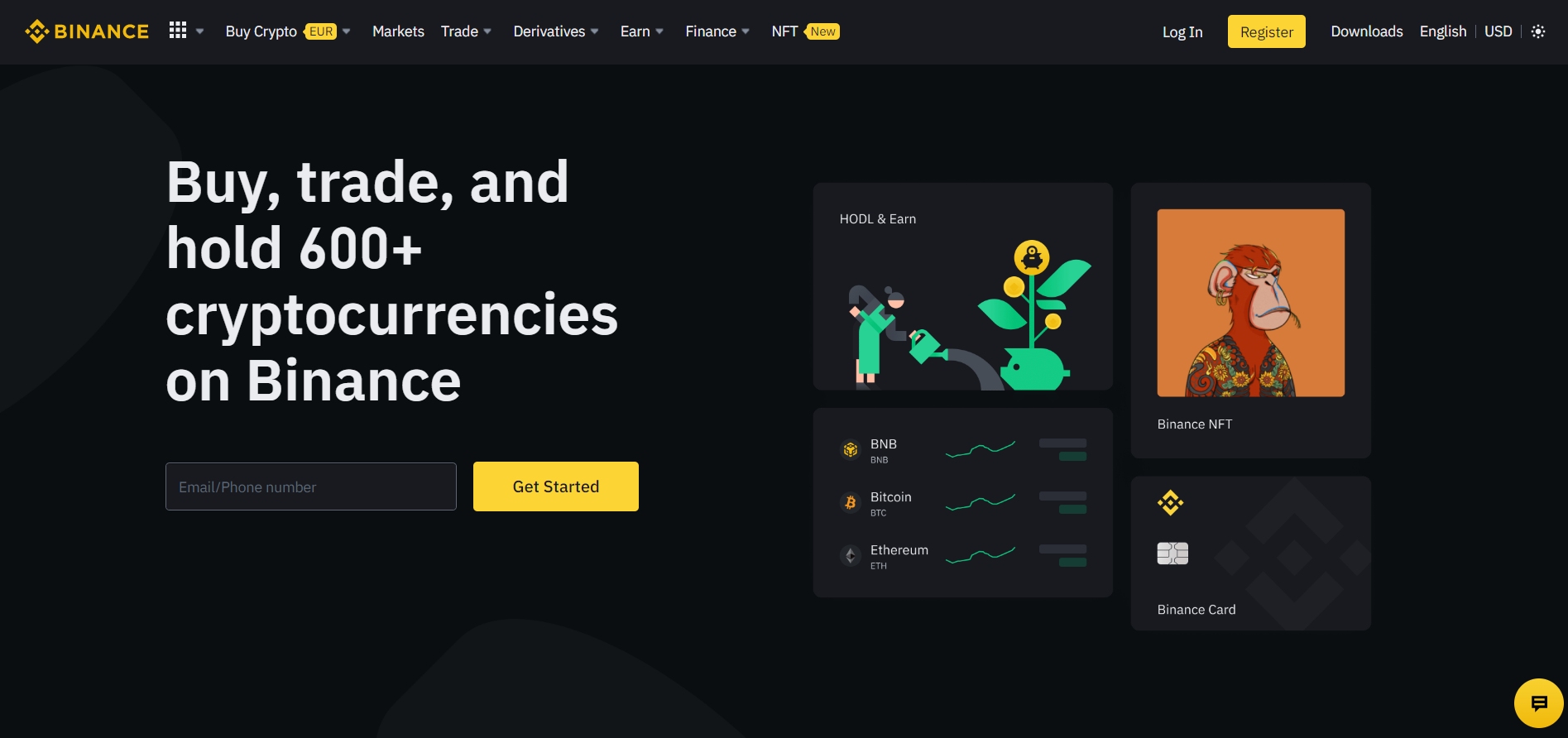 If you don't want to fork out a lot on fees when buying LINK, then Binance is the place to go. The trading fees are the lowest on the market at 0.1% or less, and depending on your local currency and payment method, you may be able to make deposits and withdrawals for free.
Those lacking experience will find it very simple to buy LINK with the convert feature, but there are also customisable charts, advanced tools, and indicators to satisfy more experienced traders. You can even trade LINK with leverage to potentially increase your profits.
Once you have purchased LINK, you can earn interest on it by depositing it into a savings account or through DeFi staking or liquidity farming. You can also swap it for any of the 600+ other cryptocurrencies available on Binance, including many new and obscure coins.
There are plenty of educational resources on Chainlink and other crypto topics in the Binance Academy if you want to brush up your knowledge. Users are protected by security features such as advanced data encryption, and the Binance mobile app means you can trade LINK wherever you are.
It's quick to create a Binance account, and identity verification could be completed in a few minutes. There is a minimum deposit of $50 and the minimum amount of LINK you can buy is $10. You can deposit LINK (or any other cryptocurrency) for free and the LINK withdrawal fee is 0.002-1.42 LINK, depending on the blockchain used. Read our full Binance review here.
Pros
Low fees

Over 600 other coins to trade

Advanced trading tools

Margin trading available

Ways to earn interest

Educational resources

Mobile app
Cons
Regulatory issues in some jurisdictions

Higher minimum deposit than other platforms

Fewer payment options than some competitors
3. Coinbase - Best Place to Buy Chainlink for Beginners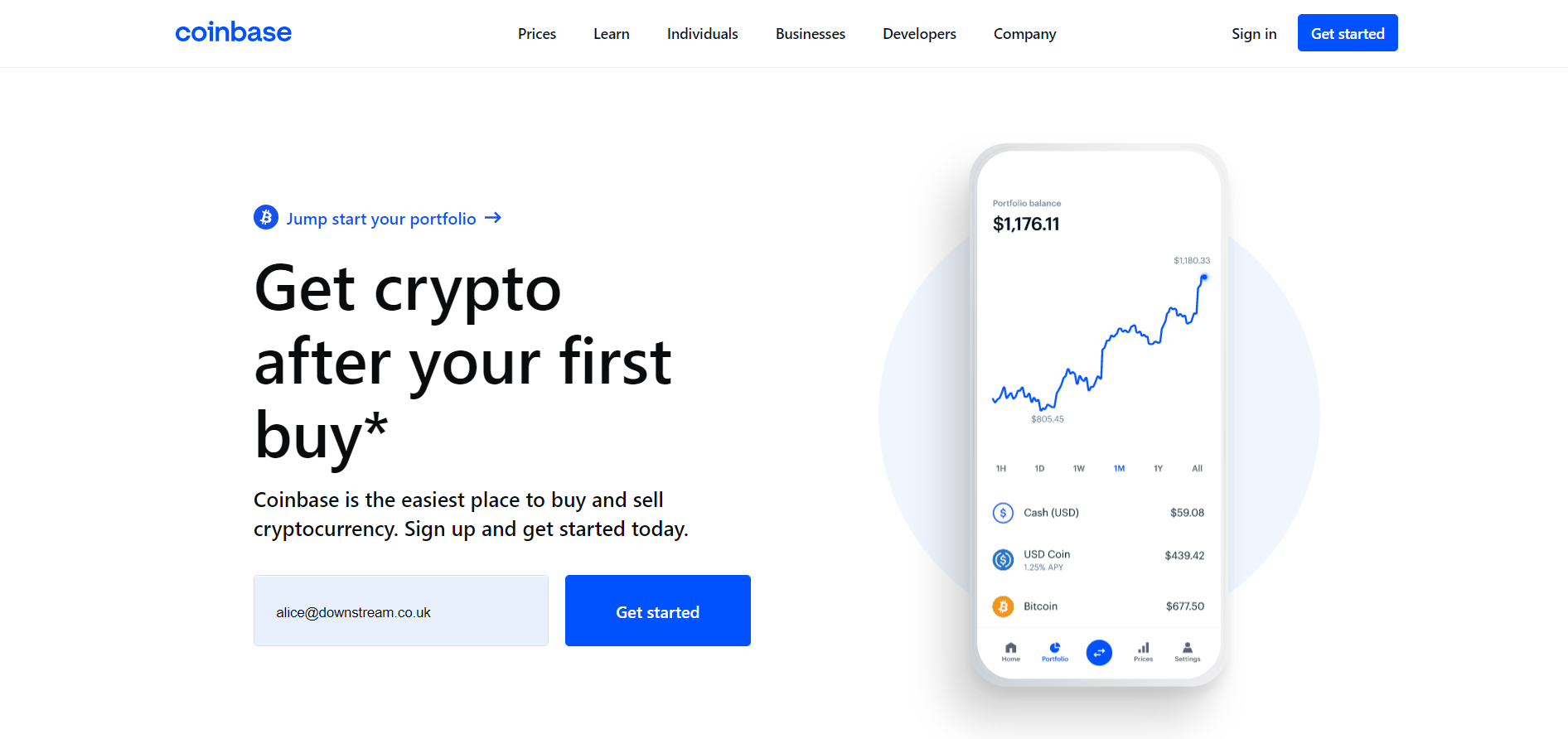 If you're looking for somewhere to start your crypto journey, Coinbase is a great place to buy LINK. The layout is very clear and the buying process is simple. It's easy to navigate the platform and view your portfolio in your dashboard. You can also keep up with LINK's market performance by adding Chainlink to your watchlist.
If you're not ready to invest a significant amount in Chainlink, Coinbase lets you purchase as little as $2 worth of the coin. You can also use the recurring buys feature to make automatic purchases on a regular basis, providing an easy way to implement a dollar-cost averaging strategy.
If you're a more experienced trader, it's simple to switch to the Coinbase Pro platform, where you can find more advanced features, such as charts, trading tools, and more order types.
There is plenty of educational material available if you want to expand your knowledge and users even have the opportunity to earn free crypto while they learn through Coinbase's regular learn and earn campaigns.
You can feel safe when buying LINK on Coinbase due to the platform's crypto insurance, offline storage, and regulatory licences. It will take a few minutes to set up your account and a minimum deposit of $50 is recommended. The trading fees are fairly competitive on Coinbase at up to 0.6% plus the spread. Read our full Coinbase review here.
Pros
Simple-to-use

Set up recurring buys

Earn free crypto through learning campaigns

Debit card for spending crypto

Secure offline storage
Cons
Low number of cryptocurrencies available
4. Bitpanda - Most Secure Place to Buy Chainlink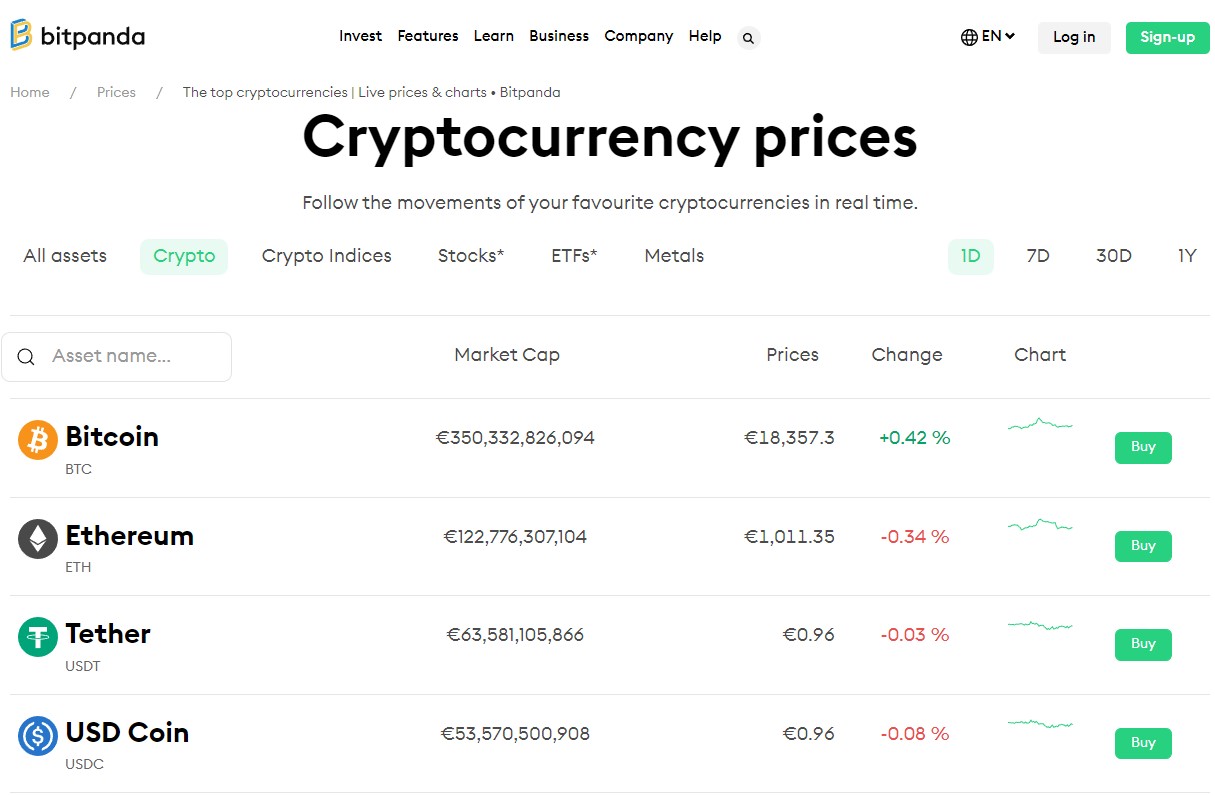 If you're looking for a safe way to purchase LINK, Bitpanda could be just what you're looking for as it secures all funds in offline wallets. You can also feel confident in the knowledge that the platform is regulated, holds the necessary licences, and is fully compliant with anti-money laundering regulations.
Bitpanda differentiates itself from most competitors by offering a multi-asset platform. As well as nearly 200 other cryptocurrencies, you can trade crypto indices, stocks, metals, and ETFs. You can even swap between different types of assets.
The Bitpanda Academy is stocked full of educational resources to help you develop a better understanding of crypto, and there's a Helpdesk if you need help using the platform. The support offered is rated highly by users, with Bitpanda receiving an excellent rating on Trustpilot.
You can set up recurring purchases of LINK as part of a savings plan, and the mobile app lets you trade from anywhere, while the Bitpanda Card allows customers to spend their LINK and other assets wherever they want.
It will take a few minutes to set up and verify your Bitpanda account, and the minimum deposit is $25 with a variety of payment methods available. After that, you can purchase as little as $1.50 or €1 worth of LINK. The quoted price of LINK includes a 1.49% premium, and you can withdraw LINK to an external wallet for a fee of about 1.17 LINK.
Pros
Nearly 200 other cryptocurrencies to trade

Multi-asset platform

Easy to use

Licensed and secure

Highly-rated by users

Wide range of payment options

Low minimum trade size

Educational resources

Mobile app
Cons
Fees for crypto deposits

Only email support is available

Unavailable in most countries outside of Europe
5. Bitstamp - Best Place to Buy Chainlink for Customer Support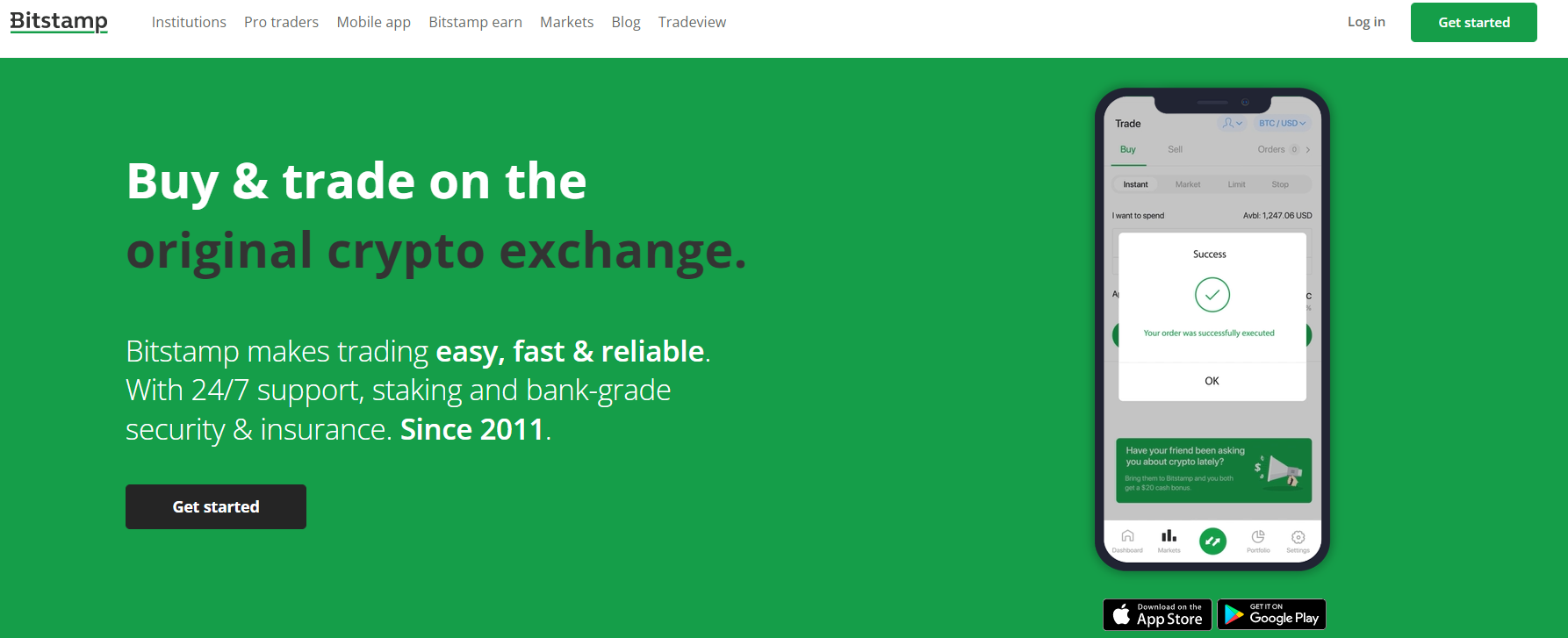 If you want a reliable place to purchase LINK that offers comprehensive support, then Bitstamp could be the platform for you. Customer support is available 24/7 by phone and email anywhere in the world. Bitstamp's free Crypto Pulse report also provides a comprehensive survey of global trends and market insights.
The intuitive interface makes for easy trading of 75 coins and Bitstamp's industry-leading uptime and high liquidity provide reliable order execution. Experienced traders will appreciate the analytical tools, advanced order types, real-time data streaming, and range of powerful APIs for deploying algorithmic strategies.
The exchange has been in operation since 2011 and customers can have confidence in Bitstamp's institutional-grade security practices, which include offline storage for 98% of assets, strong encryption of personal data, whitelisting, and transaction confirmations.
It won't take long to set up and verify a Bitstamp account and you can access it at any time and place through the Bitstamp mobile app. Instant card purchases are supported almost worldwide, though there is a 5% fee.
Most deposit methods, however, are free of charge and you can purchase as little as $10 worth of LINK. The trading fees are very competitive at 0.5% or less, and you can withdraw your LINK for a fee of 1.5 LINK.
Pros
24/7 phone and email support

Reliable

Institutional-grade security

Easy to trade on

Advanced trading tools

Most deposit methods are free of charge

Mobile app
Cons
Somewhat limited payment methods

Not as many cryptocurrencies as some competitors
6. Nexo - Best App to Earn Interest on Chainlink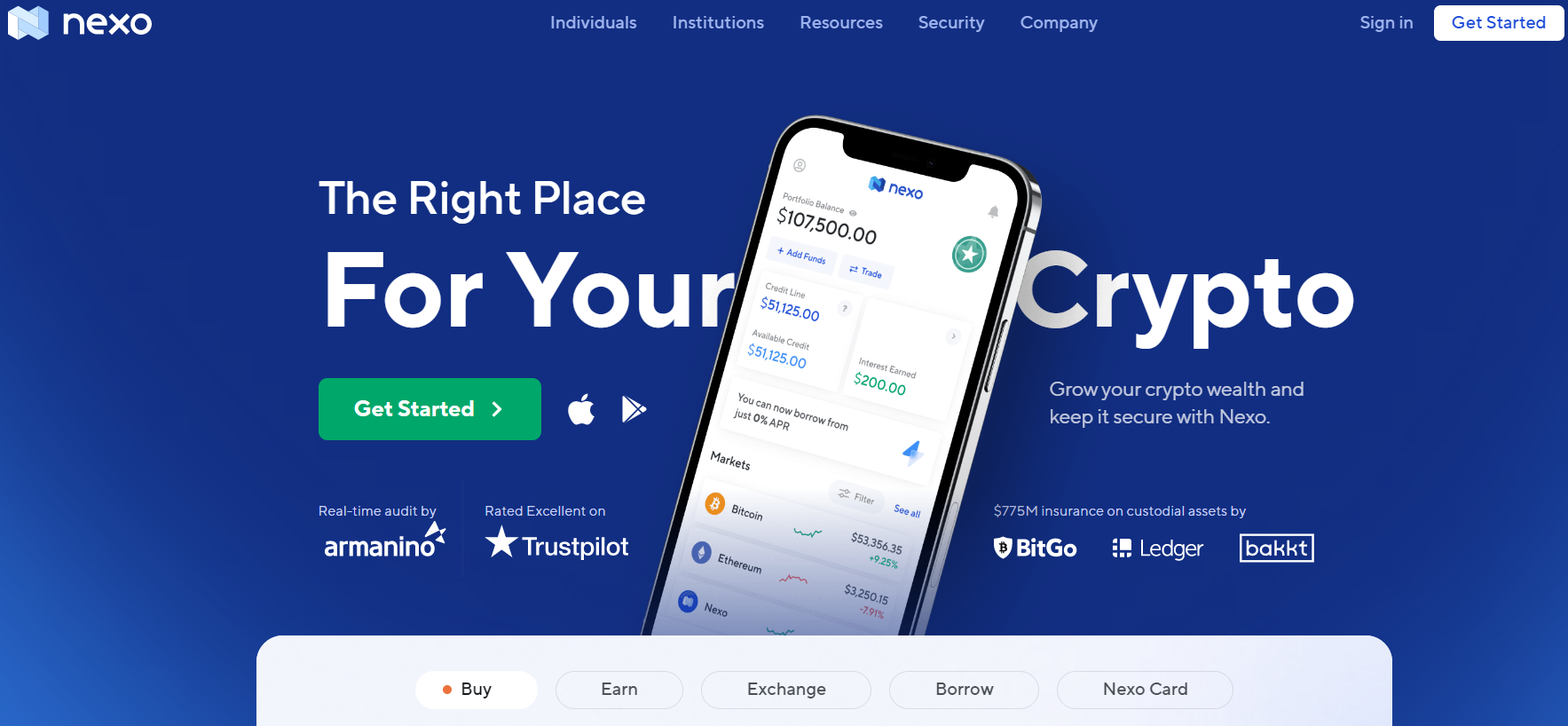 Nexo is a solid option for purchasing and storing Chainlink as you can earn up to 8% annual interest on your LINK.
If you don't want your LINK to simply sit idle once you've bought it, Nexo can be used to store and simultaneously help your investment grow.
On other assets, users can earn up to 17% annual interest, which is paid out daily.
The straightforward interface makes it simple to monitor and grow your portfolio. You can even take out a loan using your cryptocurrency as collateral.
Finally, on top of being an effortless place to buy LINK, Nexo provides competitive rates and instant cashback, and you can even spend your cryptocurrency with the Nexo Card.
Pros
Trade, borrow and earn interest on 38 coins

Up to 17% annual interest is available

Borrow cash or stablecoins

2% cash back on purchases with the Nexo Card

Up to 3x leverage with Nexo Booster
Cons
Fewer cryptocurrencies than many competitors

Lack of technical trading tools
What Is Chainlink?
Blockchain technology can provide a fair and efficient way of delivering a range of services and applications, but for these to be truly useful, they require access to real-world data that isn't on the blockchain. This is where Chainlink comes in.
Chainlink is a decentralised oracle network that provides access to off-chain information and computation. The technology has a broad range of use cases, from providing exchanges with price feeds to ensuring randomness for unpredictable blockchain gaming.
The project was founded in 2017 by Sergey Nazarov and the network is run by a diverse open-source community. Chainlink is built on Ethereum and LINK is an ERC-20 token that is staked by node operators to obtain data contracts, as well as being used as the means of payment for data and services on the Chainlink network. You can find our deep dive on Chainlink here.
Also, take a look at the Chainlink Whitepaper for a full breakdown.
What Payment Methods Can I Use to Buy Chainlink?
When it comes to different ways of purchasing LINK, you have a fairly broad choice of payment methods available. We'll explore a few of the most popular options and where you can use them below.
Buy Chainlink With a Credit or Debit Card
Credit and debit cards are a very convenient way of purchasing LINK and are accepted by a large number of crypto platforms.
The main downside to using your card is that fees are often higher than for other payment methods. Binance, for example, charges a 1.8% fee for bank card deposits, while Bitstamp charges 5% for instant card purchases. The cheapest way to purchase LINK with a card is through eToro where deposits are free.
Buy Chainlink With a Bank Transfer
Bank transfer is a popular means of buying LINK, as it is often one of the cheapest options, is supported on many platforms, and, if Faster Payments is available, you can receive your funds almost instantly.
You can make deposits via Faster Payments for free on Coinbase and Bitstamp, and for a £1 fee on Binance. Free wire transfers are supported on eToro but they can take up to 7 days to process and there is a $500 minimum.
Buy Chainlink With PayPal
PayPal is a fast, convenient, and secure way to purchase LINK. There are no fees charged by PayPal, but crypto platforms may choose to impose their own fees on PayPal deposits and purchases.
Although Binance doesn't accept deposits through PayPal, you can use PayPal to buy LINK on Binance's peer-to-peer marketplace. Coinbase users in the US can make PayPal deposits for a 2.5% fee or purchase LINK with PayPal for a 3.99% fee. PayPal deposits are free on eToro.
Buy Chainlink With Skrill or Neteller
Skrill and Neteller are both e-money transfer services that provide a fast and simple way to manage your money. Both can be used to make EUR and GBP deposits on Bitpanda, and Skrill can be used for USD deposits. On eToro, you can deposit via Skrill or Neteller for free.
How to Buy Chainlink - Step-by-Step Guide
Here is how you can easily purchase LINK on eToro .
1. Create a Free Account
Hit the "Join Now" button to be taken to the registration page, where you will need to supply a username, email address, and password. Click on "Create Account" once you've accepted the terms and conditions. Alternatively, you can sign up with Google or Facebook.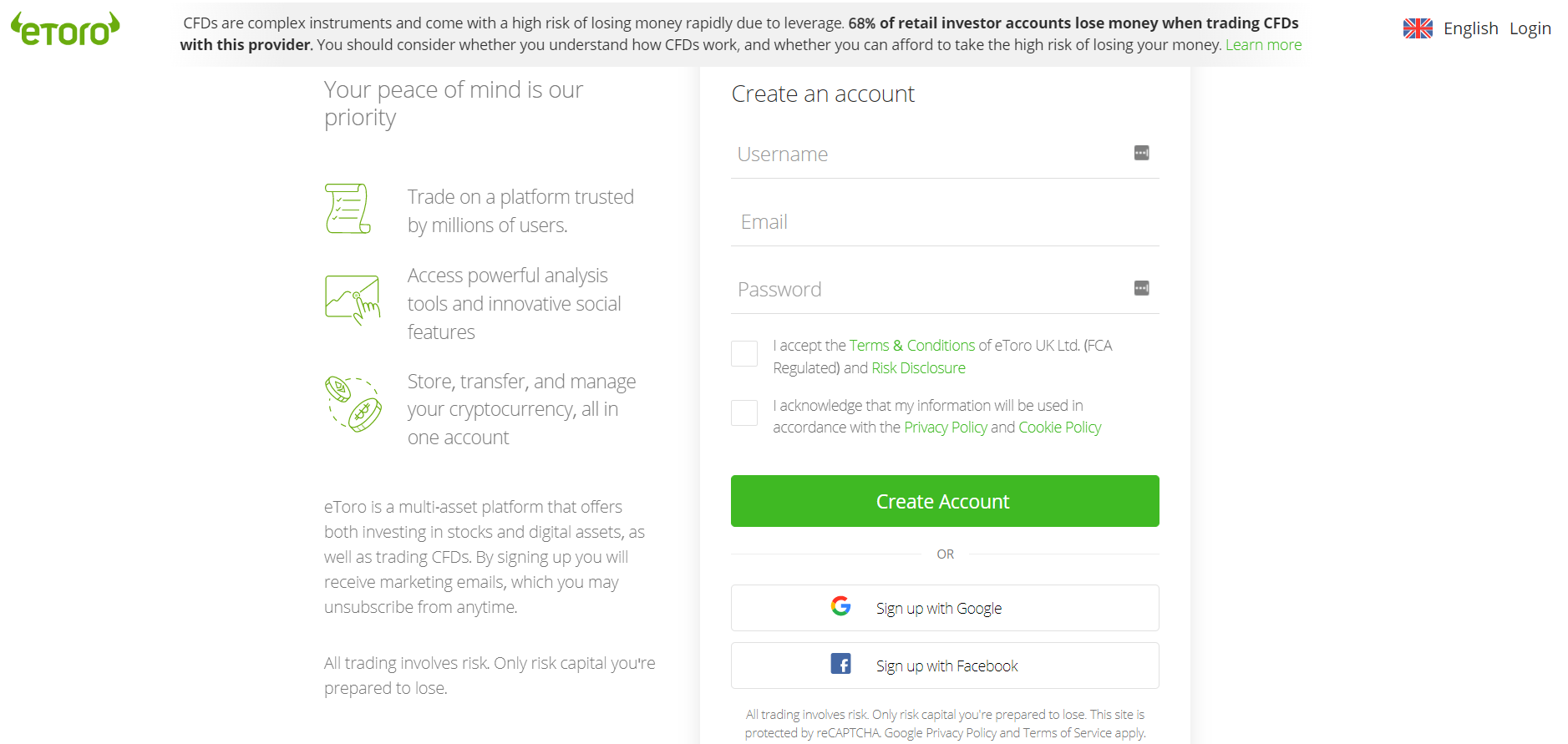 2. Verify Your Account
You will be emailed a link which you'll need to click to verify your email address. Then you'll need to fill in your full name, date of birth, address, phone number, and proof of identity in order to complete your profile.
You will then be asked to answer a few questions about your investing experience.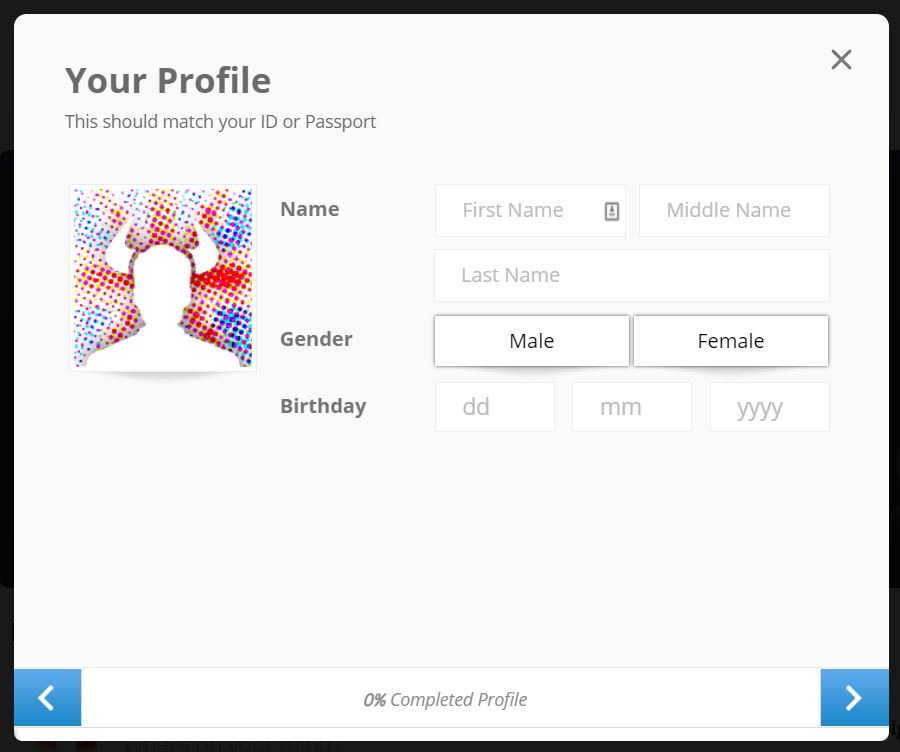 3. Make a Deposit
Click on the button that says "Deposit Funds" and type in how much you want to transfer. Select your local currency and preferred payment method from the dropdown lists and fill in any further details required for your chosen payment method. Then hit "Deposit" to transfer the funds.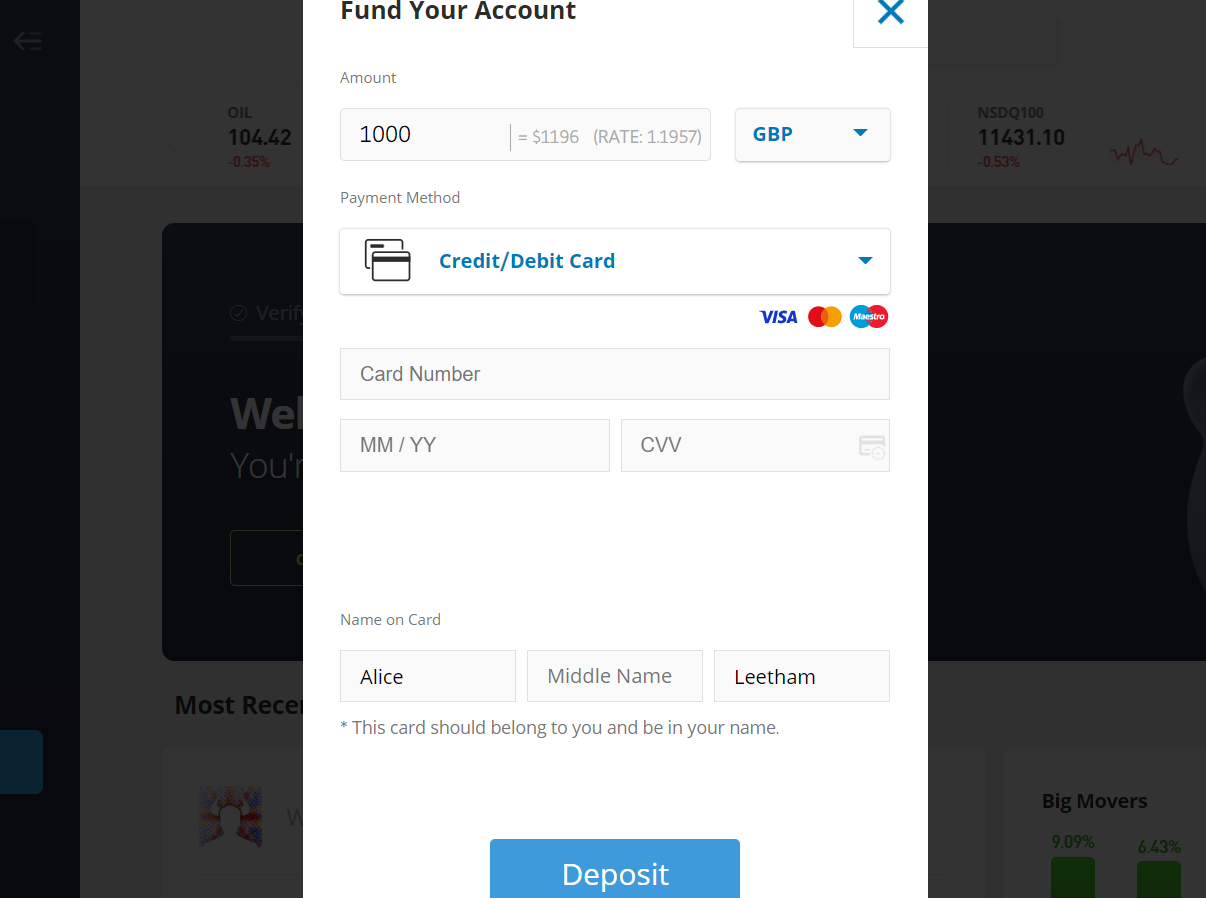 4. Buy Chainlink
Type "Chainlink" into the search box at the top to find the coin and click "Trade". If you want to specify a future price to buy at, you can switch to "Order". To buy LINK right away, enter the amount that you want to buy and hit the "Open Trade" button.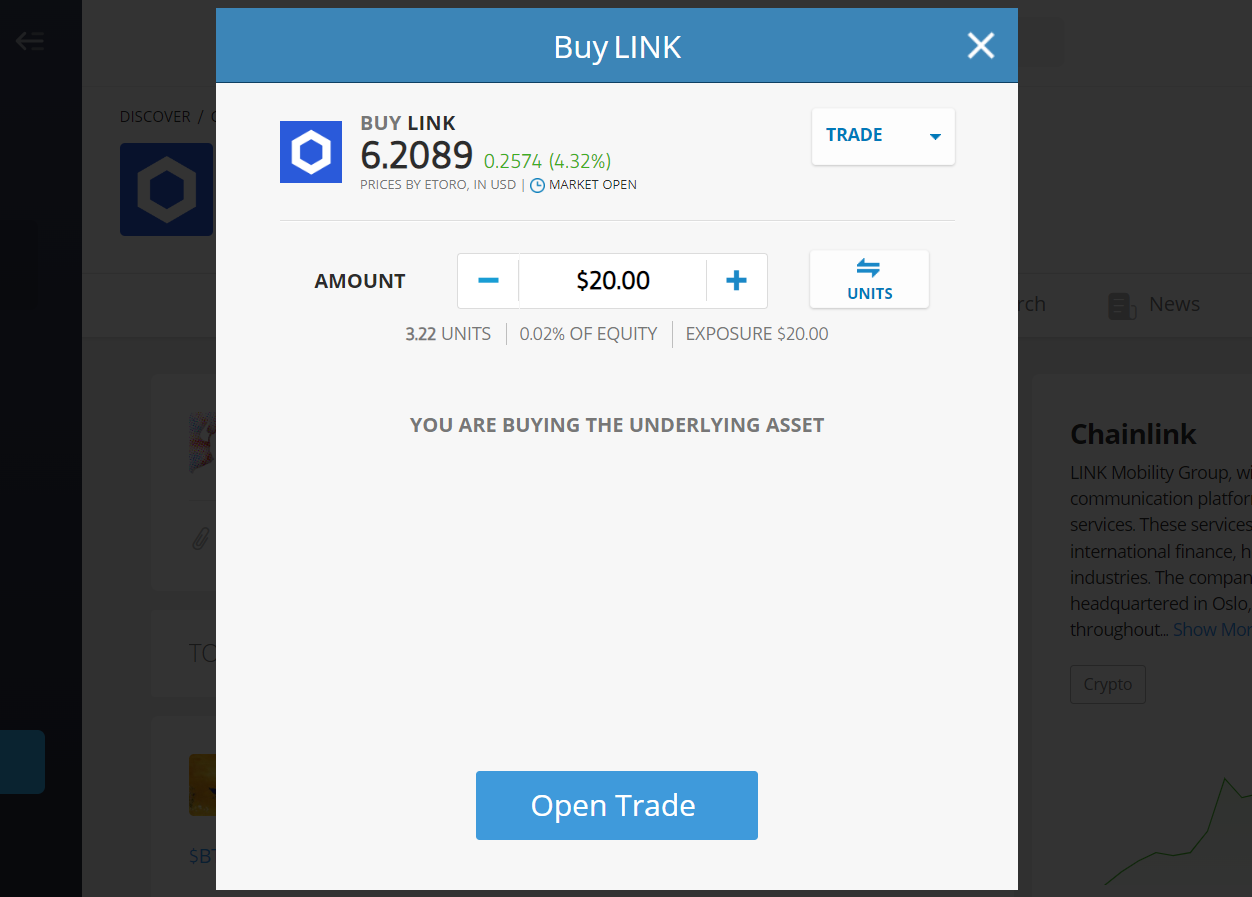 Ways to Invest in Chainlink
There are a number of ways to invest in cryptocurrencies, and which you choose will likely depend on factors such as skill, time, and risk appetite. Let's explore some of the ways that you can invest in Chainlink.
Buy and Hold Chainlink
This investment method pretty much does what it says on the tin—you buy some LINK and hold onto it for a while. This can be an easy way to make a profit as it is low skill and hardly requires any time.
Buy and hold investors believe that the price of the asset will increase in the long term. This could be the case if you believe in the future importance of oracles for blockchains, as if more people use Chainlink's services, there could be more demand for LINK, leading to a price rise.
Trade Chainlink
Trading LINK is a bit more complicated than buying and holding it. You'll be buying and selling much more frequently to take advantage of LINK's price volatility and generate regular profits. Trading takes more of a time commitment and skills such as technical analysis will be useful for identifying entry and exit points.
Stake Chainlink
Those in the Chainlink community with data to sell can stake LINK as collateral to increase their chance of winning a contract, which will result in them earning more LINK for the data services they provide.
Chainlink is also rolling out staking for the whole community in 2022. This will enable anyone who holds LINK tokens to help secure the network through staking, for which they will be rewarded with more LINK.
Choosing a Chainlink Wallet
There are plenty of places you could store your LINK. Considerations such as security, cost, and what you want to do with your LINK may impact your choice. Let's take a look at some of the most popular LINK wallets.
Chainlink Software Wallets
Web wallet: This is a very convenient wallet for those with a small amount of LINK or those who want to make regular LINK trades. All the platforms recommended in this article provide a web wallet where you can store your LINK for free.

Mobile wallet: Taking the form of an app that can be downloaded onto your smartphone, a mobile wallet is a convenient way to manage your LINK from anywhere. Freewallet provides a mobile wallet where you can store LINK.

Desktop wallet: You can download this type of wallet onto your computer and your private keys will be stored on your hard drive. Desktop wallets that support Chainlink include Exodus and Atomic.
Physical and Hardware Wallets
Hardware wallet: Often in the form of a USB device, a hardware wallet is the most secure storage solution, making it ideal for those holding a large amount of LINK for the long term. Trezor, BitBox, and Ledger all support Chainlink.

Paper wallet: You can use a key generator to create a private and public key that you can print or write down. Paper wallets aren't, however, recommended as a secure way to store LINK.
Wallet Combinations
You may decide to use more than one type of wallet to store your LINK. Ledger, for example, provides a hardware wallet that you can use in conjunction with the Ledger Live app. The way you invest may also make a wallet combination convenient. For instance, you might want to buy and hold some of your LINK in a hardware wallet while keeping the rest in a web wallet for regular trading.
Is Chainlink a Good Investment?
It is ultimately your decision whether to purchase LINK, but here are a few things you may want to factor into your decision.
Chainlink's utility gives the project fundamental value. Oracles are essential for providing the data needed for blockchain-based apps and services to function. Chainlink has been around for a while now and as one of the best established and most trusted oracle projects in the blockchain space, it has carved a valuable niche for itself.
As more apps and services move onto the blockchain, there will be an even greater need for data oracles. This could mean future growth of the Chainlink community, which in turn could lead to greater demand for LINK, causing its price to rise over time.
Chainlink founder Sergey Nazarov has impressive credentials that could inspire confidence in Chainlink. He started as a teaching fellow at NYU and went on to found other successful blockchain projects such as CryptaMail and SmartContract.
Chainlink is now powered by a diverse open-source community, and this decentralisation makes the project attractive to many in the crypto space.
In 2022, Chainlink is rolling out a full staking system that will allow delegation and secure the network. This will enable anyone who holds LINK to earn rewards by staking through delegation—not just node operators with considerable resources and skills. This could encourage more retail investment in LINK, making the asset more valuable.
LINK is an ERC-20 token, which means that transacting with it can incur high gas fees when the Ethereum network is congested. However, with "the merge" and Ethereum's transition to Proof of Stake, the blockchain should become much more efficient, which could eventually lead to less congestion and lower fees. This could encourage more people to start using Ethereum-based tokens such as LINK.
Should I Buy Chainlink Now? - Things to Consider Before Buying Chainlink
The previous section should have given you some idea about whether buying LINK is the right move, but there are also some more practical considerations to take into account. Let's take a look at a few.
Chainlink Fees & Regulations
As an ERC-20 token, LINK is subject to Ethereum gas fees when it is transacted, and these can be pretty high when the network is congested. Many platforms like eToro, however, just charge users a flat fee per trade, so you don't need to worry about network congestion.
Other fees that may be involved in the process of buying and transferring LINK are deposit fees, withdrawal fees, and fees associated with your chosen payment method. For example, some platforms will charge you higher fees for paying with a credit card.
The Chainlink project and its technology are not regulated by any financial authority, which means that in the UK, for example, LINK investors may not have access to the Financial Ombudsman Service. It is still perfectly legal to buy LINK in the UK and US, but doing so through a regulated platform is the best way to protect yourself.
Chainlink Price
The price of LINK is volatile like the rest of the crypto market and has been known to experience dramatic rises and sudden crashes. Short-term investors will aim to buy when the price dips and sell when it rises.
This requires predicting the price of LINK, which is influenced by a number of factors. These include the price action of other cryptocurrencies and established market cycles, as well as trends in the wider economy and global events.
Other factors that may impact the price of LINK specifically include project developments, updates, the broader roll-out of staking features, new partners, and community growth.
Buying Chainlink Safely & Securely
Buying LINK through a regulated platform is the safest option. Platform security features to look for include cold storage, crypto insurance, and the option to set up additional security steps such as two-factor authentication.
Once you've bought LINK, the next security consideration is where you store it. A hardware wallet is the most secure place. You should never share your private key with anyone, and make sure you keep your seed phrase safe so you can always recover access to your tokens if necessary.
The amount of money in the crypto market means it is a common target for scammers and hackers. Always be wary of emails you receive and check their provenance. Use strong, unique passwords for your crypto accounts and never share them with anyone.
What Other Platforms Can I Buy Chainlink On?
There are plenty of other platforms that also support the buying and selling of LINK. Let's explore some of the other options.
Can I Buy Chainlink on eToro?
Yes, eToro supports the purchase of LINK. The step-by-step guide above will show you in detail how to buy Chainlink on eToro.
Can I Buy Chainlink on Coinbase?
Yes. The process of how to buy Chainlink on Coinbase is a simple one and so very accessible for beginners.
Can I Buy Chainlink on Binance?
Yes. The options of the convert feature and spot and margin trading mean both beginners and pros are catered for by the process of how to buy Chainlink on Binance.
Can I Buy Chainlink on Robinhood?
Yes. Here's how to buy Chainlink on Robinhood: Sign up, go to the Chainlink page, enter the amount in the order window, and confirm your purchase.
Can I Buy Chainlink on Trust Wallet?
Yes. If you want to know how to buy Chainlink on Trust Wallet, just download the wallet, tap on Chainlink, hit the "Buy Chainlink" button, enter the amount, and provide your payment details.
Can I Buy Chainlink on Crypto.com?
Yes. Once you've downloaded the app, how to buy Chainlink on Crypto.com is fairly simple: go to your LINK wallet, tap "Buy", enter the amount, and follow the onscreen instructions to complete the payment.
Can I Buy Chainlink on Uniswap?
Yes. How to buy Chainlink on Uniswap is a little more complicated as you will first need to buy another cryptocurrency such as ETH to swap for it. You can buy ETH on a platform such as eToro and transfer it to a private wallet, which can be connected to Uniswap.
Can I Buy Chainlink on MetaMask?
Yes. Here's how to buy Chainlink on MetaMask: In the app or extension, click "Buy", select a payment provider, enter the amount in fiat, click the token name to change it to LINK, and complete the transaction.
Final Thoughts
As you can see, there are plenty of decisions to make when purchasing LINK, such as how to invest, when to buy, and which payment method to use.
The most important decision is which platform to use, and we believe the answer is eToro. This is because it stands out from competitors in aspects such as deposit fees, security, user experience, and unique features.
The step-by-step guide above shows just how easy it is to buy Chainlink on eToro.