In little over a decade of their existence, cryptocurrencies have made their mark on the financial landscape. 
Fast and secure, digital coins and tokens offer a better alternative to users—from investment and trading to paying for products and services.
There are many cryptocurrency apps created today that serve a variety of purposes, but the sheer number in existence can confound a person in selecting the right one. 
Your worries are over as this guide will list some of the best crypto apps in 2022, inspecting each for their benefits and features.
Our Top Picks for the Best Crypto Apps
Top 10 Crypto & Bitcoin Apps Reviewed
1. eToro - Overall Best Crypto App
eToro ranks as the best cryptocurrency app thanks to the range and quality of services it provides. It's a great place to start a crypto portfolio as you can find out about trending coins and the biggest daily movers in the "Discover" tab—and add any that interest you to your watchlist.
The clear layout and intuitive user friendly experience make eToro a great place for beginners, while the rich feature set and technical analysis tools mean advanced users can benefit as well. The platform makes it easy to trade more than 60 of the top cryptocurrencies.
What really makes eToro unique among crypto apps, however, is the innovative CopyTrader feature. This is a great tool for newbies and those who want to improve their capital efficiency as it lets you automatically replicate the trades of the most successful traders around the world.
You can browse the top traders and view stats on them such as risk tolerance and percentage return to decide who to copy. What's more, eToro is a social investing community, meaning users can connect with other traders to learn, share experiences, and access collective wisdom.
There's no need to confine yourself to crypto trading either—eToro provides access to thousands of traditional financial instruments, such as stocks, commodities, forex, and ETFs. You can even use Smart Portfolios to benefit from thematic investment strategies with diversified exposure.
It's easy to open a free account with eToro and there are no management fees or commission on stocks. When you trade crypto, you will just pay a transparent 1% fee on each purchase and sale, and the minimum deposit is $10 (£8). Read our full eToro review here.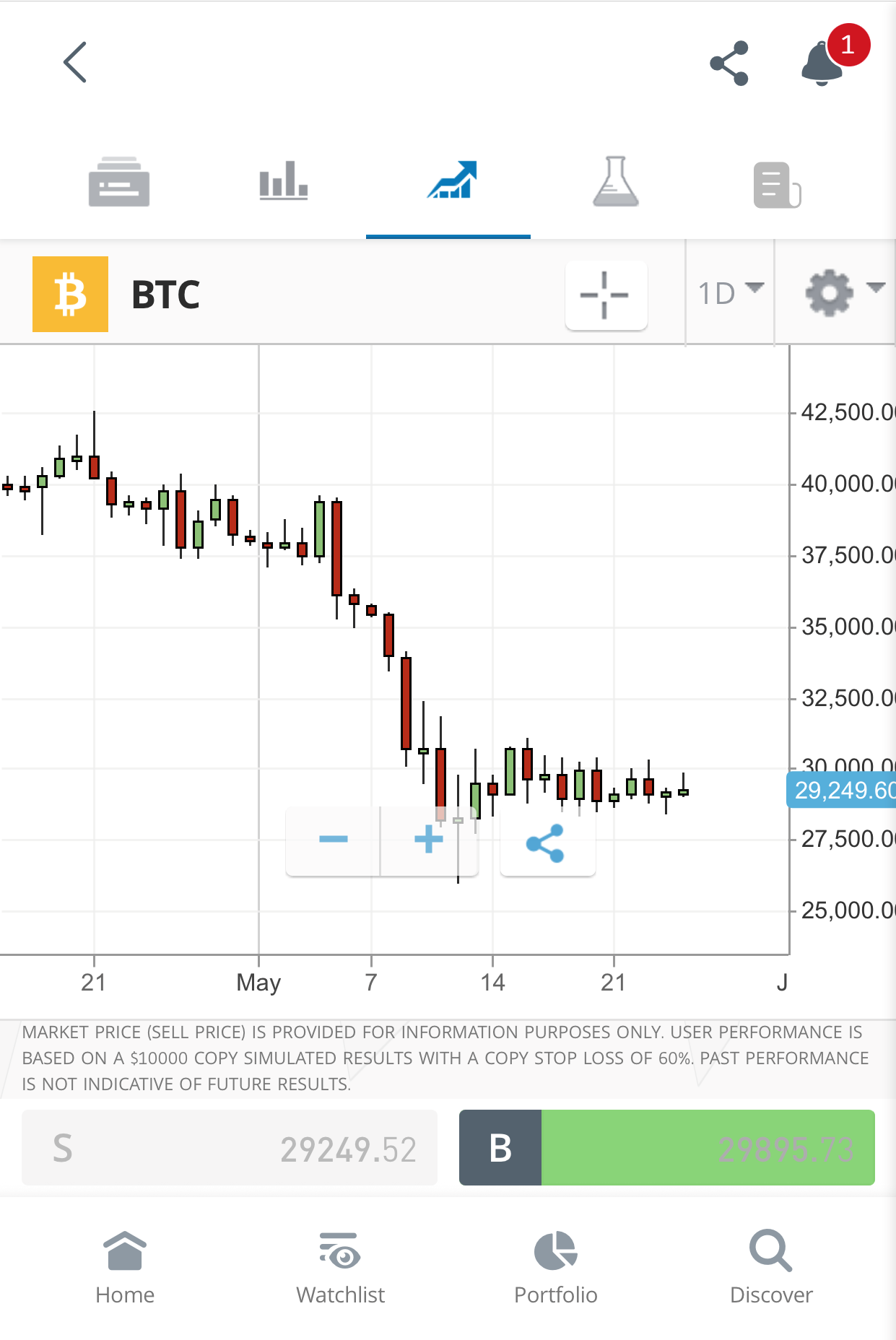 eToro Pros:
Trade over 60 of the most popular digital currencies

0% commission

$10 minimum deposit (UK and USA)

Multi-asset platform

Social investing features

Regulated, with strong security

Available in over 100 countries

Easy to use

Educational resources

Wide range of deposit options
eToro Cons:
Unavailable in a number of countries

Not as many cryptocurrencies as some crypto exchanges
2. Binance - Best Altcoin App for Trading
With over 600 cryptocurrencies listed, Binance is the one of the best crypto apps for trading altcoins. The sheer number and variety of coins mean that Binance stands out from its competitors when it comes to finding new and obscure cryptocurrencies. It might just be the best crypto trading app that allows you to create a diverse portfolio all int one place.
There is a convert feature that makes it easy for the uninitiated to swap, buy and sell digital currencies. Meanwhile, advanced crypto investors can take advantage of customisable charts and a wide range of technical indicators.
There is also the potential to increase profits with margin trading, as well as a range of other trading instruments, such as fan tokens, futures, and options. The new Binance NFT marketplace even provides somewhere to buy and trade NFTs.
There are plenty of opportunities to turn your crypto into more crypto in the Earn section of the app. These include staking, savings accounts, liquidity farming, and the Launchpad, where you can earn newly-launched coins.
Setting up a free account is simple and there are a variety of payment options for making a deposit. The minimum deposit is $50 (about £40) and there are no fees for deposits or some fiat money withdrawals. There are fees for crypto withdrawals, which are different for each cryptocurrency, but Binance trading fees are some of the lowest at 0.1% or less.
Read our full Binance review here.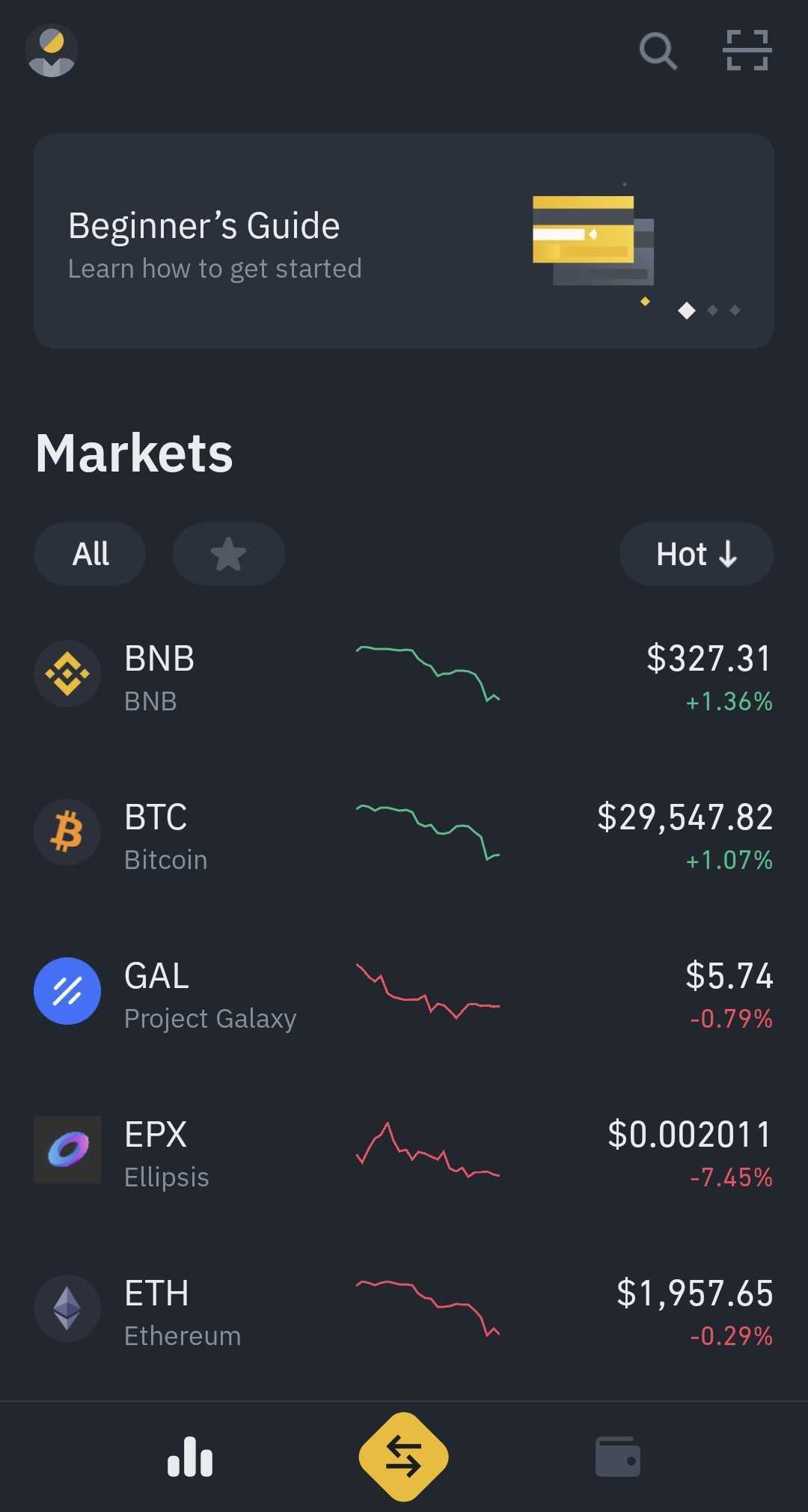 Binance Pros:
600+ coins

Guides and information resources in Binance Academy

Debit card available

NFT marketplace

Staking services and savings

Token launch platform

Advanced tools for trading

Low transaction fees

24/7 chat support
Binance Cons:
May be a bit technical for absolute beginners

Faces regulatory hurdles in some jurisdictions
3. Coinbase - Best Cryptocurreny App for Beginners
Coinbase is one of the simplest crypto apps to use, making it the ideal place to start your crypto journey if you're a beginner. The layout is very clear and intuitive to navigate, so you can easily buy or sell more than 150 coins with a couple of clicks. Crypto enthusiasts are also catered for as the Coinbase Pro platform provides advanced tools and indicators.
You can easily view and manage your portfolio in your dashboard. What's more, you can set up regular automatic purchases with the recurring buys feature, providing a simple way for users to implement a dollar-cost averaging strategy.
If you want to develop a better understanding of the world of crypto, Coinbase provides tips, tutorials, and a range of educational articles. You can even earn free crypto in the process with Coinbase's regular learn and earn campaigns.
Other features Coinbase provides include a self-custody wallet, an NFT marketplace, crypto-collateralised loans, and the Coinbase Card for spending crypto while earning rewards.
Coinbase employs industry-best practices and secure offline storage to keep assets safe. It also protects users' funds with crypto insurance and FDIC insurance.
Coinbase recommends an initial deposit of at least $50 or £50 to verify your bank account, but you can buy or sell as little as $2 or £2 of any cryptocurrency. For more information on it's investing simplicity read our full Coinbase review here.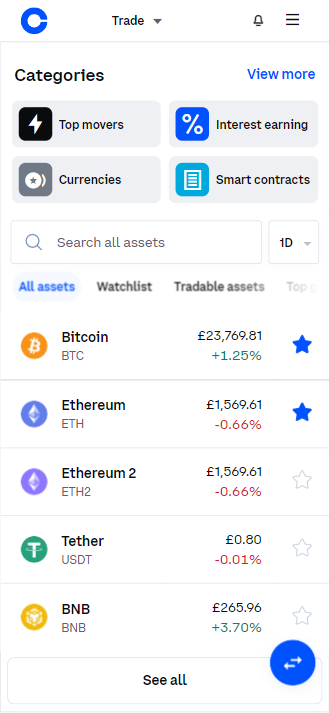 Coinbase Pros:
100+ countries supported

Low trading fees

User friendly for beginners

Staking services and other features are available

Earn crypto for nothing through learning campaigns

Secure offline storage

High-quality educational resources
Coinbase Cons:
Not as many digital currencies as some competitors

Fees can be high using card payments
4. Nexo - Best Crypto App for Extra Features
If you want to do more than just buy and sell cryptocurrencies, Nexo stands out among crypto apps for the extra features it offers. It's the app to use if you want to unlock the power of your crypto and build wealth.
Similar to other crypto apps, Nexo allows users to instantly buy Bitcoin and 40 other cryptocurrencies with a credit or debit card and exchange between more than 300 market pairs. Unlike other mobile apps, however, Nexo lets you earn up to 0.5% instant cashback on swaps.
The most popular feature that makes Nexo stand out from the competition is the interest-bearing savings accounts. Users can earn up to 18% APR on over 30 digital assets with daily payouts, zero fees, and the ability to earn in kind or in the proprietary NEXO coin.
It's also possible to take out loans against your crypto with competitive rates starting at 0% APR and instant approval, while the Nexo Booster lets you leverage your crypto holdings up to 3x while avoiding price slippage.
There is a minimum deposit of $10 (£8) to get started with Nexo and you can make up to five free crypto withdrawals a month, depending on your loyalty tier. There are no fees for making swaps, but Nexo charges a small spread which is displayed before users finalise the swap.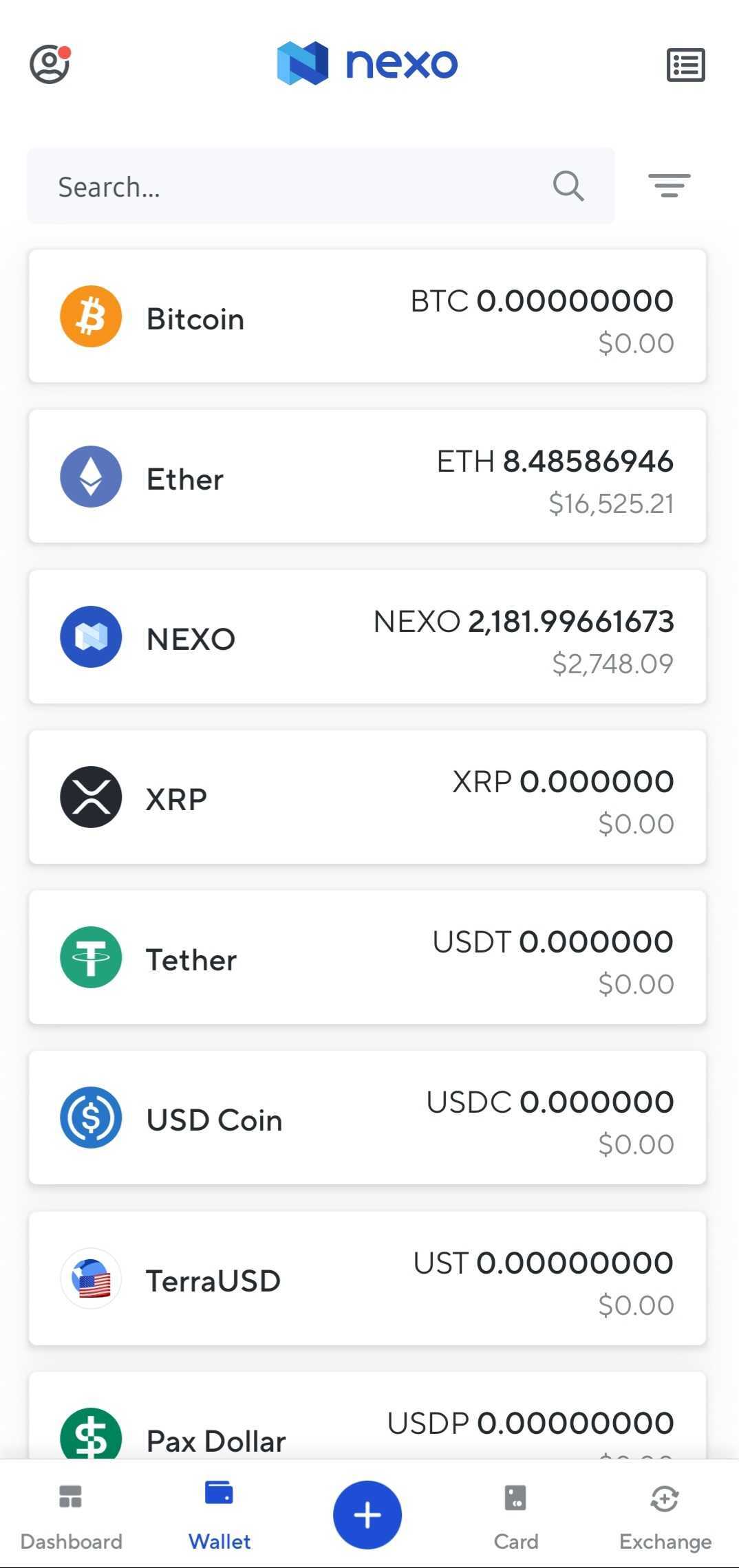 Nexo Pros:
Trade, borrow and earn interest on 38 coins

Available in 200+ jurisdictions

Earn up to 18% annual interest is available

Borrow cash or stablecoins

2% cash back on purchases with the Nexo Card

Military-grade security

Up to 3x leverage with Nexo Booster
Nexo Cons:
Fewer cryptocurrencies than many competitors

Lack of advanced trading tools
5. bitFlyer - Best Crypto App for Low Fees
If you're trading on a budget, then bitFlyer is the place to go. Unlike most crypto apps, bitFlyer lets you buy and sell cryptocurrencies with more than 10 of the most popular and with zero trading fees.
The user friendly interface is easy for beginners to use, while more experienced traders who want access to advanced features and trading tools can make use of bitFlyer's Lightning Exchange, with fees for trading of up to 0.2%.
The app is secured with the latest encryption technology, and is well regulated, having received licenses to operate across Europe, the US, and Japan. It is also fully audited by Ernst & Young.
It's easy to get started with bitFlyer as the quick ID verification process means that you can sign up with your email address, verify your account, and immediately start investing—all in under five minutes.
You can use bitFlyer to buy and sell small amounts of crypto while you build your confidence as you can start with as little as €1. You can deposit euros to bitFlyer via SEPA for free, while SEPA withdrawals have a flat fee of €0.30 for withdrawals under €250,000. Withdrawal fees for cryptocurrencies start from zero and can be viewed here.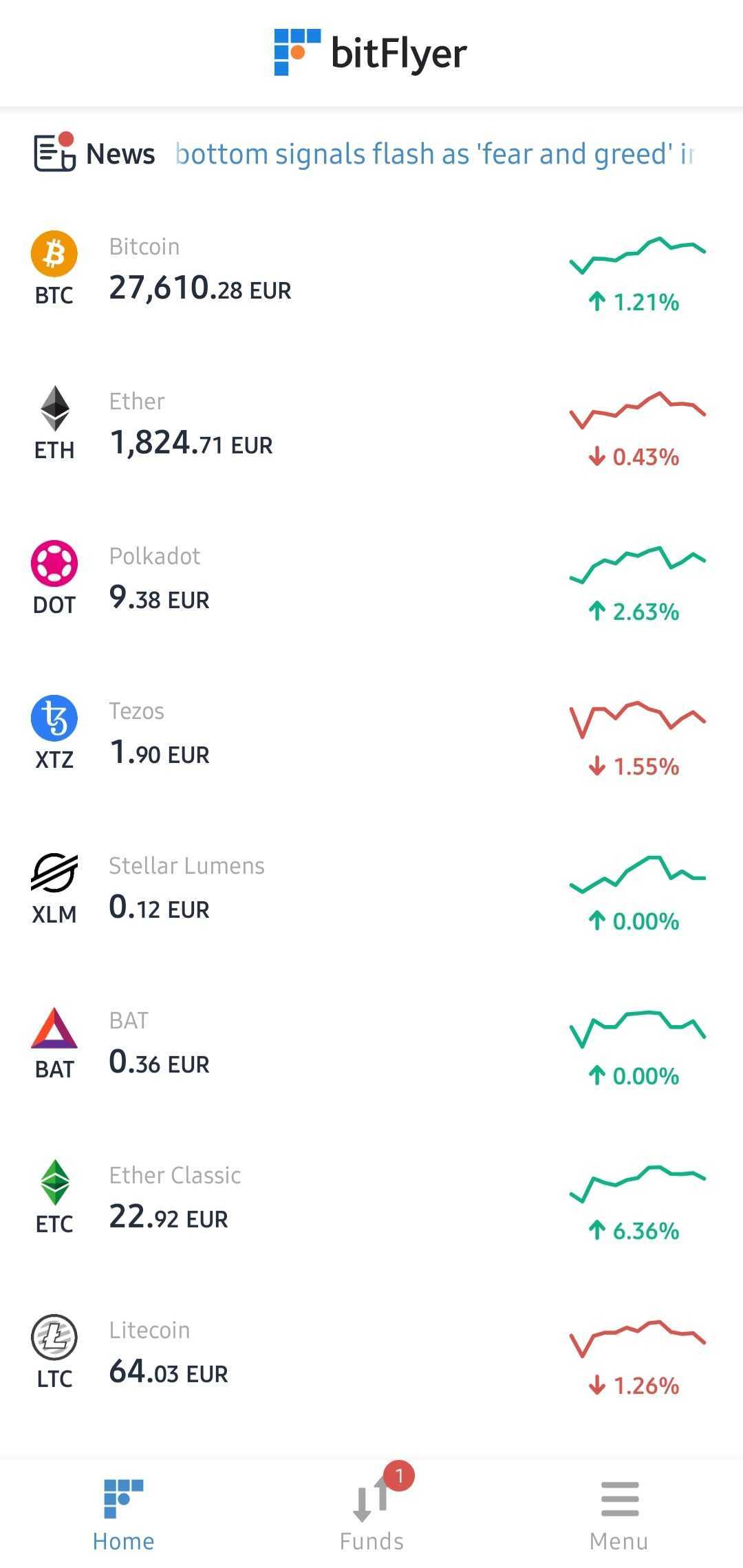 bitFlyer Pros:
No fees for buying and selling crypto

Easy to use

Secure and regulated

€1 minimum trade amount

ID verification in under 5 minutes

Advanced trading with bitFlyer Lightning
bitFlyer Cons:
Only 7 cryptocurrencies are available

Trading pairs for fiat currencies EUR and JPY only
6. OKX: Best Crypto App for Exploring Web3
OKX is the best option for web3 wanderers who want to experience the crypto-verse beyond coins and cryptocurrency exchanges. With stunning visuals and eye-popping colours, OKX shows the web3 landscape in glorious technicolour.
The exchange's services run the gamut from quick conversions to spot trading, margin trading, bot trading, futures, and block trading that caters to newbies looking to buy coins and experienced traders hunting for juicy gains.
Users looking to grow their funds can leverage the several opportunities under the Earn category. OKX integrates with third-party applications to offer products like DeFi lending pools, fixed income deposits, stablecoin staking, and crypto flash deals from a single platform.
And for users who love exploring, a toggle option transforms OKX from a crypto exchange to a gateway wallet with access to everything from the top NFT collections to blockchain games, DeFi apps, and everything in between.
Creating an account is easy. All you need is a phone number or an email address. However, your account will be limited until you complete KYC using a valid form of ID and a proof-of-address document like a utility bill.
You can also deposit funds using a credit card, a bank transfer, or the p2p market.


OKX Pros:
Several options for growing crypto funds

Access to DeFi, NFTs, and games from a single portal

Easy signup and verification

Deposit support for up to 30 currencies

Robust derivative market

24/7 customer support
OKX Cons:
Confusing help articles

Limited deposit and withdrawal options
7. Bitpanda - Best Crypto App for Indices
Bitpanda is the best option for users who need an easy way to manage their crypto portfolios from a single point. Its all-inclusive mobile app gives crypto investors the tools to invest in cryptocurrencies and crypto indices anywhere at any time.
The platform's most popular features are its crypto indices and savings plan. Its indices work like the traditional ones which track the entire crypto market or certain sectors. Newbies who don't know what coins to buy can invest in the entire market.
Its savings plan automatically dollar-cost averages into any supported crypto. This feature can be connected to a credit card to fund automated purchases and paused and resumed at any time.
Other impressive features include an in-built swap for supported cryptos, staking vaults with up to 13% APR, a debit card that works with Apple Pay and offers Bitcoin rewards for transactions, and a payment interface that sends money to European banks.
For more traditional investors, Bitpanda offers access to stocks, ETFs, and precious metals. However, they are contracts that replicate the assets' price movements, not the assets themselves.
To open an account, download the mobile app or navigate to the website and sign up. At first, you only need an email address, but later on, you'll have to verify your identity to access the platform's full features. A valid ID and address verification documents should be sufficient.
Bitpanda is licensed and regulated by several bodies like the Financial Market Authority (FMA) Austria, the French Autorité Des Marchés Financiers (AMF), and the Czech Trade Authority.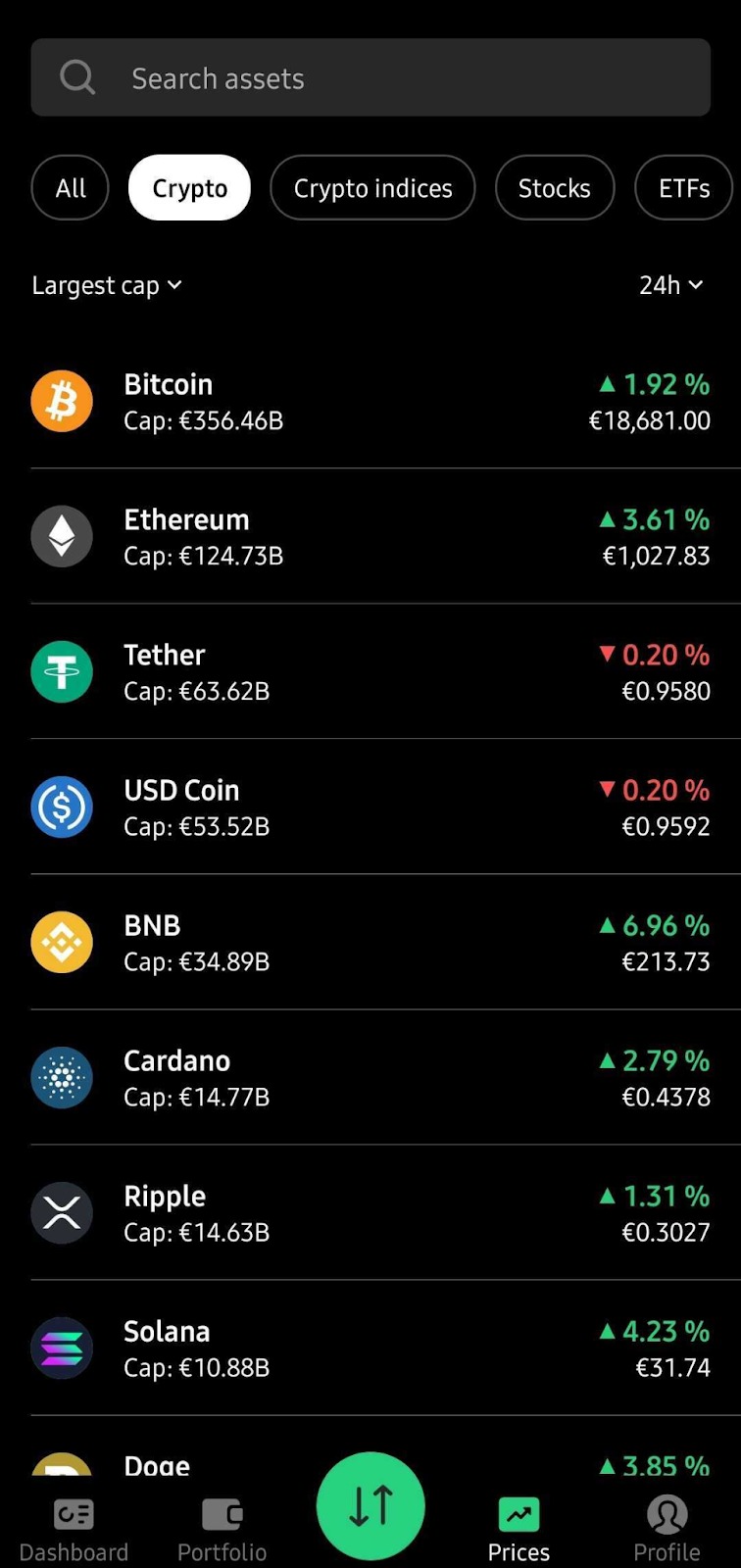 Bitpanda Pros:
Simple, easy-to-use platform

Innovative crypto indices

Comprehensive learning materials

Pro platform for advanced traders

€25 minimum deposit and withdrawal
Bitpanda Cons:
Limited support for currencies

The withdrawal method is limited to bank accounts
8. Coinmama - Best App for Payment Flexibility
If you need a broker that makes it easy to buy Bitcoin and other cryptos, then Coinmama is right for you. The broker has one of the widest deposit/purchase options for buying cryptocurrencies independent of geographical constraints usually imposed on users of major exchanges.
Coinmama lists ten ways people can buy crypto from them. They include bank cards, Skrill, Apple Pay, Google Pay, SWIFT, Fedwire, and SEPA transfers. These methods work regardless of location, but they are limited to certain currencies.
For example, Google and Apple Pay only work with USD, Fedwire only works with USD, and SEPA transfers work with USD, GBP, AUD, and CAD. Different payment options only support certain currencies. And the currencies supported are USD, GBP, CAD, and AUD, so buying in other currencies may attract conversion fees when using bank account cards.
Payment methods also come with varying fees and minimum deposit limits. For example, using bank cards costs a 5% express fee, aside from regular charges imposed by your bank or credit card company, and will only be processed for amounts above $30.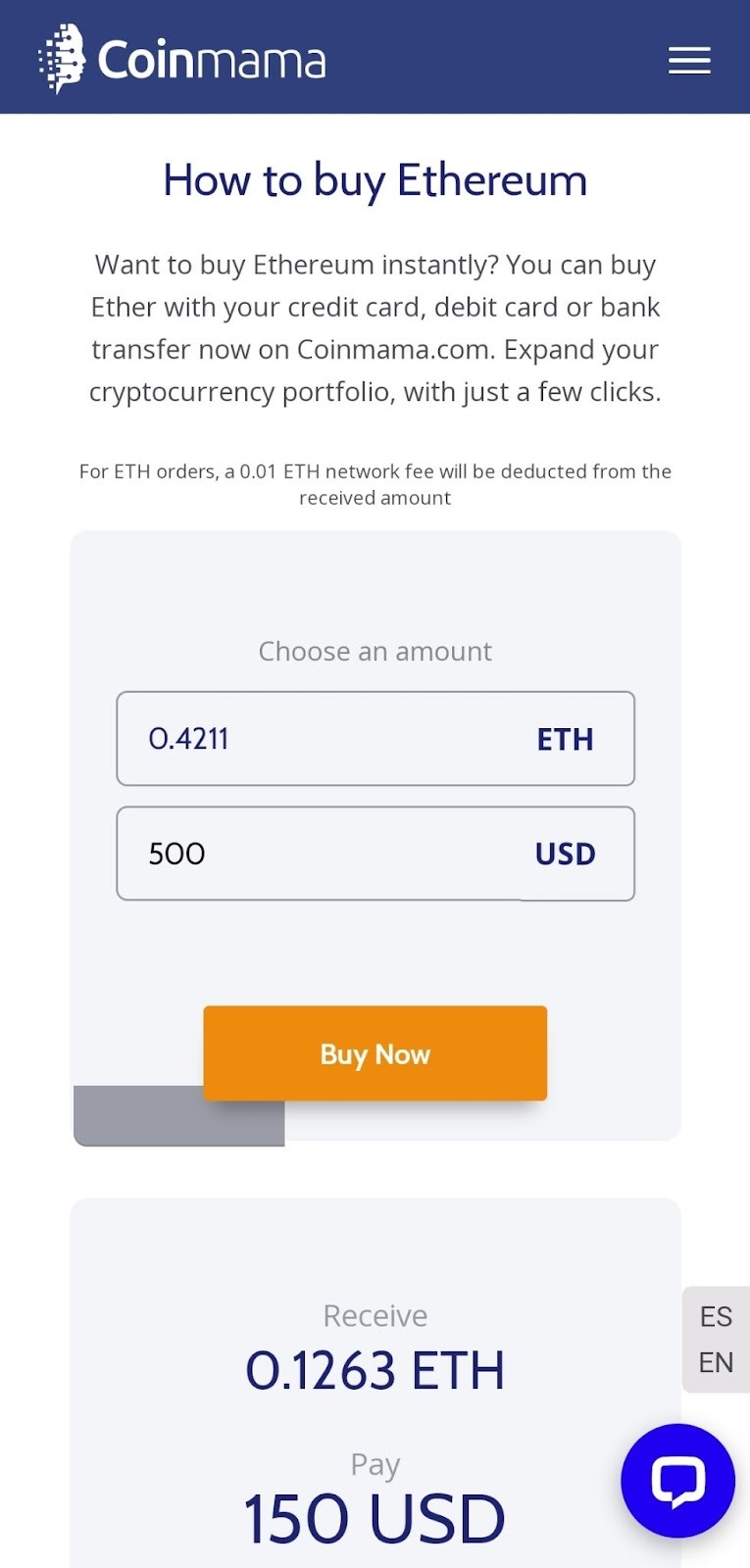 Coinmama Pros:
Simple, easy-to-use UI

Straight-forward sign up process

Works in most countries

Flexible payment methods

$30 minimum deposit

Free deposits for certain deposit methods
Coinmama Cons:
Not much support for fiat withdrawals

High fees on certain deposit methods (e.g 5% for Google Pay)
9. FTX - Best Crypto App for Trading Derivatives
FTX is a global broker that provides superior trading facilities to retail and institutional clients. It is a good choice for core traders who value sophisticated trading tools and flexible order types over coin selection.
Although the trading platform emphasises its charting facilities, it is a full-fledged broker and exchange with over 300 crypto pairs on its spot market. It also offers derivatives like perpetual futures contracts, leveraged tokens, tokenised stocks, volatility contracts, and prediction markets for real-world events like the winners of the next Olympics.
For advanced traders, FTX offers a quant zone that runs quantitative trading strategies and an advanced trading platform with more sophisticated tools.
Despite having a plethora of products, FTX truly stands out in its fee structure, which is one of the lowest among centralised exchanges. Thanks to partnerships with blockchain networks, crypto withdrawals to certain blockchain wallets are free. Ethereum withdrawals are also subsidised compared to other cryptocurrency exchanges that pass on the cost of gas to Consumers.
FTX is licensed by The Bahamas' Digital Assets and Registered Exchange Act, 2020 and regulated by the Securities Commission of the Bahamas. It is also licensed in other countries like Gibraltar, Australia, the United States, Cyprus, and Switzerland.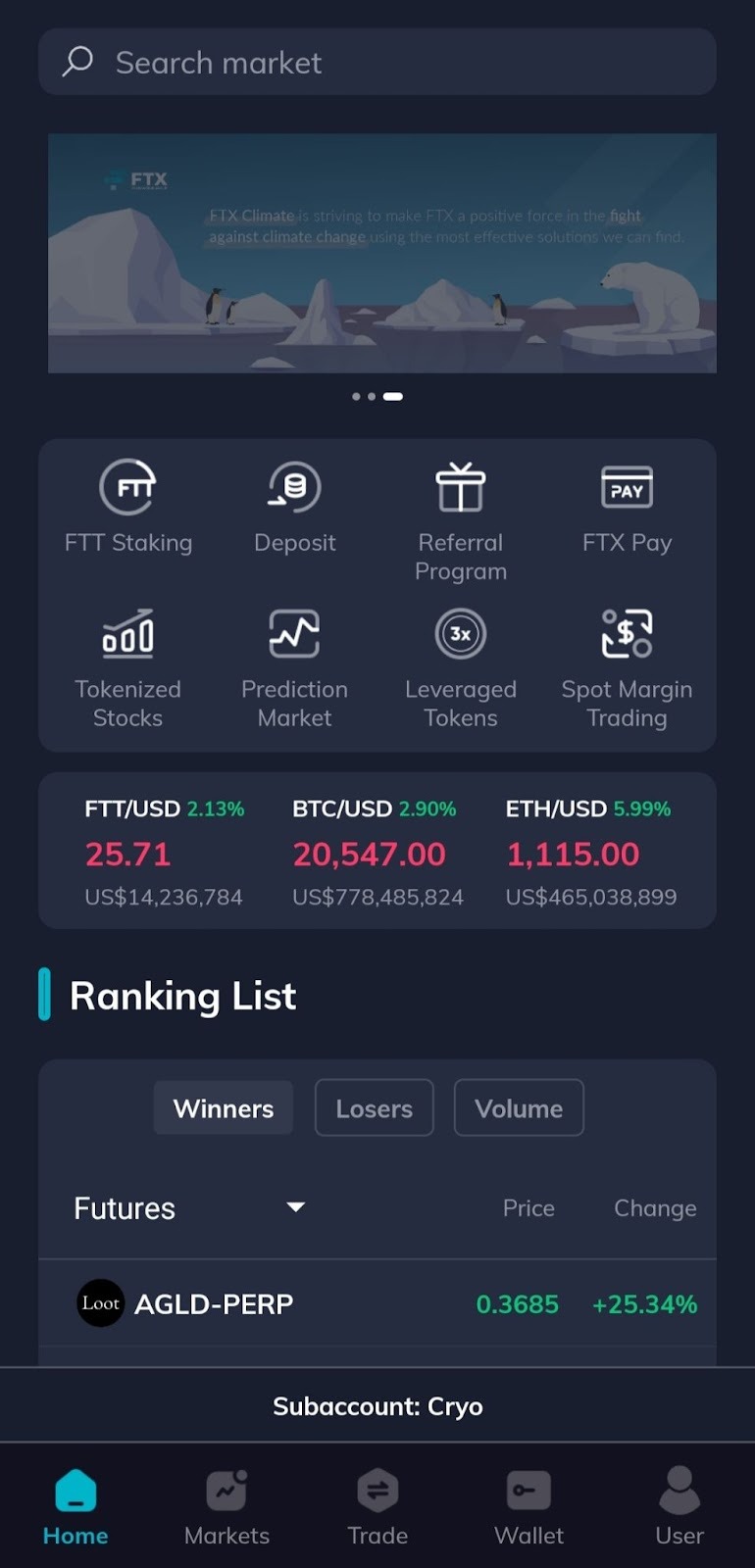 FTX Pros:
Flexible order types

Free withdrawals for most cryptos, except Ethereum

Advanced trading platform

No stated minimum deposit

Various fiat deposit methods in 10 local currencies

Low fees for trading, especially if you hold FTT

No fees on futures trading
FTX Cons:
$25 fee for fiat money withdrawals under $5000 (30 CHF, 250 HKD, 100 CAD, 75 GBP, 32 EUR)

Its US entity doesn't offer as many derivative products
10. Kucoin - Best crypto app for Altcoin Selection
Kucoin is a global crypto exchange platform available in over 200 countries and 20 languages. Its user base is 18 million investors strong and it has an accumulated trading volume of over $1 trillion.
Despite these impressive stats, Kucoin's most defining feature is its over 700 coin selection, currently the largest from a centralised exchange. The platform is known to list coins before other major cryptocurrency exchanges and house exotic coins that may otherwise be lost in the trenches of obscure decentralised exchanges.
When it comes to trading, Kucoin offers some of the lowest fees in the industry at a maximum of 0.1% per trade on the spot market. Users who hold at least 1000 units of the exchange's native coin, KCS, enjoy a lower 0.09% fee. Alternatively, traders can decide to pay transaction fees with KCS and get a 20% discount on the standard fee.
At the futures market, fees for trading are even lower at 0.02% for makers and 0.06% for takers. The same rule with spot applies here, the more KCS you hold, the lower your fees.
Depositing funds on Kucoin is straightforward. You can buy crypto directly with a bank card or deposit one of the 40 supported fiat currencies to your account. To deposit fiat, click on Fiat on the deposit page and select a payment channel. The platform supports Adv Cash, credit cards, SEPA payments, and bank account transfers.
Alternatively, you can leverage Kucoin's peer-to-peer (p2p) marketplace which supports more payment methods than the deposit interface. Deposit costs are minimal and largely depend on the chosen payment method.
To open an account, you'll need an email address (or phone number) and password. Afterwards, you may verify your account by passing the KYC requirements. To do that, you'll need a valid ID and proof of address.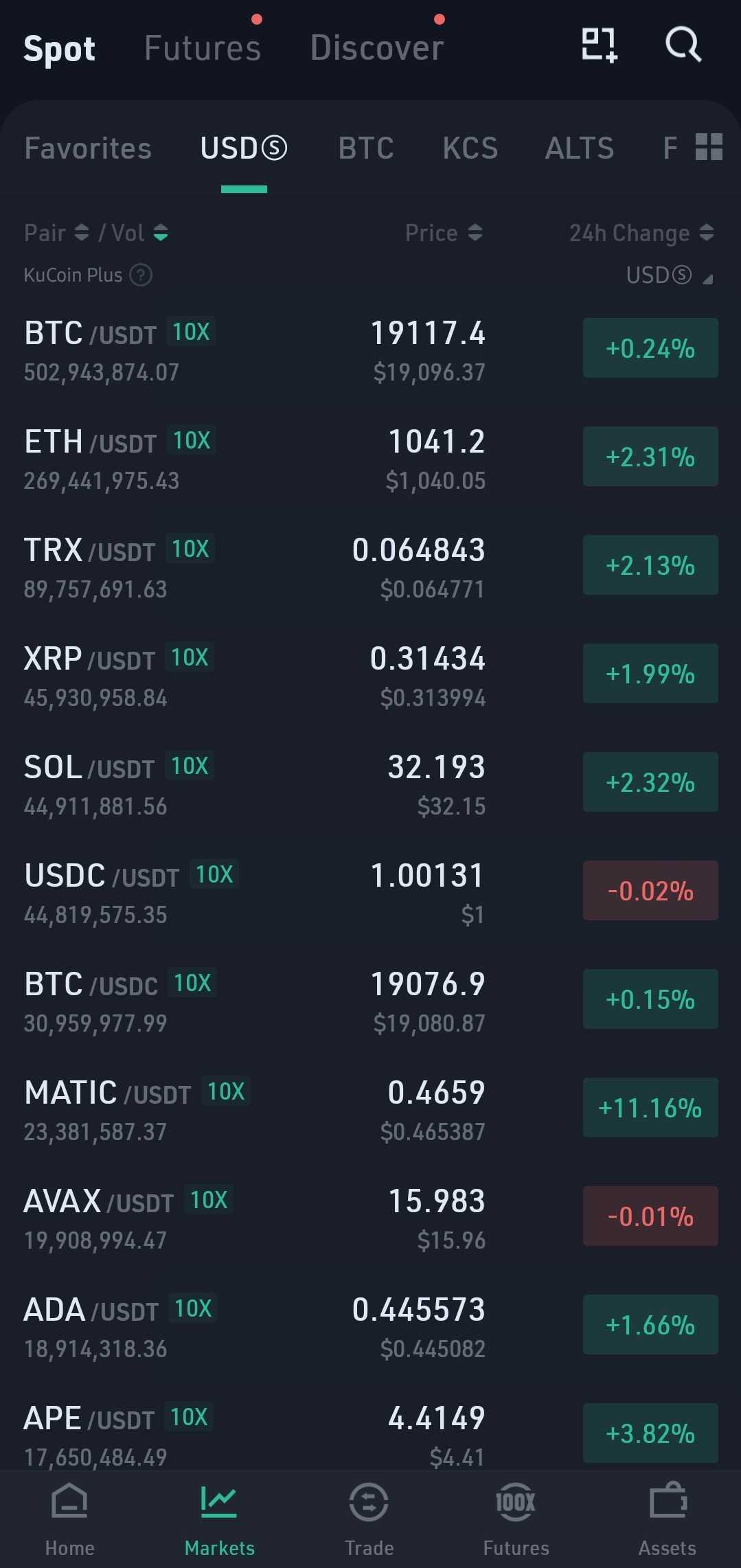 Kucoin Pros:
Over 700 coins available, including exotic tokens

Transparent fee structure

24/7 customer service

Multiple crypto derivatives for core traders

Users can buy sell without verification albeit in a limited capacity

Robust leverage at a maximum of 100x

Easy signup process
Kucoin Cons:
Unavailable to US residents

Has previously been hacked (2020)
What is a Cryptocurrency App?
Cryptocurrencies are just digital numbers recorded in a complex ledger called a blockchain. As such, to interact with the coins, and buy and spend them, requires the use of apps.
Several apps offer different kinds of information related to cryptocurrencies, such as their price movements and news. The rise of DeFi has also led to complete lending and borrowing ecosystems using smart contracts that can only be accessed through the apps.
How Do Cryptocurrency Apps Work?
As interfaces for accessing information and the cryptocurrencies themselves, these apps work by creating a front-end UI that people can use. The apps come in different versions, each designed for a specific operating system. The first step is to find the app that will work with your platform (iPhone or Android device etc.).
Many app developers also create the same app for different platforms, so if you have two or more different devices, you will be able to use the same type of app. Apps such as price tracking and news can be simply downloaded and run. Registration may not be a part of it at all.
However, if a cryptocurrency app is designed for handling finances, such as wallets, exchanges, etc, these will require the user to register themselves. Typical registration requires the users to create their login credentials: a username and a password.
Depending on the app, a person's email address itself may be used as a username. The app may also use the email address to send a security code/link to verify the user.
If you are creating a cryptocurrency wallet, the registration process might end at this point, giving you access to your newly created crypto wallet. Wallet owners will need to fund their crypto wallets and that is possible by going to the deposit option and copying the public key provided.
This key is the identification of the wallet and needs to be sent to any person who wishes to transfer the cryptocurrency to the wallet owner. Once the wallet is funded, the cryptocurrency will reflect in the balance.
Wallet holders are also able to send cryptocurrencies. They need to navigate to the Deposit or Transfer option. Transferring cryptocurrencies involves entering three different sets of information: the number of coins, the public address of the recipient wallet, and the transaction fee.
Several crypto wallet apps support multiple cryptocurrencies, so it is paramount to make sure that the right wallet address is selected. Sending a cryptocurrency to another blockchain will result in the coins being lost.
Cryptocurrency exchanges are also registered on more or less the same principle as any other crypto app. However, since these apps have serious money matters involved, they require users to pass KYC and AML checks as per regulations.
The KYC can be integrated into the registration process or after it. Exchanges can even have a step-wise KYC, where certain levels are defined based on the trading volume of the user. Each level unlocks enhanced crypto trading, deposits and withdrawals.
KYC process, although varying from app to app and regulators, requires some basic documentation such as:
Official ID, issued by the government.
A copy of a recent utility bill with the name and address clearly mentioned or any other document showing the registered address of the user.
Proof of income to trace the funding of the cryptocurrency exchange account.
The exchanges might ask for more information, subject to the locality of the trader and the app developers.
We would like to mention that there are crypto exchange apps that advocate the privacy of their traders and require no KYC checks at all. Though this can be very attractive for people who are uncomfortable with handing over their personal information, the risks of these cyptocurrency exchanges being scams is very high.
Requiring no KYC, these apps are probably not registered with any regulatory firm and therefore, are not bound to protect their users' digital assets. The developers can run away with the digital currencies of their users. Keeping themselves anonymous under the garb of privacy for all, they will also be untraceable.
The funding process of a crypto exchange app is very similar to a crypto wallet or crypto wallet app, with the funds being deposited through the given public address of the relevant crypto. Some cryptocurrency trading apps also offer fiat currency support and can accept bank transfers, wire transfers and/or credit cards plus debit cards.
Once the cryptocurrency exchange account is funded, the users can trade cryptocurrency by selecting their required fiat or crypto trading pair and using the available order options. If a trader desires to withdraw crypto assets, they can do so by heading to the Crypto Wallets section and requesting a transfer just like they would do in a crypto wallet app.
Key Things to Consider When Choosing the Best Cryptocurrency App for You
Features and tools
All of the crypto apps reviewed here can be used to buy and sell cryptocurrencies, but they may have simple, intuitive buy and sell crypto tools aimed at beginners, or cater to pros with more advanced trading tools such as customisable charts, indicators, and leverage. Some apps even provide both.
If you want to do more than find the best app to buy crypto, there are plenty of other features you can check for, such as staking, borrowing, interest-bearing savings accounts, and NFT support. Some apps may even have features not offered anywhere else, such as eToro's unique copy trading feature.
Choice of cryptocurrencies
There are many, many thousands of cryptocurrencies in existence, but no app supports the trading of all of them. It's worth checking which coins are supported before choosing an app to use, especially if there are specific coins you want to trade.
Binance, for example, has one of the most comprehensive lists of supported coins, with over 600, including many new and obscure cryptocurrencies. If, however, you're only looking to trade the more established coins, you might prefer an app with fewer supported coins that meets your other needs.
Fees
For apps to provide a service, they must charge their users fees. It's never nice to be hit with unexpected fees when you make a trade, so find out in advance what costs you can expect from your app.
Broker apps typically charge commission and/or spread on each trade. The commission is a fee that you will pay on top of your trade and may be a flat fee or a percentage of the trade amount. Spread is the difference between the bid price and the ask price and so will already be factored into the price quoted for your sale or purchase.
Exchange apps typically charge a trading fee or transaction fee on each trade. This is very similar to commission and may be a flat fee or a percentage of the trade amount.
There may also be fees for making deposits and withdrawals. Some apps charge for both while some charge just for withdrawals. The size of the fee may vary depending on the currency and payment method used.
You should be able to find out from the app website whether there are any other fees that may apply, such as account management fees, inactivity fees, conversion fees, or fees for using other services within the app. Remember the best crypto exchange apps are not always the ones with the lowest fees.
Regulation and security
You don't want the funds you entrust to the app to get lost or stolen, which is why it is worth finding out about the app's regulation and security to get an indication of how safe your digital assets will be.
Many apps keep a large proportion of their crypto assets in offline cold wallets, which is the most secure storage option. Other security features to look out for include two-factor authentication, anti-fraud technology, and asset insurance.
You can also find out whether and where the app is regulated. A regulated app is more likely to use industry best practices and security to keep its customers and their funds safe.
Payment methods
Ideally, you want to use an app that will let you use your preferred payment method. Debit and credit cards are widely accepted payment methods on crypto apps, as are bank transfers. You may find there are other methods accepted, such as PayPal, Skrill, Neteller, Google Pay, and Apple Pay.
User experience
If you're going to be using an app regularly, a good user experience is important. This is subjective and may mean different things for different people, such as a clear layout, easy navigation, and no technical issues that make the app lag or crash.
Customer service
If you have problems or questions about using the app, you may have to get in touch with customer service. The support offered may include chatbot, video tutorials, explanatory articles, FAQs, phone, and email support. You can check reviews and forums to find out what other users think of the customer service offered by a particular app.
How to Use a Crypto App
Once you've chosen a crypto app, the next thing you need to know is how to use it. It's easy to get started with an app such as eToro—you can just follow these simple steps.
1. Open an account
To create an account, you can click on the "Sign Up" button on the website, which will take you to an electronic registration form. Fill in any details requested, such as name and email, and accept the terms and conditions.
2. Download the app
Go to the App Store or the Google Play store on your mobile device and search for the app you want. Now simply tap the "Install" button to download the app onto your phone.
3. Verify your account
Before you can start using the app, you'll need to verify your account by providing proof of identity, such as a passport, driving licence, or other government-issued photo ID, and a proof of address, such as a bank statement, bill, or tax letter.
You will need to provide clear photos of the documents, which you can do through the app.
4. Make a deposit
Tap the "Deposit Funds" button in the app, type in the amount you wish to transfer, and select the currency. Then you can choose your preferred payment method, such as bank wires, credit or debit card and hit the "Deposit" button.
5. Purchase cryptocurrency
In the app, search for the cryptocurrency you wish to purchase. Go to the "Buy" tab and enter the amount you want in either fiat or crypto. Now you can simply hit the "Buy" button to make your first purchase.
Final Thoughts
Crypto apps are a great and convenient way to trade cryptocurrencies and stay on top of the crypto market prices wherever you are. Although there are a great number of best crypto apps available, this article should have helped you narrow them down to the safest and most useful options.
There are lots of important factors to consider before signing up for a crypto app, from features and supported cryptocurrencies to fees and security. eToro is our top choice of crypto app providers as it is one platform that ticks all the boxes.
Its competitive fees and low minimum trade amount make it affordable, while top-tier security practices and regulation make it safe to use. With dozens of the most popular cryptocurrencies (as well as many other types of assets) and social investing features you can't get anywhere else, eToro has it all.
Pros and Cons of Cryptocurrency Apps
Pros
Up to date information on the latest happenings in the crypto world.
DeFi apps provide better options for investing than fiat or securities.
Fast transfer of monetary value to any other person around the world.
Portfolio diversification.
Cons
Crypto trading apps can be a bit difficult to navigate or use for an average user.
Due to high volatility and fluctuation between exchanges, price tracker apps can have different values for the same cryptocurrency.
Frequently Asked Questions
eToro is one of the safest crypto apps around as it keeps most of its customers' cryptoassets in cold storage, uses cutting-edge security solutions, and encrypts the personal information of its users. It is also regulated by the FCA, CySEC, and ASIC and operates in accordance with their security requirements.

The crypto app bitFlyer has the lowest fees as it lets you buy and sell crypto for free. There is no fee for SEPA or virtual currency deposits, while the withdrawal fees are very competitive. It's one of the best crypto exchanges for lowest fees whilst still being safe and reliable.

We believe Binance is the best crypto app for altcoins as it provides access to over 600 cryptocurrencies, including many new and obscure coins. The advanced tools for trading, staking service, and savings products also mean there are lots you can do with your altcoins. It is probably one of the best crypto exchanges to diversify your portfolio.

Binance is the crypto app that has the most coins. It has over 600 available.

If you decide to store your crypto on the app for the long term, you should use an app with strong security such as eToro. You could also use the recurring buy feature on the Coinbase app to add to your long-term holdings on a regular basis.

eToro is the best crypto exchange and it is our top pick when it comes to the best apps for trading cryptocurrency. This is because it is safe, affordable, intuitive to use, and provides an array of useful tools and features, such as the unique CopyTrader feature.




Private keys are the password for your wallet apps. If another person has access to your private keys, they can potentially siphon off your cryptocurrencies.

It depends on the app. A good exchange app will usually ask for KYC while a simple news app for crypto will not require any verification process.

KYC stand for 'Know your Customer' and refers to the verification steps many apps use when you sign up. The steps are to ensure you are who you say you are and counteract fraud. Verification methods can vary from app to app but some include providing simple details like name and address while others need  supporting documentation such as a photo ID and/or proof of address.

Cryptocurrency apps are dedicated programs that aggregate information from different reliable sources and give you the ease of being operable from different devices, cutting down on the effort and time used.