In little over a decade of their existence, cryptocurrencies have made their mark on the financial landscape. 
Fast and secure, digital coins and tokens offer a better alternative to users—from investment, trading to paying for products and services.
There are many cryptocurrency apps created today that serve a variety of purposes and the sheer number in existence can confound a person in selecting the right one. 
Your worries are over as this guide will list some of the best cryptocurrency apps in 2022, inspecting each for their benefits and features.
Our Top Picks for the Best Crypto Apps
Top 5 Crypto & Bitcoin Apps Reviewed
1. eToro - Best All-Round Crypto App
eToro ranks as the best cryptocurrency app thanks to the range and quality of services it provides.
You can trade traditional financial instruments as well as crypto, and eToro's intuitive user experience is complemented by a rich feature set, making it a good choice for both beginners and veterans.
eToro is an all-in-one crypto solution, offering a wallet and even staking services on top of the trading platform.
You can even take advantage of eToro's popular CopyTrader feature to leverage the expertise of successful traders. Read our full eToro review here.
Pros
Trade 59 of the most popular digital currencies

0% commission

$10 minimum deposit (UK and USA)

Multi-asset platform

Social investing features

Regulated, with strong security

Available in over 100 countries

Easy to use

Educational resources

Wide range of deposit options
Cons
Unavailable in a number of countries

Not as many cryptocurrencies as some focused crypto exchanges
2. Binance - Best Crypto Trading App for Altcoins
Binance is one of the best crypto apps for a range of traders, with over 600 cryptocurrencies listed.
The Convert feature makes simple purchases easy, while more experienced traders can take advantage of dynamic charts and advanced tools with Binance's Spot trading interface.
The app offers a range of derivatives and earning opportunities such as staking, savings accounts, and liquidity farming.
Binance has even launched its own NFT marketplace. Read our full Binance review here.

Pros
600+ coins

Educational resources in Binance Academy

Debit card available

NFT marketplace

Staking services and savings accounts

Token launch platform

Advanced trading tools

Low transaction fees

24/7 chat support
Cons
May be a bit technical for absolute beginners

Faces regulatory hurdles in some jurisdictions
3. Coinbase - Best Crypto App for Beginners
Coinbase's clear and easy-to-use interface makes it the best crypto trading app for beginners.
With a range of payment options such as PayPal, reasonable trading fees, and a minimum trade size of $2, Coinbase is accessible whatever your budget.
You can easily set up recurring buys or stake your crypto with the click of a button.
What's more, those who prefer a more technical trading interface with advanced tools can use the Coinbase Pro platform. Read our full Coinbase review here.


Pros
Supports over 50 top coins

100+ countries supported

Low trading fees

Beginner-friendly

Staking services and other features are available

Earn free crypto through learning campaigns

Debit card for spending crypto

Secure offline storage

High-quality educational resources
Cons
Not as many digital currencies as some competitors

Fees can be high using card payments
4. Nexo - Best Cryptocurrency App for Extra Features
If you don't want your crypto to simply sit idle once you've bought it, Nexo is held by many to be the best crypto app for building wealth.
You can earn up to 17% annual interest on your crypto and stablecoins, which are paid out daily. Naturally, you can also buy and sell crypto through Nexo.
The clear interface makes it easy to track and grow your portfolio, while you can also take out loans using your crypto as collateral.
The app provides competitive rates and instant cashback, and you can even spend your crypto with the Nexo Card.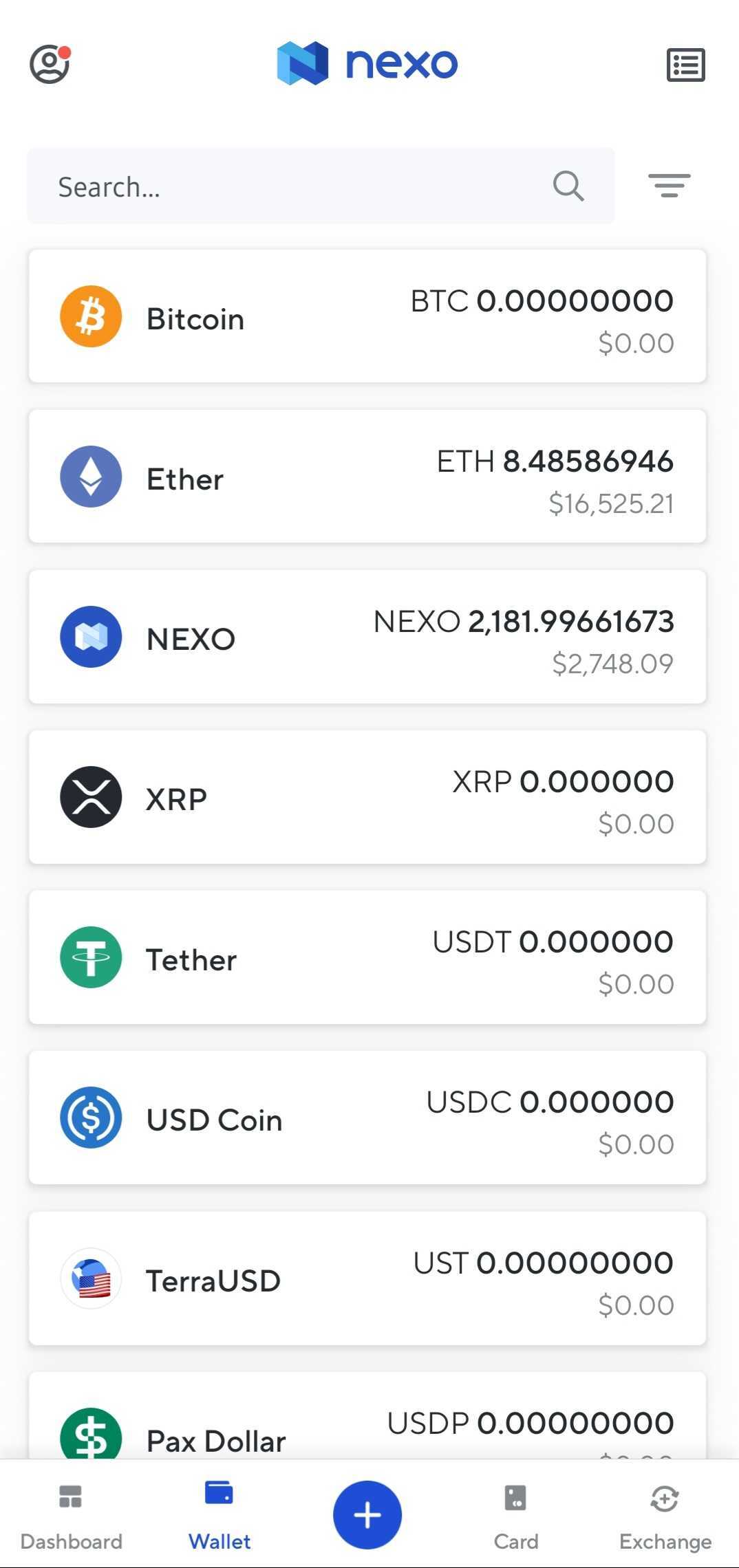 Pros
Trade, borrow and earn interest on 38 coins

Available in 200+ jurisdictions

Up to 17% annual interest is available

Borrow cash or stablecoins

2% cash back on purchases with the Nexo Card

Military-grade security

Up to 3x leverage with Nexo Booster
Cons
Fewer cryptocurrencies than many competitors

Lack of advanced trading tools
5. bitFlyer - Best Crypto App for Low Fees
There are no fees for buying and selling digital currencies with euros on bitFlyer, while the trading fees on the pro Lightning crypto exchanges are very competitive.
You can start by buying as little as €1, making bitFlyer the best app to buy and sell crypto on a budget.
The simple interface makes it easy for beginners to buy and sell crypto, while bitFlyer Lightning provides enhanced transaction tools for more experienced traders.
What's more, the quick ID verification means you can get started in a matter of minutes.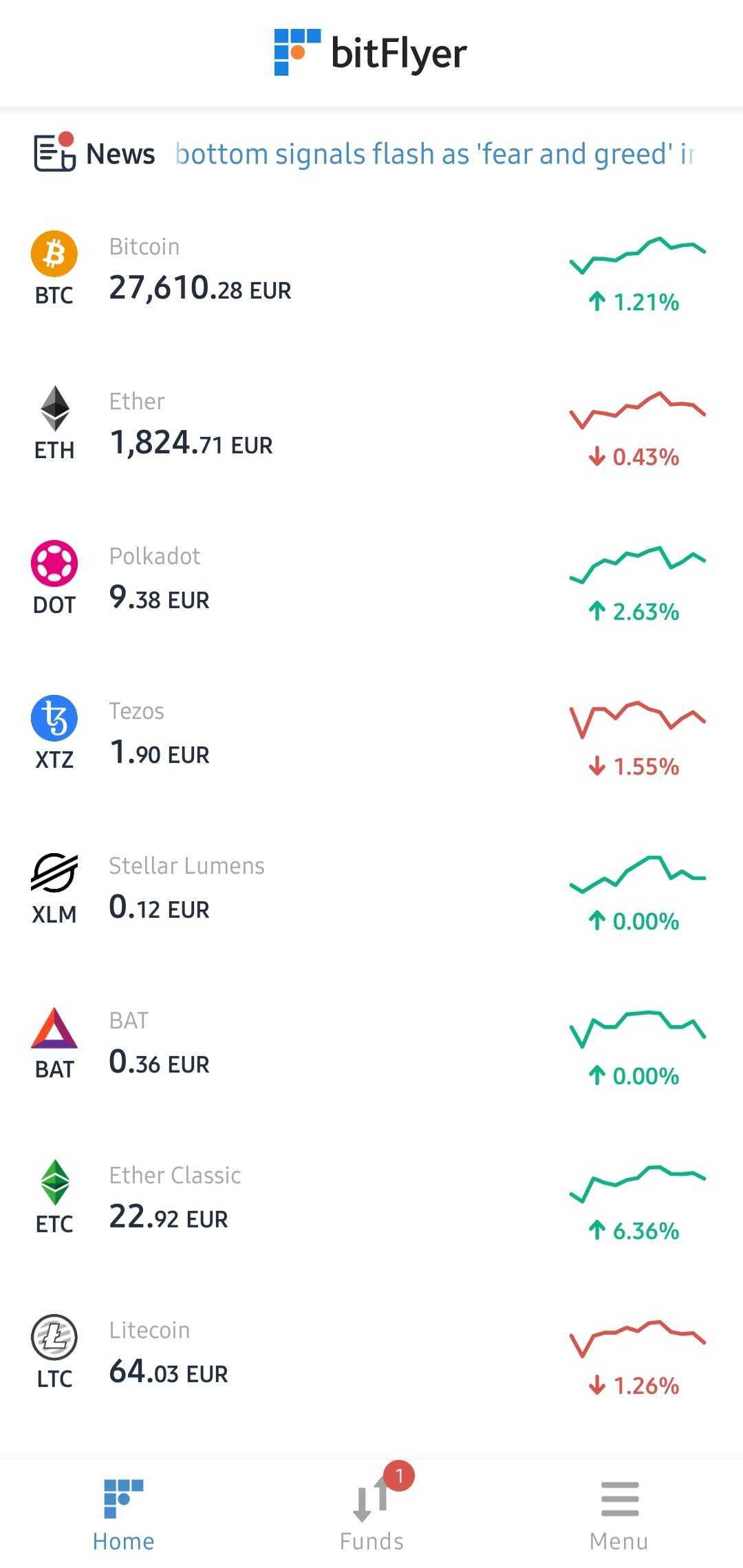 Pros
Low trading fees

Easy to use

Secure and regulated

€1 minimum trade amount

ID verification in under 5 minutes

Advanced trading with bitFlyer Lightning
Cons
Only 7 cryptocurrencies are available

Trading pairs for fiat currencies EUR and JPY only
What is a Cryptocurrency App?
Cryptocurrencies are just digital numbers recorded in a complex ledger called a blockchain.
As such, to interact with the coins, and buy and spend them, it requires the use of apps.
Several apps offer different kinds of information related to cryptocurrencies, such as their price movements and news.
The rise of DeFi has also led to complete lending and borrowing ecosystems using smart contracts that can only be accessed through the apps.
How Do Cryptocurrency Apps Work?
As interfaces for accessing information and the cryptocurrencies themselves, these apps work by creating a front-end UI that people can use.
The apps come in different versions, each designed for a specific operating system. The first step is to find the app that will work with your device (Android, desktop, iOS, etc.).
Many app developers also create the same app for different platforms, so if you have two or more different devices, you will be able to use the same type of app.
Apps such as price tracking and news can be simply downloaded and run. Registration may not be a part of it at all.
However, if a cryptocurrency app is designed for handling finances, such as wallets, exchanges, etc, these will require the user to register themselves.
Typical registration requires the users to create their login credentials: a username and a password.
Depending on the app, a person's email address itself may be used as a username. The app may also use the email address to send a security code/link to verify the user.
If you are creating a cryptocurrency wallet, the registration process might end at this point, giving you access to your newly created crypto wallet.
Wallet owners will need to fund their crypto wallets and that is possible by going to the deposit option and copying the public key provided.
This key is the identification of the wallet and needs to be sent to any person who wishes to transfer the cryptocurrency to the wallet owner. Once the wallet is funded, the cryptocurrency will reflect in the balance.
Wallet holders are also able to send cryptocurrencies. They need to navigate to the Deposit or Transfer option.
Transferring cryptocurrencies involves entering three different sets of information: the number of coins, the public address of the recipient wallet, and the transaction fee.
Several crypto wallet apps support multiple cryptocurrencies, so it is paramount to make sure that the right wallet address is selected. Sending a cryptocurrency to another blockchain will result in the coins being lost.
Cryptocurrency exchanges are also registered on more or less the same principle as any other crypto app. However, since these apps have serious money matters involved, they require users to pass KYC and AML checks as per regulations.
The KYC can be integrated into the registration process or after it. Exchanges can even have a step-wise KYC, where certain levels are defined based on the trading volume of the user. Each level unlocks enhanced crypto trading, deposits and withdrawals.
KYC process, although varying from app to app and regulators, requires some basic documentation such as:
Official ID, issued by the government.
A copy of a recent utility bill with the name and address clearly mentioned or any other document showing the registered address of the user.
Proof of income to trace the funding of the cryptocurrency exchange account.
The exchanges might ask for more information, subject to the locality of the trader and the app developers.
We would like to mention that there are crypto exchange apps that advocate the privacy of their traders and require no KYC checks at all.
Though this can be very attractive for people who are uncomfortable with handing over their personal information, the risks of these exchanges being scams is very high.
Requiring no KYC, these apps are probably not registered with any regulatory firm and therefore, are not bound to protect their users' crypto assets.
The developers can run away with the digital currencies of their users. Keeping themselves anonymous under the garb of privacy for all, they will also be untraceable.
The funding process of a crypto exchange app is very similar to a wallet, with the funds being deposited through the given public address of the relevant crypto.
Some cryptocurrency trading apps also offer fiat currency support and can accept bank transfers, wire transfers and/or credit cards plus debit cards.
Once the exchange account is funded, the users can trade cryptocurrency by selecting their required fiat or crypto trading pair and using the available order options.
If a trader desires to withdraw crypto assets, they can do so by heading to the Wallets section and requesting a transfer just like they would do in a crypto wallet app.
Key Things to Consider When Choosing The Best Cryptocurrency App
Every cryptocurrency app is developed to cater to specific uses with some having more than one functionality and even being cross-platform compatible.
With thousands of options available today, it can be a bit difficult to decide which one to use.
The selection criteria can become tough when using crypto apps such as wallets and trading ones as this can involve serious monetary funding.
When selecting a crypto app that will suit you best, there are a few general aspects to keep in mind. The developers should be reliable and have a good track record.
Since the apps also pull information from different resources and the blockchain itself, the authenticity of data should also be high on the list of priorities. The interface should be easy enough to understand and use.
In the case of apps that allow storing and spending of cryptocurrencies, security takes top priority. A good app with an excellent team behind it and a great interface with proper data input can still be too risky if there are security lapses that can lead to the users' funds being stolen or lost.
Apart from this, the app should have good funding options. Exchange apps can be very tough to use if the right cryptocurrency is not on their list. An app that supports fiat funding can also be useful in case the user or trader needs to deposit or withdraw traditional money.
When it comes to the movement of cryptocurrencies, there are different kinds of fees involved.
Sending crypto to another wallet requires a transaction fee, while trading apps charge a commission for every trade made. These fees can vary from app to app.
If your requirements include frequently using the app, you might also want to look into the supported OS. Mobile-ready apps can be very handy as it allows instant use through mobile devices from anywhere.
Find the perfect balance of various features to find the right app for yourself.
Pros and Cons of Cryptocurrency Apps
Pros
Up to date information on the latest happenings in the crypto world.
DeFi apps provide better options for investing than fiat or securities.
Fast transfer of monetary value to any other person around the world.
Portfolio diversification.
Cons
Crypto trading apps can be a bit difficult to navigate or use for an average user.
Due to high volatility and fluctuation between exchanges, price tracker apps can have different values for the same cryptocurrency.
Final Thoughts
Cryptocurrencies have become popular in the past few years as they provide much better options for spending, trading and investing than traditional money and assets.
As such, owning these, trading, investing or just keeping up with the non-stop news can be a bit hard.
This is where dedicated cryptocurrency apps come in, letting people easily navigate the waters and make different financial decisions.
By using our carefully selected list of the best cryptocurrency apps in 2022, you can narrow down your choices and find the app best suited for your requirements.
Frequently Asked Questions
Cryptocurrency apps are dedicated programs that aggregate information from different reliable sources and give you the ease of being operable from different devices, cutting down on the effort and time used.

It depends on the app. An exchange app will usually ask for KYC while a simple news app for crypto will not require any verification process.

Decentralised Finance allows for using different financial instruments and operations without the need of an intermediary such as taking loans, yield farming, etc. A DeFi app is one dedicated to such function(s).

These are specialised cryptocurrency apps that connect with your crypto trading account to help you automate the buy and sell process.

Decentralised apps use the blockchain itself to run, giving them the same security and efficiency of the network.

Depends on the crypto app. Trading apps mostly don't allow you to, while you can create as many wallets as you want.

Ask the sender for the transaction ID and use it on the relevant blockchain explorer to know updates.

Private keys are the password for your wallet apps. If another person has access to your private keys, they can potentially siphon off your cryptocurrencies.