The past decade saw cryptocurrencies taking the world by storm, providing a whole lot of investment opportunities to interested people. This phenomenon also led to the emergence of more and more crypto exchanges with each passing year. 
Today, a great multitude of investors use these platforms to buy and sell their preferred cryptocurrencies including the biggest, Bitcoin. This article will discuss what a crypto exchange is, the important aspects you must look for in one, how these exchange platforms work, their pros & cons, different types and the best crypto exchanges in 2022.
Our Top Picks for the Best Crypto Exchanges
The Top 10 Crypto Exchanges quickly compared
| | | | | |
| --- | --- | --- | --- | --- |
| | Regulation | Min. Deposit | Fees | No. of Coins |
| eToro | FCA, CySEC | $10 | 1% + spread | 70+ |
| Binance | AMF | $50 | 0.1% or less | 600+ |
| Coinbase | FCA, most US states | $50 | Up to 0.6% + spread | 150+ |
| Nexo | FSA | $10 | 0% Europe + spread | 35+ |
| bitflyer | JFSA | $1 | 0% | 7+ |
| Bitpanda | AMF, BDE | $25 | 1.49% premium | 199+ |
| Bitstamp | CSSF | $10 | 0.5% or less | 75+ |
| OKX | VARA | $10 | 0.1% or less | 343+ |
| KuCoin | None | $5 | 0.3% or less | 700+ |
| Coinmama | FinCEN | $30 | Up to 5% | 15+ |
The Top 10 Crypto & Bitcoin Exchanges Reviewed
Considering the vast variety of cryptocurrency exchanges operating in the market today, choosing the right one for your needs is not a simple task by any means. To make this process simpler, below is a list of some of the best cryptocurrency exchanges along with their features and benefits.
1. eToro - Best Overall Crypto Exchange
eToro takes the title of the best crypto exchange thanks to the quality and variety of the services it provides. You can trade stocks, forex, and ETFs as well as crypto, while eToro's user-friendly platform and range of tools make it the perfect choice for beginners and experts alike.
Powered by a user base that is 25 million strong, eToro stands out from its competitors by offering a copy trading feature that lets users copy the positions of more experienced peers.
Novice users can sign up and copy the crypto buying decisions of profitable traders without the need to carry out their research. Alternatively, users can invest in curated portfolios with themes that they believe in and understand.
For example, if users believe that scaling solutions will generally perform favourably, they can invest in a scaling portfolio that is a mixture of coins and tokens of crypto scaling solutions. If the sector does well, they profit. This way, inexperienced investors aren't exposed to the risk of choosing wrongly.
Another way eToro shines is in its deposit and withdrawal limits. Users enjoy a low $10 (£8) required minimum deposit and can deposit using credit cards, bank transfers, and electronic wallets like PayPal, Neteller, and Skrill. And for withdrawals, a $5 (£4.07) fee is levied on all withdrawals above $30 (£24.45). However, bank transactions require a $500 (£407) minimum deposit to be processed.
However, when depositing, keep in mind that eToro trading accounts are denominated in USD. Deposits in any other currency are subject to a conversion fee. However, deposits from eToro's Money account are exempt from those fees. Lastly, cryptocurrency transactions are subject to a 1% markup from the bid-ask spread. This holds for both spot purchases and CFD positions.
With a trading platform, wallet, and staking service, eToro is your one-stop-shop for all things crypto. You can even take advantage of eToro's popular CopyTrader feature to leverage the expertise of successful traders. Read our full eToro review here.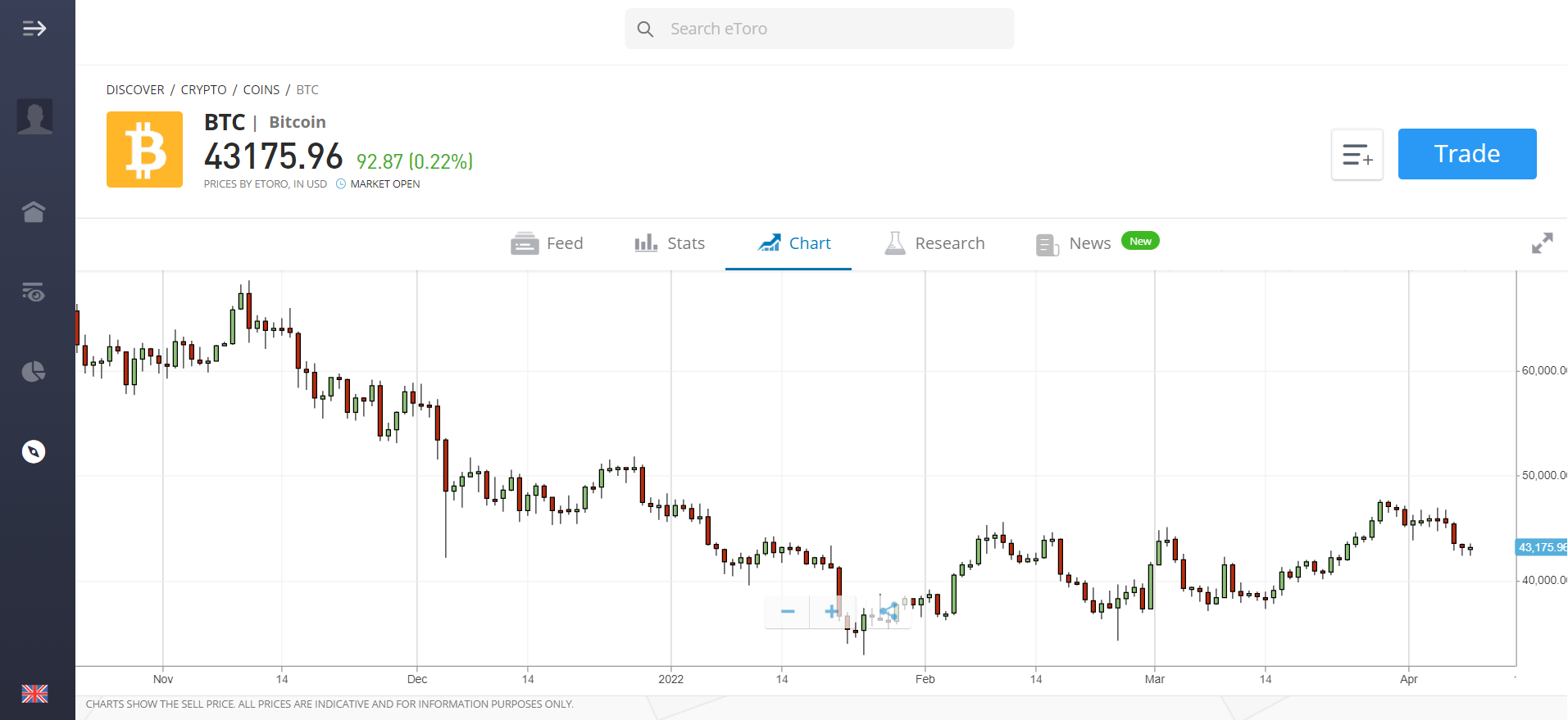 Pros
Trade 63 of the most popular cryptocurrencies

0% commission

$10 minimum deposit (UK and USA)

Social investing features

Regulated, with strong security

Easy to use

Educational resources

Mobile app
Cons
Unavailable in a number of countries

Not as many cryptocurrencies as some crypto-specific exchanges
Why we chose eToro
eToro provides an all-in-one platform that investors and traders can leverage to either automate their investments or exert granular control. With a 15-year track record of strong service, they have proven that they are strong players in their field. Etoro is also licenced and certified by the Financial Conduct Authority (FCA) in the UK, the Cyprus Securities & Exchange Commission (CySEC) in Europe, and the Australian Financial Services Licence (AFSL) in Australia
2. Binance - Best Crypto Trading Platform for Experienced Investors
With more than 600 cryptocurrencies listed, Binance is one of the best crypto exchanges for a range of users. The Convert feature makes swaps simple, while more experienced traders can take advantage of dynamic charts and advanced tools with Binance's Spot trading interface.
Being one of the largest and best crypto exchanges in the world, Binance exerts a global influence in crypto, both in the markets and in development with $76 billion (£62 billion) in daily trade volume and its popular launchpad projects.
At 0.010% per trade, Binance charges some of the lowest transaction fees in the market. These crypto exchange fees get even lower when you hold BNB. Traders also enjoy a myriad of helpful tools and products including a margin trading facility that allows you to increase profits by using leverage, a bot trading feature called Grid, leveraged tokens, crypto futures trading, and vanilla options.
For non-traders looking to grow their investments, Binance offers saving vaults, staking pools, mining pools, and liquidity farming pools that are all geared to generate returns on your digital assets.
Deposits on Binance are easy as the crypto exchange accepts deposits in 61 different currencies through two major methods: bank transfers and credit/debit cards. The former comes with a $1 (£1) fee while the latter costs 1.8% of the transaction volume, depending on location.
If you'd prefer to skip the deposit fees, you can buy crypto relatively free of charge by transacting on the peer-to-peer (p2p) market using electronic wallets, Paysafecards, and a long list of other third-party deposit methods. However, these methods do not deposit fiat into your Binance account, they only buy crypto directly from sellers.
This crypto exchange offers a range of derivatives and earning opportunities such as staking, savings accounts, and liquidity farming. Binance has even launched its own NFT marketplace. Read our full Binance review here.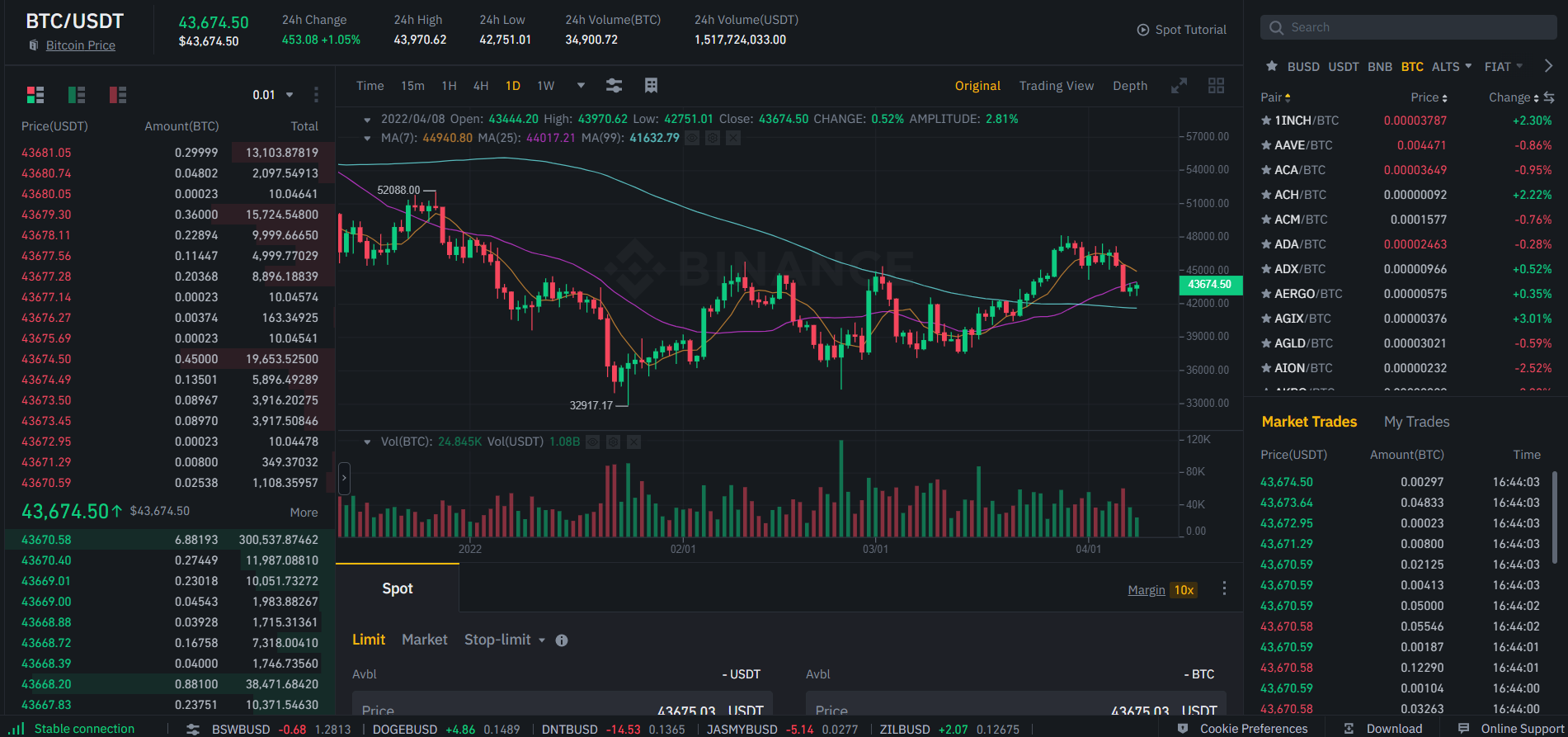 Pros
600+ digital currencies

Educational resources in Binance Academy

Debit card available

NFTs

Staking services and savings accounts

Token launch platform

Advanced trading features and tools

Low transaction fees

Mobile app

24/7 chat support
Cons
Could be a bit technical for absolute beginners

Faces regulatory hurdles in some jurisdictions
Why we chose Binance
We chose Binance because of its services. Binance has something to offer every type of crypto retail investor at different levels of knowledge. Also, their global reach makes their p2p market one of the deepest in the industry.
3. Coinbase - Best Crypto Exchange for Beginners
Coinbase's clear and easy-to-use interface makes it the top cryptocurrency exchange for beginners. With a range of payment options such as PayPal, low trading fees, and a minimum trade size of $2, Coinbase is accessible whatever your budget.
This crypto exchange is best known as an all-in-one interface that makes buying and selling as easy and clean as possible. It removes funding roadblocks by allowing you to deposit and withdraw using the same bank account.
If you reside in the US, you'll find that Coinbase's selection of cryptocurrencies is the widest with 193 digital currencies to choose from, an impressive collection compared to other US crypto entities.
Coinbase also offers a wide range of services for users with varying financial needs. Those who need quick cash can access crypto-backed lines of credit and fixed-term loans with an 8.7% annual interest rate.
For users who wish to grow their funds, Coinbase offers third-party staking services for Solana, Cardano, Algorand, Cosmos, Ethereum, and Tezos. The minimum amount varies but is usually around $1 worth of the coin. Interest is paid out quarterly for Algorand, daily for Ethereum, every 7 days for Cosmos and Solana, every 3 days for Tezos, and every 5 days for Solana.
Investors can also grow their funds through the DeFi Yield product that lends their coins on decentralised protocols like Compound, through Coinbase, for a profit between 2% - 10% annually. This profit is collected by Coinbase and distributed to users.
Traditional investors can use the simple exchange service to convert their cash to crypto. Advanced traders can access a professional trading platform with sophisticated tools and indicators.
Coinbase charges trading and conversion fees. Users pay crypto exchange fees between 0.05% and 0.60% for immediate trades and between 0.00% and 0.40% for limit orders that aren't filled immediately. For simple conversions, Coinbase charges a flat 1% fee.
To begin using Coinbase, sign up using an email address and pass KYC by submitting identity documents (ID cards) and address documents (utility bills). Once verified, you can deposit using a credit card, bank account, or PayPal. US residents can withdraw using all three methods while users from other countries can only use their bank accounts.
You can easily set up recurring buys or stake your crypto with the click of a button. What's more, those who prefer a more technical trading interface with advanced tools can use the Coinbase Pro platform. Read our full Coinbase review here.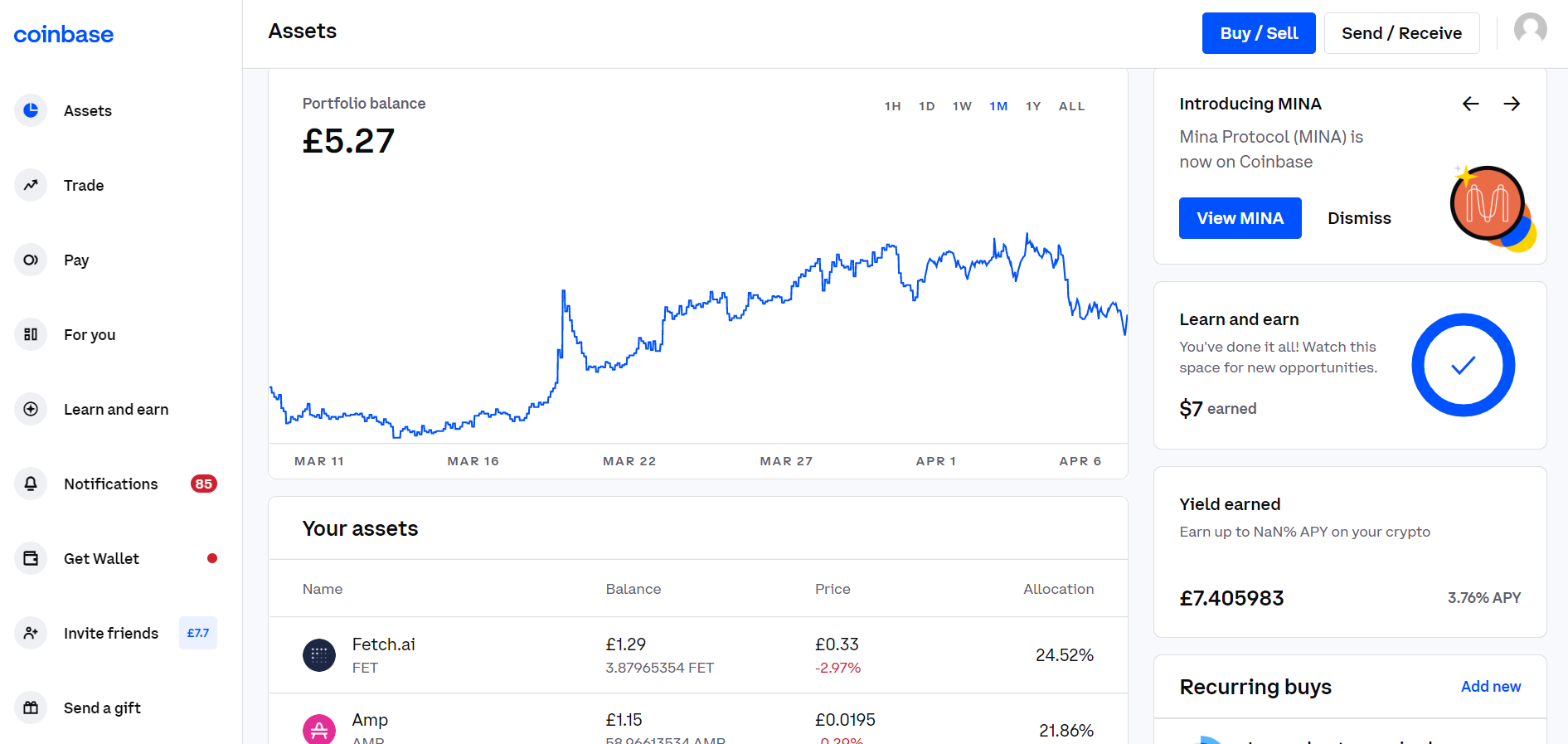 Pros
Supports more than 50 of the most popular cryptocurrencies

100+ countries supported

User-friendly

Staking services

Earn free crypto through learning campaigns

Debit card for spending crypto

Secure offline storage

Educational resources
Cons
Not as many cryptocurrencies as some competitors
Why we chose Coinbase
We chose Coinbase because it offers an easy platform for beginners with very little crypto knowledge to begin their journey. It houses several services in one platform so newbies don't miss out while they get familiar with crypto, and make it easy for users to deposit and withdraw from their accounts.
4. Nexo - Best Crypto Platform for Earning Interest
If you don't want your crypto to simply sit idle once you've bought it, Nexo is held by many to be the best crypto platform for building wealth. You can earn up to 17% annual interest on your crypto and stablecoins, paid out daily.
Nexo excels in its ability to grow and compound its users' wealth without having them lock their digital assets in staking vaults or saving pools. Cryptos immediately start earning returns of up to 12% per year and 8% for stablecoins once deposited. Earnings increase with the amount of NEXO present in the portfolio.
In addition to impressive passive returns, Nexo is also known for its innovative crypto-backed lines of credit (LOC). These LOCs work similarly to their traditional counterparts in allowing you to draw cash against the value of your crypto collateral (i.e crypto loans).
However, Nexo's LOC stands out from traditional and even other crypto LOCs in its fee and payment structure. The platform does not require monthly payments to maintain its line, nor does it restrict the acceptable collateral to Bitcoin.
Users can deposit up to 35 cryptos as collateral including BTC, ETH, AVAX, DOT, ATOM, BNB, NEXO, MATIC, LINK, and stablecoins, and can keep their LOCs open for as long as they wish, provided their collateral value does not fall below a threshold.
This threshold is measured as a loan-to-value (LTV) ratio represented as a percentage. Nexo's LTV is 83.3%. As long as borrowed funds are less than 83.3% of the value of their collateral, liquidation will not occur. If the LTV approaches this value, you will be sent a notification.
Nexo also has an inbuilt cryptocurrency exchange that routes trades through 10 external crypto exchanges to ensure you get the best prices. As a result, crypto conversions are free of charge for up to $250,000 per trade.
Depositing funds on Nexo is easy. You can deposit crypto directly via a deposit address or use a credit card to buy fiat currency. Fiat on Nexo is depicted as stablecoins unique to the ecosystem (USDx, GBPx, EURx). Alternatively, you can buy cryptos directly with a credit card on the exchange. Credit card purchases come at a 1.49% fee for EU countries and 3.49% for non-EU countries.
The clear interface makes it easy to track and grow your portfolio, while you can also take out loans using your crypto as collateral. This cryptocurrency exchange provides competitive rates and instant cashback, and you can even spend your crypto with the Nexo Card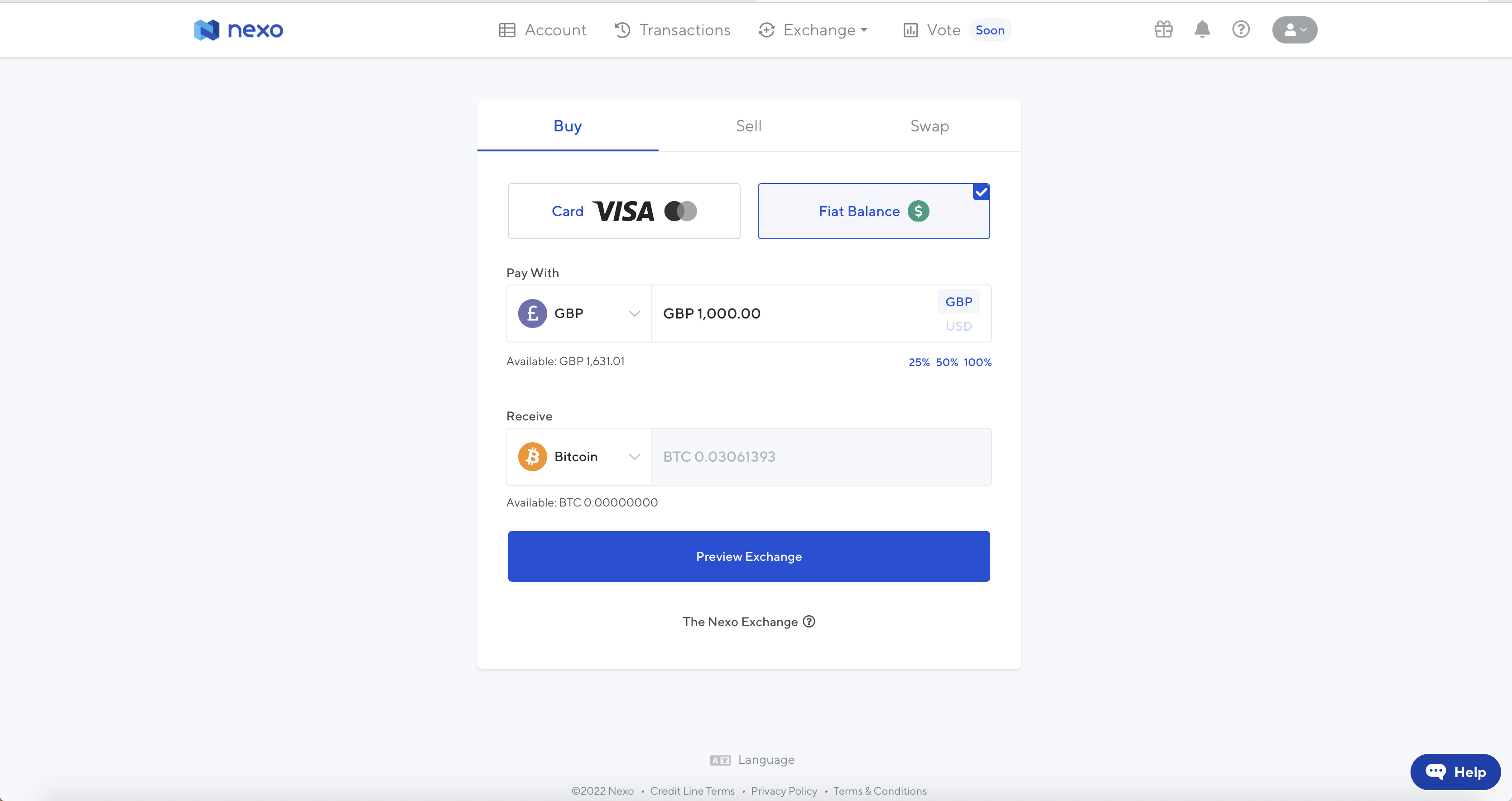 Pros
Trade, borrow and earn interest on 38 digital currencies

Available in 200+ jurisdictions

Up to 17% annual interest

Borrow cash or stablecoins

2% cashback on purchases with the Nexo Card

Military-grade security

Up to 3x leverage with Nexo Booster

Mobile app
Cons
Fewer cryptocurrencies than many competitors

Lack of advanced trading features and tools
Why we chose Nexo
Nexo's shining star is its crypto-backed loans which have some of the most favourable terms in the industry. They also excel at drawing customers in with attractive crypto returns. Their track record shows that they have not defaulted on paying returns. Finally, and a lesser-known fact, Nexo has paid yearly dividends to NEXO holders for the past three years.
5. bitFlyer - Cheapest Crypto Exchange
There are no fees for buying and selling crypto with euros on bitFlyer, while fees for trading on the pro Lightning exchange are low. You can start by buying as little as €1, making bitFlyer one of the top crypto exchanges for those on a budget.
The simple interface makes it easy for beginners to buy and sell crypto, while bitFlyer Lightning provides enhanced transaction tools for more experienced traders. What's more, the quick ID verification means you can get started in a matter of minutes.
bitFlyer is one of the cheapest places to trade seven of the most popular cryptocurrencies as there are no trading fees for buying or selling with euros. If you prefer the more advanced trading provided by bitFlyer's pro Lightning exchange, the fees are very competitive at 0.2% or less depending on trading volume.
It's free to create an account with bitFlyer and deposit virtual currency or euros via SEPA. The quick ID verification process takes less than five minutes. What's more, you don't need to risk a large amount of money to get involved as you can start trading crypto by purchasing as little as €1 worth.
The interface is intuitive and makes trading simple for beginners. If, however, you have more experience, you can use the Lightning exchange, which was designed by Wall Street veterans and has all the advanced tools you need to execute complex trades.
The bitFlyer website includes an extensive glossary to help you develop an understanding of a wide range of topics. You can also take comfort from the fact that bitFlyer is a secure crypto exchange that has been fully audited by Ernst & Young and has licences to operate across Europe, the US, and Japan.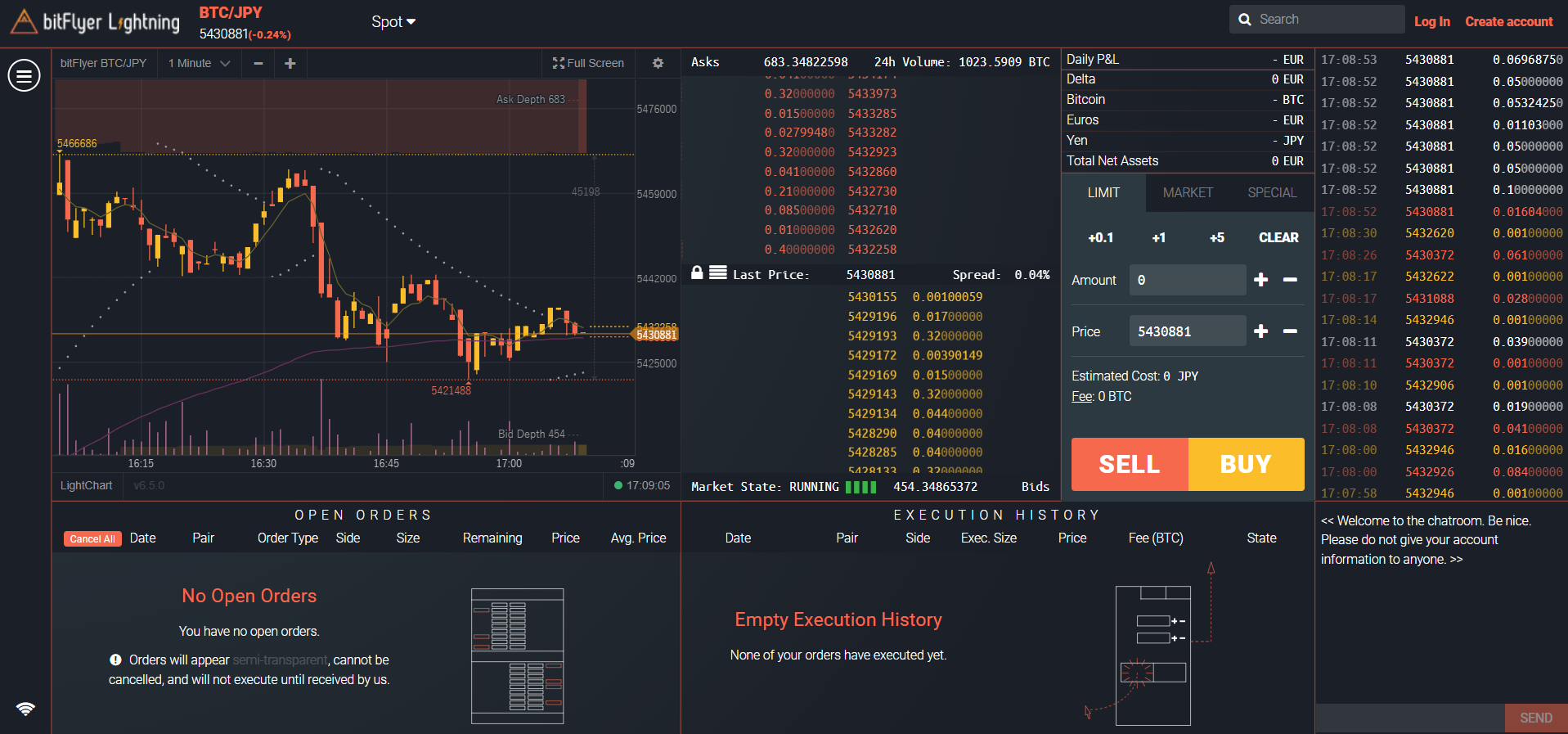 Pros
Low fees

Easy to use

Regulated and secure crypto exchange

€1 minimum trade amount

ID verification in under 5 minutes

Advanced trading with bitFlyer Lightning

Mobile app
Cons
Only 7 cryptocurrencies are available

Trading pairs for EUR and JPY only
Why We Chose bitFlyer
We selected bitFlyer as the best value-for-money platform as it has the lowest fees and trade minimums available, making it an ideal choice for those on a budget who want to get involved in the world of crypto.
6. Bitpanda - Best Platform for Crypto Indices
Traditional investors who wish to gain exposure to crypto without having to choose individual digital currencies or navigate flashy, feature-stuffed platforms like Binance can look to Bitpanda as a viable solution.
Bitpanda is a fintech firm on a mission to make investing as available to everyone as possible, an ethos reflected in its investment platform. Users get access to around 170 cryptocurrencies on a simple and easy-to-use platform. The UI is similar to that of regular fintech or traditional investing applications as the platform does not offer complicated crypto derivatives.
Its most popular feature is the crypto indices that track various aspects of the industry. It is ideal for investors who are unwilling to take on the risk of investing in one coin. Investors can choose from 7 indices including the metaverse index, DeFi index, smart contract index, infrastructure index, top 5 market cap index, top 10 market cap index, and top 25 market cap index.
These indices are regulated products and, as their name suggests, track different aspects of the crypto landscape.
Bitpanda's platform also provides an easy way to manage your crypto portfolio from a single interface. Its mobile app gives investors the tools needed to invest in cryptocurrencies and crypto indices on the go.
In addition to its crypto investment features and products, Bitpanda also offers a savings plan that dollar-cost averages into supported cryptos at specified intervals when connected to a credit card. Alternatively, you can leverage the staking feature to generate up to 13% APR on your crypto coins.
Although Bitpanda primarily advertises as an investment platform, it runs a PRO platform that is a full-fledged trading terminal that is available to both institutional and retail investors at a low 0.025% fee.
To open an account, download the mobile app or navigate to the website and sign up. You'll need an email address, a valid ID and address verification documents.
Bitpanda is licensed and regulated by the Financial Market Authority (FMA) Austria, the French Autorité Des Marchés Financiers (AMF), and the Czech Trade Authority.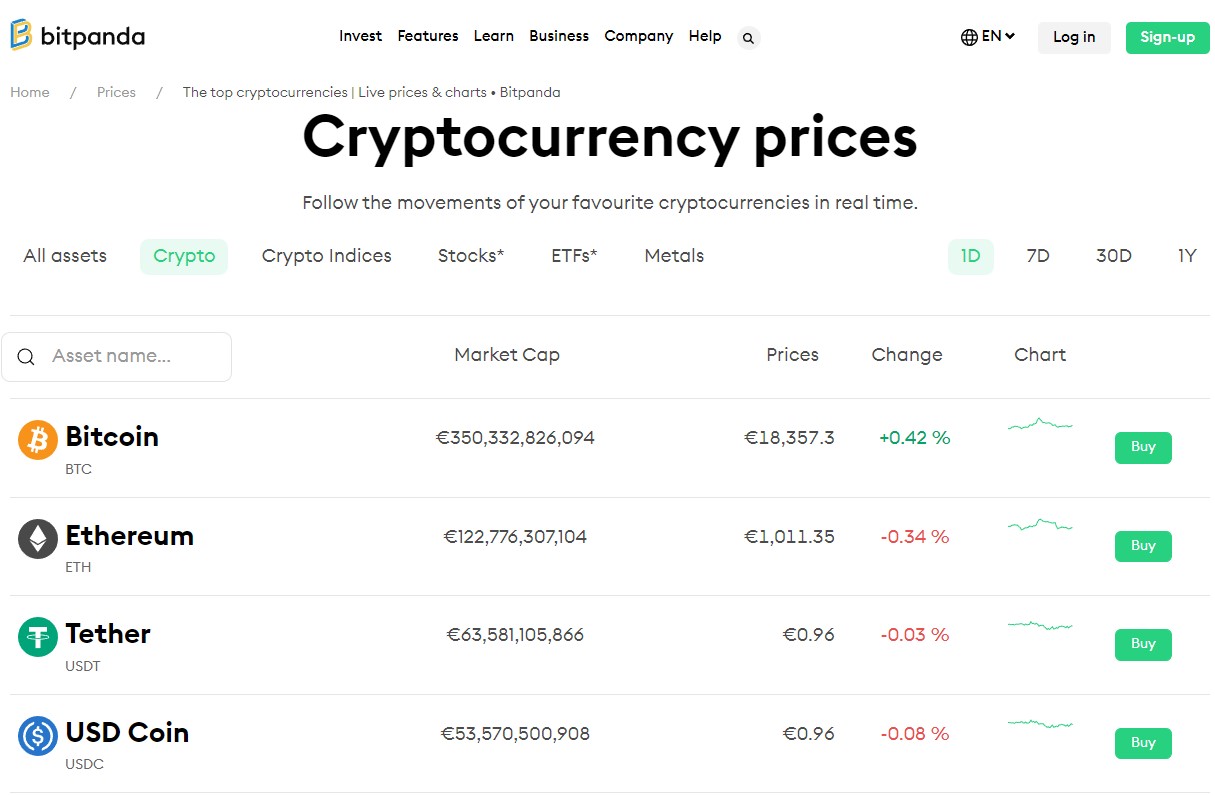 Pros:
Regulated fintech that complies with AML requirements

Leading-edge crypto indices

Simple, easy-to-use platform

Pro platform for advanced traders

€25 minimum deposit and withdrawal

Comprehensive learning materials
Cons:
Limited support for currencies

The withdrawal method is limited to bank accounts
Why we chose Bitpanda
Bitpanda is the perfect bridge between traditional finance platforms and new-age crypto exchanges. It provides a way to actively manage your investments as a whole, not just an exchange to swap coins. Also, its crypto indices help investors get on board the crypto train without having to choose individual coins that may not pan out.
7. Bitstamp - Best Long-Standing Crypto Exchange
Bitstamp is a long-standing crypto exchange with 24/7 customer service, institutional-grade security, and a collection of over 75 cryptos. It is a great option for users who value a strong track record.
The platform is geared towards trading with an interface that leans more towards traditional fintech than new-age web3 exchanges. However, the simple platform is not lacking in functionality as its interface supports portfolio tracking, staking, and four order types.
Core traders get access to a fully functional institutional-level trading terminal with sophisticated trading tools that can run arithmetic strategies. On the other hand, investors can earn up to 5% APR on Ethereum and Algorand with the staking feature.
Trading fees are significantly higher than industry competitors at 0.50% per trade. However, it decreases with higher trade volumes to a minimum of 0% for monthly trading volumes above $20 billion.
Deposits are quick and easy with several payment channels available. You can use credit cards, international wire transfers, Faster payments (UK), ACH payments, and SEPA transfers. Withdrawals also support the same channels.
Bitstamp trading and transfer fees are affordable at 5% for credit cards, free for ACH, Faster Payments, and SEPA, and 0.05% for international wire. Withdrawal fees include €3 for SEPA, £2 for Faster Payments, free for ACH, and 0.1% for international wire.
To create an account, you'll need an email address and KYC documents like an ID card and a utility bill.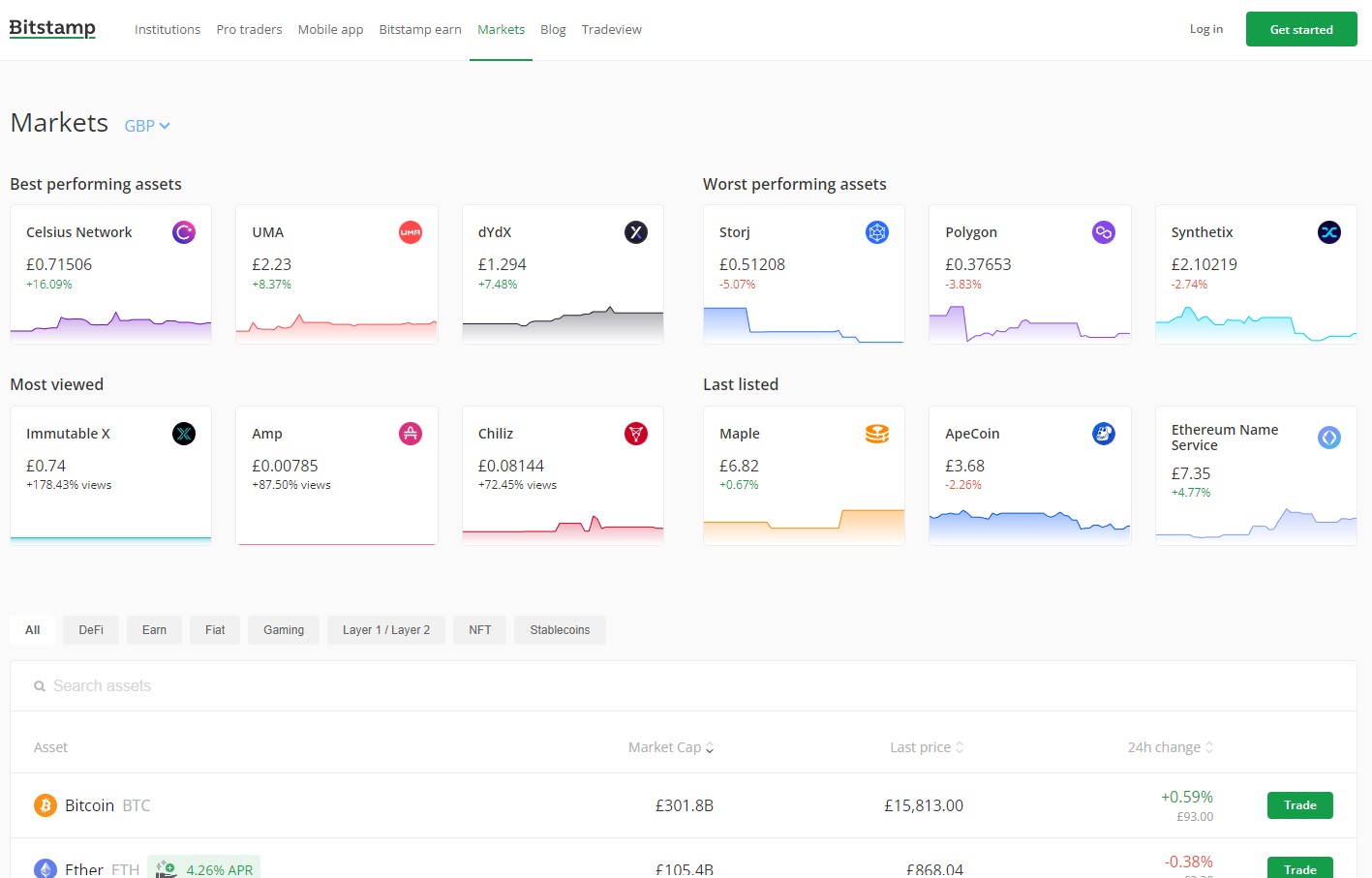 Pros
A simple interface that is easy to navigate

Powerful trading platform

Institutional grade security

$/£/€25 minimum deposit

24/7 customer support

Transparent fee structure
Cons
High trade fees

No special features
Why we chose Bitstamp
We chose Bitstamp because of their time in the game. The trading platform, being one of the first Bitcoin exchanges, has been operating since 2011, a track record that makes it one of the most trusted platforms.
8. OKX - Best Crypto Exchange for Experiencing Web3
If you want a platform that lets you experience more of what web3 ecosystems have to offer, then look no further than OKX. The exchange doubles as a portal into the world of NFTs, games, and DeFi.
The exchange offers a selection of crypto derivatives like Futures trading, Options, perpetual swaps, and crypto indices. Traditional investors can leverage the Convert feature to swap between 318 cryptos for free at market prices.
For users looking to grow their portfolio, the Grow section is equipped with various products like the Savings, Staking, Fixed Income, DeFi, and Dual Investments products that integrate with third-party applications to generate sustainable returns.
Depositing on OKX is easy as credit/debit cards, bank transfers, SEPA transfers, Google Pay, and Apple Pay are supported. Their peer-to-peer (p2p) trading platform supports even more payment methods including bank transfers, PayPal, Wise, Skrill, and Neteller.
Withdrawals work the same way. Simply switch the tab to Sell on the Buy Crypto page and select a supported payment channel. Click sell and wait for your fiat to arrive. Crypto deposits on OKX are free while withdrawals are charged based on network activities.
OKX charges 0.10% for fiat-crypto transactions, although your payment provider may charge an extra fee. For trading, fees vary with level but generally range between 0.06% - 0.08% as maker fees and between 0.08% - 0.10% as taker fees for the spot market.
Finally, web3 enthusiasts can transform OKX from an exchange to a portal into the metaverse, DeFi ecosystem, and NFT markets with a toggle at the top right of the homepage.
To create an account, you'll need a phone number or an email address and KYC documents like a valid form of ID and a proof-of-address document like a utility bill.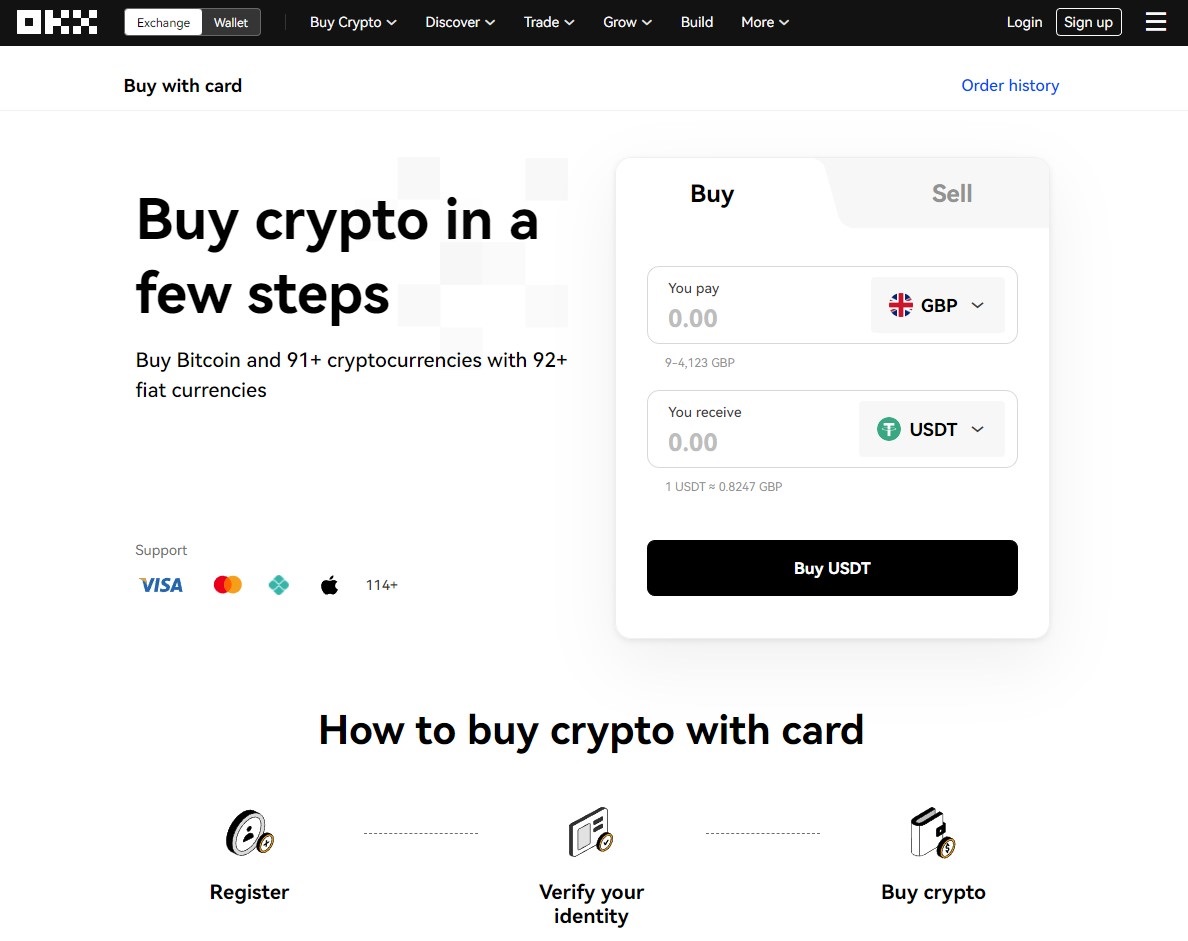 Pros:
The convert option is free

Access to a larger web3 ecosystem

Support for up to 30 fiat currencies

Several options for growing crypto funds

24/7 customer support

Robust crypto derivative products

Large selection of cryptos on the spot market

Quick signup and verification process
Cons:
Unavailable to US residents

Confusing support content
Why We Chose OKX
OKX is a global platform that combines the best of what crypto has to offer in one interface. It provides robust derivative products while keeping trading fees low. Its deposit and withdrawal method is also one of the most straightforward on our list and its wallet option provides a gateway to the world of crypto without having to hop between decentralised apps.
9. Kucoin - Best Exchange for Altcoins
Kucoin has the largest collection of coins in the world. And according to their website, one of four crypto holders worldwide uses the exchange. The crypto powerhouse offers over 700 altcoins to its users around the world.
Oftentimes, new crypto tokens get listed on Kucoin before most crypto exchanges, making the platform the perfect hunting ground for those looking for the next best coin/token. Not only does it list tokens before most crypto exchanges, but it also lists tokens that other exchanges don't.
For example, Kucoin is currently the only centralised exchange that lists the RMRK token, an NFT standard on the Polkadot ecosystem. And given that the project leader says they don't plan on listing on centralised exchanges, Kucoin may remain the only exchange that lists it.
When it comes to trading, the global exchange charges a low 0.1% fee for new users. As traders climb up the ranks by trading higher trading volumes, the fees decrease to as low as 0.025% for takers and -0.005% for makers (you make money when you place orders), but only when your monthly trade volume exceeds 80,000 BTC.
Core traders have access to crypto derivatives like futures trading with up to 100x leverage for verified accounts and 10x leverage for unverified accounts, margin trading facilities, and leveraged crypto tokens. Investors can leverage Kucoin Earn to generate returns from staking, cloud mining, lending, and Spotlight, Kucoin's token launchpad.
Deposits are as straightforward as connecting a bank card and making payments. Credit card deposits are free and support 40 major currencies. Withdrawals are deposited in your account's USD balance which can then be collected through various supported payment methods like Google Pay, Apple Pay, Skrill, Neteller, Wise, and PayPal on the p2p crypto market.
To open an account, you'll need an email address (or phone number) and a password. You may begin using the account without verification, but with a restricted deposit, withdrawal, and trade capabilities. When you're ready to verify your account, use an ID card and a utility bill or bank statement that clearly shows your address.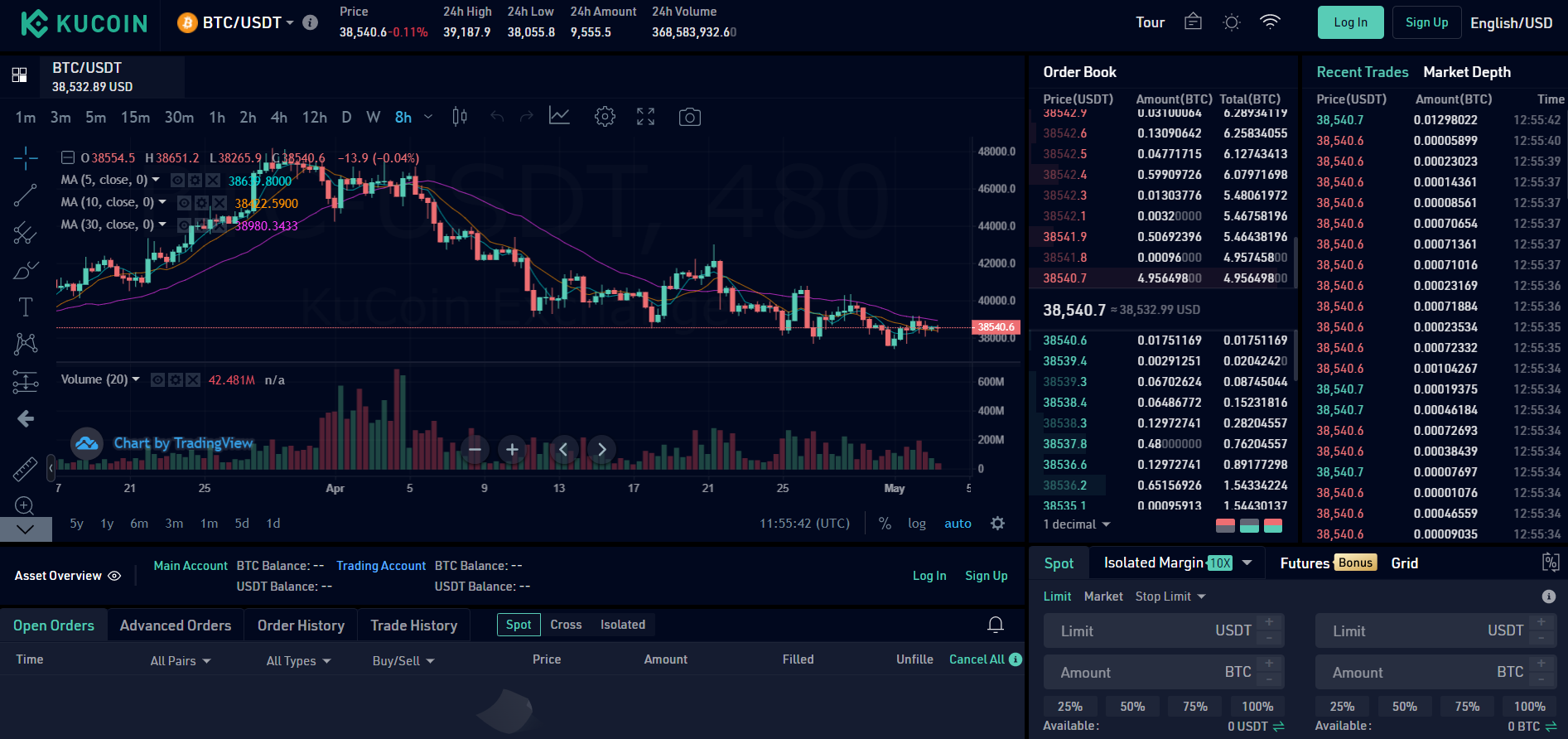 Pros
Has a global reach and large user base, with over 10 million users in 200 countries

Largest coin collection at over 700 coins

Offers one of the most robust leverage facilities at a maximum of 100x leverage

Low trading fees that get lower the more you trade

Supports automated trading via a trading bot

Users can still trade without verification

Verification is quick and easy

24/7 customer support on various channels
Cons
Unavailable to US residents

Was hacked in 2022
Why we chose Kucoin
We chose Kucoin as the best crypto app for altcoins because of its enormous selection of altcoins which eclipses every other centralised exchange. It also makes deposits and withdrawals as easy and transparent as possible with a straightforward fee structure.
10. Coinmama - Best Crypto Platform for Easy Deposits
Coinmama makes it exceedingly easy to buy cryptocurrency from virtually any country in the world. As long as you use any of the supported currencies and payment methods, you'll be able to get crypto.
The exchange has one of the widest deposit/purchase options for buying cryptocurrencies independent of the geographical constraints usually imposed by major exchanges.
You have ten payment channels to choose from including bank cards, Skrill, Apple Pay, Google Pay, SWIFT, Fedwire, and SEPA transfers. These methods work regardless of location but are limited to certain currencies.
For example, if you live in the Middle East but have USD in an Apple Pay wallet, you'll be able to buy Bitcoin from Coinmama using Apple Pay. However, you can only use USD with Apple Pay.
Google and Apple Pay only work with USD, Fedwire only works with USD, while SEPA transfers work with USD, GBP, AUD, and CAD. Different payment methods support certain currencies. The currencies supported are USD, GBP, CAD, and AUD. If you're using bank cards, you'll be able to buy crypto in any currency, however, if that currency is different from your domestic currency, you'll be charged a conversion fee.
Fees and deposit limits are also imposed on various payment methods. For example, deposits with bank cards cost 5% of the transaction value and will only be processed for amounts above $30.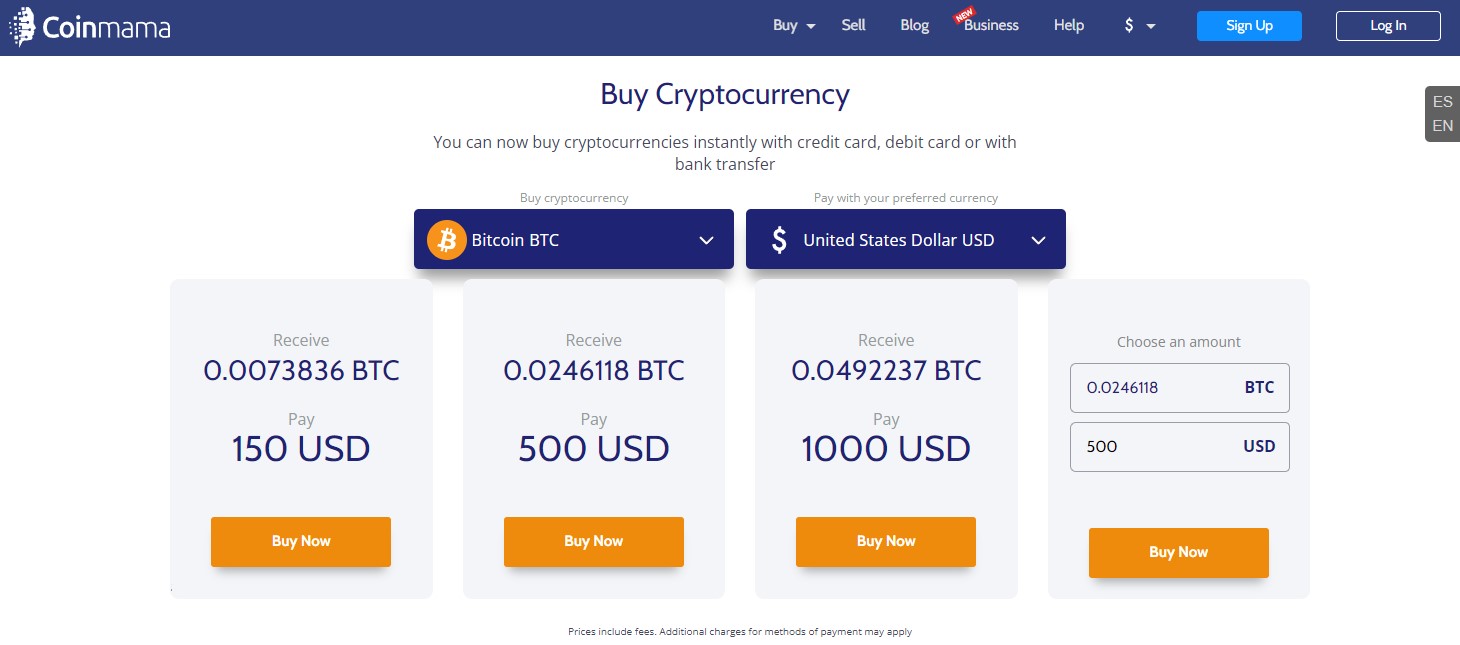 Pros:
Easy signup process

Flexible payment methods

Works in most countries

Straightforward

$30 minimum deposit

Free deposits for certain deposit methods
Cons:
Not much support for fiat withdrawals

High fees on certain deposit methods (e.g 5% for Google Pay)
Why we chose Coinmama
Coinmama is the best option for straightforwardly buying cryptos. It is ideal for people who may need a way around geographical restrictions that hinder more traditional crypto exchanges from providing services.
What Is a Crypto Exchange?
A cryptocurrency exchange can be termed as an online marketplace where you can freely indulge in buying and selling cryptocurrency, in exchange for fiat currencies or other cryptocurrencies. The platform functions as an intermediary between the buyers and sellers, and normally charges a commission for its services. Unlike in the case of stock exchanges where traders buy/sell crypto assets to profit from their changing prices, in crypto exchange platforms, people make use of fiat or crypto trading pairs to bank upon the volatility of cryptocurrencies.
How Do Crypto Exchanges Work?
To use a crypto or bitcoin platform, you will need to register with it first and comply with its verification process to authenticate your identity.
The verification process might vary from one exchange to the other. While some crypto exchanges won't ask you for anything more than your email ID, others might require you to complete stringent KYC (Know Your Customer) checks such as photo upload, id verification, address verification, etc. before onboarding you to their platform. This is basically to comply with their KYC (Know Your Customer), CFT (Combating the Financing of Terrorism) and AML (Anti-Money Laundering) measures.
Please note, even though it's entirely up to you whether you use non-KYC or KYC exchanges, the latter can prevent you from dealing with antisocial elements and also reduce the risk of fraud.
Your account will get opened after completing the verification process. Thereafter, you can deposit funds into it, using a currency and payment method permitted by the platform. Many crypto exchanges normally allow multiple deposit/withdrawal methods including debit cards, credit cards, bank drafts, wire transfers, e-wallets, Paypal, wallet transfers, etc.
Once you've deposited funds into your exchange account, you can use them to trade cryptocurrencies available on the platform. The funds can be withdrawn anytime either in crypto or in fiat by placing a withdrawal request.
Most major crypto exchanges facilitate crypto trading via 'Buy' or 'Sell' orders that are matched by the platform's software.
To sum it all up, a crypto exchange is essentially an online marketplace where you can buy/sell cryptocurrencies from/to other traders, based on their current crypto market price. The exchange works as an intermediary between the buyers and sellers and charges a fee for its services.
Different Types of Crypto & Bitcoin Exchanges
There are different types of cryptocurrency and Bitcoin exchanges catering to different trader types. Below are the four main types you will find in the market:
Centralised Exchanges (CEX)
These work quite like conventional stock exchanges, with a central authority having complete control over the product, function and service. Interestingly, the concept of a centralised exchange is quite contradictory to why cryptocurrencies were invented in the first place, which was to free the financial world from the authoritative, and singular rule. The funds are held by the exchange and the available trades can be crypto-crypto, fiat-crypto or both.
Decentralised Exchanges (DEX)
These are crypto exchanges that facilitate peer-to-peer trading of cryptocurrencies. All functions of the crypto exchange, including crypto assets exchanges, order matching, order books and capital deposits are decentralised, in the true spirit of cryptocurrency. There is no central server and no possibility of a single point of failure.
These are websites that function more like local dealers that can buy/sell cryptocurrencies from/to you against your local currency. Whilst many of them provide automatic buy/sell orders, they don't offer cryptocurrency trading facilities.
Fiat-Crypto exchanges are the ones where you can purchase a cryptocurrency using a fiat currency. Extremely popular amongst starting-out crypto investors, these enable easy access to cryptocurrencies to the general populace. On the contrary, Crypto-Crypto or Pure Exchanges are the kinds where you can trade only in cryptocurrencies, with no provision for fiat-crypto exchange.
Hybrid exchanges combine useful components of centralised and decentralised exchanges. They take the security of decentralised exchanges and the scalability of centralised exchanges into a single platform. They are still a growing development.
Key Things to Consider When Choosing the Best Crypto Exchange
Opting for the right crypto swapping platform can be the most critical step you take as a beginner cryptocurrency investor. It's very important to understand your expectations from a platform and how you wish to trade cryptocurrencies. We can't stress enough the significance of thoroughly examining the unique offerings of every exchange you shortlist. Let's look at some of the key points you should keep in mind:
Customer support – It should offer 24/7 (preferably) customer support through all popular communication channels including email, phone, social media, and live chat. However, most exchanges offer 24/5 service, which is still acceptable.
One area that should be a must is live chat or phone support. The best exchanges we came across offer live support. The alternative is email threads that could slow down service delivery.
Fees – Fees include trading fees, deposit and withdrawal fees, transaction fees, and fees charged for other services like lines of credit and staking. These fees differ with platforms but should be within a certain range.
Deposit and withdrawal fees are usually around 2% for transactions in both directions. This percentage should be for credit card transactions as they tend to be the more expensive option. Bank deposits are usually free on top platforms while electronic wallets may carry a small charge.
Some exchanges charge a flat withdrawal fee. eToro charges a $5 flat withdrawal fee on all withdrawals regardless of volume.
Trading fees should never be above 1% of the transaction volume. The highest we've come across is about 0.75% of the transaction value as taker fees for spot trading and 1% for crypto CFDs.
While fees vary with the platform, they should never be a significant chunk of the returns generated or of the value of the transaction.
Security – The exchange should use all possible and updated security measures, including two-factor authentication (2FA), crypto assets insurance, ID verifications, etc. to safeguard the investors' interests.
The top exchanges we came across also have a track record of tight security. While hacks are endemic to the crypto space and breaches occur, there should be a contingency plan to safeguard users' funds and replace them if necessary.
Binance is a good example of an exchange that bounced back from a breach in 2019 by maintaining a Secure Asset Fund for Users which was used to replenish lost funds.
Ease of use – The exchange shouldn't be very difficult to use and have a straightforward and simple UI (user interface).
Payment methods – A crypto platform would be of no use to you if it doesn't offer a deposit/withdrawal method of your choice. Make sure it does before signing up with any. Deposit funds can be both fiat currency or crypto.
The top platforms we've come across accept bank deposits in local currencies for all jurisdictions they operate in. For jurisdictions where bank deposits are unfeasible, like Nigeria where banks don't process crypto transactions, third-party options like electronic wallets should be made available.
The ultimate third-party deposit method is a p2p marketplace. Not all major exchanges have p2p markets, which makes those that do more desirable as these marketplaces have a wide range of payment methods
Supported coins – All reputed exchanges offer a large variety of cryptocurrencies to cater to all types of investors. Ensure that the exchange you have in mind allows crypto trading in the cryptocurrency that you are interested in.
Exchanges domiciled in the US usually have a limited collection of coins compared to their global peers. While an exchange that offers 65 cryptos may be considered limited by global standards, it is an appropriate number for a US-based exchange, although Coinbase which is US-based, offers 193 cryptos.
All the exchanges on our list also offer fiat-to-crypto pairs like BTC/USD and crypto-to-crypto pairs, also called crypto crosses, like ETH/AAVE. For global crypto exchanges, fiat-to-crypto pairs should exist for major currencies (USD, GBP, EUR, AUD, CAD).
For crypto crosses, major cryptos should cross with USDT, USDC, or stablecoins that are native to certain platforms, like BUSD for Binance, e.g. BTC/USDT, ETH/USDC, AVAX/BUSD.
Privacy – If you're someone who desires a high degree of anonymity, you should go with an exchange that doesn't ask for a lot of personal details.
Centralised exchanges are not the best option for anonymity as they require users to pass KYC before operating a fully functional account. Nevertheless, security on these platforms should be airtight.
Your platform of choice should also conform to cybersecurity best practices and have certifications like the ISO 27001:2013 to prove it.
Reputation – Before signing up for an exchange, always read peer-written reviews. Sites like G2 and Trustpilot are great for finding independent third-party reviews. Some exchanges work well in certain regions but perform lackluster in others.
A good example is Binance. Reviews on G2 are positive with an overall rating of 3.8 of 5.0 while Trustpilot reviews are mainly negative with an overall rating of 2.0 of 5.0. Comparing both reviews, we found that Binance doesn't work well in the Middle East.
Another place to monitor reputation is the news. Some exchanges are constantly embroiled in regulatory issues. These exchanges are high risk as they could be smacked with restrictions that affect your ability to withdraw your funds.
Finally, skim through the platform operating history. Do they have a history of suddenly suspending withdrawals due to legal issues? Have any C-level executives gotten into trouble with the law? If so, then you want to tread carefully.
Regulation – Regulated platforms are more legitimate in the eyes of the law than their unregulated peers. You are less likely to lose your funds with regulated platforms. Each country has its regulatory agencies. Here are some of the popular ones in various countries:
In the US, there is no concrete legal framework for regulating cryptocurrencies, so exchanges do not fall directly under the purview of the SEC, however, they are regulated by the Bank Secrecy Act (BSA), must register with the Financial Crimes Enforcement Network (FinCEN), and must comply with Anti-Money Laundering (AML) laws.
Cryptocurrency exchanges like eToro, on the other hand, fall under the SEC and must be registered with the SEC and fall under their purview. eToro is fully registered with the SEC.
In the UK, exchanges are regulated by the Financial Conduct Authority and are beholden to AML and Combating the Financing of Terrorism (CFT) laws. Crypto exchanges are not allowed to offer crypto derivatives to citizens.
In Canada, exchanges operate under the domain of provincial regulators. Crypto investment firms like Nexo must register with the Financial Transactions and Reports Analysis Centre of Canada (FINTRAC).
Australia is friendly towards crypto exchanges and only requires them to register with the Australian Transaction Reports and Analysis Centre (AUSTRAC) and meet clear-cut AML/CTF obligations.
In the Eurozone, cryptocurrency is currently legal, however, authorities have been pushing a Markets in Crypto Assets (MiCA) regulation that is said to bring the same transparency and credibility that the traditional finance sector enjoys. In the meantime, exchanges must adhere to AML and CFT laws.
In Japan, cryptocurrencies are considered legal property and are regulated by the Payments Service Act (PSA). Exchanges must register with the Financial Services Agency (FSA) and adhere to AML and CFT guidelines.
Wallets – Most exchanges on our list offer secure web wallets associated with their accounts. This type of crypto wallet comes with certain limitations. For example, you can only withdraw and deposit from them. You cannot use them to qualify for external airdrops or purchase activities. You do not hold their private keys and are not in control of the wallet, hence, you are entrusting your funds to the exchange.
If you must leave your crypto holdings and other digital assets on an exchange, ensure that it is regulated in your region. Exchanges like eToro are safe because they are regulated by several agencies in numerous jurisdictions.
If you are unsure about the regulatory status of your chosen exchange and they seem to obscure that information, you may not want to leave your funds on their platform.
Unique Features – Buying and selling cryptos is a base feature that all exchanges possess. To stand out, they include other unique features and services. For example, Nexo extends crypto-backed loans that do not require a maintenance fee, and eToro has a Copy Trader feature that allows newbies to copy the trades of more experienced users.
For traders, FTX has some of the lowest fees at 0.02% for makers and 0.07% for takers. FTX also subsidised crypto withdrawals, making them free for certain blockchains.
For investors looking to grow their funds, Binance offers flexible saving pools that generate returns anywhere in the range of 2% - 30% per year. This return is higher for locked funds.
Final Thoughts
The best crypto exchanges make it extremely easy to buy/sell cryptocurrencies and are contributing greatly to the world's changing perception of cryptocurrency, money and finance as a whole. Furthermore, these cryptocurrency trading platforms continue to be the most preferred means for buying and selling coins for the majority of people.
eToro is the best crypto platform overall as its vibrant community of users and social features create an environment where users can learn from more experienced peers. Its CopyTrading feature also makes it easy for new traders to get a leg up on investing.
It also supports several deposit methods like bank transfers, credit/debit cards, electronic wallets like Neteller, and the eToro Money account. Deposit limits are favourable at a minimum of $10 while withdrawal fees remain flat at $5 regardless of the amount withdrawn.
Trading fees remain affordable at a 0.75% - 1% markup to raw spreads which applies to both spot trading and crypto CFDs.
Every exchange in our guide is the best at a specific function which represents areas that customers should look out for in crypto exchanges.
This guide helped to look at the key points you should keep in mind while choosing them and the top exchanges in 2022.
Pros and Cons of Using an Exchange to Buy Cryptocurrency
Pros
Many cryptocurrency exchanges are user-friendly and prove ideal for new crypto investors.
Owing to the stringent KYC measures adopted by some of these platforms, they're able to offer a higher degree of security.
You are allowed to purchase cryptocurrencies immediately after registration.
You get to own the cryptocurrency, rather than simply speculating its price movements.
Decentralised exchanges are often able to offer a high degree of anonymity.
Cons
Irrespective of their safety measures, crypto exchanges are not considered secure enough for storing coins after purchase.
The KYC process can be very tiresome on some platforms
Frequently Asked Questions
Yes, the majority of the best crypto exchanges offer their own apps and also allow you to trade from mobile web browsers. You will still need a crypto exchange account no matter which way you choose to trade crypto. Check out our full list of the best crypto apps here.

Unfortunately, yes. It's not your profit/loss, but the invested amount which determines the fee.

Not at all. The majority of the cryptocurrencies are highly divisible and it's easy to buy/sell even a small part of them.

The rates on these crypto exchanges are set by themselves, derived mainly from the buyers' and sellers' trades.

Different crypto exchanges offer different numbers of cryptocurrencies and digital assets. While some might list only a few of them, others can list hundreds. 

They have multiple revenue streams like commissions, listing fees, market-making, and fees when you trade crypto and other digital assets such as NFTs.

Be warned lower fees do not always equal the best crypto exchange and all factors should be considered. Some exchanges may seem like they have lower fees but merely hide higher fees within a confusing fee structure.

No, you can buy or get crypto tokens from a number of other sources. One such example is crypto brokers.

There is no single secure cryptocurrency exchange as security requirements change all the time. Some other crypto exchanges like Coinbase store crypto in offline cold vaults, while others like Nexo offer this and insurance protections.

There are many different ways that exchanges could be split up to determine which are the major ones. One such way is via visits, and two of the biggest are Binance and Etoro.

Most cryptocurrency exchanges will accept both credit and debit card purchases as a deposit method for fiat currency. One deposited fiat currency like dollars or pounds can be swapped for cryptos.