Start trading with Coinmama
Safe & Secure cryptocurrency exchange
Liquidity Accepted in over 200 countries
Coinmama Review 2022
Coinmama is an Israel-based non-custodial broker and cryptocurrency exchange that offers users a platform to buy and sell cryptocurrency via multiple payment options.
The exchange has over 2.2 million users, features a fast-track verification process and is available in 190 countries worldwide. The company also operates in the United States, but services are limited to the states where it has received regulatory approval to offer cryptocurrency services.
While Coinmama does not offer trading options like margin trading, users find its high security and ease of use, especially when buying Bitcoin with a credit card, very appealing. This review of Coinmama contains everything you should know about the exchange, including how it compares to its peers in the industry.
3 Steps to Sign Up to Coinmama
1. Register and Verify your ID: Go to Coinmama.com and click on Sign Up. The screen below appears. Enter your email, password, names and choose the country of residence.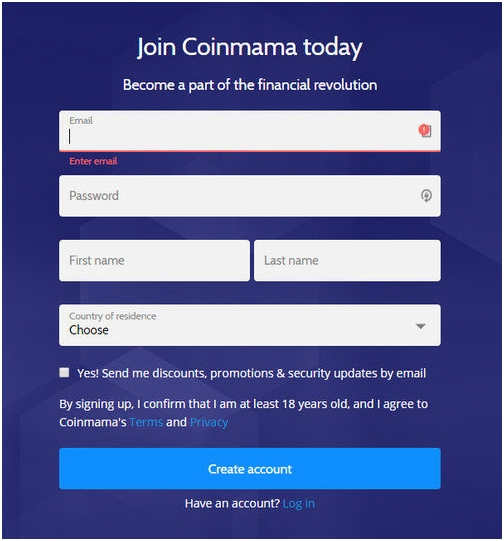 Next, click on "Create account" and use the email sent to confirm your email. After that, verify your account by uploading your identity proofs (passport, national ID) and selfie.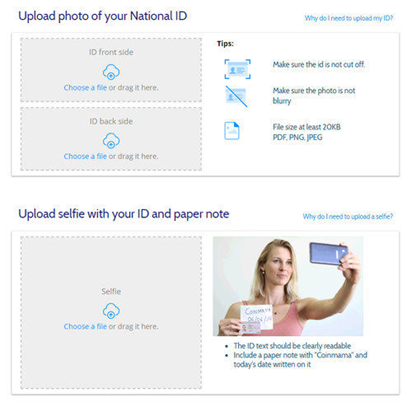 2. Make a Deposit: Coinmama supports direct crypto buys, and the first step is to set up your wallet. Then go to your Coinmama account and click on the 'buy' link to be directed to the next page from where you can purchase your preferred cryptocurrency. You also have the option to connect your bank account to Coinmama to simplify the process further.
3. Purchase your Crypto: Choose the cryptocurrency you want to buy and the currency you wish to pay in. Set the amount of crypto and the payment method and click "Buy Now".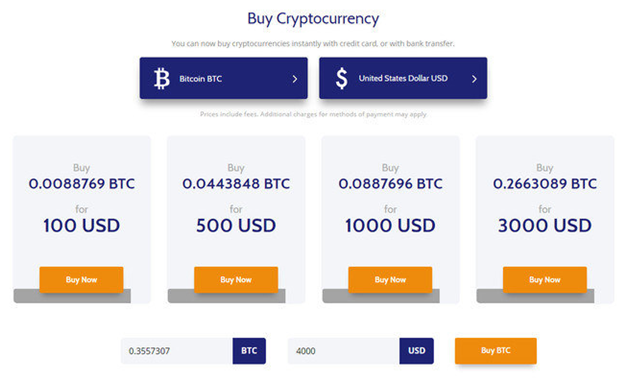 Next, enter your wallet address and confirm it's correct. Fill in your payment details and click buy. Once you confirm the transaction, Coinmama will instantly send coins to your account.
Users have much freedom when it comes to buying and selling Bitcoin on Coinmama. The platform supports credit card and debit card purchases as well as fund transfers through different means. These include faster Payments, Fedwire, SEPA, Sofort, Swift bank transfers, and Apple Pay. Transfer options vary depending upon the user's residence.
Pros & Cons
Pros
Available worldwide (190 countries and counting)
Industry-high purchasing limits
Buy with credit card/bank transfer
Secure and trusted since 2013
Cons
High fees for credit/debit card purchases
Coinmama Compared
Coinmama is among the few cryptocurrency exchanges that offer buying and selling exclusively to crypto. It is also one of the few to obtain licences to operate in US states. However, it does charge comparatively high fees. So how does it compare with other platforms that offer cryptocurrency exchange services?
History of Coinmama
Coinmama was founded in 2013 and is registered in Slovakia. The exchange is currently based in Israel and is owned by NBV International, a subsidiary of New Bit Ventures Ltd. It was one of the first cryptocurrency exchanges to add support for buying Bitcoin using a credit card. In 2019, Coinmama added support for the popular coins Tezos and Eos, opening up the platform to more users across the globe.
In 2019 still, Coinmama revealed it would now facilitate the selling of Bitcoin as well. The feature allows Coinmama customers in over 30 European countries where SEPA (Single Euro Payments Area) is supported the ability to sell their Bitcoin investment and receive money in Euros straight into their bank account.
Regulation and Security
Coinmama is a registered company headquartered in Israel. The exchange is also regulated in the United States, approved as a money business service from the United States regulator, Financial Crimes Enforcement Network (FinCEN).
The importance of this regulatory oversight is that FinCEN is under the US Department of the Treasury and has the mandate to scrutinise Coinmama's financial dealings to work on things like money laundering, terrorist financing, fraud. If Coinmama is flagged for these and other crimes, users will likely know. The company also has well-known members in its team, which helps build further trust for a business that has been in operation since 2013.
Coinmama has shown over the years that it is committed to ensuring users continue to benefit from high levels of safety. The security measures and applicable privacy standards ensure customer details are safeguarded.
Is Coinmama Safe?
Coinmama has been in operation as a cryptocurrency exchange for several years now and has proven to be a safe platform for buying Bitcoin and other cryptocurrencies. Once you create your account, Coinmama will ask that you verify your account to prove your identity. The KYC/AML process includes uploading of your passport, national ID, or driver's license.
Additionally, Coinmama requires that before you buy any crypto on the platform, you have a wallet address that can receive these assets.
Coinmama uses full encryption technology to secure your personal details and uploaded documents. Details related to your credit card are never kept on the Coinmama website or its exchange servers, while their website is HTTPS certified. For this reason, among other security measures, Coinmama is safe for anyone looking to quickly buy cryptocurrencies.
Reputation
Coinmama has one of the best reputations in the cryptocurrency exchange market. The Israel-based company has never been hacked, and although it suffered a data breach in 2019, none of its users' credit card information was compromised.
Again, the company has grown into one of the most popular platforms to purchase Bitcoin and other cryptocurrencies with Visa or MasterCard. It's no wonder Coinmama has over 2.2 million users on its platform and currently operates in nearly 200 countries, including the highly regulated US, where its services are available in over 24 states.
Is Coinmama for Me?
Coinmama is a reputable cryptocurrency broker that makes it easy for anyone to buy Bitcoin and other cryptocurrencies. If you are looking to have quick access to crypto and send it to your own hardware wallet or another exchange-hosted wallet for trading, Coinmama is for you. It doesn't need you to be tech-savvy, as the design is both simple and effective.
I'm a Beginner
If you're a beginner, Coinmama has one of the most user-friendly interfaces ever created for an exchange service. There are no fancy charts or complex figures to confuse you. Once you create and verify your account, you can easily navigate the website to buy the cryptocurrency of your choice.
I'm Advanced
If you are a seasoned crypto trader, Coinmama's main appeal will be the instant delivery of purchased coins into your account. You can also sell BTC and receive cash via SEPA transfer if you are living within the EU.
Exchange Wallets: Features, Supported Cryptocurrencies and Security
Coinmama does not have a wallet service, i.e., it's a non-custodial broker and does not hold cryptocurrency on behalf of the users.
However, and this is part of the reason the exchange has a good reputation, the company stores its crypto holdings in secure cold wallets from where users can buy.
Before you register for an account with Coinmama, it is advisable to set up a personal wallet that you will use to store the assets you have purchased. This is a necessary first step; as has already been mentioned, Coinmama does not offer a wallet service and does not store crypto on behalf of its customers.
Users need to have their own wallets set up and only use their accounts to directly buy or sell to the exchange.
Supported Wallet Formats
Coinmama supports a wide range of wallets, including the original Legacy or (P2PKH) wallet, Nested SegWit (or P2SH addresses) that begin with a "3", Ethereum wallets, XRP wallets and Bitcoin Cash wallets, among others.
Supported Cryptocurrencies
Once you sign up for an account on Coinmama, you can buy or sell the following cryptocurrencies supported by Coinmama. As highlighted earlier, the exchange has support for instant purchases using credit/ debit cards and bank transfers.
Ethereum (ETH)
Qtum (QTUM)
Tezos (XTZ)
EOS (EOS)
Coinmama also supports multi-currency purchases of cryptos made in AUD, CAD, EUR, JPY, GBP, and USD.
Coinmama takes the security of its users' funds seriously and will not send coins to your wallet until you validate the wallet address via a confirmation email sent to you. If you use a credit or debit card, the confirmation link is sent once payment is approved. If you use bank transfers, the link is provided together with the order details and users can confirm the transaction and address details at any given time.
It is important to state that Coinmama has never lost any user funds to a security breach, even though the platform suffered a breach in 2019 involving an attempt by hackers to steal credit card information.
But as noted, Coinmama does not store its customers' credit card information, and the hackers were only able to obtain email addresses. The data breach was a serious reminder that malicious actors would continue their criminal endeavours, and having Coinmama already resist the theft of funds is very encouraging. It is paramount that you secure not only your account password but also avoid using the same email that you use when handling businesses unrelated to Bitcoin.
Always enable two-factor authentication for your account and store the private keys to your wallet offline- preferably in hardware wallets.
How to Transfer Your Crypto Funds From/To Coinmama
Coinmama does not provide a wallet service, and thus you won't be keeping any of your funds on the exchange. You can only buy crypto and have it sent directly to the wallet address you provide. You can sell Bitcoin (the only coin supported for selling at the time of writing) and have the cash sent to your SEPA bank account.
Once you decide what cryptocurrency you want to buy, add your payment option, credit/debit card, or bank transfer details. Once the payment is made, Coinmama will send the purchased coins.
To Sell Bitcoins on Coinmama
Log in to your account (it must be verified) and initiate the sale by clicking on the "Sell" button and choosing the amount of BTC you wish to exchange. After that, enter your bank account details (including the International Bank Account Number - IBAN), and provide the required information to proceed with the trade.
Coinmama will provide a wallet address to which you need to send the Bitcoin. Copy the address and paste it into the receiving address space. Alternatively, you can complete the sale by simply scanning the QR code displayed on the checkout screen if you are using a wallet from a third-party app.
Once the coins are sent to Coinmama, the exchange will transfer fiat to your bank account using SEPA.
Note that this feature is only available for Bitcoin and in EU countries that support SEPA transfers.
Fees and Costs
Coinmama fees are as follows:
Credit card and debit card transactions - 5%
Bank transfers (SWIFT, SEPA, and Faster Payments) - 0%
Payment Methods & Limits
Coinmama allows its customers to buy cryptocurrencies via credit card, debit card and bank transfer. There is no support for PayPal at the time of writing.
Payment methods available
Credit card
VISA
MasterCard
Bank transfer
SWIFT
SEPA (EU banks)
Faster Payments (UK banks)
Trading Limitations
Coinmama implements transaction limits on a cyclical basis, and they vary depending on the regulations, the user's preferred payment method, and level of verification.
Applicable limits are reset based on your 24-hour or 30-day spending and count both buy and sell transactions.
Minimum buy limit for Bitcoin: 0.1BTC
Account Limits
Verification Level 1:
Account limit: $15,000
Daily limit: $5,000 Credit card, $12,000 bank transfer
Monthly limit: $15,000
Verification Level 2:
Account limit: $50,000
Daily limit: $5,000 card/ $30,000 bank transfer
Monthly limit: $30,000
Verification Level 3:
Account limit: No limit
Daily limit: $7,500 credit card/ $30,000 bank transfer
Monthly limit: $40,000 Card/$100,000 bank transfer
Performance, Features, and Functionality
Coinmama offers a user-friendly platform designed to help customers buy Bitcoin and have it sent directly to their wallet address. The exchange is one of the most popular for direct purchases of select cryptocurrencies.
It features a clean interface without all the graphs and charts that may disorient and discourage new users. It has such an appeal that continues to make the exchange attractive to new and seasoned users seven years since its inception.
No Mobile App: Coinmama is available online and currently does not have mobile support and no API.
While you cannot trade on Coinmama, you can sell your bitcoins to the exchange. There are also a few features available to users. These include:
Loyalty Program
Another feature of the Coinmama exchange is the loyalty program that allows users to earn discounts on fees for their continued use of the exchange. As such, frequent users are likely to save a lot on the fees (which can be high depending on the payment method and location).
The bonuses are divided into three categories:
Crypto Curious: The basic level for all new users
Crypto Enthusiast: You reach this level after spending $5,000 over 90 days (both buying and selling). Users at this level get discounts of 12.5%.
Crypto Believer: Spend $18,000 over 90 days or a lifetime of $50k to save 25% on fees.
Affiliate Program
Opting for the Coinmama affiliate program allows you to earn a commission of 15% off the fees each of your referrals pays on Coinmama for their for the duration they use the platform.
The exchange pays out the commissions once every month after you hit $100 from the time of the last payout.
Supported Countries
Coinmama is available worldwide, with its services accessible in over 190 countries across Europe, Latin America, the Middle East, and Africa. The exchange is also regulated in some US where Coinmama has received money transmitter licenses.
The services are, however, restricted for countries and jurisdictions under sanctions, including North Korea, Cuba, Iran, as well as Syria, Lebanon, Sudan, and South Sudan. Though the exchange is based in Israel, Coinmama does not offer its services to the country's residents.
Customer Support
Coinmama has a great support team, with users able to access them via email. There is also a live chat feature that users can opt for, although Coinmama is yet to offer a 24/7 service. For further support, users are encouraged to visit the exchange's FAQ page, which provides up-to-date information about the company, its products, and how users can buy various cryptocurrencies.
Trading Platform
Coinmama is a crypto exchange but does not offer trading options. You cannot trade crypto for crypto, like exchange your Bitcoin for Ethereum directly. Likewise, you cannot trade with other users on the platform, which can be a downside for a user looking to have both buying/selling and trading options.
Educational Resources
Coinmama has a help centre and support page that offers free crypto and blockchain tutorials. There is also a well-updated Support FAQ and News page that provides most of the information a customer would need to know about cryptocurrency, buying and how to use the platform.
Trading options
Coinmama allows users to buy and sell cryptocurrencies on its platform, with each account given a daily, monthly and lifetime limit that depends on the verification level your account has achieved. Bitcoin is the only cryptocurrency that you can sell to Coinmama at the time of writing, although the platform is planning on expanding the offering. Coinmama does not offer trading options like margin trading and futures.
Account Types
Coinmama does not offer different types of accounts. Instead, the exchange uses its verification process to offer users access to higher spending limits. There are three account verification levels on Coinmama:
Level 1
You need to have a valid government-issued ID, e.g. a passport, national ID or driver's license.
Level 2
Verification for this level requires a secondary form of ID. Basically, a utility bill for electricity, water, bank or credit card statement.
Level 3
Here, you will fill in a provided form which you can get by contacting the Coinmama support team.
Final Thoughts
Coinmama is one of the oldest cryptocurrency exchanges in the world and has earned a name for itself as a safe platform to quickly buy and sell cryptocurrencies. It accepts Visa and Mastercard and supports all fiat currencies. Its fast delivery of purchased digital assets and high spending limits add to the appeal.
In addition, a simple and secure user interface means anyone looking to buy Bitcoin can register and proceed without any problems. However, the fees charged for credit/debit cards are one of the highest in the industry and that might be enough to put off some traders. Nonetheless, these fees can be massively reduced through the loyalty program, and extra earnings can be made by joining the very successful affiliate program that the platform has in place.
The reputation and safety of the Coinmama exchange continue to grow and set standards of practice for all competitors. If you are interested in joining Coinmama for your crypto purchases, set up an offline wallet—preferably one of the top hardware wallets—before you buy the coins.
Frequently Asked Questions
Typically no more than ten minutes.

No. Coinmama only accepts Credit card/debit card and bank transfers.

Yes, but that only applies to residents in the specific US states that Coinmama is authorised to operate.

Coinmama is not a wallet provider which means the exchange does not store users' digital assets and users have to check to verify they are sending cryptocurrency to the correct address.
About Benson Toti
Title: Crypto and Stocks Writer Benson is a crypto and stocks news writer for CoinJournal since 2019, having previously worked with Cryptogazzette, TechInAfrica, and ByteScout.com. Passionate about crypto and its potential to transform lives, the former educationist continues to positively impact…
Read More
Company Information
Account Information