Start trading with Change Now
Buy Crypto with Visa and Mastercard instantly
Work with multiple honest exchanges to get you the best rates
ChangeNOW Review 2022
ChangeNOW is a crypto platform that allows for fast and straightforward cryptocurrency swaps. It's non-custodial, meaning you get to hold your tokens, and offers safety, simplicity, and convenience. The platform allows for the exchange of over 300 coins/tokens without any limits. The swaps can be made directly to your hardware wallet without the need for a lengthy account registration process.
Also, you can buy crypto with a debit/credit card using the platform and receive the funds in your hardware wallet.
The platform aggregates prices for various coins and tokens on different crypto exchanges and selects the best possible price before locking it up until you complete a transaction. Incredibly the platform supports more than 10,000 currency pairs allowing one to exchange different pairs as they wish instantly.
3 Steps to Sign Up to ChangeNOW
Register and verify ID: Even though it's possible to use ChangeNOW without registering an account, there is a Premium Lounge where you get to register an account by entering your email address and setting a password. A confirmation link will be sent to your inbox.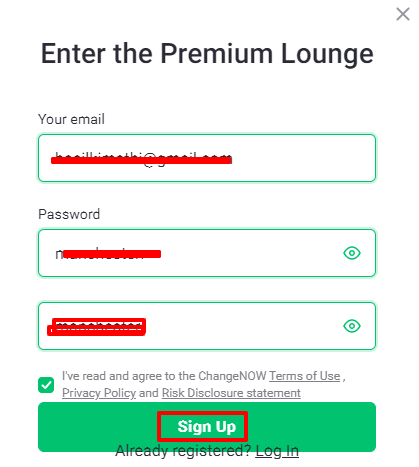 Source: ChangeNow
Make a deposit: This is a non-custodial platform where you get to hold your tokens. Therefore, there is no need to deposit funds before performing a swap. The swaps are done directly to your private wallet, and there is no need to fund the account separately.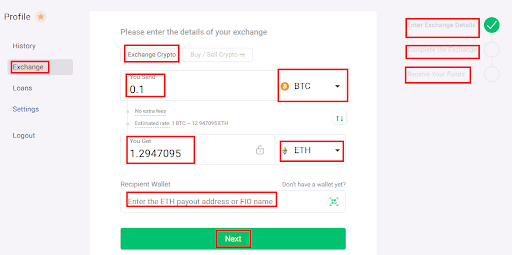 Source: ChangeNow
Purchase your Crypto: For the purchase option, select Buy/Sell crypto, enter the amount you wish to spend. Then enter the recipient's wallet. You will be redirected to a Simplex checkout page to enter your card details and complete the transaction.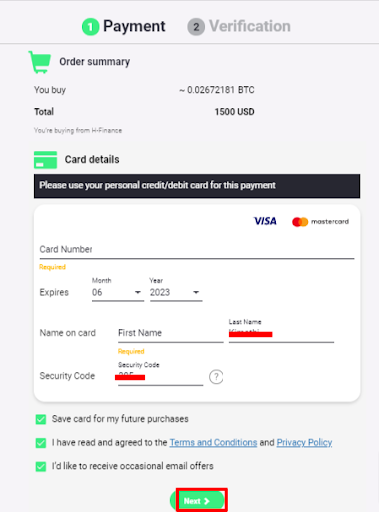 Source: ChangeNow
ChangeNOW Pros and Cons
Pros
Access to non-custodial services
Swap between tokens without upper limits
Purchase crypto using Visa and Mastercard
Access to over 300 coin/tokens with over 10,000 currency pairs
Simplified user experience thanks to partnerships with the likes of Edge, Ledger, Atomic, and CakeWallet
Cons
Swapping crypto to fiat isn't available
Lacks the ideal trading tools
ChangeNOW Compared
ChangeNOW is unique in that not many other platforms offer the kind of services present on this platform. Most platforms that will allow you to swap between various tokens are centralised and require you to sign up and verify your account before using them. Also, they might charge high fees, and the user interface can be pretty complicated, especially if you have to trade one token for the other.
By allowing users to access direct swaps without signing up and verifying an account, ChangeNOW is in a class of its own. It doesn't have to hold user funds, which is a big bonus for those who value security. Even its fees are fair when compared to similar platforms. However, there are many other options available that offer similar services.
History of ChangeNOW
ChangeNOW was launched back in 2017 and managed to achieve over $1 million in turnover by the end of the year, with 24 coins/tokens listed. The launch proved revolutionary, allowing users to swap and buy tokens instantly without significant demands and restrictions. By the following year, 2018, NOW, an ERC20 token was released. NOW serves as a utility token on the platform. It is used to pay fees and can also be staked. Within the same year, ChangeNOW would partner with Exodus wallet, release a mobile app, launch an affiliate program and add to the number of supported tokens reaching over 150+ by the end of the year.
2019 would see the NOW token become one of the first tokens listed on the Binance DEX. Also, NOWPayments was launched, and the exchange partnered with Simplex and other fiat to crypto exchanges. By the end of the year, over 200 cryptos were listed on ChangeNow.
2020 would see partnerships with CoinRabbit and FIO. The launch of staking for the NOW token took place within the same year, and a tracker for the token was also released. Also, the platform would engage in some charity work through the Australian fires donation campaign and launch a bug bounty program. This year also witnessed another partnership with Guarda, the release of NOW wallet, and the launch of NOW loans. Also, a fiat payment option would be added to the API.
Currently, it's possible to conduct token swaps quickly and easily on ChangeNow. You can also accept crypto payments thanks to NOWPayments. Also, a few other products are geared towards making swaps lightning-fast, and the platform also plans to offer access to full nodes via API. Access to the platform is also simplified thanks to a mobile app available for both iOS and Android users.
ChangeNOW Regulation and Security
ChangeNOW is run by the CHN Group, registered in Seychelles with offices located at Global Gateway 8, Rue de la Perle, Providence Mahe'. By choosing to use the platform's services, you agree that you are not a citizen or resident of Sudan, Somalia, Zimbabwe, USA, North Korea, Iran, Cuba, Yemen, Myanmar, Bangladesh, Syria, Crimea, Bolivia, and US territories such as Guam, Puerto Rico, American Samoa, Mariana Islands, and the US Virgin Islands. This list includes any other nation on the United Nations Security Council Sanctions List.
ChangeNOW also has another office in Amsterdam, Kraanspoor 50, 1033 SE. As for security, the platform is non-custodial, meaning it doesn't have to hold your funds but allows you to swap tokens directly to your hardware wallet. The platform holds funds only if there is a dispute, and in such instances, they will be moved to cold storage. The exchange clearly states that it doesn't guarantee the security of funds that are not claimed within a year.
Is ChangeNOW Safe?
Yes. ChangeNOW is more secure than centralised platforms that offer users the ability to swap between tokens and even conduct transactions since it is non-custodial. You get to send digital assets directly to your hardware wallet. Also, when getting started, there is no registration needed, and you don't have to go through KYC. The platform employs an automated risk prevention system where all transactions that take place on the site are constantly scanned. If a transaction is deemed suspicious, it will be held, and you will have to verify your identity by submitting a photo of your official ID/passport, a selfie as you hold the document, and you might also be required to state the source of your funds. The documents will be reviewed, and if everything checks out, the funds will be moved to your private wallet. To guarantee the safety of your frozen funds, the platform reserves the right to move them to cold storage until the case is resolved. For KYC purposes, the platform works closely with SumSub.
ChangeNOW Reputation
ChangeNOW has maintained an excellent reputation over the years since its launch four years ago. The platform made it possible to swap and transact crypto with ease and speed without registering an account and verifying it. Since its non-custodial, user funds are always protected using hardware wallets. For funds with disputes, the platform will hold them in cold storage, which minimises the chances of incurring a loss even if the website is breached. Over the years, the platform has shown incredible growth in terms of partnerships and the number of products supported, much to the delight of its users. Also, based on user reviews on Trustpilot, the platform scores highly with a rating of 4.7 out of 5 from thousands of reviews. Most reviews and testimonials are full of praise for the platform's simplicity and reliability, allowing for fast transactions anonymously and securely.
Is ChangeNOW for Me?
Thanks to the services it offers, this exchange can seem appealing to you, but given crypto is a reasonably complex subject, you might have some reservations when it comes to signing up on this platform.
I'm a Beginner
ChangeNOW is pretty straightforward, making it ideal for beginners who might get scared away by a complex user interface. Once you visit the official website, you will find a tab to select between the assets you would like to swap between. The platform will show you how much you are likely to receive depending on how much you are spending. Follow the simple steps and complete the swap. The funds will be deposited into your hardware wallet.
I'm Advanced
The advanced user will enjoy the platform's simplicity and security since your funds will be held in your private wallet. Also, the fact that there are over 300 cryptocurrencies supported with over 10,000 currency pairs is another bonus. ChangeNOW is great for users who want access to the best exchange rates without using centralised exchanges and risk their coins/tokens. The swaps can be done instantly and safely.
Exchange Wallets: Features, Supported Cryptocurrencies, and Security
ChangeNOW is non-custodial, which means you get to hold your assets by yourself. Preferably you will need a hardware wallet to guarantee the security of your funds. ChangeNOW recommends many wallets for this purpose, such as Guarda, Ledger, Trezor, Exodus, Edge Wallet, Atomic Wallet, and many others. As for cryptocurrencies supported, there are over 300 currently with over 10,000 currency pairs.
How to Transfer your Crypto Funds From/To Exchange
ChangeNOW is integrated with many top crypto exchanges with high liquidity. Therefore, whenever one needs to swipe, the platform will consider the best rates on various exchanges and offer you the best option. The process is fast and straightforward. Choose the coins/tokens you would like to swap between. The platform will calculate how much you will receive on the other asset. Click on exchange. All you need is to select the pair you would like to swap between and then click on Exchange. You will be taken to a page where you must enter the valid recipient wallet and then confirm the swap. You will see the estimated arrival time depending on how long it takes for blocks to be confirmed. The next step is to send the amount of crypto you would like to swap to the address that will be provided. As mentioned earlier, it's also possible to make crypto purchases using a bank card. Here you will have to choose between USD or EUR and enter the amount you would like to buy. The platform will calculate how much you will receive, which you will review on the next page. Enter your crypto wallet and email address, then fill in your credit/debit card details and complete the Simplex verification process. Once you complete the transaction, you will receive the coins/tokens in your wallet. You can also swap crypto using the platform's Telegram bot. All these features can be accessed on the web or using a mobile device.
Fees and Costs of ChangeNOW
Compared to other platforms offering similar services, ChangeNOW boasts outstanding fees. The platform doesn't charge much, with transaction fees ranging between 0.5% to 4% depending on the rate you choose. There are two rates to choose from on the exchange: the Classic rate and the Fixed rate. The former makes use of the best available rates within the market. Since the market is highly volatile, the rate will fluctuate a lot, affecting the number of tokens you stand to receive with every swap.
As for the fixed rate, there are no fluctuations meaning you get to receive what you pay for, but this will cost you a higher spread. With this platform, you need to know that the fees are inbuilt into the current exchange rates, including the respective network transaction fees. As a new user, you will love that there are no deposit/withdrawal fees or hidden charges.
Payment Methods & Limits
ChangeNOW allows for direct swaps between different cryptocurrencies. Also, you can buy crypto using a bank card (VISA or Mastercard) that supports USD and EUR, and this feature is made possible through Simplex, a third-party payment service. The minimum limit is set by the third-party service provider that makes it possible to use a card to make crypto purchases. If you opt to use a bank card, the limit is $50 since network fees are involved and other expenses that need to be covered. Also, when it comes to bank cards, there are upper limits with daily purchases capped at $20,000 and monthly purchases capped at $50,000 per individual.
Below is a recap;
Bank card (Visa or Mastercard)

$50 minimum limit for cards

$20,000 upper limit per day and $50,000 per month for cards
Transaction Limitations
For transactions involving a bank card, the limits have been highlighted in the section above. As for direct crypto swaps, you can start with as low as a few dollars of your favourite cryptocurrency and exchange as much as you want without any upper limits.
To recap;
$2 minimum limit for swaps

Maximum trade size: No upper limit specified
ChangeNOW: Performance, Features, and Functionality
What sets ChangeNOW apart is the ability to swap between different tokens instantly without registering or verifying your identity. Over the years, additional products have been added, such as NOWPayments which allow users to accept crypto payments instantly and Lightning NOW for instant payments. Also, the platform is integrated on many top exchanges guaranteeing its users get the best rates when swapping, and most incredibly, you get to store the assets by yourself on a hardware wallet.
Trading Platform
ChangeNOW swap services are available on the web or mobile apps that cater to Android and iOS users. All the products offered by the exchange can be accessed on these devices.
Educational Resources
ChangeNOW has a help centre that can be accessed on the top bar on the main website. Clicking on the tab will take you to a page that explains the various products on offer and how to use them. These resources are freely available, and it's the place a new user should visit first before they begin to interact with various other products. Also, you can submit questions you might have, and the customer support team will get back to you.
Trading Options
You can swap over 10,000 currency pairs. Also, you can buy and sell crypto using the Premium Lounge service, thanks to a collaboration with Simplex, where you get to enter the amount you would like to buy or sell and then proceed to check out by entering your card details. The NOWNodes service allows a user to get access to full Nodes and block explorers using the API. The service is fast, reliable and cost-efficient for blockchain product developers. Additionally, there is a Telegram bot that allows users to swap crypto in a few steps right inside the messenger.
Account Types
Unlike the typical trading platform where you get to access various accounts depending on your experience, ChangeNOW allows for token swaps for everyone with the rates constant. Also, there is a Premium Lounge service where users can sign up and enjoy more benefits from the platform. These include the ability to buy crypto via a credit/debit card using fiat (USD and EUR) and access to crypto loans that are processed within a matter of minutes. For loans, you will receive about half the value of your crypto. And finally, there is NOWPayments which allows one to accept crypto payments and donations, while Lightning NOW will allow you to make instant payments at zero fees.
Final Thoughts on ChangeNOW
ChangeNOW simplifies access to crypto assets thanks to its instant swaps and lack of complicated signup processes that might put off some individuals. Unlike centralised exchanges where you need to trade one token for another, a fairly complex process, on ChangeNOW, all you need is to access the website dashboard, select the tokens/coins you would like to swipe between and complete the process by entering the designated wallet address. The process is so simple that anyone can do it easily. The security of your funds is not an issue since you will be sending the tokens directly to your hardware wallet. To ensure that everyone gets to enjoy these services, the platform can be accessed from any corner of the planet on whichever device you opt to use. Additionally, now it's possible to buy, receive and make instant payments at minimal fees using the platform. This platform is for those who love anonymity and simplicity but with guaranteed security.
Frequently Asked Questions
Yes. Since the platform is non-custodial, your funds are transferred directly to your hardware wallet. This eliminates the risks associated with platform hacks since you get to keep your security keys. The only time the exchange will hold user funds is if there are disputes, but even then, the assets will be held in cold storage.

Yes. This platform has a license in Seychelles that allows it to offer various services in different locations around the globe. The platform is keen to abide by various AML and KYC regulations by working closely with SumSub to identify users who might need access to higher limits and if there are disputes.

This platform is available in every corner of the earth. Still, there are a few locations where accessing it might be problematic since the regulators in those regions haven't approved its services. According to our research, users in such regions can use VPNs to get around these restrictions.

Yes. This platform offers a simple and easy way to swap between top cryptocurrencies quickly and with favourable fees. ChangeNOW works with various exchanges to determine token prices, thereby offering users the best rates for swaps. Also, there is no need to sign up to use this platform. As a beginner, you will love its easy-to-use UI. There is also customer support to help out in case you get stuck.
About Alice Leetham
Title: Crypto Content Writer. Alice is part of the content team at CoinJournal, writing accessible and educational pieces on a range of crypto topics. Before joining the team, she was a freelance crypto writer, producing news articles, reviews, and copy for…
Read More