Start trading with Kriptomat
Live support in 23 languages
Secure and easy to use with fast KYC process
Kriptomat Review 2022
Kriptomat is a European crypto exchange that offers seamless buying, selling and exchanging of more than 30 of the most popular cryptocurrencies with multiple payment options. The platform also includes highly secure digital wallets for storing your coins.
Built on the belief that everyone, everywhere deserves the fairness, freedom and fulfilment that crypto represents, Kriptomat has built a solid reputation as a trusted and licenced exchange that is government regulated and compliant with EU laws.
The user-friendly interface, educational resources and availability for desktop and mobile make Kriptomat accessible to everyone. The exchange also boasts benefits such as quick and easy trading, rewards programmes, savings accounts and many others, which will be covered in detail in this review.
3 Steps to Sign Up to Kriptomat
1. Register: Head on over to Kriptomat.io, click "Get started" on the homepage, fill in your name and email address, and choose a strong password. You will then have to verify your email address by clicking on the link in the verification email you should have just received.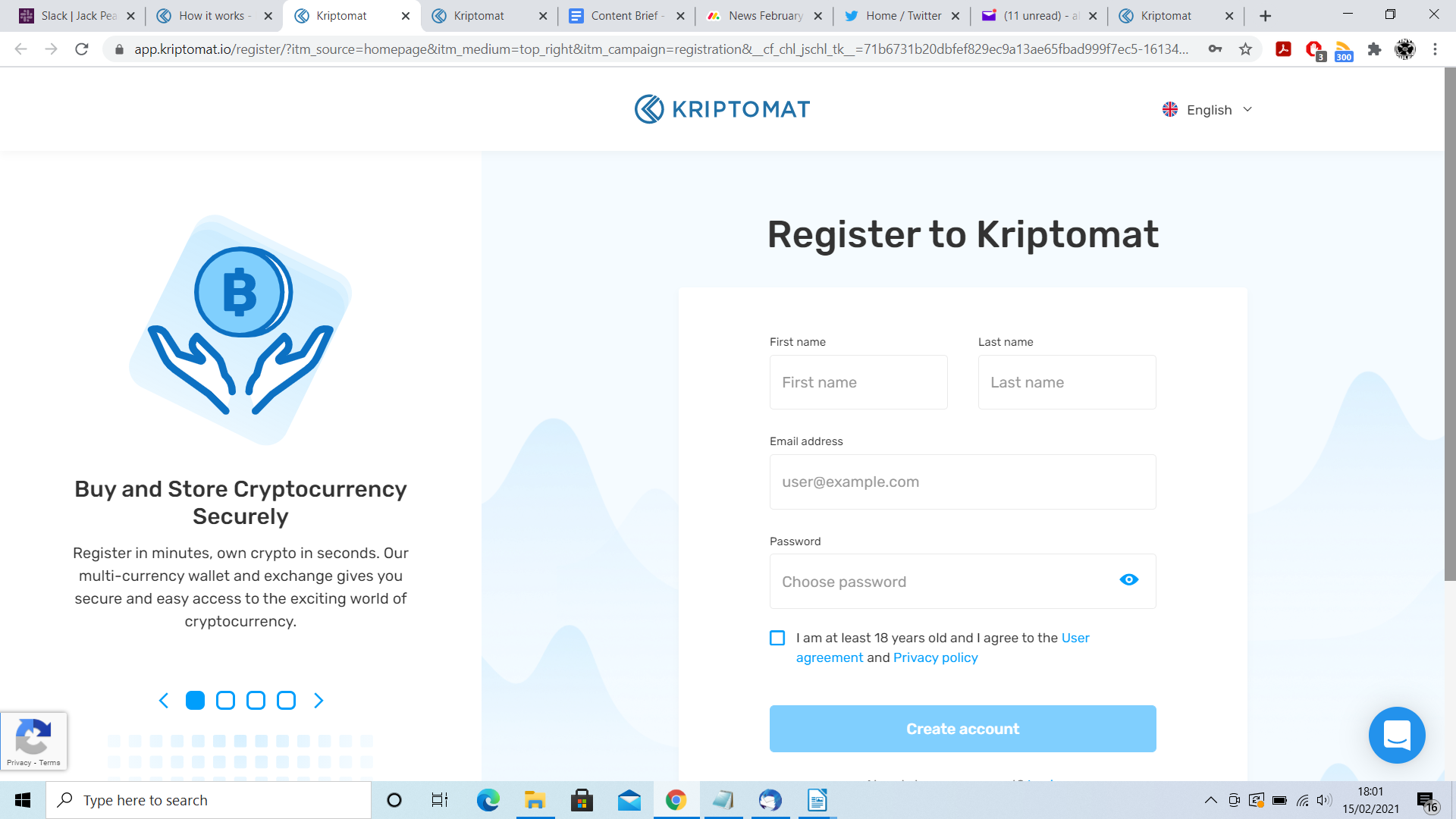 2. Add your phone number and address: Enter your mobile number for added security and click send code. On the next page, enter the verification code just sent to you by SMS and click verify. Complete your personal details by filling in your address and pressing Next.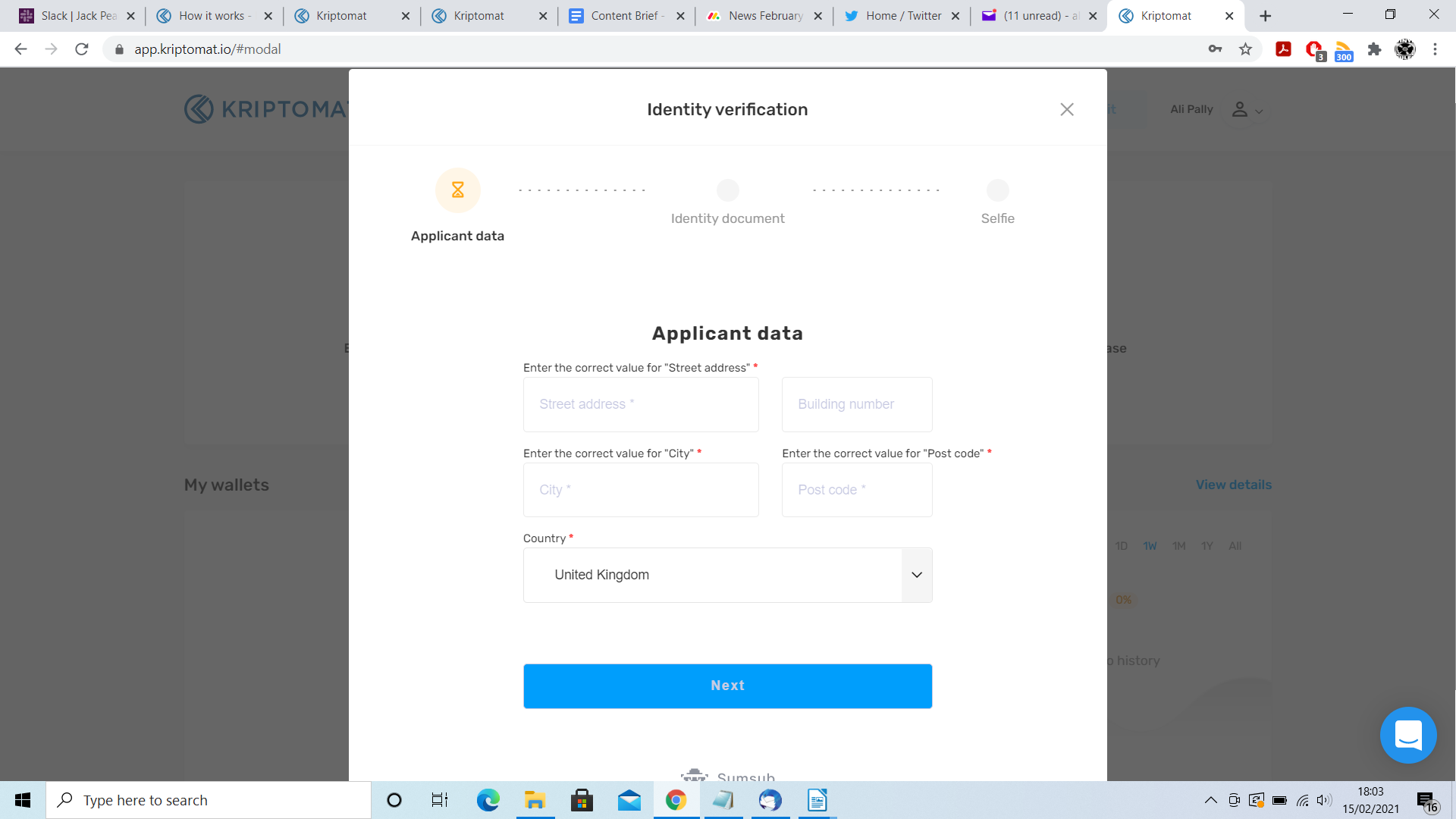 3. Verify your identity and start trading: Take a photo of your passport, ensuring it is clear and uncut, and upload it. To finish your identity verification, take a selfie with your webcam, following the on-screen instructions. You are now ready to start buying and selling cryptocurrencies with Kriptomat!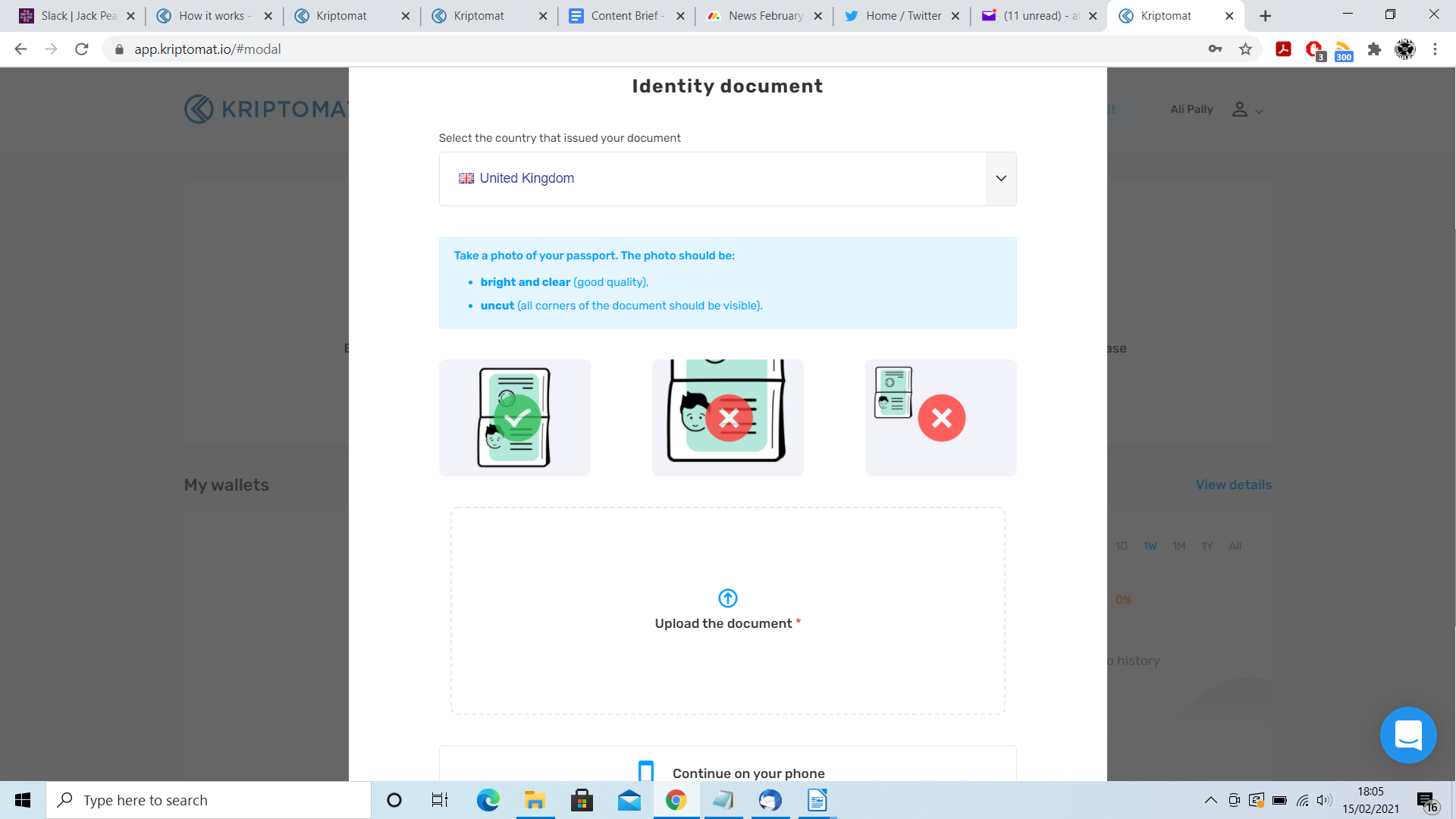 Kriptomat Pros and Cons
Pros
An ever-expanding range of 34 cryptocurrencies
Register in minutes, trade in seconds
Safe and secure digital wallets provided for the most popular cryptocurrencies
Two-factor authentication
Offline cold wallet storage
Referral and affiliate programmes offered
Available for web and as a mobile app
Government regulated with data secured under EU General Data Protection Regulation
Available in 20+ languages
Cons
Trading features are fairly basic
Not available in the US and 26 other countries
Fees not as low as some competitors
Kriptomat Compared
Kriptomat is a trusted European exchange that is regulated under EU legislation. It stands out among its competitors by virtue of its mobile app, savings account and rewards programme, which features Enjin powered collectibles that can be used in games or sold at a profit.
There are, however, other exchanges with wider ranges of cryptocurrencies available and lower fees. Also, traders who prefer to have access to more advanced trading tools and futures or margin trading may wish to explore some of the other options out there.
History of Kriptomat
Based in Tallinn, Estonia, Kriptomat was founded in 2018 with the aim of bringing the freedom, fairness and fulfilment of cryptocurrencies to non-tech savvy users and crypto beginners in their native language.
The Kriptomat team is made up of experts in tech, finance and law. Founder Srdjan Mahmutovich studied criminal justice and law before finding success in the tech world. His previous experience includes building the digital marketing agency Spletnik, which has grown to become one of Slovenia's most recognised business-to-business companies in the industry, as well as launching Platformax, a sales tool for inside sales teams, which now serves customers in 16 different countries.
The rest of the team includes the COO, Dejan Davidovic, who was Business Development Officer at Digital Marketing agency Spletnik, Head of Engineering, Vladan Markovic, who was Lead Software Developer for games development company Studio V5, and CTO Advisor Jaka Erjavec, who is also Head of Systems and Technology at Studio Moderna.
Kriptomat Regulation and Security
Kriptomat has gained a reputation as a trusted exchange that is fully compliant and regulated under EU law. The company is registered in Estonia, which has innovative cryptocurrency regulations compared with other EU member states and introduced robust new regulations for crypto businesses in 2017 under the Anti-Money Laundering (AML) and Terrorism Finance Act (TFA).
Kriptomat is registered with the Financial Intelligence Unit of Estonia and is licenced to provide a virtual currency exchange service and a virtual currency wallet service.
Is Kriptomat Safe?
Customers can be safe in the knowledge that Kriptomat fully complies with all the required procedures for know your customer (KYC), anti-money laundering (AML) and counter terrorist financing (CTF). The platform was designed in accordance with the General Data Protection Regulation (GDPR) and applies organisational and technical measures to mitigate threats.
Organisational measures include a dedicated team for monitoring activity, secure coding principles in combination with regular penetration tests, keeping 98% of crypto assets in highly secure cold storage and employing strict operational procedures for its management.
Meanwhile, the technical measures employed consist of encrypting communications, ensuring network security, physical security measures, 24/7 monitoring and protection against DDoS attacks. The platform also has a Bug Bounty programme for detecting vulnerabilities.
Kriptomat Reputation
Kriptomat prides itself on its fairness and transparency, believing that its business partners, shareholders, investors, employees and community deserve honesty and integrity. Despite only being in business for less than three years, Kriptomat has attracted many customers through adherence to its strict code of conduct, which it prioritises over quick earnings.
The exchange has 4.1 stars on Trustpilot, with more than half of customers rating it as excellent. Reviews of the platform frequently praise its easy to use interface and fast, friendly support. Kriptomat also regularly responds to feedback and provides additional information.
Is Kriptomat for me?
While Kriptomat is accessible to anyone, traders of different experience levels often prioritise different criteria when selecting an exchange.
I'm a Beginner
Kriptomat introduced a new user interface in Summer 2020 that focused on ease of use and being aesthetically appealing. Crypto newbies will find the layout clear and the platform easy to navigate. The handy Guides section provides step by step videos on how to perform all the necessary operations on the website, as well as many articles explaining how to make the most out of digital assets.
I'm Advanced
Although the platform doesn't incorporate much in the way of advanced trading features, users with more experience will appreciate the opportunity to invest in a wide range of cryptocurrencies through a clear and secure user interface. Useful features include the ability to track the price of individual assets or your entire portfolio with live charts and the option to receive on-demand price alerts for incoming trading signals.
Exchange Wallets: Features, Supported Cryptocurrencies and Security
Kriptomat offers a trusted all in one wallet and exchange that can be accessed from PC or mobile. As the platform provides a custodial service, customers do not have access to the private keys for cryptocurrencies they purchase unless they decide to transfer them externally.
98% of crypto assets are stored in highly secure cold storage, which takes the form of hardware wallets distributed in safety deposit boxes. There are strict operational procedures for managing the cold storage, which includes requiring the "four eyes principle" for the most sensitive operations.
How to Transfer your Crypto Funds From/To Kriptomat
To send cryptocurrencies from Kriptomat to an external wallet, log into your account and select the relevant coin under My Wallets. On the next page, click Send on the right and check the boxes in the security notice to confirm that you understand what it means to send cryptocurrencies to external addresses. Next, enter the recipient address (make sure it is an address that supports that particular cryptocurrency) and the amount you want to send and press Preview Transaction. Input the verification code sent to you by SMS or through the Google Authenticator app, depending on what type of two-factor authentication you have set up, and click Confirm to finalise the transaction.
Transferring cryptocurrencies to your Kriptomat account is similarly straightforward. Select the right cryptocurrency and choose Receive. Click Show Address and either copy the address or scan the QR code. You can share this with anyone you want to receive that cryptocurrency from or transfer from your own private wallet by pasting it into the wallet's recipient address box.
Fees and Costs of Kriptomat
There are no hidden costs when using Kriptomat – the exchange charges a nominal fee for buying and selling cryptocurrencies, which is always shown before confirming each transaction. Exchanging one cryptocurrency for another is free, while exchanging euros for a cryptocurrency or vice versa incurs a 1.45% charge, with the minimum fee being €1.45.
Other methods of buying cryptocurrencies are charged as follows:
Credit card: 3.7%
Skrill: 5.35%
Neteller: 5.35%
Zimpler: 2.89%
Sofort deposit: 3.95% + €0.35 fixed fee
(Purchasing less than €100 with a credit card, Skrill or Neteller may incur additional charges.)
Kriptomat does not charge fees for deposits and withdrawals via SEPA (though some banks may). Fees for withdrawing cryptocurrencies are different for each coin and are displayed before you confirm the transaction. A list of all the fees can be found on the Fees and Limits page.
Payment Methods & Limits
As well as SEPA bank deposits and credit cards, Kriptomat accepts several other payment methods when purchasing cryptocurrencies. These are, namely, Skrill, Neteller, Sofort and other cryptocurrencies. The limits for deposits and withdrawals are:
SEPA: Maximum of €25,000 daily and €200,000 monthly. Minimum deposit of €35
Cryptocurrencies: No maximum limit. Minimum dynamically calculated and usually €15-25
All other payment methods: Maximum of €500 daily and €5,000 monthly. Minimum of €30
Transaction Limitations
The minimum trade size allowed on Kriptomat is calculated dynamically for each different trading pair based on market conditions. The relevant value will be displayed to you before you confirm the transaction.
Kriptomat: Performance, Features and Functionality
In 2019, Kriptomat became the first cryptocurrency exchange to gamify trading by adopting non-fungible tokens (NFTs). Through a collaboration with blockchain ecosystem developer Enjin, Kriptomat integrated Ethereum based tokens to enable users to receive trading points, referral rewards, collectibles and gaming items that provide trading discounts.
Along with this unique feature, the platform provides seamless performance and benefits such as accessibility, readily available price information on coins, and resources for learning, as outlined below.
Trading Platform
Kriptomat's platform is clearly laid out, easy to follow and available in more than 20 languages. There is no need to install anything on your computer – simply access it online or download the app for Android or iOS if you want to trade on the move.
On logging in, you will see four tabs at the top of the page. The Wallets tab displays the currencies that you are presently holding and in what amounts. It also shows all the supported coins and their current prices. From this page, you can click on any of the cryptocurrencies to send and receive them.
The second tab is Buy & Sell, which is fairly self-explanatory. This is also the place to go to exchange one cryptocurrency for another. The third tab is Savings, which allows you to invest your holdings of certain cryptocurrencies to earn monthly interest, and the fourth is Invite Friends, where you can get a referral link to share with other people and earn €10 for each one that transacts at least €100.
Educational Resources
The site has plenty of free resources to help you get the hang of crypto trading. The Help section contains dozens of articles with useful information to assist you in setting up an account and using the exchange. As well as news and updates, the blog contains explanations of how to use some of Kriptomat's functions and material on more generic topics in the world of crypto.
Meanwhile, the Guides section includes several video guides that give step by step instructions on how to perform all the most important operations on the exchange. It also provides written reports with advice on topics such as investing in crypto for long term gain and trading it for short term profit.
Trading Options
Kriptomat does not offer any advanced forms of trading such as futures or margin, instead focusing on making the buying, selling, storing and exchanging of cryptocurrencies accessible to everyone.
There are, however, savings accounts available for long term investors and features beneficial to customers wanting to employ trading strategies, like real-time data on each cryptocurrency and the option to set up price alerts to warn about incoming trading signals.
Account Types
Kriptomat offers one kind of personal account that caters to everyone. All customers will have to complete identity verification before being able to buy or sell cryptocurrencies. Under My Account, you can set up two-factor authentication with SMS verification or Google Authenticator, view your trade history and addresses, link bank accounts and credit cards, and set up price alerts.
There are also business accounts available for use by legal entities. Opening one requires upgrading a personal account by filling in a Business Account Application form and submitting supporting documentation. Business account holders will then be able to trade with capital belonging to their company.
Final Thoughts on Kriptomat
On balance, Kriptomat is an ideal platform for traders who want to buy and sell cryptocurrencies with speed and ease. Customers will appreciate its user-friendly interface and its reputation as a trusted and regulated exchange. The fees aren't the lowest out there, but they are reasonable and users don't have to worry about being surprised by hidden charges.
While all kinds of crypto trading and investing carry inherent risks, Kriptomat customers will derive some comfort from its licences, security measures and offline cold wallet storage. Also, the various educational resources will help those new to the space develop the knowledge and confidence to trade cryptocurrencies.
With an ever-expanding range of more than 30 coins and benefits like savings accounts and rewards, there is a lot to compel new customers to register at Kriptomat, which only takes a matter of minutes, after which you can trade in seconds.
Frequently Asked Questions
Kriptomat currently offers 34 of the most popular cryptocurrencies, including Bitcoin, Bitcoin Cash, Ethereum, Ripple, Litecoin, EOS, Tron, Stellar, Monero, Tether and Cardano. The selection is always expanding and Kriptomat listens to its community when deciding on new additions.

Deposits via bank transfer take one to five business days, while SEPA payments take between one and three business days. Withdrawals take one to three business days for users inside the SEPA area and up to five days for those outside it.

Kriptomat accounts include the provision of safe and secure digital wallets for all the cryptocurrencies they sell, so there is no need to set up an external wallet. However, if you prefer self custody, you can transfer any cryptocurrency to a private wallet by selecting it and clicking Send.

For more information about how to use the platform, you can check out the handy video guides or read the articles in the Help section. There is also a button in the bottom right of the screen to open a chat box with the customer support team. To keep up to date with the latest Kriptomat news and developments, you can follow them on Telegram, Twitter, Facebook, YouTube, Linkedin or head over to their blog.
About Alice Leetham
Title: Crypto Content Writer. Alice is part of the content team at CoinJournal, writing accessible and educational pieces on a range of crypto topics. Before joining the team, she was a freelance crypto writer, producing news articles, reviews, and copy for…
Read More