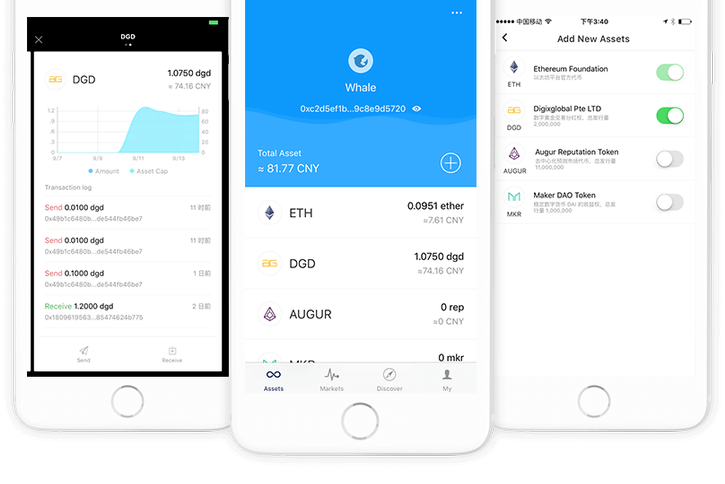 Ethereum Wallet imToken Raises US$10M Series A From IDG Capital
Cryptocurrency digital wallet imToken has raised US$10 million in a Series A funding round from IDG Capital, a Chinese investment firm that has backed the likes of Circle, Ripple and Bitmain.
The startup said it will use the capital injection to support its expansion into new markets as well as fund the development of new features in imToken 2.0 with a mission "to create an ecosystem where users can conveniently transact, manage and interact with the technology," Ben He, founder and CEO of imToken, told CoinJournal.
He said that alongside ether and ERC20 tokens, the company has plans to add support for Bitcoin, EOS and other cryptocurrencies in the near future. "This is something that a lot of other wallets are unable to deliver due to the complexity of the development needed to see this through," He said.
Incorporated in China, the company was launched in 2016 and offers a digital wallet supporting ether and ERC20 tokens. The startup claims over four million monthly active users around the world and says it accounts for 10% of total daily transactions worldwide, with US$35 billion in pass-through transactions in 2017.
imToken's ecosystem of products include Tokenlon, an in-app decentralized exchange in partnership with Kyber Network and 0x, and a decentralized app (DApp) store.
Through the decentralized exchange, users can already execute traditional orders but the startup plans to integrate more tools to offer a better range of "more traditional financial products including options and leverage, to name a few," He said.
He added that additional security features will be developed and implemented as well including fraudulent token warnings, security reminders when a device's security is compromised, warning signals before transacting with phishing or ill-intent wallet addresses, and more.  
Commenting on his firm's investment in imToken, Young Guo, partner at IDG Capital, said:
"imToken has developed its product into one of the top crypto asset wallets in the world with such a sound reputation.

"We believe it will become a significant infrastructure for the tokenization manifesto, benefiting both the crypto economy and blockchain technology. We're excited to back imToken."

About Diana Ngo
Diana Ngo is a freelance fintech, blockchain news writer based in Cape Town, South Africa. She has worked for French- and English-language online publications, covering fintech, blockchain technology and digital currencies. Diana joined CoinJournal in June 2015.
Read More