How to Buy Tezos - Where to Purchase XTZ?
Tezos has a reputation as the coin with the largest ICO until 2017, and this shows in its placement among the Top 20 cryptocurrencies in the global market. Many people who have followed the performance of Bitcoin in the last two years are also keen to know about other coins and tokens with similar potentials.
After assessing top crypto brokers and platforms, we have presented here the best way to buy Tezos (XTZ) with a credit card, bank transfer, PayPal and other digital payment methods. For people who want to know the best practices in the buying and trading of Tezos, this guide will cover all the basic essentials that you need to know.
Buy Tezos in just a few minutes
Login
Set up your trading account with eToro for free with your name, an email address and telephone number
Make a Deposit
Choose your preferred payment method and activate the account with the minimum deposit into your account
Begin Trading
Choose a cryptocurrency by clicking 'Trading Markets', set your risk limit and click 'Get Started' to start your investment strategy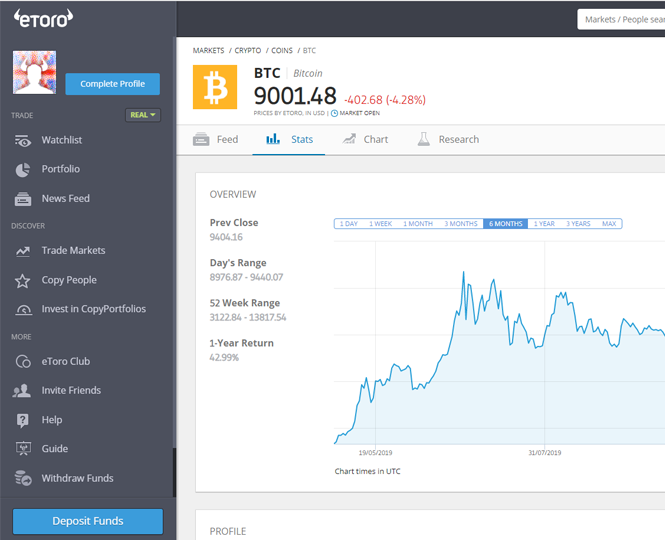 Why Trade rather than Buy Tezos for Cheap and Fast Returns?
1
You Don't Need a Wallet
You trade on the price movement of the coin without having to buy and store it.
2
You Can Use Standard Payment Methods
All regulated brokers accept popular methods of payment such as credit/debit card and bank transfers.
3
Trades Are Fast and Withdrawals Are Easy
Trades are executed within seconds and withdrawals will reflect instantly in your account.
What is the Easiest Way and Best Way to Buy Tezos? Compare The Top Tezos Brokers
The services of top Tezos brokers are in huge demand around the world, and this explains the increasing number of platforms that support XTZ investment. There is no doubt that wherever you live on earth, there must be a platform that would cater to Tezos trading in your area. We have taken the time to consider and outline reputable industry leaders whose decades of experience in financial markets point to their pedigree.
Min. Deposit
$20
Exclusive promotion
Description:
Cex.io offers exchange of fiat currency for Bitcoin Ethereum, Tether, and 23 other cryptocurrencies, as well as Bitcoin/Ethereum trading against the USD.
Payment methods
Credit Card, Debit Card, Wire Transfer, Cryptocurrencies, Skrill
Min. Deposit
$1
Exclusive promotion
Huge range of cryptocurrencies
Description:
Binance has grown exponentially since it was founded in 2017 and is now one of, if not the biggest cryptocurrency exchanges on the market.
Payment methods
Cryptocurrencies
Min. Deposit
$1
Exclusive promotion
Description:
Coinbase is one of the first places that made it easy to buy bitcoin and has since become a widely trusted exchange in the market.
Payment methods
Credit Card, Debit Card, Euro Bank Account, 3d Secure Credit Card
5 Things to Consider If You Want to Buy Tezos
Investors who want to buy Tezos have to bear in mind that there are vital items on the checklist they need to tick. In this regard, the following will be important to consider.
Carefully choose your preferred secure payment method
How do you pay for Tezos? If you are used to online payments and money transfers, then you are in familiar territory. Despite the different payment methods to choose from when buying XTZ, what is secure and safe has to be determined. Additionally, for trading crypto, time is of the essence like most investment decisions and you do not want to miss out when an opportunity presents itself. So, you may wish to choose an option that gives you an advantage in terms of processing speed.
Will you need to set up your own wallet?
Unlike other investments that possibly do not require a special storage medium, cryptocurrencies are different. Tezos has to be stored in custom-built wallets that other digital currencies might not use. Most coins have unique wallets and few others could fit in multi-storage designs. Depending on the platform you are using, you might be able to access a ready wallet with no hassle involved. You should certainly consider setting up your wallet before you buy Tezos to ensure a seamless transaction.
Comparing costs
When you buy Tezos, the ruling rates in the spot market are often universal across different countries. However, what might be different is the associated cost, and people who are new to trading might be unaware that this exists. Well, it does, and it is important.
When buying $100 worth of Tezos, you could end up paying $102. The difference might just be $2, but it could also mean that you end up with $98 worth of XTZ if you did not make a proper provision for the $2 transaction cost. Again, what if you're told of a competing broker who waives the processing fee? Then, you do not have to pay an additional $2 in charges at all. As long as there is an alternative platform with fewer charges and acceptable security, you should consider such.
Safety and security
In a sense, Tezos offers partial anonymity as wallet details do not display the name of the account holder. Tezos was not designed as an anonymous crypto, so its transactions can be viewed on the platform explorer and all inflows and outflows on each wallet is public information.
On platforms, the investor has the advantage of in-built security features like 2FA (2 Factor Authentication), which sends an alert each time a log-in occurs or a transaction is initiated. If authorization codes sent to your email or mobile phone are not provided, transactions will not be completed.
The security of the platform used is enhanced by the configuration-type as seen in MT4 systems, which is used for foreign exchange transactions, and MT5, designed for CFDs, crypto brokerage and stocks. The end-to-end assembling of these systems makes it impossible for any interception when you log-in to your account.
Can you understand and navigate the platform?
How a platform works determines what can be done and what is possible. Two platforms might look alike and yet function differently. So, it is important to be able to have a hands-on user experience before trading Tezos.
You do not want to muddle up your transfers or purchases in the thick of any trade. Wherever possible, use a demo account in order to familiarise yourself with the features and mechanisms before you start to trade for real. Feel free to contact customer care for support at the early stage of registration as this will give you an insight into the level of service provided and provide you a clear view on whether you want to continue or try another broker.
Ultimate Beginner's Guide to Trading Tezos
What is a Tezos Broker?
A broker makes a platform available for the buying and selling of securities and financial instruments, and this usually involves paying a fee.
A Tezos broker supports the buying and selling of Tezos, and you can open an account on the platform provided, view your account balances, and sometimes, have access to extensive trading information and kn