Timing the crypto dip: Top coins to keep on your radar
Dip buyers in crypto are waiting in suspense, trying to find any chance to buy-in. But it seems the market is really rallying with most coins on a bull run. But the next dip may actually come sooner before you think. Here is why:
Most coins despite rallying have stagnated in recent days.

It is likely that some investors may decide to lock in profits after the recent rally.

Geopolitical and economic risks have still remained at a high
In case you are waiting for the next crypto dip, there are some coins that you should pay very close attention to.
Bitcoin (BTC)
The performance that Bitcoin (BTC) has shown in recent days has been quite remarkable. The coin has rallied from nearly $32,000 and is now slightly above $47,000. However, even though BTC has managed to smash past its 50- and 100-day SMAs, the coin appears to have stagnated in its attempt to clear the 200-day SMA.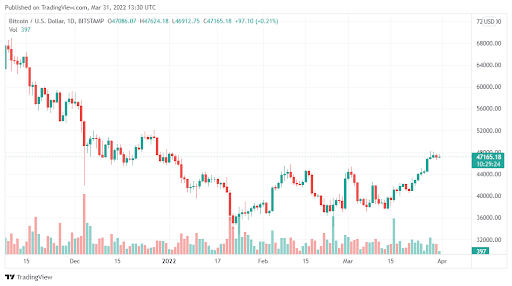 Data Source: Tradingview
It's now three days in a row where Bitcoin has tested that price and got rejected. There is major resistance on the 200-day SMA it seems and as such, we may see some sharp fall if BTC fails again to cross over.
ApeCoin (APE)
ApeCoin (APE) just came into the market the other day and has managed to get a market cap of around $3.8 billion in just a few days. But a pullback is coming. Just recently, APE was trading at $6 and at half the current market cap. It is likely the coin will fall back sharply in a correction and as such, it will be a great time for dip hunters to buy.
There are also other dip-buying opportunities to look out for, including Shiba Inu, Axie Infinity, Cardano, and others.