eToro vs Bux: Which Platform is Better in 2022?
vs.
See the breakdown below
Considering the rapid evolution of the crypto industry over the past few years, there are a whole lot of online crypto brokers operating in the market today. The choices are so many that it can become difficult even for seasoned campaigners to choose the right trading platform for their needs. eToro and Bux Crypto are a couple of popular names if we talk about the standout players in this space, are any of these the ultimate trading platform?
Let's carry out a detailed comparison between these two, so you can make a well-informed decision about which cryptocurrency trading platform to go with, it's eToro vs Bux.
Lets take a deeper look into both brokers
Minimum Deposit:
Coins:
Regulation:
Asset Coverage:
Trading Platforms:
Free Demo:
Unique Features:
our pick
$10
eToro Mobile Trading Platform, eToro Trading Platform
Accepts customers from the USA, Deposit $100 and get a $10 bonus!* Build a diversified portfolio with crypto, stocks, and ETFs — all in one place., Trade on the world's leading social trading and investing platform
$30
AAVE, ADA, ATOM, AVAX, AXS, BAT, BCH, BTC, BUX, CHZ, COMP, CRV, CRYPTO, DOGE, DOT, DOT, ENJ, ETH, FIL, GRT, LINK, LTC, MANA, MATIC, MKR, OCEAN, OMG, ORN, SOL, UNI, USDC, XLM, XRP, YFI
eToro Security Vs Bux Crypto Security
The online world is full of scammers and hackers out there to rob people of their hard-earned money. Before you select any brokerage portal, it's very important that you ensure that it takes all required security measures to ensure the safety of your funds. Neither Bux Crypto nor eToro have suffered any significant security breaches so far, implying that you can transact with them without any worries.
Both Bux Crypto and eToro offer the 2-factor authentication (2FA) facility to their users, providing them with an additional security layer. Using 2FA ensures that only you have access to your account, by physically accessing the Google authenticator app on your device.
While eToro permits withdrawals through PayPal, bank transfer and debit/credit cards, Bux Crypto allows only Euro withdrawals through SEPA bank transfer. Using all these well-known withdrawal methods ensures that your funds are handled with the highest level of security.
KYC/AML
Both eToro and Bux Crypto require users to follow a comprehensive KYC (Know Your Customer) process and verify their identities, prior to using the crypto brokerage services. This is in compliance with the global Anti Money Laundering directives and regulations.
While eToro will ask you to upload a government-issued proof of identity and a proof of address to lift the deposit and withdrawal limits from your account, Bux Crypto essentially requires only a government issued ID to use their services. However, the platform will also ask you to provide proof of residence and source of funds too if you'd like to make deposits higher than €15,000 anytime in the future.
Supported Countries and Location: What's the Right Broker for You?
Whether you're able to use either of these cryptocurrency brokers will depend greatly on their availability in your state/country of residence, and what kind of cryptocurrency laws exist in your region.
eToro
You can avail eToro brokerage platform in the following countries at the time of writing: Algeria, Andorra, Angola, Argentina, Australia, Austria, Azerbaijan, Bahrain, Bangladesh, Belgium, Bolivia, Brazil, Bulgaria, Chile, Colombia, Costa Rica, Croatia, Cyprus, Czechia (Czech Republic), Denmark, Dominican Republic, Ecuador, Egypt, Eritrea, Estonia, Finland, France, Georgia, Germany, Gibraltar, Greece, Holy See, Hungary, Iceland, Ireland, Israel, Italy, Jordan, Kazakhstan, Kenya, Kuwait, Latvia, Liechtenstein, Lithuania, Luxembourg, Malaysia, Malta, Mexico, Monaco, Netherlands, New Zealand, Norway, Oman, Peru, Philippines, Poland, Portugal, Qatar, Romania, Senegal, Seychelles, Singapore, Slovakia, Slovenia, South Korea, Spain, Sweden, Switzerland, Thailand, Ukraine, United Arab Emirates, United Kingdom, United States* (some states), Uruguay, Uzbekistan and Vietnam.
Bux Crypto
On the other hand, Bux Crypto offers its services mainly in the following European nations at the time of writing: Austria, Belgium, Cyprus, Denmark, Finland, France, Germany, Gibraltar, Greece, Iceland, Ireland, Italy, Liechtenstein, Luxembourg, Malta, Monaco, Netherlands, Norway, Poland, Portugal, Spain, St Kitts and Nevis, Sweden, Switzerland and United Kingdom.
Regulation
eToro is a fully-regulated brokerage platform that is registered, licensed and regulated by multiple leading financial authorities across the globe. These include the Cypriot Investment Firm (CIF), Cyprus Securities & Exchange Commission (CySEC), UK's Financial Conduct Authority (FCA), Europe's Markets in Financial Instruments Directive (MiFID) and Australian Securities and Investments Commission (ASIC).
In contrast, Bux Crypto is registered with the Dutch Chamber of Commerce and De Nederlandsche Bank N.V. (DNB), as a crypto services provider.
As also highlighted earlier, both eToro and Bux Crypto follow stringent security practices to safeguard the interests of traders and investors transacting on their respective portals.
eToro Vs Bux Crypto: Which One Has a Broader Crypto Portfolio?
The growing popularity of cryptocurrencies has given shape to one of the fastest and biggest marketplaces in the world today. Online brokers are counted amongst the best places to gain exposure to a wide variety of crypto markets. However, the number of different cryptocurrencies offered by these service providers may vary from platform to platform.
While eToro supports 29 different cryptocurrencies, with medium to large market caps, Bux Crypto has 17 cryptos available with a similar market cap.
eToro Currencies
Some of the well-known cryptocurrencies you're allowed to trade on the eToro platform include:
Bitcoin (BTC)
Ripple (XRP)
Ethereum (ETH)
Bitcoin Cash (BCH)
Ethereum Classic (ETC)
Litecoin (LTC)
Dash (DASH)
Stellar Lumens (XLM)
NEO (NEO)
EOS (EOS)
Cardano (ADA)
IOTA (MIOTA)
Zcash (ZEC)
TRON (TRX)
Tezos (XTZ)
Binance Coin (BNB)
Maker (MKR)
Chainlink (LINK)
Uniswap (UNI)
Dogecoin (DOGE)
Algorand (ALGO)
Aave (AAVE)
Yearn.Finance (YFI)
Decentraland (MANA)
Polygon (MATIC)
Basic Attention Token (BAT)
Enjin (ENJ)
Shiba in millions (SHIBxM)
Compound (COMP)
Bux Crypto Currencies
Bux Crypto was offering the below listed cryptocurrencies on its trading platform, at the time of writing:
Bux Token (BUX)
Ethereum (ETH)
Ripple (XRP)
Litecoin (LTC)
Curve (CRV)
Chainlink (LINK)
Bitcoin (BTC)
Bitcoin Cash (BCH)
Maker (MKR)
Yearn.Finance (YFI)
OMG Network (OMG)
Ocean Protocol (OCEAN)
Stellar (XLM)
Kyber (KNC)
Uniswap (UNI)
Basic Attention Token (BAT)
Compound (COMP)
Dogecoin (DOGE)
Cosmos (ATOM)
Comparing purchasing methods
On the eToro platform, you can buy cryptocurrencies through trading pairs offered with multiple currencies including GBP (Pound Sterling), EUR (Euro), USD (US Dollar), CAD (Canadian Dollar), AUD (Australian Dollar) and CHF (Swiss Franc). In contrast, on the Bux Crypto trading platform, you're primarily offered trading pairs with Euro and/or Bitcoin.
Buying Crypto on eToro Vs Bux Crypto
Trading fees
It is imperative for all brokerage portals to charge some kind of fee for crypto transactions, to maintain a continuous source of income and to stay in business. Although such charges are comparatively lower than that of conventional stockbrokers, you must factor them in while comparing different trading platforms.
Flat fee
There's a $10 per month inactivity fee charged on eToro if you fail to log into your account for several months in a row.
Deposit and withdrawal fee
Neither eToro, nor Bux Crypto charges any fee for deposits made into accounts held with them. Nonetheless, credit card deposits on Bux Crypto may attract a 1.5% fee.
Any withdrawal made from eToro attracts a flat $5 fee, apart from the currency conversion charges. As evident, this can be minimised by making fewer small withdrawals, and opting for large infrequent withdrawals instead. On Bux Crypto, you need to pay a different withdrawal fee depending on whether you withdraw funds in Euro or a cryptocurrency. All Euro withdrawals attract a flat €2.00 flat fee. For cryptocurrency withdrawals, fee may vary depending upon the crypto coin used. For instance, Bitcoin withdrawals involve a flat 0.0007 BTC fee and Ethereum withdrawals are charged 0.08 ETH fee per withdrawal.
Broker trading fee
Although eToro does not charge any explicit commission or fee on the trades made through it, it does feature something known as a 'bid/ask spread' in its listings. This refers to the differences in buying and selling prices of various cryptocurrencies listed on its platform. Bid prices are lower than the ask prices and their gap is what makes eToro its money. eToro's crypto spreads vary from 0.75% to 4.9% depending upon the crypto coin being traded.
Bux Crypto charges a 0.5% trading fee or commission for all cryptocurrency trades executed on the platform. However, you can reduce this fee to 0% for Market Orders and 0.25% for Limit Orders if you hold at least 1000 BUX tokens.
Payment Methods
eToro accepts fiat currency deposits via bank transfer, credit cards, e-wallets (Neteller, Skrill, PayPal) and Sofort/Klarna. The accepted currencies include Euro, Pound Sterling, Australian Dollar, Swiss Franc, Canadian Dollar, US Dollar, New Zealand Dollar, Hong Kong Dollar, Singapore Dollar, Thai Baht, Mexican Peso, Czech Koruna, Danish Krone, Poland Zloty, Swedish Krona, Israeli Shekel, Turkish Lira, Norwegian Krone and South African Rand.
Bux Crypto accepts only Euro deposits made through credit cards (Visa or Mastercard), SEPA bank transfer or iDeal.
Comparing the User Interface of Both Platforms
The user-friendliness of a trading platform can have a huge impact on both the customer satisfaction as well as the revenue generated by it. Both eToro and Bux Crypto have simple and extremely easy-to-use interfaces. While eToro makes it easy for you to navigate between different crypto-assets, it also offers a copy trading feature that enables you to view and copy the trading patterns of successful crypto traders.
Bux Crypto has a fairly new-age interface, with clearly listed cryptocurrencies. Their USP is to offer a complexity-free crypto trading service, making buying/selling crypto as easy as online shopping for people.
eToro ease of use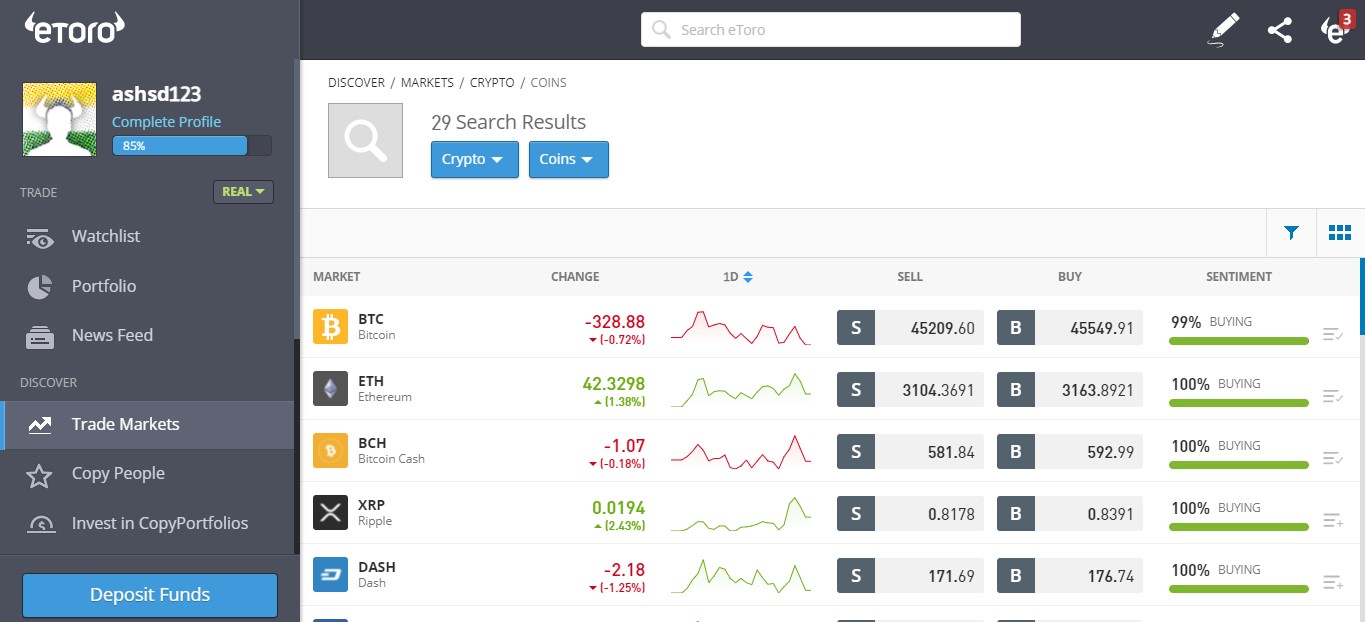 Source: eToro.com
eToro has a fairly uncluttered dashboard that features multiple tabs on the left-side menu that facilitate easy switching between different sections like Watchlist, News Feed and your Portfolio. You may even access the Copy Trading feature from the 'Discover' section underneath, or simply pick and choose from different crypto trading markets as displayed above.
Bux Crypto ease of use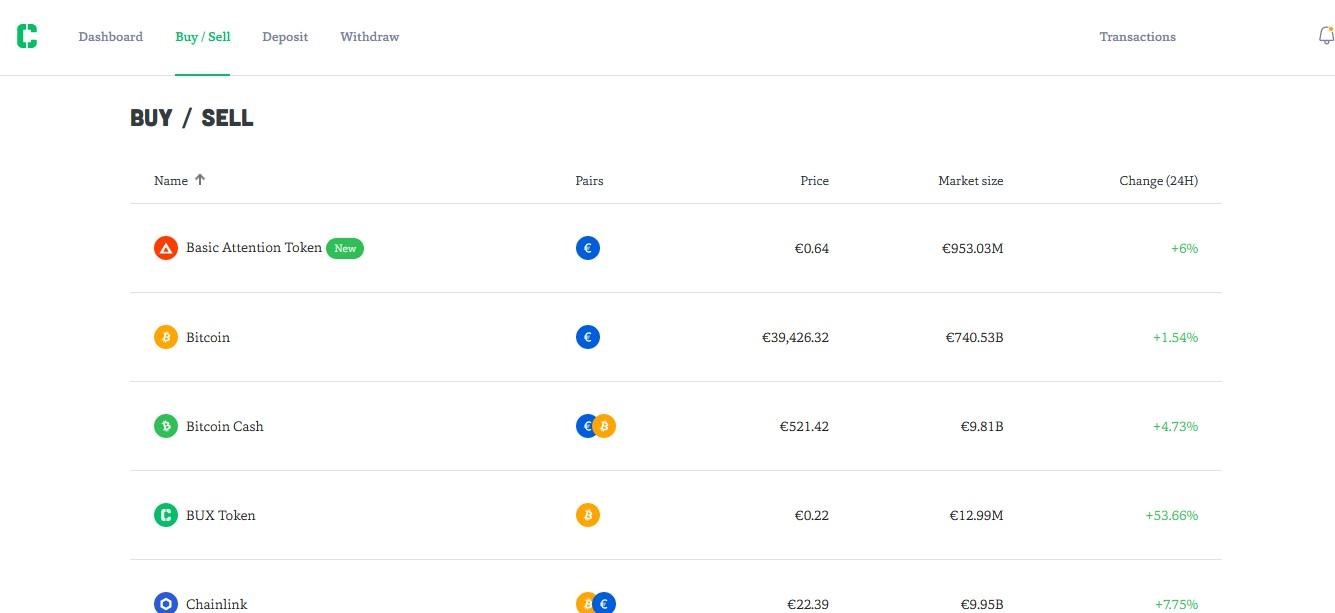 Source: Bux-c.com
Bux Crypto's user interface is as simple as it can get. There's a Buy/Sell section in the menu above, which takes you to a page with multiple listed cryptocurrencies. Click on any tab and you're taken to its detailed page with a Crypto/EUR price chart, and a simple form that allows you to buy the required quantity of the crypto with EUR or BTC.
Trading features
eToro and Bux Crypto have been created with different sets of crypto traders in mind. eToro gives you various options in its price charts, allowing you to incorporate all kinds of indicators such as moving averages, Ichimoku clouds and more, and is geared more towards technically well-informed crypto traders. Bux Crypto shows you a simple Crypto/EUR price chart which can be switched between hourly, daily, weekly, monthly or yearly views to get a better idea about the coin's past price movements. There are no indicators or trend lines involved.
Furthermore, eToro allows for trading CFDs as well as use their flagship copy trading feature. The latter enables you to copy and benefit from the trading patterns of seasoned players. Bux Crypto doesn't provide any such copy trading feature and has no provision for crypto CFDs either.
eToro Vs Bux Crypto: Liquidity and Volume
Liquidity is a very crucial aspect in evaluation of any trading platform as it gives you a fair idea about the availability of assets offered for trading. Volume, on the other hand, shows the actual quantities of different assets being traded on the portal. Higher liquidity and volume suggest that you'll find it easy to open and close your positions whenever you deem fit, without any problems, on the platform.
Whereas eToro boasts of over 17 million users spread over nearly 100 countries, something that suggests high trading volumes across the board, there were no such tangible and updated figures available for the Bux Crypto platform, at the time of writing. That being said, the fact that Bux Crypto is operational in 25 European countries, and has a rapidly growing user base, does suggest that you may not face any major liquidity-related issues.
Who Offers the Best Customer Support?
Both eToro and Bux Crypto have highly efficient teams managing their customer service operations.
eToro provides a live chat service that can connect you to an online customer service rep for any clarifications or issues, in real-time. You can even reach them via fax and email. Please note, these services are apart from a comprehensive online support centre that answers to a large majority of frequently asked questions.
Like eToro, Bux Crypto too has a detailed crypto support center that can be used for quick resolution of a wide range of queries or issues. You can even get in touch with them via email if you need. There was no live chat feature available at Bux Crypto at the time of writing.
eToro Vs Bux Crypto: Conclusion
Considering the wide range of customer-centric features offered by both the platforms, tailored for different retail investor accounts types, it will be very difficult to pick a winner between the two.
eToro has been around for a long time in the market, and has gained worldwide repute for being a reliable portal for trading a wide pool of asset classes. It is extensively used by people interested in speculative trading, as well as newcomers who prefer copying others' trades before finding their feet in the industry.
Being a newcomer in the crypto trading industry, Bux Crypto is doing everything possible within its means, to attract masses to its platform. It offers a great mobile trading experience and is ideal for amateur investors who prefer buying actual crypto coins and don't want to be overwhelmed by the technicalities of crypto trading.
Most Popular
Min. Deposit
$10
Promotion
Accepts customers from the USA
Deposit $100 and get a $10 bonus!* Build a diversified portfolio with crypto, stocks, and ETFs — all in one place.
Trade on the world's leading social trading and investing platform
Description:
eToro offers a wide range of cryptos, such as Bitcoin, XRP and others, alongside crypto/fiat and crypto/crypto pairs. eToro users can connect with, learn from, and copy or get copied by other users.
Payment Methods
Bank Transfer, Wire Transfer
Full regulations list:
CySEC, FCA
Frequently Asked Questions
eToro is regulated by multiple financial authorities, however, not by the US Securities and Exchange Commission (SEC). Nonetheless, you can still use its services in a select group of states in the country. Bux Crypto on the other hand is operational primarily in Europe and cannot be used by the US traders.

Both eToro and Bux Crypto offer efficient crypto trading services. However, eToro provides a wider pool of crypto coins and also allows speculative crypto trading through CFDs. eToro is by far the bigger cryptocurrency trading platform.

No. Al though they both offer cryptocurrency exchange accounts, Bux Crypto does not offer copy trading or social trading features like eToro, at the time of writing.

While eToro charges spreads that vary from 0.75% to 4.9% depending upon the cryptocurrency, Bux Crypto charges a 0.5% commission on all crypto trades. Both don't charge any deposit fee, but a certain minimum flat fee on withdrawals.

Those looking to make a start with crypto trading will find that the easiest Bitcoin trading platform is eToro and with their social features it's a good start to develop their own crypto strategy. Bux also offers easy solutions too, being a mobile stock broker that offers an app and useful guiding content.

For more platforms compared side by side, check out some of our other comparison pages: