Being aware of the features to look out for efficient online brokers is crucial in an industry where traders are unarguably spoilt for choice these days! While eToro is a well-known name in the crypto trading world, DEGIRO has established itself firmly as a reliable stockbroker in Europe.
eToro was founded in 2007, and DEGIRO in 2013. Both cater to the needs of a diverse group of investors and traders. While eToro offers a wide range of stocks, commodities, cryptocurrencies, currencies and other markets to interested people, DEGIRO is considered Europe's largest retail stockbroker.
In this article, we will compare the two trading platforms and what they offer in terms of retail investor accounts, it's eToro vs DEGIRO
Lets take a deeper look into both brokers
Minimum Deposit:
Coins:
Regulation:
Asset Coverage:
Trading Platforms:
Free Demo:
Unique Features:
our pick
$10
eToro Mobile Trading Platform, eToro Trading Platform
Accepts customers from the USA, Offers 15 crypto coins to buy&sell including BTC, LTC, ETC, NEO and more, Trade on the world's leading social trading and investing platform
$0
Buy crypto ETFs and ETNs, Our awarded software is made for every type of investor, combining a user-friendly interface with a wide variety of option, Fundamental analysis tools at your fingertips
eToro Security Vs DEGIRO Security
There's no dearth of hackers and scammers in the online world, something that makes it necessary for every trader to ensure that the trading platform they're planning to transact on, has ample security measures in place, to safeguard their interests. Both eToro and DEGIRO haven't witnessed any major security breaches as yet, suggesting that they are fairly safe for financial transactions.
You can easily set up two factor authentication (2FA) to create an additional security layer over your account, on both eToro and DEGIRO. With 2FA, you make sure that it is only you who is able to access your account, by using the authenticator app on a mobile device.
Whereas eToro will allow you to make withdrawals via credit/debit cards, bank transfers and third party payment processors like Neteller, Skrill and PayPal, DEGIRO only permits manual bank transfers. Each one of these withdrawal options ensures the complete safety of your transferred funds.
KYC/AML
All financial service providers across the world, including eToro and DEGIRO are required to verify the identities of their users, as per a KYC (Know Your Customer) process, before allowing anyone to use their services. This is essential to comply with the international Anti Money Laundering (AML) laws.
After you register an account with eToro, the platform will ask you to upload a valid proof of address and a government-approved identity proof to remove the deposit and withdraw limitations from your account. When it comes to DEGIRO, you can become their client only if you hold valid identification proof, physical residence and tax residence in one of their acceptable countries. During registration, DEGIRO will also ask you to scan your ID proof with your mobile phone camera, as well as upload a selfie to verify your identity. All this is done through the DEGIRO app on a smartphone.
Supported Countries and Location: What's the Right Broker for You?
Your ability to transact on either of these brokerage portals will depend mainly upon your country of residence, and the kind of trading laws applicable in it.
eToro
At the time of writing, the eToro brokerage portal offers its services in the following countries: Algeria, Andorra, Angola, Argentina, Australia, Austria, Azerbaijan, Bahrain, Bangladesh, Belgium, Bolivia, Brazil, Bulgaria, Chile, Colombia, Costa Rica, Croatia, Cyprus, Czech Republic, Denmark, Dominican Republic, Ecuador, Egypt, Eritrea, Estonia, Finland, France, Georgia, Germany, Gibraltar, Greece, Holy See, Hungary, Iceland, Ireland, Israel, Italy, Jordan, Kazakhstan, Kenya, Kuwait, Latvia, Liechtenstein, Lithuania, Luxembourg, Malaysia, Malta, Mexico, Monaco, Netherlands, New Zealand, Norway, Oman, Peru, Philippines, Poland, Portugal, Qatar, Romania, Senegal, Seychelles, Singapore, Slovakia, Slovenia, South Korea, Spain, Sweden, Switzerland, Thailand, Ukraine, United Arab Emirates, United Kingdom, United States* (some states), Uruguay, Uzbekistan and Vietnam.
DEGIRO
If you wish to use DEGIRO's stockbroking services, you must be a tax-paying resident of any of the following European nations: Austria, Belgium, Czech Republic, Denmark, Finland, France, Germany, Greece, Hungary, Ireland, Italy, Netherlands, Norway, Poland, Portugal, Spain, Sweden, United Kingdom and Switzerland. This information is correct at the time of writing but please check before you open an account.
Regulation
eToro is a comprehensively regulated online broker that is regulated, registered and licensed by various reputed financial authorities across the world, including the Cyprus Securities & Exchange Commission (CySEC), Cypriot Investment Firm (CIF), UK's Financial Conduct Authority (FCA), Australian Securities and Investments Commission (ASIC) and Europe's Markets in Financial Instruments Directive (MiFID).
In comparison, DEGIRO online stockbroker is supervised by Bundesanstalt für Finanzdienstleistungsaufsicht (BaFin), the German financial regulator. It also comes under indirect regulation of the European Central Bank (ECB). Furthermore, the Dutch operations of DEGIRO are supervised by the Dutch Central Bank (DNB).
Being regulated and supervised by such well-known authorities contributes greatly to the confidence generated by both these trading portals in the market.
eToro Vs DEGIRO: Which One Has a Broader Crypto Portfolio?
Having crossed the $2 trillion market capitalisation in 2021, the cryptocurrency industry is counted amongst the biggest and fastest-growing markets today, and online brokers serve as one of the best mediums to invest and trade in crypto.
While eToro allows you to invest in and trade 29 different crypto coins which include many medium and large cap cryptocurrencies, DEGIRO is currently into stockbroking services, and doesn't have any cryptocurrencies on offer, at the time of writing.
eToro Currencies
Below-listed are the cryptocurrencies you can invest in and trade, through the eToro platform:
Ripple (XRP)
Bitcoin Cash (BCH)
Ethereum Classic (ETC)
Bitcoin (BTC)
Dash (DASH)
Stellar Lumens (XLM)
Ethereum (ETH)
NEO (NEO)
EOS (EOS)
Cardano (ADA)
Litecoin (LTC)
IOTA (MIOTA)
Zcash (ZEC)
Compound (COMP)
Tezos (XTZ)
TRON (TRX)
Maker (MKR)
Binance Coin (BNB)
Uniswap (UNI)
Chainlink (LINK)
Algorand (ALGO)
Enjin (ENJ)
Aave (AAVE)
Dogecoin (DOGE)
Decentraland (MANA)
Polygon (MATIC)
Shiba in millions (SHIBxM)
Yearn.Finance (YFI)
Basic Attention Token (BAT)
DEGIRO Currencies
As mentioned earlier, there are no cryptocurrencies available for investment or trading purposes, on the DEGIRO platform, at the time of writing.
Comparing purchasing methods
You can purchase or trade cryptocurrencies on the eToro portal using various trading pairs, including the ones with Swiss Franc (CHF), Canadian Dollar (CAD), US Dollar (USD), Euro (EUR), Australian Dollar (AUD) and Pound Sterling (GBP).
On the other hand, when you use DEGIRO to buy and trade stocks, you can use any of the fiat currencies used in its countries of operation.
Buying Crypto on eToro Vs DEGIRO
Trading fees
All brokerage platforms charge a fee for their services, to maintain a regular flow of income. Cryptocurrency brokers usually have lower fees compared to traditional stockbrokers.
Flat fee
eToro charges an inactivity fee at a flat rate of $ 10 per month, if you don't use your account for many months in a row. In contrast, there is no such inactivity fee or flat fee charged by the DEGIRO platform.
Deposit and withdrawal fee
Neither DEGIRO, nor eToro charge anything for making deposits to accounts held with them.
However, when it comes to withdrawals, while eToro charges a flat $5 fee, which is separate from currency conversion charges, DEGIRO doesn't levy any such charge. You can minimise your withdrawal costs on eToro by opting for large infrequent withdrawals.
Broker trading fee
Even though there's no specific fee or commission charged by eToro on account of trades processed through it, the platform does feature something referred to as a 'Bid/Ask' spread for each one of its listings. It essentially refers to the difference between the buy and sell prices of cryptocurrencies offered on the platform. Ask prices are higher compared to the bid prices, and the difference between the two is where eToro earns its money from. eToro's cryptocurrency spreads range from 0.75% to 4.9% based on the crypto coin under consideration.
The trading fee charged by DEGIRO is made up of two components, a base rate and a variable rate. Both are different for different asset classes and financial instruments. The variable rate in turn also depends upon the volume of the order.
Payment Methods
eToro allows you to make fiat currency deposits using multiple payment methods including credit/debit cards, bank transfers, Sofort/Klarna and e-wallets (PayPal, Skrill and Neteller). The acceptable currencies include US Dollar, Euro, Australian Dollar, Canadian Dollar, Norwegian Krone, New Zealand Dollar, Pound Sterling, Hong Kong Dollar, Thai Baht, Mexican Peso, Swiss Franc, Czech Koruna, Danish Krone, Poland Zloty, Israeli Shekel, Swedish Krona, Turkish Lira, South African Rand and Singapore Dollar.
On DEGIRO, you can only make deposits via manual bank transfers, through the base currency used in the acceptable European country.
Comparing the User Interface of Both Platforms
How friendly is the UI (User-Interface) of a trading platform, goes a long way in determining the success of the portal. Both eToro as well as DEGIRO feature an easy-to-use, yet comprehensive UI that enables traders to avail all kinds of information, to make well-informed trades.
While eToro has an easy-to-navigate dashboard that facilitates easy switching from one feature to another, including their widely popular 'Copy Trading' and 'Social Trading' features, DEGIRO being a hardcore stockbroker, offers extensive stock trading features, all packed-up in one single screen.
eToro ease of use


Source: eToro.com
eToro's dashboard looks quite uncluttered, with multiple tabs displayed on the left-hand side menu that allow easy movement between different sections such as Portfolio, Watchlist and News Feed. You can also instantly access the 'Copy Portfolios' and 'Copy People' options from under the Discover section, or simply click on Trade Markets to directly access all the tradable assets.
DEGIRO ease of use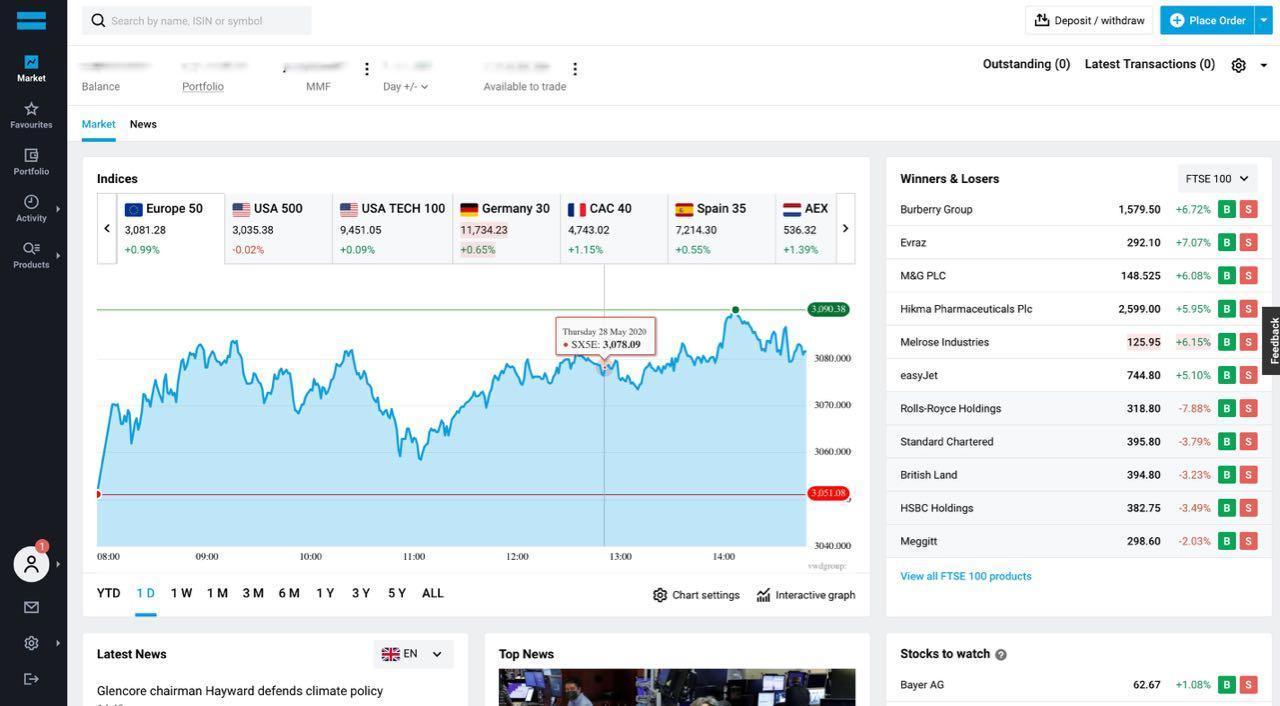 Source: Degiro.co.uk
DEGIRO also has a fairly easy-to-use interface, targeted at the trader who prefers all important information on one single screen, displayed in an easily consumable manner. There are various chart settings you can use to better analyse the past price movements, in different markets. Apart from that, latest and top news stories can be viewed in the bottom section, with the right hand side area populated by winning and losing stocks. The menu on the left side facilitates easy movement between markets, products, portfolio, activities and favourites.
DEGIRO vs eToro Trading features
Though both eToro and DEGIRO are online brokers that can be effectively used by intermediate-level as well as experienced traders, eToro, apart from various conventional asset classes, also allows people to trade cryptocurrencies. It works extremely well for new traders too, as they can easily copy and learn from the actions of seasoned campaigners. DEGIRO on the other hand is primarily a stockbroker for the stock exchange.
Both service providers offer multiple value-added features including detailed price charts, thereby helping technically sound traders to make well-thought-out market decisions.
In addition, while eToro facilitates speculative crypto trading through Contracts for Difference (CFDs), DEGIRO allows the same via Options and Futures, but for stocks. The latter doesn't offer any crypto trades or CFDs at the time of writing.
eToro Vs DEGIRO: Liquidity and Volume
As it gives you a fair idea about different assets' availability, liquidity plays a very critical role in proper evaluation of any trading portal. On the other hand, volume tells you about the amount of different assets that are being actively traded on the platform. Whenever a trading platform has higher liquidity and large volumes of trades, it implies that you'll be able to easily open and close positions on it, any time you deem fit, without facing any problems.
While eToro has a 17 million+ strong user base, spread over almost 100 countries across the world, DEGIRO has more than 1 million clients situated in different parts of Europe. These figures suggest that both these platforms witness high trading volumes, and are less likely to pose any liquidity problems.
DEGIRO vs Etoro, who Offers the Best Customer Support?
A lot of credit for both DEGIRO and eToro having made it this far in the trading platforms industry goes to their efficient customer service teams.
eToro offers a live chat service through which you can interact with an online customer care rep, in real-time, for quick resolution of any issues. It is also possible to communicate with eToro through email and fax. All these mediums are apart from a detailed online support section on its portal that can be accessed for quick answers to a large number of frequently asked questions.
DEGIRO too has a 'Help Center' for frequently asked questions. You can reach out to them via phone too, on weekdays from 8 AM to 10 PM. There are also multiple email addresses provided for quick resolution to different kinds of issues.
eToro Vs DEGIRO: Conclusion
If you're someone looking to invest in or trade cryptocurrencies, eToro should be your obvious choice as DEGIRO doesn't have any crypto on offer at the time of writing, although there are other financial instruments. The platform has a fairly comprehensive crypto portfolio that includes all prominent cryptocurrencies.
That being said, both platforms are highly customer-centric, catering to different investor/trader types and apparently both do their job well. While eToro has a global presence and accepts a wide variety of fiat deposits, through multiple payment methods, DEGIRO's operations are mainly restricted to Europe at the time of writing, and it accepts only local fiat currency deposits through bank transfer. It's only when DEGIRO will expand its operations to countries outside of Europe, and start offering crypto trades that both these platforms will be on a more equal footing.
Most Popular
Min. Deposit
$10
Promotion
Accepts customers from the USA
Deposit $100 and get a $10 bonus!* Build a diversified portfolio with crypto, stocks, and ETFs — all in one place.
Trade on the world's leading social trading and investing platform
Description:
eToro offers a wide range of cryptos, such as Bitcoin, XRP and others, alongside crypto/fiat and crypto/crypto pairs. eToro users can connect with, learn from, and copy or get copied by other users.
Payment Methods
Bank Transfer, Wire Transfer
Full regulations list:
CySEC, FCA
Frequently Asked Questions
Though eToro isn't licensed by the US Securities and Exchange (SEC), it does offer its services in a few US states. However, DEGIRO is primarily used in Europe by people interested in stock investments and trading on the stock exchange. It has no presence in the US.

eToro is the only one between the two that offers crypto trading platforms service. It charges spreads ranging from 0.75% to 4.9% depending upon the cryptocurrency under consideration.

No. DEGIRO doesn't offer any 'Copy Trading' or a 'Social Trading' facility like eToro.

No. DEGIRO only allows deposits and withdrawals made through bank transfer. eToro on the other hand offers a variety of payment methods including not only bank transfer but also PayPal and credit and debit cards.

For more platforms compared side by side, check out some of our other comparison pages: