eToro vs XM: Which Platform is Better in 2022?
vs.
See the breakdown below
XM and eToro are some of the most sought after online brokers. The two offer a wide range of instruments and services, targeting all classes of investors and traders. Founded over ten years ago, both are considered low risk having built a solid reputation over the years.
While both are key players in the world, they differ in the kind of services they offer. While choosing between the two can be difficult, we have provided valuable information for making informed decisions depending on what one wants to achieve in the market. Join us as we take look at eToro vs XM especially in terms of what they have to offer for retail investor accounts.
Lets take a deeper look into both brokers
Minimum Deposit:
Coins:
Regulation:
Asset Coverage:
Trading Platforms:
Free Demo:
Unique Features:
our pick
$10
eToro Mobile Trading Platform, eToro Trading Platform
Accepts customers from the USA, Offers 15 crypto coins to buy&sell including BTC, LTC, ETC, NEO and more, Trade on the world's leading social trading and investing platform
$5
eToro Security Vs XM Security
Trading with a broker that takes security seriously can make a big difference in securing capital and personal information in an industry that is always susceptible to hackers. Both eToro and XM have built a solid track record in protecting people's money and information.
When it comes to protecting people's accounts, both deploy the 2-Factor authentication measure that adds an extra layer of security to accounts. The process requires sign-in to be completed by a password and security code sent to the phone.
XM and eToro also allow withdrawals to be completed via credit/debit cards and bank transfers options, also known to offer security to people's money. Round the clock customer support is also on offer, ready to address any security issues that clients might have.
KYC/AML
All brokers regulated by top tier bodies are required to adhere to the best industry practices. Part of the process entails knowing the clients they are dealing with as well as putting measures in place to curb money laundering. For this reason, all the top brokers adhere to Know Your Customer (KYC) and Anti Money Laundering (AML) regulations.
XM and eToro require customers to upload their passports or government-issued identification to verify their true identity. Additionally, they also require recent utility bills or bank statements to verify the applicant's address.
Supported Countries and Location: What's the Right Broker for You?
Different jurisdictions come with varying regulations that brokers must adhere to when planning to offer investment and trading services. It is for this reason that eToro and XM operate in some countries and not in others.
eToro maintains offices in the UK, US, EU and Australia, from where it is able to offer brokerage services to other countries. XM, on the other hand, has its headquarters in Cyprus. It also maintains branches in Spain, New Zealand and Australia.
eToro countries
eToro is available in the following countries at the time of writing: Algeria, Andorra, Angola, Argentina, Australia, Austria, Azerbaijan, Bahrain, Bangladesh, Belgium, Bolivia, Brazil, Bulgaria, Chile, Colombia, Costa Rica, Croatia, Cyprus, Czechia (Czech Republic), Denmark, Dominican Republic, Ecuador, Egypt, Eritrea, Estonia, Finland, France, Georgia, Germany, Gibraltar, Greece, Holy See, Hungary, Iceland, Ireland, Israel, Italy, Jordan, Kazakhstan, Kenya, Kuwait, Latvia, Liechtenstein, Lithuania, Luxembourg, Malaysia, Malta, Mexico, Monaco, Netherlands, New Zealand, Norway, Oman, Peru, Philippines, Poland, Portugal, Qatar, Romania, Senegal, Seychelles, Singapore, Slovakia, Slovenia, South Korea, Spain, Sweden, Switzerland, Thailand, Ukraine, United Arab Emirates, United Kingdom, United States* (some states), Uruguay, Uzbekistan and Vietnam
XM Countries
XM, on the other hand, offers brokerage services in Australia, Germany, Hong Kong, India, Ireland, Kenya, Malaysia, Netherlands, Singapore, South Africa, United Arab Emirates and the United Kingdom at the time of writing.
Regulation
Dealing with a regulated broker is an important aspect as it ensures that one's money and information are protected against any fraudulent activity, let alone in insolvency cases. eToro is a fully regulated broker by some of the biggest world bodies. It is currently regulated in the UK by the FCA, by CySEC in Cyprus and FinCEN in the US. It is also regulated in Australia by ASIC.
As one of the biggest forex and CFDs trading brokers, XM is also regulated by top tier bodies, which include Australia's ASIC, Cyprus CySEC, UKs FCA and FSA.
The more top-tier bodies regulate a broker, the more credible it is in offering investing services. Therefore, it is important to check if a broker is regulated in your locality when looking for a trading platform.
eToro vs. XM: Which One Has a Broader Crypto Portfolio?
As one of the fastest-growing segments in the capital markets, cryptocurrencies are increasingly providing exciting investment opportunities. Therefore, it is important to settle on a broker that offers a broad pool of virtual currencies.
eToro has become a household name in the crypto trading sphere, given the wide pool of cryptocurrencies it currently supports. The online broker supports 18 large-cap cryptocurrencies as well as some mid and small-cap cryptocurrencies.
XM broker has also enabled cryptocurrency trading on its platform. However, its pool of cryptocurrencies is much smaller, made up of about 5 large-cap cryptocurrencies.
eToro Currencies
Bitcoin (BTC)
Ethereum (ETH)
Bitcoin Cash (BCH)
Ripple (XRP)
Dash (DASH)
Litecoin (LTC)
Ethereum Classic (ETC)
Cardano (ADA)
IOTA (MIATA)
Stellar (XLM)
EOS
NEO
Tron (TRX)
ZCash (ZEC)
Binance Coin (BNB)
Tezos (XTZ)
ChainLink (LINK)
UniSwap (UNI)
XM Currencies
Bitcoin (BTC)
Ethereum (ETH)
Litecoin (LTC)
Ripple (XRP)
Bitcoin Cash (BCH)
Comparing purchasing methods
eToro offers many routes for trading cryptocurrencies as compared to XM. The online broker allows people to trade virtual currencies with fiat currency pairs like GBP, USD, CHF, EUR, AUD, NZD and CAD.
In contrast, XM allows people to trade cryptocurrencies paired with the US dollar through Contract for Differences.
Buying Crypto on eToro vs. XM
Trading fees
Both eToro and XM charge fees whenever clients open and close positions. The fees allow the brokers to make money to offer the instruments and sustain their operations. The fees can be quite low compared to those charged by traditional stockbrokers. However, while selecting a broker, it is important to consider trading fees as these are additional charges that are deducted from any profits generated when trading.
Flat fee
eToro charges a flat fee of $10 on an inactive account. The broker also charges network fees whenever clients move their cryptocurrency holdings to wallets. A $5 standard charge is also levied on every withdrawal.
XM, just like eToro, also charges an inactivity fee ($5) for accounts left dormant for 90 days. The broker also charges a rollover fee on every trade left open overnight.
Deposit and withdrawal fee
Neither eToro nor XM charges any fees on deposits. There may be some additional charges depending on the service provider facilitating the deposit but these are not charged by the broker but by the payment network facilitating the deposit.
eToro charges a standard $5 on withdrawals. XM, on the other hand, does not charge any fees on withdrawals.
Broker trading fee
On eToro, the spread for trading crypto starts from as low as 0.75% to as much as 4%.
XM charges variable spreads which change depending on the prevailing market liquidity and volatility conditions. The spread can be as low as 1 pip.
Payment Methods
XM and eToro offer a vast amount of methods for deposits and withdrawals. Both support credit/debit cards, bank wire transfer, and electronic transfer through Skrill and Neteller. When it comes to withdrawals, they can be completed through the methods used for deposits.
Comparing the User Interface of Both Platforms
When selecting a broker, it is important to pay close watch to the platforms on offer for trading. It is through the platforms that one is able to analyse the markets and place trades. Therefore, a broker of choice should offer a platform that is user friendly and easy to customise.
Both eToro and XM offer unique trading platforms tailored to meet the needs of the different classes of traders. In addition to being user friendly, they are customised with unique features for enhanced trading.
eToro ease of use
eToro offers a user-friendly trading platform with tabs strategically positioned on the left-hand side to enable easy navigation. A simple click of a button is sure to take one to the portfolio, news, or watchlist. The copy trading feature is also below the market tab.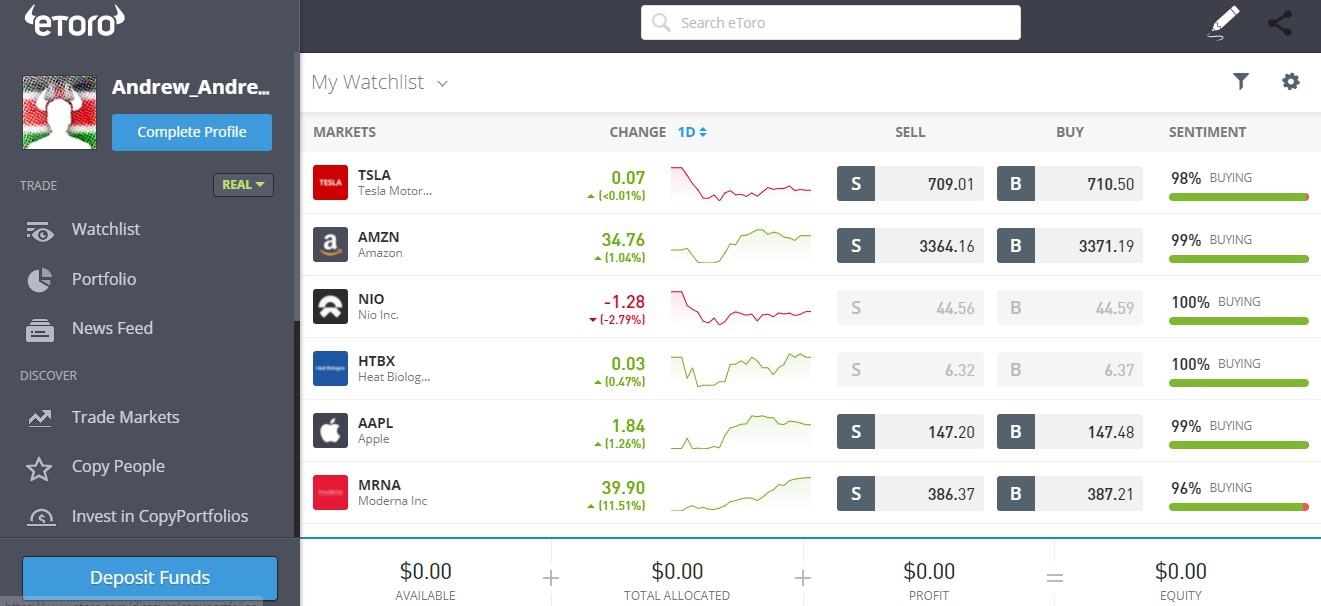 Source: eToro.com
The simple layout of the platform makes it possible and easy to access the more than 2000 financial instruments on offer and charts and technical analysis tools.
XM ease of use
On the other hand, XM offers three trading platforms MT4, MT5, and the XM web Trader. The three are designed to offer instant access to global financial markets on a simple click of a button.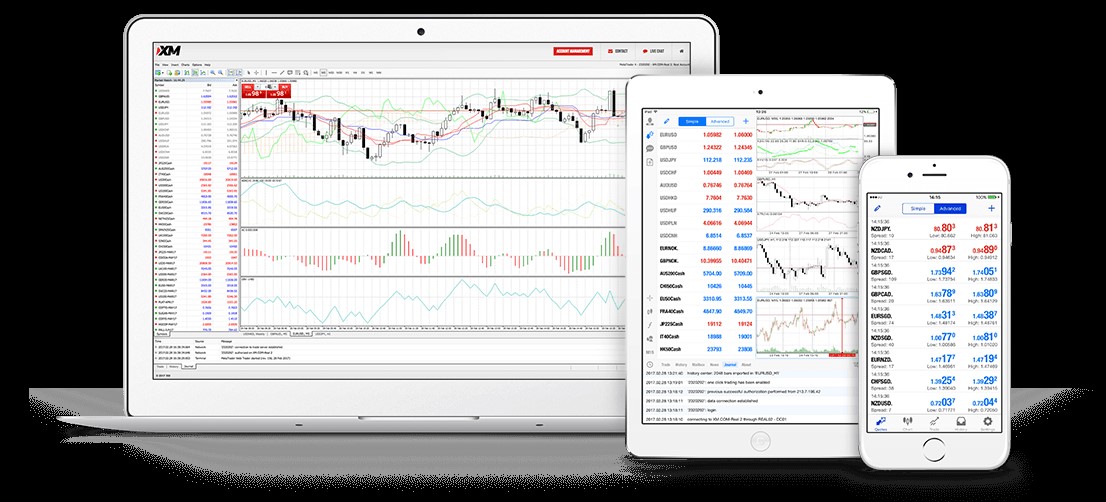 Source: Xm.com
The platforms are accessible on both PC and Mac and come with user-friendly platforms with tabs on the side and up for easy navigation. Its platform also supports expert advisors for anyone looking to engage in automated trading.
Trading features
Both eToro and XM offer countless chart options through their trading platforms that allow traders to carry out analysis of financial instruments. In addition, they offer a vast pool of trading indicators for anyone looking to engage in technical analysis.
Leverage trading, which is a feature that allows traders to deposit a small amount and still be able to increase their market exposure, is also possible on both brokers. An example of this is trading CFDs
eToro goes the extra mile in enabling copy trading, which allows traders to copy trades of other experienced traders through its copy trading and social trading features. XM, on the other hand, has enabled automated trading through the use of automated expert advisors.
eToro vs. XM: Liquidity and Volume
The amount of liquidity and volume determines a great deal whether a trader would be able to buy and sell instruments at competitive prices and the lowest prices. The higher the amount of liquidity and volume, the easier it is to open and close positions at desired price points.
With a following of over 17 million users spread over 100 countries, eToro offers very high liquidity and trading volume. What this means is that the broker can offer competitive prices with tight spreads.
XM also stands out given the fact that it has more than 34.5 million registered users which translates into adequate liquidity and volume needed to open and close positions easily. In addition, it offers some of the smallest spreads of as low as 1 pip on some currency pairs.
Who Offers the Best Customer Support?
XM and eToro offer robust customer service 24 hours a day, five days a week. Customer support teams on both platforms can be contacted via live chat, phone support and email communication. The live chat is the most popular feature as it allows customers to chat in real-time with customer service operators.
eToro Vs. XM: Conclusion
Selecting an online broker involves comparing several features but especially the financial instruments on offer and the trading platform. Having been in business for more than ten years, eToro is well suited for traders and retail investors looking to access a wide pool of financial instruments.
It also comes with a user-friendly trading platform with best in class tools and charts, ideal for carrying out in-depth analysis. The online broker is also suited for people who would like to trade cryptocurrencies.
XM, on the other hand, is a cost-effective online broker for people looking to trade forex, stocks (stock exchange) and commodities via CFDs. It boasts of some of the lowest costs for withdrawals and a user-friendly trading platform. However, it also has a small pool of cryptocurrencies that one can trade.
Most Popular
Min. Deposit
$10
Promotion
Accepts customers from the USA
Deposit $100 and get a $10 bonus!* Build a diversified portfolio with crypto, stocks, and ETFs — all in one place.
Trade on the world's leading social trading and investing platform
Description:
eToro offers a wide range of cryptos, such as Bitcoin, XRP and others, alongside crypto/fiat and crypto/crypto pairs. eToro users can connect with, learn from, and copy or get copied by other users.
Payment Methods
Bank Transfer, Wire Transfer
Full regulations list:
CySEC, FCA
Frequently Asked Questions
Both eToro and XM have been in business for years and adhere to the best industry practices in protecting people's money and information. Additionally, both are regulated by top tier bodies around the world.

A multi asset platform is what you will find for eToro or XM.

eToro stands out when it comes to financial instruments one can trade. The online broker has added support for 2,200+ instruments, including 47 currency pairs and 17 cryptocurrencies, trading CFDs, XM group also offers a vast pool of financial instruments running into 1,300.

eToro beats XM when it comes to cryptocurrency trading, especially for retail investor accounts. The online broker offers 17 large-cap virtual currencies and also offers support for other mid-cap and small-cap cryptocurrencies. In contrast, XM is best known for Bitcoin trading and four other large-cap cryptocurrencies.

Both eToro and XM don't charge any fees on deposits. However, eToro charges a flat fee of $5 on withdrawals, while XM does not charge any withdrawal fee.

Both eToro and XM offers practice accounts. Sometimes called demo accounts these let you have a go at making trades without any of the risk (or gains). Demo accounts can be great for those that are new to trading or for experienced traders who want to test a new platform.

You'll find that eToro calls theirs a practice account while on the other platform it's the XM demo account.

For more platforms compared side by side, check out some of our other comparison pages: