The rapid growth witnessed in the crypto industry over the past few years has led to the emergence of many online brokers, offering top-notch services to interested crypto investors and traders today. The sheer number of good ones among these brokers can make it hard even for experienced crypto traders to find the best one for their needs. While eToro has made a big name for itself in this industry, Trading212 has its own share of following amongst the stock traders.
We'll carry out a detailed comparison of these two trading platforms, it's eToro vs Trading212 in this article
Lets take a deeper look into both brokers
Minimum Deposit:
Coins:
Regulation:
Asset Coverage:
Trading Platforms:
Free Demo:
Unique Features:
our pick
$10
eToro Mobile Trading Platform, eToro Trading Platform
Accepts customers from the USA, Offers 15 crypto coins to buy&sell including BTC, LTC, ETC, NEO and more, Trade on the world's leading social trading and investing platform
$1
eToro Security Vs Trading212 Security
There are abundant hackers and fraudsters operating on the Internet today, doing everything possible to rob investors of their hard earned money. This makes it very crucial to ensure that the trading platform you transact with, has taken all possible security measures to safeguard your interests. Neither eToro, nor Trading212 have witnessed any notable security breaches so far, providing a fair assurance that you can do business with them in a worry-free environment.
eToro and Trading212 both offer 2FA (Two-Factor Authentication) service to the users, enabling them to create an additional security layer above their accounts. Using this technology ensures that it's only you who gets access to your broker account, after verifying your identity through the Google authenticator app. Trading212 also allows you to add a FaceID or Passcode Lock feature on a mobile device, creating one more security layer.
While eToro facilitates easy fund withdrawals through multiple payment methods including bank transfer, credit/debit card, Neteller, Skrill and PayPal, Trading212 makes it mandatory that you withdraw your funds through the same payment method that was used for the deposit. The payment options include bank transfers, credit/debit cards, Skrill, iDEAL, PayPal, Carte Bleue, Giropay and Dotpay. Please note, all these modes of payment are well known in the market to offer a high level of security.
KYC/AML
Almost all the reputed trading platforms throughout the globe, including Trading212 and eToro, ask their customers to verify their identities through a well-defined KYC (Know Your Customer) procedure, before using their services. This is required to stay compliant with the Anti Money Laundering (AML) laws applicable worldwide.
eToro will require you to submit a government-approved ID and a separate address proof, to enjoy limitless deposits and withdrawals on their portal. Trading212 on the other hand will ask you to provide a valid ID document, a proof of address and a selfie, to fully activate your trading account.
Supported Countries and Location: What's the Right Broker for You?
Please note, all brokers may or may not be offering services in your country, and this must be checked carefully before making up your mind to transact with any platform. Below we have listed the various countries where both these brokers are operational at the time of writing.
eToro
eToro brokerage portal can be actively used in the following countries: Algeria, Andorra, Angola, Argentina, Australia, Austria, Azerbaijan, Bahrain, Bangladesh, Belgium, Bolivia, Brazil, Bulgaria, Chile, Colombia, Costa Rica, Croatia, Cyprus, Czech Republic, Denmark, Dominican Republic, Ecuador, Egypt, Eritrea, Estonia, Finland, France, Georgia, Germany, Gibraltar, Greece, Holy See, Hungary, Iceland, Ireland, Israel, Italy, Jordan, Kazakhstan, Kenya, Kuwait, Latvia, Liechtenstein, Lithuania, Luxembourg, Malaysia, Malta, Mexico, Monaco, Netherlands, New Zealand, Norway, Oman, Peru, Philippines, Poland, Portugal, Qatar, Romania, Senegal, Seychelles, Singapore, Slovakia, Slovenia, South Korea, Spain, Sweden, Switzerland, Thailand, Ukraine, United Arab Emirates, United Kingdom, United States* (some states), Uruguay, Uzbekistan and Vietnam.
Trading212
Trading212 website doesn't provide a clear list of the countries that it is operational in. However, as per third-party sources they serve more than 100 countries world-over, including UK, Poland, Germany, Romania, Spain, Netherlands, Singapore, Japan, UAE and Australia. However, clients from some countries like China, US and Canada are not allowed to use the Trading212 platform. Furthermore, we'd like to highlight that Trading212 has paused all new account openings at the time of writing, citing unprecedented demand and an ongoing process to increase their capacity.
Regulation
Having been in the trading industry for close to one and a half decade, eToro has acquired licenses from various reputed global financial authorities, including UK's Financial Conduct Authority (FCA), Cyprus Securities & Exchange Commission (CySEC), Europe's Markets in Financial Instruments Directive (MiFID), Australian Securities and Investments Commission (ASIC) and Cypriot Investment Firm (CIF).
Trading212 is regulated and authorised by the UK's Financial Conduct Authority (FCA), Bulgaria's Financial Supervision Commission (FSC) and the Cyprus Securities & Exchange Commission (CySEC). In addition, all its client's funds are covered as per the provisions of FSCS (Financial Services Compensation Scheme).
Such comprehensive regulation of both eToro and Trading212 has been instrumental in improving investors' confidence in their services.
eToro Vs Trading212: Which One Has a Broader Crypto Portfolio?
Cryptocurrency market crossed the significant milestone of $2 trillion market cap in 2021. Online brokers constitute a significant and integral part of this industry today, as they serve a large number of crypto investors and traders across the world.
eToro makes it possible for you to trade and invest in 29 different cryptocurrencies, and includes many medium to large market cap coins. Trading212 on the other hand used to facilitate crypto trades up until November 2020, but it has suspended all forms of crypto trading activity starting 27 November 2020, in response to a policy statement issued by the FCA.
eToro Currencies
Please find below the list of cryptocurrencies offered by the eToro brokerage trading platform:
NEO (NEO)
Bitcoin (BTC)
Bitcoin Cash (BCH)
Yearn.Finance (YFI)
Ripple (XRP)
Ethereum Classic (ETC)
Dash (DASH)
Maker (MKR)
Ethereum (ETH)
Litecoin (LTC)
EOS (EOS)
Cardano (ADA)
Enjin (ENJ)
IOTA (MIOTA)
Chainlink (LINK)
Stellar Lumens (XLM)
Compound (COMP)
Tezos (XTZ)
TRON (TRX)
Dogecoin (DOGE)
Binance Coin (BNB)
Shiba in millions (SHIBxM)
Algorand (ALGO)
Basic Attention Token (BAT)
Aave (AAVE)
Zcash (ZEC)
Decentraland (MANA)
Uniswap (UNI)
Polygon (MATIC)
Trading212 Currencies
As mentioned above, Trading212 doesn't offer any cryptocurrencies for trading or investment, at the time of writing.
Comparing purchasing methods
eToro allows you to buy cryptocurrencies with various fiat currencies including the popular ones like US Dollar (USD), Pound Sterling (GBP), Euro (EUR), Swiss Franc (CHF), Australian Dollar (AUD) and Canadian Dollar (CAD). In comparison, Trading212 also permits easy trading of stocks, ETFs and CFDs with all prominent fiat currencies such as Pound Sterling (GBP), Euro (EUR), US Dollar and Swiss Franc (CHF).
Buying Crypto on eToro Vs Trading212
Trading platforms fees
Charging a fee for their services is one of the most commonly-known ways in which online brokers earn their money and stay operational. Cryptocurrency brokers generally charge lower fees as compared to their counterparts that deal in stocks and commodities.
Flat fee
eToro has something known as an inactivity fee, a flat $10 per month, which is charged if you fail to log in to your trading account for several months. Trading212 doesn't charge any such inactivity fees.
Deposit and withdrawal fee
While eToro doesn't levy any charge on the funds added to your trading account, withdrawals attract a flat $5 fee. A separate currency conversion charge is levied too, if applicable.
In the case of Trading212, there's no deposit fee charged for instant and regular bank transfers. However, Apple Pay, credit/debit card, Skrill and Google Pay deposits of EUR 2000 or higher involve a 0.7% deposit fee. No fee is charged by Trading212 on withdrawals.
Broker trading fee
eToro doesn't charge any trading fee or commission for the trades executed on its platform. Nonetheless, it has something called 'Bid/Ask' spread for all its listed cryptocurrencies, which is essentially the difference between their selling and buying prices. Bid prices are lower compared to the Ask prices, and it's their difference that makes eToro its money. eToro's spreads for crypto coins are in the range of 0.75% to 4.9%.
Trading212 also doesn't charge any commission on its trades either, but charges tight spreads on a wide range of markets. These spreads vary depending upon the asset and financial instrument under consideration.
Payment Methods
On eToro you can deposit funds using various payment methods such as e-wallets (Skrill, Paypal and Neteller), bank transfer, credit/debit cards and Klarna/Sofort. The currencies in which you can deposit these funds are: South African Rand, Euro, US Dollar, Danish Krone, Turkish Lira, Australian Dollar, Norwegian Krone, New Zealand Dollar, Pound Sterling, Hong Kong Dollar, Thai Baht, Mexican Peso, Singapore Dollar, Swiss Franc, Czech Koruna, Israeli Shekel, Canadian Dollar, Poland Zloty and Swedish Krona,.
In case of Trading212, you get a slightly wider choice of payment methods, including instant bank transfer, bank transfer, credit/debit card, Carte Bleue, Skrill, iDeal, PayPal, Direct eBanking, Dotpay, Google Pay, Apple Pay and Giropay. However, please note, their availability may vary from country to country.
Comparing the User Interface of Both Platforms
A trading platform's user-interface (UI) has a significant impact on its users' experiences, and can be the biggest determinant of its long-term success. A confusing interface can easily intimidate new traders, and push them towards other providers. Fortunately, both eToro and Trading212 deliver a friendly user experience, putting both seasoned as well as new users at great ease. eToro's copy trading feature can be accessed easily from the main dashboard and can give you a nice head start in the crypto trading world, by allowing you to copy the actions of successful traders.
eToro ease of use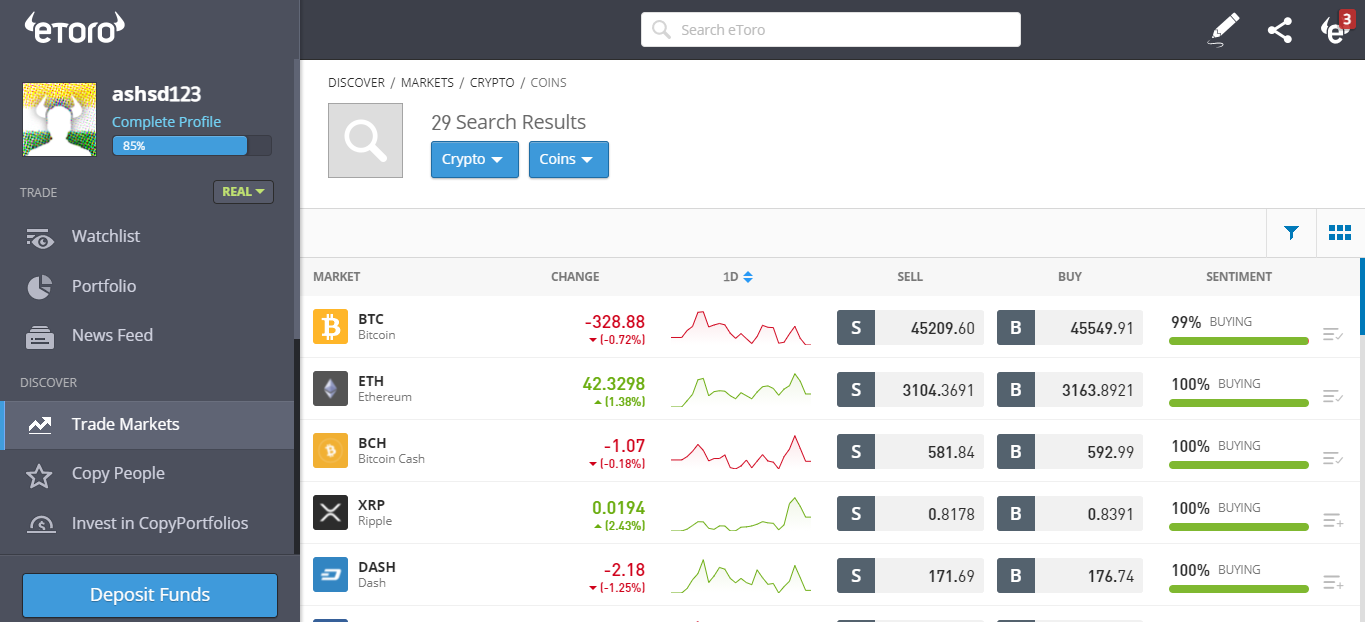 Source: eToro.com
eToro has a well-organised and fairly uncluttered interface that lists all the available cryptocurrencies on one side, with their corresponding prices, chart movements, and buy and sell prices. On the left side is a menu consisting of multiple choices such as Watchlist, News Feed, Portfolio, Copy People, Copy Portfolios and Trade Markets, that too can be navigated with great ease.
Trading212 ease of use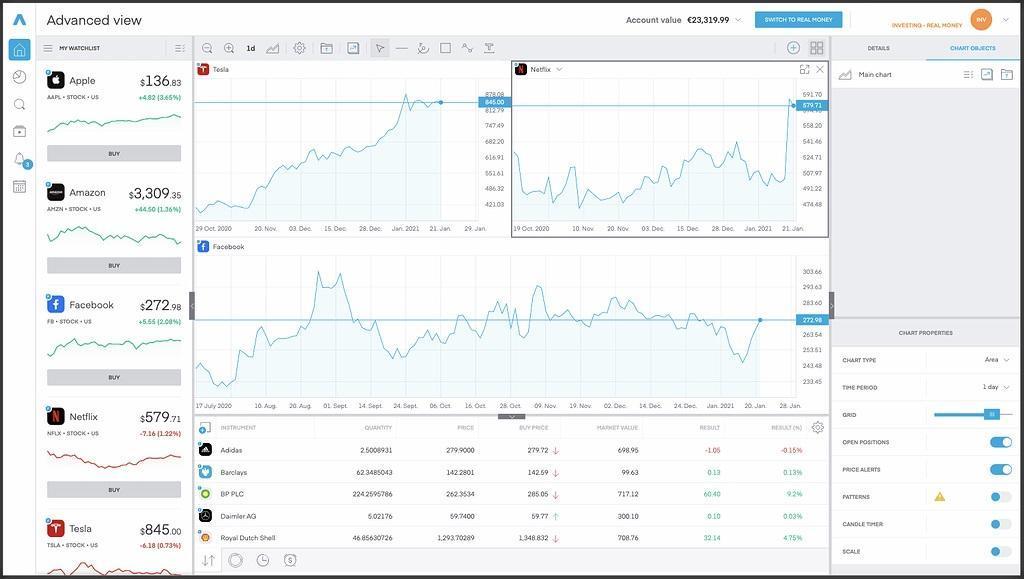 Source: Trading212.com
Trading212, besides offering you a regular view that gives you a nice overview of all your investments and a detailed look at the price chart of one, also gives you an Advanced View facility wherein you can view price charts of multiple assets and can play around with the chart properties to carry out a comprehensive technical analysis. It's very easy to switch between the different options too.
Trading platform features
Both Trading212 and eToro are brokerage portals that perfectly cater to the needs of intermediate as well as expert traders. However, eToro goes a step ahead and has proven to be a highly effective broker for novice traders too, especially because of its copy trading facility. Whereas eToro provides both traditional asset classes as well as cryptocurrencies for investments and trading, Trading212 is primarily a broker for stocks, commodities and currencies.
Both the platforms offer a good number of value-added features, such as detailed price charts (with all kinds of indicators), market news and more, to help traders make timely and well-informed trading decisions.
Furthermore, whereas eToro allows you to indulge in speculative trading through CFDs for both cryptocurrencies and stocks, Trading212 has CFDs available only for traditional asset-classes; it doesn't offer crypto trades at all.
eToro Vs Trading212: Liquidity and Volume
The liquidity of a trading platform determines whether you'll be able to buy and sell a specific asset at the right time or not. Volume gives you an idea about the number and quantity of trades happening for a specific asset. The higher the trading volume and liquidity of a broker, the easier it will be for you to open and close positions in time, without any hassles.
eToro has more than 17 million users in almost 100 countries across the globe, who ensure its high liquidity and high trading volumes for all listed crypto assets. In contrast, Trading212 claims to have 1.5 million clients, £3 billion in client assets and around 1.5 million orders executed on a daily basis. All these figures point towards a fairly high liquidity and volume.
Who Offers the Best Customer Support?
It's their highly efficient customer service that has brought both these brokers so far in their respective domains today.
On eToro, you can make use of their Live Chat feature and get instantly in touch with a customer care representative for quick resolution of your problem. The customer service can also be reached via email and fax. eToro's website has a detailed online support section as well, that answers almost all the frequently asked questions related to their services.
In comparison, Trading212 offers 24/7 support with a promised average response time of 29 seconds. This support can be accessed instantly through either their website or mobile app.
eToro Vs Trading212: Conclusion
To conclude, while both eToro and Trading212 offer various customer-friendly features that make it convenient and effective for their users to place potentially-profitable trades with them, when it comes to a crypto trading platform, eToro is the clear winner, simply because Trading212 doesn't provide crypto at all, at the time of writing.
eToro on the other hand has been in the crypto market for a long time now, and allows you to both own as well as indulge in speculative crypto trading through CFDs. Its biggest attraction is the copy trading feature that helps new investors copy successful traders' actions and book consistent profits before finding their feet in this highly competitive industry.
Most Popular
Min. Deposit
$10
Promotion
Accepts customers from the USA
Deposit $100 and get a $10 bonus!* Build a diversified portfolio with crypto, stocks, and ETFs — all in one place.
Trade on the world's leading social trading and investing platform
Description:
eToro offers a wide range of cryptos, such as Bitcoin, XRP and others, alongside crypto/fiat and crypto/crypto pairs. eToro users can connect with, learn from, and copy or get copied by other users.
Payment Methods
Bank Transfer, Wire Transfer
Full regulations list:
CySEC, FCA
Frequently Asked Questions
Trading212 doesn't cater to the US based traders at the time of writing. However, eToro is operational in a few US states.

No. Trading 212 doesn't have a copy trading feature like the one available with eToro.

There's no way of making a reasonable guess if Trading212 will offer crypto trades again in the future or not. It all depends on how the regulatory framework around cryptocurrencies evolves in the UK, Europe and rest of the world, in future.

Once your account is active and well-funded, you can access the copy trading feature by clicking on 'Copy People' or 'Invest in CopyPortfolios' options displayed in the left-hand side menu on the dashboard.

You'll find that both eToro and Trading 212 offer demo accounts.

These demo accounts let you carry out trades with dummy assets whether it is stocks, crypto CFDs, or forex. The demo account will let you see any gains or losses you might have made without actually 

For more platforms compared side by side, check out some of our other comparison pages: