eToro vs WeBull: Which Platform is Better in 2022?
vs.
See the breakdown below
Knowing what to look out for when selecting an online broker is essential in a field where one is sure to be spoilt for choice. Webull vs eToro, these are two household names and standout players in the business.
Webull, founded in 2017, and eToro in 2007 are increasingly addressing the needs of a diverse range of traders, including individuals by offering various retail investor accounts. The two are not only secure but dependable for anyone looking to trade a vast pool of financial instruments. Let's take a look at how they compare in terms of various features.
Lets take a deeper look into both brokers
Minimum Deposit:
Coins:
Regulation:
Asset Coverage:
Trading Platforms:
Free Demo:
Unique Features:
our pick
$10
eToro Mobile Trading Platform, eToro Trading Platform
Accepts customers from the USA, Offers 15 crypto coins to buy&sell including BTC, LTC, ETC, NEO and more, Trade on the world's leading social trading and investing platform
$1
ADA, ALGO, ATOM, AVAX, BAT, BCH, BTC, CRV, CRYPTO, DASH, DOGE, ETC, ETH, FTM, GRT, LINK, LRC, LTC, LUNA, MANA, MATIC, REN, SHIB, SOL, XLM, ZEC
Webull Security vs. eToro: Security
In an era where hackers are relentlessly looking for the slightest opportunity to get hold of people's money and personal information, security is paramount when selecting an online broker. eToro and Webull take security seriously. The two store client's funds in secure tier 1 banks and ensure personal information is guarded using SSL encryption.
In addition, they employ the 2-factor authentication as an extra layer of security to clients' accounts. The mechanism protects accounts from unauthorised access, as a sign-in can only be completed through a password and unique security code sent to the phone.
Additionally, both eToro and Webull allow withdrawals via reputable channels that also accord the highest level of security to people's funds. Withdrawals through credit/debit cards, bank transfers, and PayPal are highly encrypted.
KYC/AML
Regulated by the Securities and Exchange Commission, among other bodies, Webull also plays by the rules when it comes to Know Your Customer (KYC) and Anti Money Laundering (AML) regulations. The reputable online broker does its due diligence to ensure that it only deals with reputable clients and combat any illegal activities.
eToro also follows the same process when it comes to verifying clients looking to leverage its financial products to make a fortune. It requires clients to submit documents to ascertain identity as well as area of residence.
Consequently, eToro requires would-be clients to upload proof of identity, i.e., passports or government-issued identity cards. Proof of address, such as a recently issued utility bill, is also required as part of the verification process.
While the verification process can be tedious and time-consuming, it is essential to ensure both parties are protected against any fraudulent activity or outcome.
Supported Countries and Location: What's the Right Broker for You?
Financial regulations about investment services vary from one country to another. The regulations influence a great deal whether an online broker will make its services available, let alone set base in the country.
eToro has its headquarters in the UK and Cyprus. It also maintains offices in the US and Australia, meaning it can offer investment services in many countries. Webull, on the other hand, has the unit's technology team based in Hunan, China, and maintains customer-facing operations from New York, America.
eToro
eToro is available in the following countries at the time of writing: Algeria, Andorra, Angola, Argentina, Australia, Austria, Azerbaijan, Bahrain, Bangladesh, Belgium, Bolivia, Brazil, Bulgaria, Chile, Colombia, Costa Rica, Croatia, Cyprus, Czechia (Czech Republic), Denmark, Dominican Republic, Ecuador, Egypt, Eritrea, Estonia, Finland, France, Georgia, Germany, Gibraltar, Greece, Holy See, Hungary, Iceland, Ireland, Israel, Italy, Jordan, Kazakhstan, Kenya, Kuwait, Latvia, Liechtenstein, Lithuania, Luxembourg, Malaysia, Malta, Mexico, Monaco, Netherlands, New Zealand, Norway, Oman, Peru, Philippines, Poland, Portugal, Qatar, Romania, Senegal, Seychelles, Singapore, Slovakia, Slovenia, South Korea, Spain, Sweden, Switzerland, Thailand, Ukraine, United Arab Emirates, United Kingdom, United States* (some states), Uruguay, Uzbekistan and Vietnam.
Webull
Webull, on the other hand, is only available in a few countries at the time of writing, including the United States, India, Brazil, Turkey, the Philippines, Malaysia, Japan, China and Korea.
Regulation
eToro is a fully regulated and licensed online brokerage firm. In Europe, it is regulated by the Cyprus Securities & Exchange Commission (CySEC) and in the UK by the Financial Conduct Authority (FCA). It is also regulated in Australia by ASIC and FinCEN in the US. This means that the brokerage firm is subject to scrutiny by stringent regulatory bodies, which ensures it adheres to the best industry standards.
Webull, on the other hand, is approved to offer financial services in the US by the Securities and Exchange Commission. It also boasts of a certification from the Financial Industry Regulatory Authority (FINRA). Consequently, the firm is considered safe as it is regulated by top-tier financial authorities.
eToro Vs Webull: Which One Has a Broader Crypto Portfolio?
Growing cryptocurrency popularity has given rise to one of the biggest and fastest marketplaces. Therefore, anyone looking to gain exposure to the nascent field can do so through some mainstream and regulated brokers.
eToro currently offers support to over 120 crypto assets.
eToro Currencies
Some of the notable cryptocurrencies you can trade include:
Bitcoin (BTC)
Ethereum (ETH)
Bitcoin Cash (BCH)
Ripple Dash (DASH)
Litecoin (LTC)
Ethereum Classic (ETC)
Cardano (ADA)
Iota (IOTA)
Stellar (XLM)
Zcash (ZEC)
EOS (EOS)
Webull Currencies
Webull, on the other hand, supports a small pool of cryptocurrencies which includes:
Bitcoin (BTC)
Ethereum (ETH)
Bitcoin Cash (BCH)
Litecoin (LTC)
Dogecoin (DOGE)
Zcash (ZEC)
Stella Lumens (XLM)
Ethereum Classic (ETC)
Cardano (ADA)
Dash (DASH).
Comparing Purchasing Methods
eToro offers a robust route for trading cryptocurrencies. One can trade various cryptocurrencies paired with GBP, USD, JPY, EUR, AUD, CAD, NZD, and CNH.
However, with Webull, you can only trade cryptocurrencies against the US dollar.
Buying Crypto on eToro Vs Webull
Trading fees
Online brokers make money by charging fees on every trade placed on their platforms. The charges eat into the trader's profits; thus, it is important to keep track of these expenses for optimum returns.
Flat fee
eToro charges $10 a month as an inactivity fee for anyone who does not log into their account. The online brokerage firm also charges network fees whenever one moves their cryptocurrency holdings in or out of wallets. It also charges $5 on withdrawals.
Webull does not charge an inactivity fee, let alone commission fees.
Deposit and withdrawal fee
While neither broker charges a fee on deposits, withdrawals do incur charges. For instance, eToro charges $5 on withdrawals, while Webull can charge up to $8 per transaction deposit via domestic wire transfer.
Broker trading fee
Webull does not charge any commissions on trades. Instead, the company makes money from interest in free credit balances. It also makes money by charging margin interest which ranges between 3.99% and 6.99%.
eToro, on the other hand, makes a good chunk of its money from spreads on every trade placed on its platform. The broker charges a flat fee for every trade placed while trading on leverage. However, while trading stocks of cryptocurrencies without leverage, you will not incur any cost.
Payment methods
eToro and Webull offer a wide pool of options for deposits and withdrawals. eToro provides support for credit card deposits as well as bank transfers. It also supports electronic payments from PayPal to Neteller and Skrill.
Webull, on its part, supports bank transfers and credit/debit cards for deposits. The broker does not charge any fees on deposits and withdrawals. It also does not have any monthly subscription or inactivity fee.
Comparing the User Interface of Both Platforms
A trading platform on offer can make a big difference when trading various financial instruments. Luckily both eToro and Webull have sought to address the needs of different classes of traders with unique trading platforms.
eToro is a user-friendly platform that is easy to navigate. It has also integrated copy trading as well social trading, innovative tools that allows traders to see what other traders are doing and copy their trades. The idea is to try and follow profitable traders and then copy these more experienced traders to your benefit. This does come with a risk warning however.
Webull offers mobile and PC trading tools that are user-friendly perfect for both novices and experienced traders. Its platform also comes with powerful analysis tools.
eToro ease of use

Source: eToro.com
eToro comes with an uncluttered user interface that features tabs for easy navigation. Its platform is also curated to set up portfolio views and news and set up a watchlist. In addition, you can access the copy trading feature just below the market tab.
Webull ease of use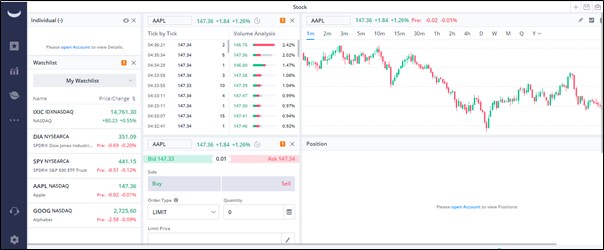 Source: Webull.com
The Webull app recently underwent a major makeover resulting in an app that is seamless with a streamlined bottom menu that is easy to navigate. Setting up trades on the app is easy and quick. A simple tap on any stock brings the entire asset page featuring the current price, price change and technical chart.
Trading Features
Webull trading platform was designed with an eye on technical analysts. The trading platform comes with a robust pool of technical analysis tools and indicators. It also offers in-depth technical analysis charts ideal for studying and analysing price patterns.
eToro, on the other hand, stands out on its social trading, copy trading and CopyPortfolio. The two allow people to copy trades of other investors and implement them in their portfolios.
eToro vs. Webull: Liquidity and Volume
Liquidity is an important aspect when trading as it details the amount of assets available for trading. On the other hand, volume details the actual amount of an asset being bought and sold. The higher the amount of liquidity and volume on the platform, the easier it is to open and close positions at preferred price points. Additionally, tighter spreads are usually on offer, therefore, reducing the cost of trading.
eToro has about 17 million users in over 100 countries, a clear indicator of high trading volume in most of the financial instruments traded in the platform. While it has faced liquidity challenges in the past, it has also been able to resolve the problem, having become a firm favourite and attracted a strong network of traders.
Webull, on the other hand, requires underlying asset liquidity given that it supports real stock trading rather than a contract for difference. With about 11 million registered users and 750,000 actively trading, Webull boasts of adequate liquidity and volume in the most traded securities.
Webull vs eToro, Who Offers the Best Customer Support?
Both eToro and Webull have invested in customer support teams to address client needs round the clock. Webull offers phone support as well as email support. However, it does not have a live chat feature.
eToro, on the other hand, offers live chat services where one can talk with an operator in real-time. Additionally, people can reach the company via email and fax, 24 hours, five days a week.
eToro vs. Webull: Conclusion
Choosing a winner between eToro and Webull is a near-impossible task as both come with unique features tailored for different classes of investors.
eToro is a reputable and reliable broker for anyone looking to trade a wide pool of financial instruments. It is primarily a CFD and forex broker enabling the trading of stocks, ETFs, commodities, and cryptocurrencies using CFDs. It also comes with unique features such as copy trading.
While a newcomer in the brokerage business, Webull appeals more to new and casual investors as it offers a great mobile experience backed by a simplified desktop trading experience. However, it is only suited for trading stocks options, cryptocurrencies, and ETFs. It ranks highly in terms of costs, given that it comes with no account minimum and free trades on stock ETFs.
Most Popular
Min. Deposit
$10
Promotion
Accepts customers from the USA
Deposit $100 and get a $10 bonus!* Build a diversified portfolio with crypto, stocks, and ETFs — all in one place.
Trade on the world's leading social trading and investing platform
Description:
eToro offers a wide range of cryptos, such as Bitcoin, XRP and others, alongside crypto/fiat and crypto/crypto pairs. eToro users can connect with, learn from, and copy or get copied by other users.
Payment Methods
Bank Transfer, Wire Transfer
Full regulations list:
CySEC, FCA
Frequently Asked Questions
Both eToro and Webull offer cryptocurrency trading capabilities and can be considered cryptocurrency trading platforms. However, eToro stands out to anyone looking to invest in a wide pool of virtual currencies.

Webull is regulated to offer investment services in the US by the US Securities and Exchange Commission. eToro, on the other hand, only enables crypto trading in the US. You'll find that there are different trading features available depending on where you are located in the world.

Spreads offered tend to vary depending on various factors, key among them being the time of day and financial instrument being traded. eToro offers the smallest spreads; as low as 0.75% for Bitcoin while Webull offers spreads of 1% of the purchase price.

Webull is regulated to offer investment services and products in the US while eToro offers multiple investment products internationally, but it is only approved to offer cryptocurrencies in the US.

For more platforms compared side by side, check out some of our other comparison pages: