Ripple Price Index - Real Time Price Graph
Ripple (XRP)
...
Ranked eigth among all cryptocurrencies, in terms of market cap at the time of writing, Ripple (XRP) is essentially run through a privately-owned US Fintech company (Ripple Labs) that offers a robust global payment solution through RippleNet (Ripple Network), its patented payment network. 
RippleNet is a Real-Time Gross Settlement (RTGS) system that enables instant monetary transfers across the world. RippleNet facilitates almost instant direct conversions/transfers, as compared to around 48 hours usually taken by the conventional remittance market. Ripple's purpose is to offer an inexpensive, fast, and more scalable alternative to traditional platforms like SWIFT and other digital assets. 
A Brief History on the Price of Ripple
Let's discuss some of the notable external events that have affected Ripple's price since its launch. We'll also take a look at its historical timeline to better understand its evolution over the years.
Key News for Ripple
Even though Ripple has been around since 2012, its price didn't see much appreciation up until mid-2017 when it was trading at around $0.30. XRP registered a remarkable rally in January, 2018, with its price touching an all-time high of $3.40 on January 7, 2018. This was a few months after Ripple had signed-up more than 100 financial institutions, including payment providers and banks, that started actively using Ripple's payment network.
However, its new-found fame didn't last as long, and it couldn't emulate the sustained success achieved by a few of its counterparts like Bitcoin and Ethereum. XRP's price gradually receded to below $1 by March 2018 and stayed there up until April 2021, when it crossed the $1 mark after a long time.
Please note, even though Ripple is conceptually a lot different from Bitcoin, its price movements often replicate the changes witnessed in the BTC price market.
XRP hit lows of around $0.17 after it was sued by the Securities and Exchange Commission (SEC) of the United States on December 22, 2020, on charges of having raised more than $1.3 billion via an unregistered digital asset securities offering. That case is still subjudice and the crypto community is waiting for an outcome in favour of Ripple.
The next notable rally of XRP came after Feb 8, 2021 when Tesla announced a Bitcoin investment to the tune of $1.5 billion and the possible acceptance of BTC as payment for Tesla cars. Buoyed up by fresh momentum, XRP breached the $1 level on April 6, 2021 round about the same time when Bitcoin was rallying towards its all-time high of $69,000 on November 2021. XRP too touched its 52-week high of $1.96 a few months prior.
That price boost didn't last very long and XRP along with BTC came crashing after Elon Musk's fallout with the 'Digital Gold', per an announcement made on May 12, 2021. The next big blow came a week later in the form of a cryptocurrency crackdown in China on May 19 that caused a major bloodbath in the crypto market, pushing XRP down to almost a low of $0.50 by June 22, 2021.
Ripple Timeline
2 June 2012
Ripple (XRP) was launched with the creation of 100 billion XRP, which remains its total maximum supply till date. Ripple community underwent a gradual expansion, with the establishment of the XRPTalk forum. Ripple price - $0.005.
26 September 2013
OpenCoin was officially rebranded as Ripple Labs. Ripple price - $0.014.
5 May 2014
Fidor Bank AG became the first ever institution to start using the Ripple payment network. Ripple price - $0.0066.
6 May 2015
Ripple Labs raised a total of $28 million funding from Seagate, CME Group, IDG Capital Partners and others. Ripple price - $0.0075.
6 October 2015
Ripple Labs' Series A funding touched an impressive $32 million mark, with the likes of Santander also coming on board. In another significant development on this date, 'Ripple Labs' dropped 'Labs' from their name, rebranding themself as just 'Ripple'. Ripple price - $0.0054.
28 January 2016
Ripple struck a significant multinational deal with SBI Holdings, leading to the creation of SBI Ripple Asia, giving it a major platform to make its presence felt in the region. Ripple price - $0.0052.
1 November 2016
SBI Ripple Asia surpassed lofty expectations and expanded to an impressive 42 member banks. Ripple price - $0.0082.
8 September 2017
R3 and Ripple got engaged in a serious legal battle related to a year-old Option agreement as per which Ripple had agreed to sell 5 billion XRP to R3 at a price of $0.0085. However, as XRP was trading well over $0.20 by that time, it was quickly contested by Ripple. Ripple price - $0.21 .
10 October 2017
Ripple reached a significant milestone. Its network expands to more than 100 institutions. Ripple price - $0.026.
21 December 2017
XRP became available for trading at more than 50 reputed cryptocurrency exchange platforms. Ripple price - $1.11.
7 January 2018
Ripple's market value touched an all-time high of $3.40. Ripple price - $3.40.
19 September 2018
Ripple made the significant announcement that its platform was live across six continents, in 40 countries. Ripple price - $0.32.
17 June 2019
Ripple secured a crucial $50 million stake in MoneyGram. Ripple price - $0.44.
6 November 2019
Ripple crossed a significant milestone by surpassing 300 clients across the world. It also registered a 10x year-on-year growth in its online transactions. Ripple price: $0.30.
21 April 2020
Ripple filed a legal suit against YouTube over the latter's failure to act and stop a crypto scam in time. Ripple price - $0.18.
22 December 2020
The Securities and Exchange Commission (SEC) of the United States filed a lawsuit targeting Ripple, its Chairman as well as CEO for illegal sales of securities amounting to $1.3 billion. Ripple price - $0.45.
22 February 2021
MoneyGram suspended their relationship with Ripple, as a direct result of the lawsuit filed against the latter, by the SEC. Ripple price - $0.57.
14 April 2021
Ripple's market price touched a significant high of $1.96 after a long time. This happened on the same day as Bitcoin recorded its all-time high.
19 May 2021
Ripple along with the rest of the crypto market succumbed to a crash resulting from a crypto crackdown in China. Ripple price came down from $1.60 on May 18 to under $1 by May 22 2021. Ripple price - $1.09.
1 June 2021
Ripple scored a noteworthy legal win over the SEC, as the latter was stopped by the courts to access XRP's legal records. Ripple price - $1.01.
Compare Ripple with Fiat Currencies, Commodities and Crypto
Besides gaining tremendous popularity as a quick and cost-effective medium to process cross-border payments, Ripple has also proven its investment potential for both short and long-term investors, over the years. Keeping this in mind, XRP is often pitted against other tradable assets such as commodities, fiat currencies and other cryptocurrencies. Let's look at a few such comparisons below.
Compare Ripple with US Dollar
The US dollar is widely perceived as a conventional store of value, mostly because of its reserve currency status world-over. Therefore, USD performed far better than many other fiat currencies during the Covid 19 crisis in 2020. It largely maintained its value, and often appreciated vis-à-vis other currencies.
Ripple, on the other hand, kept hovering over the $0.25 price point for most part of 2020, up until the initial phases of a crucial rally that began to take shape around November 2020. It set a new 52-week high in April 2021, buoyed by the overall positive sentiment in the crypto market.
Compare Ripple with Gold
Gold, like the US dollar, is a widely popular safe-haven for value storage. People have often turned to yellow metal to hedge against inflation, and particularly during the times of economic crisis. Gold usually performs better when bonds, equities and other similar investments are in decline, which was actually the case during the Covid 19 pandemic. It was trading at an impressive $2,067 per troy ounce level in August 2020 but had reached $1,814 per troy ounce at the time of writing.
Ripple too maintained its stability for the majority of 2020 and started witnessing a notable upward trend towards the end of the year. Its price point at the time of writing was almost 300% higher than its average price for most part of 2020.
Compare Ripple with Ethereum
Even though both Ripple and Ethereum are two very different cryptocurrencies, with completely different fundamentals and market valuations, they're both similar in how their prices often mirror the movements witnessed in the Bitcoin market. Both Ethereum and Ripple rallied in 2021 to accomplish significant highs around the same time that Bitcoin registered its all-time high in November of the same year.
Ripple Future Price Predictions
As shared earlier, SEC's lawsuit against Ripple and its executives didn't deter the coin from registering noteworthy highs in April 2021. Even though XRP has pulled back since then and was trading in the vicinity of $0.73 at the time of writing, that price point is also considerably higher than where XRP stood just before the SEC development in December 2020 (which was around $0.51). Let's understand where it may be headed for the remaining part of 2021, and thereafter.
Ripple Price Predictions for 2022
2021 has proven to be one of the most volatile years for the crypto market. Ripple has exhibited the capacity to nearly triple in value, then lost a significant amount of it, accomplishing all this in swift short bursts of unidirectional movements. Hence, the XRP/USD market continues to be an excellent playground for aggressive speculators.
As per one analyst, XRP is expected to witness a gradual surge in the remaining part of the year and will comfortably cross the $1 mark by December. Another analyst seemingly concurs, and expects XRP to chart an upward path, closing in on $1 by the year-end.
If we look at the XRP/USD daily price chart below, it's pretty clear that the coin is slowly making its way up towards the $0.80 mark. The price has been consistently higher than the 50 SMA figure for a good number of days. MACD, having crossed the signal line on July 21 and staying continuously above it, and RSI of around 59, both show a bullish sentiment. All that XRP needs is regular inflow of positive news from different quarters, to help it maintain its push towards the $0.80 point and then possibly $1 by the year end. It won't be wrong to state that breaching $1 price point is definitely on the cards!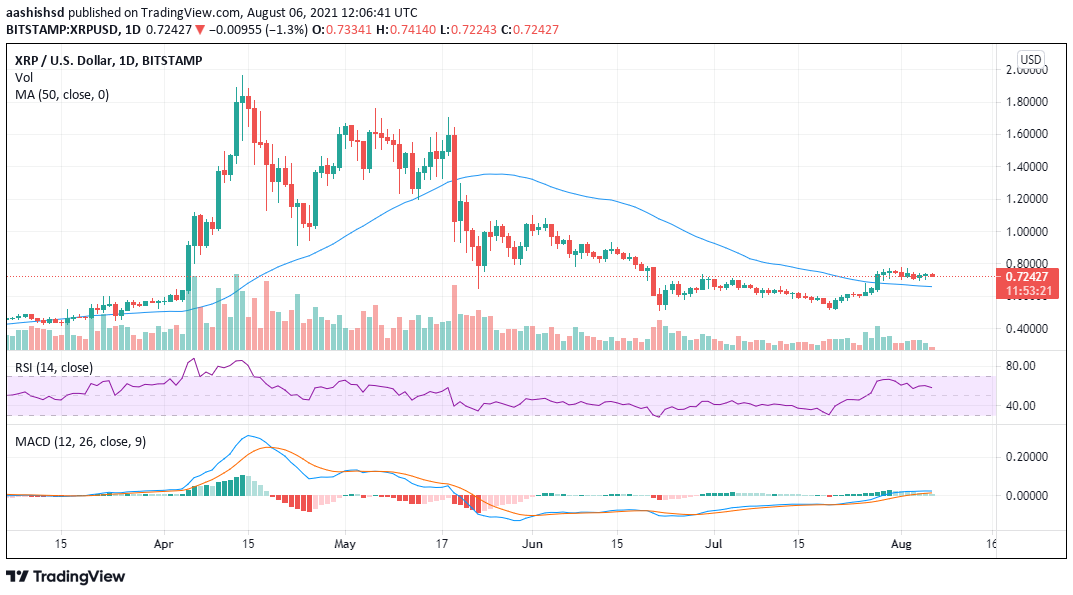 XRP/USD Daily Price Chart. Source: TradingView


Ripple Price Predictions for 2022
There are various factors that will determine Ripple's price in 2022. The most important is how the SEC lawsuit progresses, and whether it goes in favour of Ripple or not. The 'Fact Discovery' and 'Expert Discovery' deadlines in that case have been extended to August 30 2021 and October 15 2021 respectively. Some of the well-known blockchain lawyers who have been following the case closely, believe that a settlement in 2021 is unlikely. It's highly possible that the case will continue into 2022.
Ripple is also planning to go public, as soon as the SEC suit is resolved. This has been confirmed by Brad Garlinghouse, the CEO of the company. That development too is expected to have a major positive impact on its price in 2022.
As per one site, Ripple would be trading at around the $1.40 mark for most part of the year, and will potentially make a determined push for $2 by December 2022. Another site, on the other hand, has different ideas and expects it to close in on $1.40 only by the year-end, and hover over $1 for the better part of 2022.
Beyond 2022 for Ripple
It will be quite difficult to make a reasonable assessment of Ripple price that far ahead into the future. Unless the SEC lawsuit leads to some serious repercussions for Ripple, the company and coin definitely seem to have a bright future going forward. All experts are currently bullish on XRP, and expect it to be trading well above $2 by 2025. That being said, various other factors like Ripple's future acquisitions, adoption, regulatory measures, partnerships and privacy concerns will also determine its value in the years leading up to and beyond 2022.
For more detailed predictions, read our Ripple price prediction guide here.
Ripple Price Conclusion
Ripple has proven its ability to disrupt multiple industries time and again in the past. It has earned the support of regulators and is managed by an efficient team of seasoned experts who are working tirelessly to push up its adoption rate across the globe. Besides its use cases, XRP's fundamentals are solid enough to attract the interest of short and long term investors too. It is a good currency for processing cross-border transfers and is preferred by the international remittance market.
Frequently Asked Questions
At the time of writing, over 300 financial institutions in more than 50 countries were using Ripple.

While Bitcoin serves as a decentralised digital currency that can be mined, traded, and used for buying/selling of goods and services; Ripple primarily serves as a payment network for facilitating quick and cheap cross-border transactions.

The all-time high price of Ripple was $3.40 on 7 January 2018, while the all-time low was $0.00268621, recorded on 22 May 2014.

At the time of writing, there were a total of 46,363,275,151 XRP in circulation, out of a total maximum supply of 1 billion coins.

Ripple's first version was created by Ryan Fugger in 2004, who then handed it to Chris Larsen and Jed McCaleb for further work in 2012. Both of them co-founded OpenCoin, which was later rebranded as Ripple in 2016. Chris Larsen serves as Chairman of Ripple at the time of writing.

There are multiple factors that drive Ripple's price including media coverage, regulatory measures, crypto market sentiment, demand and supply, and currently the updates related to its ongoing lawsuit against SEC.

Some of the main competitors of Ripple include Stellar (XLM) cryptocurrency, Visa, and SWIFT.

Yes. You can easily trade Ripple via contracts for difference (CFDs) by signing up with and using any of the recommended online brokerage platforms listed earlier in this article.