Crypto savings accounts are a great way to earn interest on your crypto without doing anything in return. We've shortlisted and reviewed the best crypto savings accounts on the market, so keep reading to find out more and start growing your crypto holdings.
Our Top Picks for the Best Crypto Savings Account
The Top 5 Crypto Savings Accounts Reviewed
Here is some more information about the best crypto savings accounts available.
1. Nexo - Best Overall
We believe Nexo is the best place to turn your crypto into more crypto. You can earn up to 17% annual interest on dozens of the most popular cryptocurrencies and stablecoins with zero fees and daily payouts.
Nexo's flexible earnings mean you can maximise your yield and trade while you earn, and your assets are covered by top-tier insurance. The platform also provides services for borrowing, swapping, and spending crypto.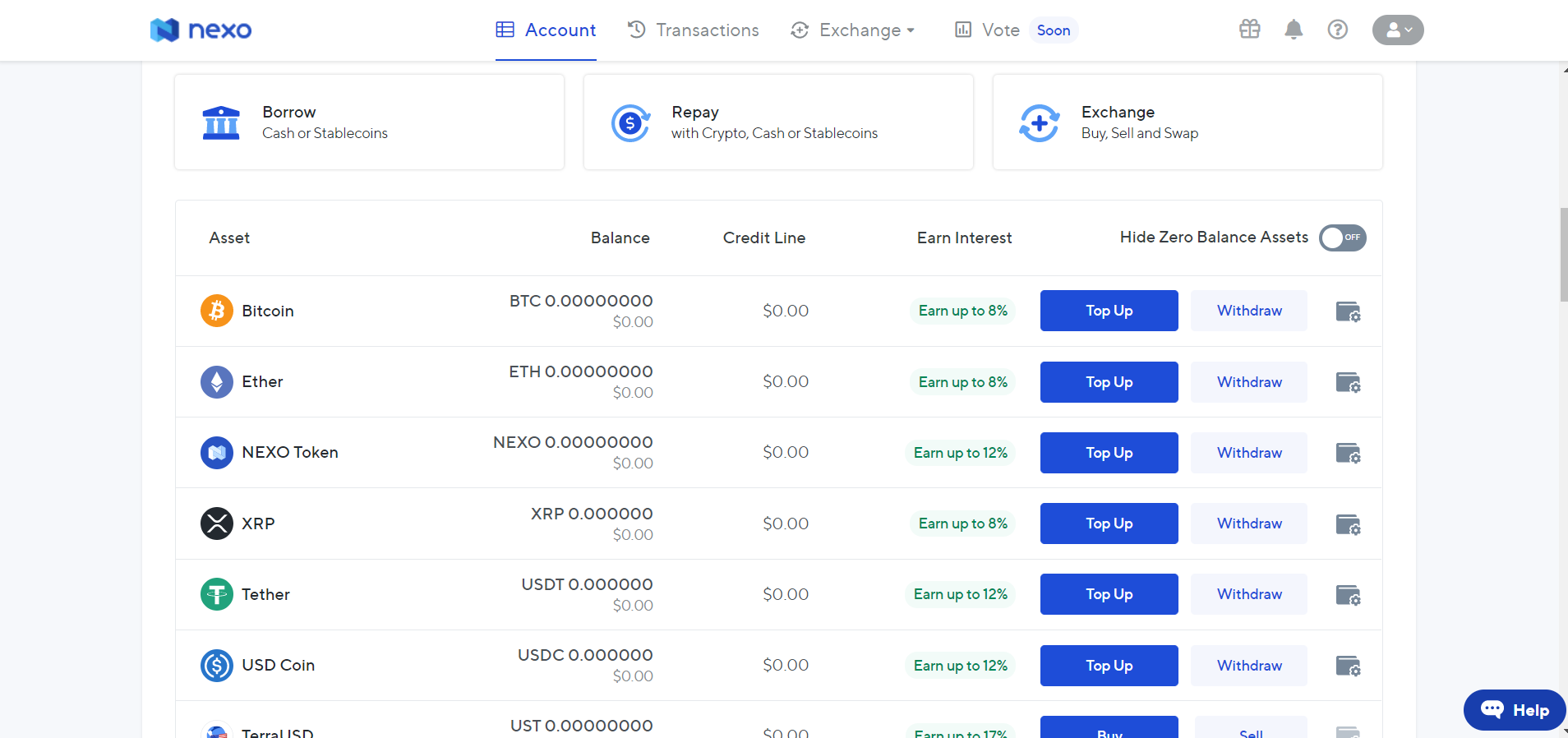 Pros
Up to 17% annual interest on 34 digital assets

Daily payouts

Compound interest

Zero fees

Flexible earnings

Audited and insured

Rated Excellent on Trustpilot

Available in 200+ jurisdictions

Mobile app

24/7 customer support
Cons
Limited number of cryptocurrencies

Lack of educational materials
2. BlockFi - Best for Beginners
If your crypto is still sitting idle in a wallet, BlockFi is a great place to start earning interest. It only takes a few minutes to set up an account and transfer some fiat or crypto. Then you can start earning up to 11% APY and watch your interest accrue through the platform's clear interface.
Users have the flexibility to choose which cryptocurrency to be paid in and BlockFi even simplifies tax reporting. The company is backed by some of the biggest names in crypto and uses the latest security measures. You can also store, trade, and borrow crypto with BlockFi.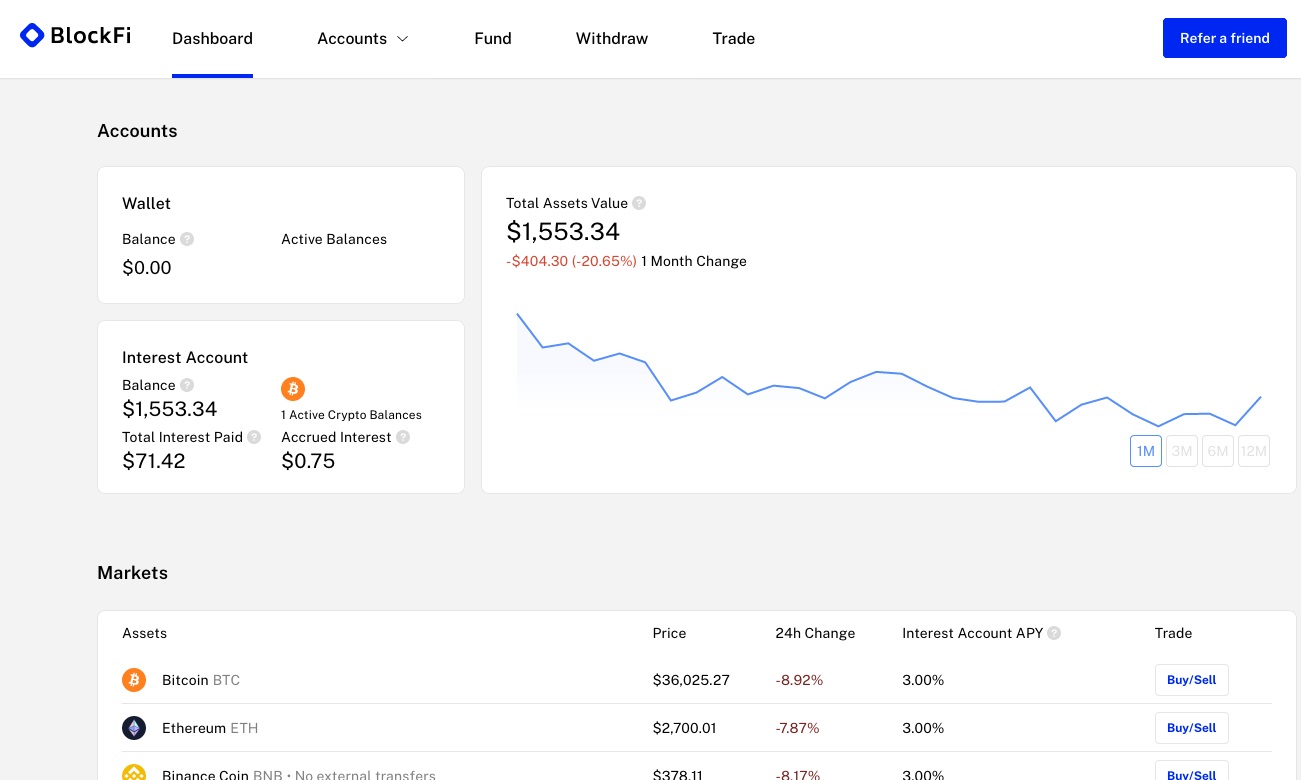 Pros
Up to 11% APY on 37 cryptocurrencies

Quick and easy set-up

Clear interface

No hidden fees or minimum balances

Full transparency and control over assets

Flexibility in payment currency

Strong security

Simplified tax reporting

Mobile app
Cons
Interest only compounded and paid out monthly

Limited number of coins

High withdrawal fees for certain coins
3. Gemini - Best for Security
Gemini Earn lets you earn up to 8.05% APY on 46 of the most popular cryptocurrencies. It's one of the safest places to earn interest as it stores most crypto in offline cold storage and is insured against certain types of loss.
Gemini is regulated by NYSFDS and requires 2-factor authentication. The interest compounds daily and you can redeem your assets at any time—with no minimums or hidden fees. Gemini also provides an exchange for trading.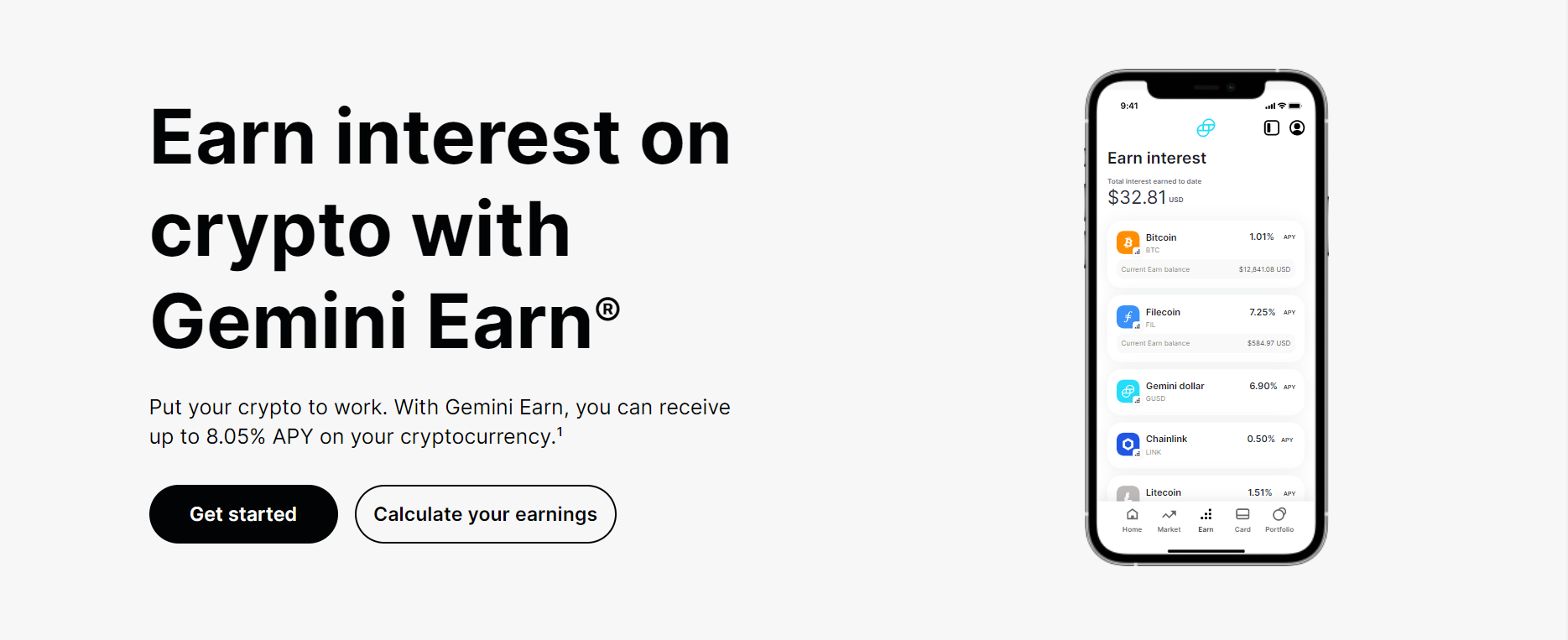 Pros
Up to 8.05% APY on 46 cryptocurrencies

Interest compounds and is paid out daily

Redeem at any time

No minimums

No transfer or withdrawal fees

NYSDFS regulated

Industry-best security

Available in every US state

Mobile app
Cons
Only email customer support available
4. Celsius - Best for Small Budgets
If you want to start small, Celsius is the place to go. You can transfer as little as $1 to Celsius and best of all—there are no withdrawal fees, transfer fees, transaction fees, early termination fees, or origination fees.
You can earn up to 17% APY on your crypto and withdraw it at any time. Unlock higher weekly interest payments by earning in the CEL token. You can also buy crypto, use it as collateral to take out loans, and send it to other users, all within the app.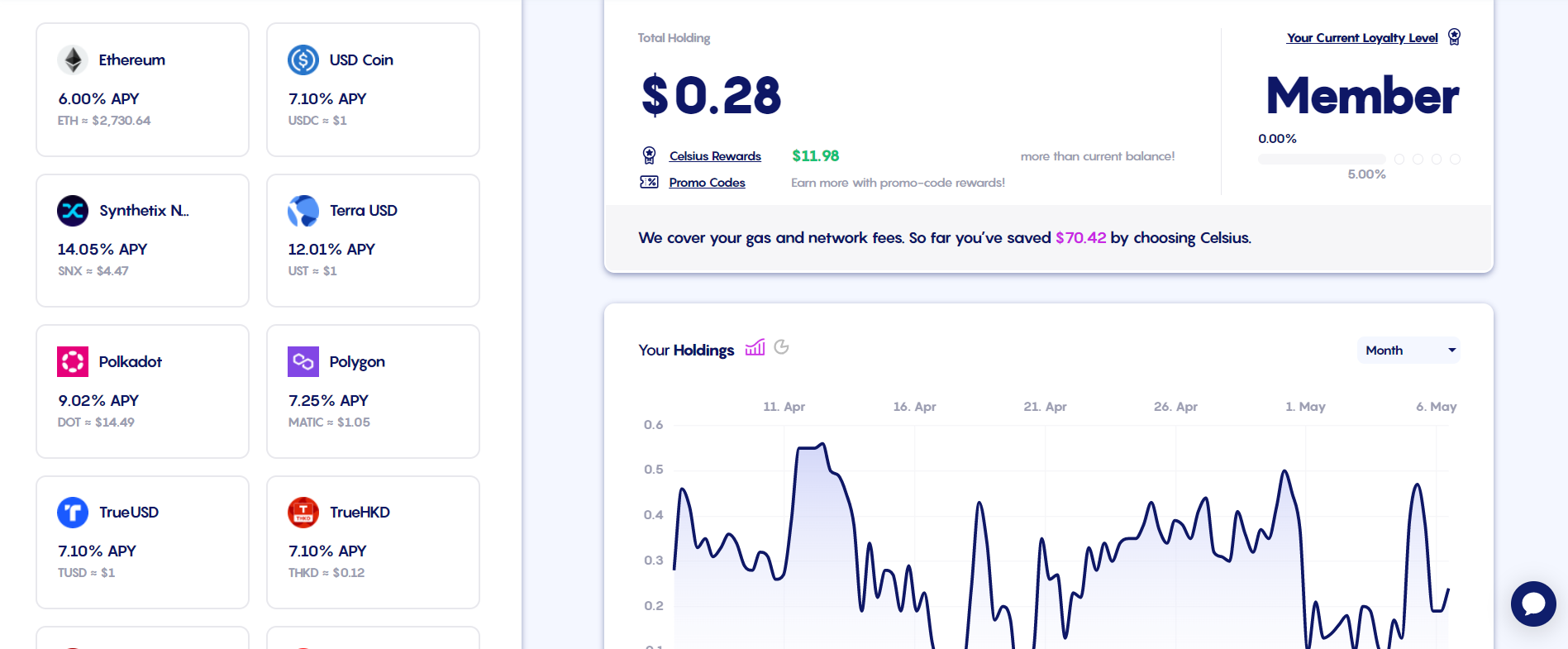 Pros
Up to 17% APY on 47 cryptocurrencies

Rewards paid weekly

No fees for Celsius services

No minimum balance

Easy to use

Company transparency

24/7 customer service

Mobile app
Cons
No access to CEL token benefits for US users

No built-in exchange
5. Binance - Best for Traders
Binance is already well known as a top destination for trading a vast range of cryptocurrencies with advanced tools and strategies. But it also provides savings accounts where users can earn interest on a wide variety of coins at the click of a button.
The flexible savings accounts are the perfect place for regular traders to store and accumulate crypto that they might need to redeem at any time. Longer-term holders can access higher interest rates for some coins with the fixed-term locked savings accounts.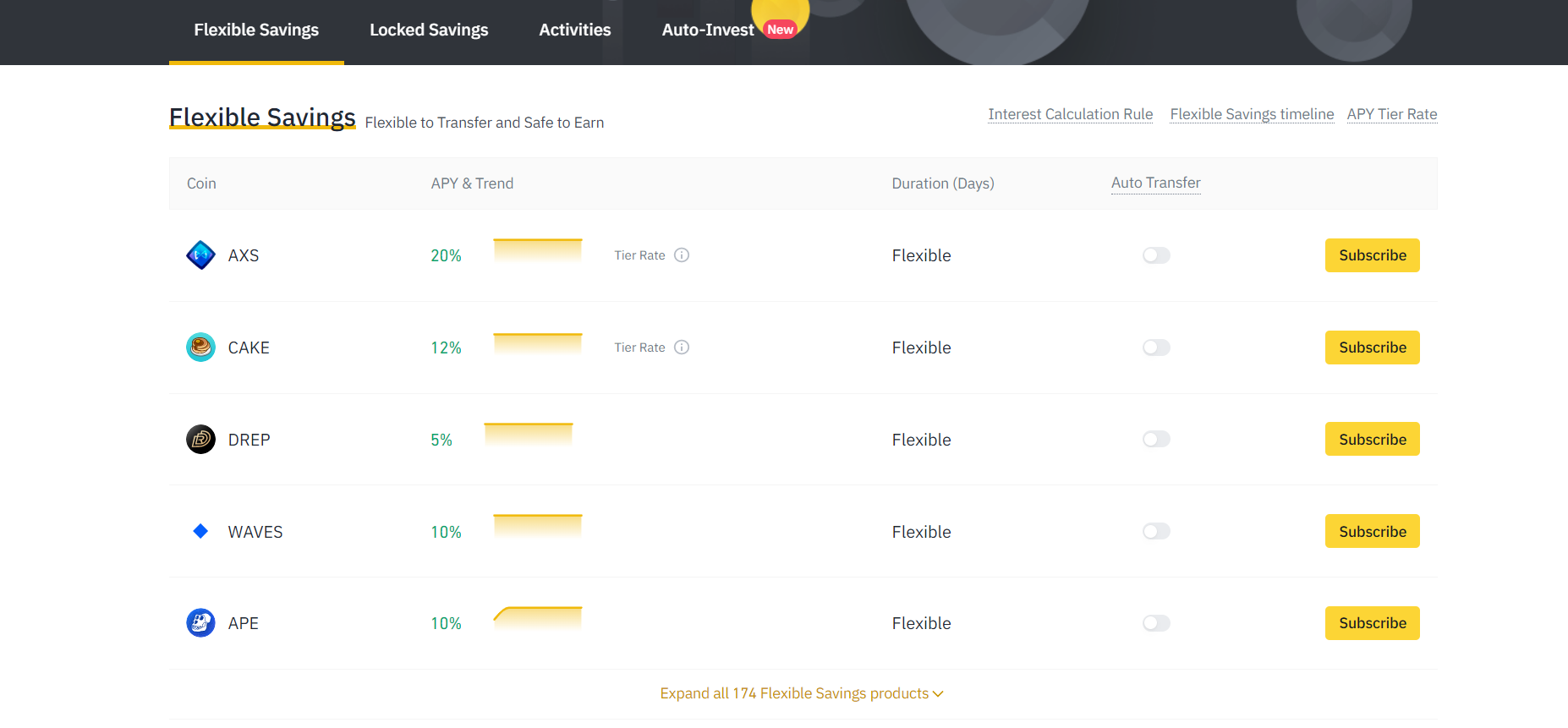 Pros
Up to 20% APY on 174 cryptocurrencies

Redeem Flexible Savings accounts at any time

Locked Savings accounts with higher interest

Switch on auto transfer for compound interest

Interest paid daily

Auto-Invest Plan to grow your holdings passively

24/7 chat support

Mobile app
Cons
A bit technical for beginners

Regulatory issues in some jurisdictions
What is a Crypto Savings Account?
Crypto savings accounts are a way to earn interest on your crypto holdings, paid out at regular intervals in either the same coin or a different one. Some crypto savings products require you to lock up your coins for a fixed period, while others are flexible.
Companies that offer crypto savings accounts lend your crypto to other users and institutions that must pay back their loans with interest, which is how the interest received by savings account holders is generated.
This differs from staking, where you or whoever you delegate your stake to must validate transactions on the blockchain. A growth in coin supply and/or blockchain transaction fees are used to pay staking rewards.
How to use a Crypto Savings Account
Follow this simple process to open a crypto savings account and start earning interest.
1. Choose a crypto savings account
You can consider factors such as fees and ease of navigation when deciding which platform to use for crypto savings. Reputation and security are also important for keeping your funds safe. Below is a link to our top choice of safe crypto savings platforms.
Most Popular

Min. Deposit

$0

Promotion

Nexo is the world's largest and most trusted lending institution in the digital finance industry

Available in 200+ jurisdictions

Earn daily interest on your crypto

Description:

Since 2018 Nexo has strived to bring professional financial services to the world of digital assets. Leveraging the best of the team's years of experience in FinTech along with the power of blockchain technology, Nexo empowers millions of people to harness the value behind their crypto assets, shaping a new, better financial system.
2. Create an account and make a deposit
Hit the sign-up button and fill in your details. You'll also need to complete KYC before you can get started, so have your photo ID handy. Then you can choose a payment method on the deposit page to fund your account. You can also transfer crypto to the platform.
3. Start earning interest
If you already have the coin you wish to earn interest on, simply find the relevant savings product and transfer your crypto to it. Otherwise, you will need to use the platform's buy or exchange feature first to acquire your cryptocurrency of choice.
Different Types of Crypto Savings Accounts
Fixed-term savings accounts
These are products that require you to lock up your crypto for a specified period of time and often reward you with higher interest rates for doing so. They can be beneficial if you intend to hold your crypto for a while, but be warned that you may not be able to withdraw your crypto until the term has finished, or you may lose your interest if you redeem early.
Flexible savings accounts
These savings accounts may have lower interest rates than fixed-term ones but they enable you to withdraw your funds at any time. This can be useful if you are only holding for the short term or want to have the option to sell if market conditions change.
How To Choose a Crypto Savings Account
There are lots of things to think about when deciding where to save your crypto, and which platform you choose will depend on your priorities. Here are a few things to consider.
Interest rates - You can compare platforms to see which have the higher rates and balance this against your other preferences.

Fees - It's good to know upfront about any costs you will need to pay. Check for deposit, withdrawal, transfer, and account management fees.

Security - To ensure your crypto will be safe, check whether the platform keeps it in cold storage, whether it is insured, and whether they offer additional security like 2FA.

Extra features - If you want to do more than save, make sure your platform offers the features you want, such as portfolio tracking, loans, or exchange.

User experience - How a platform feels to use is also important. You should find it easy to navigate to avoid making mistakes.

Coins available - Some platforms will offer savings accounts for more coins than others, so make sure a platform has savings products for the coins you want to save before signing up.

Customer support - Take a look at what support you can expect if you run into problems. Platforms may offer phone, email, or web chat support.

Payment options - You'll need to make sure you find a platform that accepts the payment method you want to use. Alternatively, you can buy crypto elsewhere and transfer it over.

Privacy - You will have to provide personal information and complete KYC whichever platform you use. Choose a secure and reputable platform to ensure this information won't be sold to third parties.
Final Thoughts
If you have crypto sitting idle in a wallet, crypto savings accounts are a great way to passively grow your holdings—and flexible and fixed-term options mean there is a savings product to suit every type of investor.
The platforms reviewed above represent the best available crypto savings accounts on the market, and you can click any of the links on this page to start saving today.