Start trading with Paybis
Accessible world wide meaning you can buy cryptos no matter where you are
Save on foreign exchange fees by paying in your local currency with over 47 currencies available
Lowest fees on the market so you can get more crypto while paying less
Paybis Review 2022
Paybis is probably one of the best non-custodial cryptocurrency exchanges where you can buy and sell Bitcoin and other major cryptocurrencies. The exchange has been in operation since 2014, with the last seven years seeing it develop into a highly reputable platform.
The team behind the exchange has over the years acquired licences to operate in the UK, the US, and Europe, with its user base cutting across 180 countries. The exchange is also highly ranked on Trustpilot, with millions of users happy with its security, user-friendliness, and ease of access to buying crypto with any of the 47 supported fiat currencies.
Read this review for a comprehensive look at Paybis' performance, functionality, fees and regulation with a view to answering the question: "Is Paybis safe?"
3 Steps to Sign Up to Paybis
Register: Easily create a free account by signing up with your email. Once you have set up and confirmed your password, agree on the T&Cs and sign up.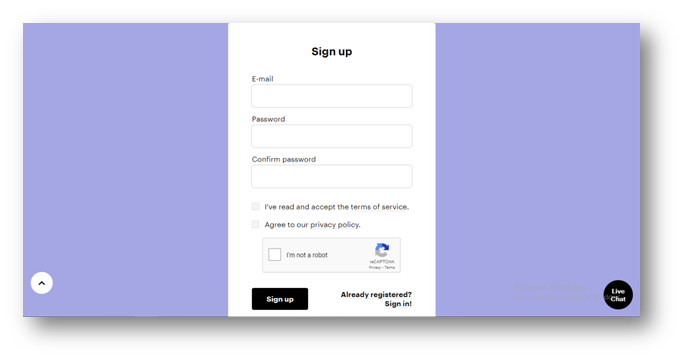 You will then receive an email to confirm your details, after which you should verify the account as prompted. The process takes 5-10 minutes.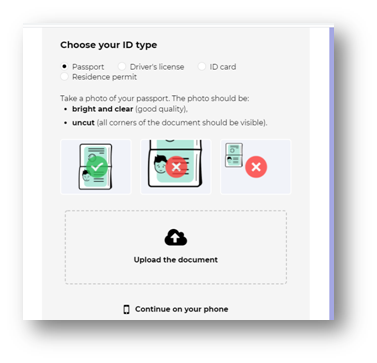 Make a Deposit: After verifying your identity, you need to fund your account before buying. Ensure you have money in your preferred deposit method - credit card, bank account, or supported electronic wallet. This way, you can easily buy your desired cryptocurrency.
Purchase your Crypto: Purchasing crypto on Paybis is easy. Go to the "Exchange" page; choose a payment method, the fiat currency to transact, and the amount of crypto, say BTC, to buy.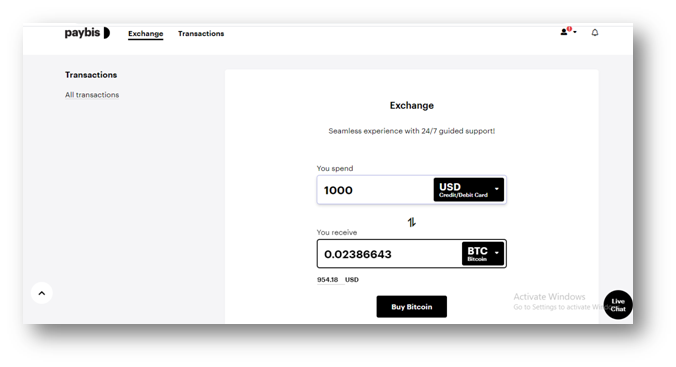 Click on "Buy," add your wallet address, and press "Continue" to complete the purchase and pay. That's it!
Paybis Pros and Cons
Pros
Regulated by the UK's Financial Conduct Authority (FCA) and also is registered by FinCEN as a Money Services Business
Reputable - 7 years in operation
Easy-to-use interface - sign-up is quick and buying crypto is seamless
Great customer support available 24/7 via live chat
Supports up to 47 fiat currencies across the globe, including USD, EUR, JPY, and GBP
Available globally across 180 countries and accessible in 9 languages
Cons
Supports only 10 cryptocurrencies at the moment (the major cryptos are available)
Supports selling of Bitcoin only
No integrated wallet option
Does not offer advanced trading features
Paybis Compared
Paybis is a great platform to buy the world's major cryptos with a credit card and other payment methods, with its regulatory compliance across the UK, US, and EU making it attractive to many users. It's also liked by new users for its transparent fee structure and robust security.
The use of a non-custodial model encourages users to use secure, private wallets, which is a best practice for security but may be inconvenient for traders.
But as noted, one of its main cons is the lack of advanced trading features available at rival exchanges. If you would thus prefer to compare Paybis to other platforms we recommend, check out the sites below.
History of Paybis
Paybis was founded in 2014 by Innokenty Isers, Konstantin Vasilenko, and Arturs Markevich, three motivated friends with a wealth of experience in online business, trading, IT, and e-sports.
The company is registered under Paybis LTD and is based in the UK, with Innokenty Isers as the CEO. The core team currently comprises seven key members and has a staff of 50+ dedicated professionals.
The exchange officially launched in 2015 and has since partnered with Simplex, an Israel-based payment processor that is providing services to some of the biggest companies in the crypto space.
In November 2020, the exchange announced a strategic partnership with FinCen-registered Money Service Business Zero Hash. The partnership with the fintech company allowed Paybis to offer its services across 48 US states and is looking to expand even further.
Paybis is unique in the sense that it is a self-funded initiative. Unlike most other cryptocurrency exchanges, its launch did not involve a token sale or external funding.
Paybis Regulation and Security
One of the many factors to consider before choosing a cryptocurrency exchange or broker platform is its regulatory and security status.
It is, therefore, worth noting that Paybis is a legal business registered and regulated by the Financial Conduct Authority under (FCA), UK's tier-1 regulatory body. It operates under the business name Paybis Limited and the registration reference number 928013, and the exchange maintains a physical address at 1 West Regent Street in the city of Glasgow.
As noted earlier, the exchange is also registered with Financial Crimes Enforcement Network (FinCEN), which licenses money services businesses in the US. Paybis operates in the country under FinCEN registration number 31000175037491, with approval to offer its services in 48 states.
Apart from that, the exchange is licensed as a fiat/crypto business in Estonia. It also operates in 180+ countries worldwide, a factor that adds to its credibility and growing reputation as a trusted platform.
Is Paybis Safe?
Paybis offers a safe and regulated platform for anyone to buy Bitcoin and nine other cryptocurrencies. In the time since its launch, the exchange has maintained compliance with requirements in the UK, the EU, and the US, providing its users with safe services.
The team takes compliance seriously, with all users required to go through KYC verification in all of the 180 countries it operates. Other than the verification process, there are also checks to ensure AML compliance.
Although there's no two-factor authentication (2FA), the exchange compensates for that by secure encryption of its website. It does not also store any of its users' purchased crypto, meaning that the risk of losses in case of a breach is very low.
Privacy and safety are also ensured by not sharing any user data with third parties.
The exchange has also been comprehensively reviewed across several major publications, all of which point to Paybis' regulation and oversight by tier-1 agencies as contributing to the overall safety enjoyed by users so far.
Paybis Reputation
For anyone looking to use Paybis, one of the first questions to ask is whether this platform is safe and reputable. As mentioned, this platform has been in operation for seven years now and has, since its inception, offered a safe environment for its users.
While most of this is down to its regulatory status in the UK, EU, and the USA, there are tens of thousands of reviews on Trustpilot that give the exchange a solid reputation in the market.
Growth across the globe is also a testament to the platform's reputation. The exchange currently offers its services to nearly 1 million users across 180 different countries and with over $250,000,000 in annual trading volume. These are features that continue to add to Paybis' reputation as a go-to venue for those looking to quickly buy crypto with a credit card.
Is Paybis for Me?
Paybis is accessible and available for both those new to cryptocurrency buying and seasoned pros looking to instantly buy crypto. Let's see how this suits you.
I'm a Beginner
Paybis is simple, with a straightforward registration and verification process. It's easy to use as the website features quick steps that are easy to locate. Apart from that, there is a blog and FAQ page with updated educational information that makes it super easy for new users to grasp how to go about using the platform. The interface is clearly geared towards beginners, and you'll find buying crypto a breeze.
I'm Advanced
As an advanced user, you will find Paybis great for you when it comes to instant purchases of major cryptocurrencies to your wallet or trading account. This makes it possible to leverage trading opportunities that may arise as prices fluctuate across the market.
Exchange Wallets: Features, Supported Cryptocurrencies, and Security
Paybis has no built-in wallet at the moment, which means the exchange does not store users' cryptocurrency in hot or cold wallets. If you choose to buy digital assets using this platform, the first thing to do therefore is to set up a wallet compatible with the crypto you wish to buy.
The good news for users is that this exchange supports all wallets, be it online, desktop or hardware. All you need is to have the correct wallet address whenever you want to buy crypto.
While the lack of a wallet makes Paybis unlike most other cryptocurrency exchanges, this feature in itself adds to the overall security of the platform. It also means that users have access to the private keys of their holdings.
For the security of your account, though, you should set a strong password as well as ensure you do not share your credit card information. Paybis does a great job protecting users by automatically blurring critical data during the verification process.
Supported cryptocurrencies
Paybis supports 10 of the top cryptocurrencies. These are:
Bitcoin
Ethereum
XRP
Binance Coin
Bitcoin Cash
Litecoin
Stellar
TRON
Dogecoin
Tether (USDT)
How to Transfer your Crypto Funds From/To Paybis
As noted already, you can buy BTC or other supported cryptos directly to your wallet address. Likewise, you can sell your Bitcoin through Paybis and receive a payout directly into your bank account.
To buy directly into your wallet, just input the address as required, and you will receive your cryptocurrency.
If you wish to sell BTC for cash, go to the exchange and log in to your account. There's a simple interface that allows you to input the amount of BTC to sell, with the amount of USD or EUR you will receive at your bank. Click on the sell button and proceed to complete the sale as prompted on subsequent pages. Remember that you must have completed the verification process to sell BTC.
Fees and Costs of Paybis
Fees and commissions on Paybis are very competitive, but as you are likely to find out, they vary widely depending on the payment method you use and the cryptocurrency you buy.
Fees
There are no fees charged on the first transaction - yes, Paybis will apply 0% cost on your credit card, bank transfer, or e-wallet deposit. The same applies to your first BTC sale. However, it is worth noting that this is from Paybis' end and your bank or payment processor costs and fees still apply.
In terms of subsequent transactions, Paybis fees vary.
Bank transfer: 2.99% +2 EUR/GBP/USD.
Credit/Debit card: 2.49% starting on the second transaction.
There is also a $10 local currency minimum processing fee or 4.5% for USD, EUR, and GBP. The fee can rise to 6.5% if the payment is in another currency.
Note that there are also network fees, which vary depending on what you pay to the miners to process transactions on the blockchain.
Payment Methods & Limits
You can purchase any of the supported cryptocurrencies on Paybis using USD, EUR, and GBP or any of the 47 fiat currencies. The exchange offers several payment options, including credit/debit cards, bank transfers, Neteller, and Skrill.
As mentioned above, the applicable fee for these payment methods varies. It is thus advisable that you consider any additional costs before proceeding.
Payment methods available:
Credit/Debit card
Bank transfer
Neteller
Skrill
Transaction Limitations
Paybis implements account limits on purchases depending on the payment method. The minimum amount is $50 for all payment methods except the Credit/Debit card that has the minimum at $60. As for maximum transaction amounts, paying with bank transfer allows for up to $200,000 worth of trades.
Other maximum limits apply on daily, weekly, and monthly timelines. These range from $20,000 daily and $50,000 monthly for Visa/Mastercard. Skrill and Neteller have limits of $50k weekly and $200k weekly, while bank transfer has limits of $200,000 weekly and $500,000 monthly.
In summary:
Minimum (per transaction) amount: $50
Maximum (per transaction) amount: $200,000
Paybis: Performance, Features, and Functionality
Buying cryptocurrency remains quite challenging for new users seeking to make their first purchase. This is true of some complicated platforms available in the market, but not so with Paybis.
A functional, simple, and easy-to-use interface makes this exchange stand out, with a straightforward registration process that allows users to be ready for their first buy within 5-10 minutes. Buy BTC instantly at a 0% fee on your first credit card transaction.
Purchasing Bitcoin or other cryptocurrency is seamless too, with all coins directly stored in a user's preferred wallet.
Unlike most exchanges in the market, this platform's UI is uncluttered. There are very few buttons and pages to access when making a purchase.
The reason investors increasingly prefer this exchange is that it's registered and regulated in major jurisdictions around the world. This gives users a sense of comfort when using the site.
If you want any help from the team, a live chat option is available 24/7. The customer support is great, as shown by the thousands of satisfied users who have reviewed the exchange.
Another feature that makes Paybis attractive to both beginners and pro users is the speed with which transactions take place. Also, you have a choice of popular payment options as well the ease with which one can buy crypto with fiat. This is a plus for Paybis as you don't have to buy or transfer another crypto onto the exchange to buy one of the supported altcoins.
Trading Platform
The Paybis exchange is always online, allowing anyone looking to buy crypto anytime and from anywhere it is supported. Unfortunately, it does not provide a dedicated trading platform, as do some cryptocurrency exchanges. Users can only buy and sell Bitcoin, with the other supported cryptocurrencies only available for purchase. People who want a simple online platform from where to buy digital assets find this platform as offering just that.
As of now, Paybis does not also provide a mobile app.
Educational Resources
Learning more as you navigate the crypto space is what will take you from a newbie to a seasoned veteran. Paybis offers several educational resources for you to use, including a YouTube channel with videos and tutorials on how to buy cryptocurrencies. There's also a support portal where users can search various topics like getting started, security, and joining the affiliate program. Paybis also runs an updated blog and an FAQ page that provide several insights and news related to the exchange and the broader crypto industry.
Trading options
"Simple and uncomplicated" describes this exchange, but as mentioned on multiple occasions already, you only get to buy coins directly into your wallet. You can also only sell Bitcoin from your wallet on the exchange.
In this case, if you want to trade, check our recommended platforms like Binance and eToro. You can access options and futures trading or social trading, which you can quickly do by buying any supported crypto on Paybis with fiat and transferring to another trading platform or broker.
Account Types
All users need to verify their accounts before they buy or sell cryptocurrencies on Paybis. An unverified account will access a member area where you can see the supported coins and payment options, but you need to go through verification to make the first transaction.
Account restrictions are effected in unsupported countries and some US states, which is why you need to find this out before you proceed.
Final Thoughts on Paybis
Attracting users in a crowded field such as the cryptocurrency exchange market can be tricky for some businesses. Paybis's unique selling point as a cryptocurrency platform is that it makes it unbelievably easy to buy BTC and other cryptocurrencies. Its regulatory status, reputation, and easy-to-use interface have seen it grow its active user base massively over the past seven years.
It also has a transparent fee structure, is secure, and offers all the major payment options. These features make Paybis one of the leading platforms to buy crypto, even though its services are limited to only buying (except for BTC that you can also sell for a payout in USD and EUR). Remember that you need to set up a wallet before you proceed to buy cryptocurrencies on this platform.
If you are looking to buy one of the top cryptocurrencies and gain full access by controlling the private keys, then Paybis could be the platform you want to use. It is, however, advisable to note that crypto is still a nascent industry and that cryptos can be a risky investment, no matter how secure and safe the exchange you use.
Frequently Asked Questions
Yes. Paybis is one of the oldest crypto exchanges in the world. The platform started in 2014 and is currently licensed in the UK and US among other jurisdictions. It offers a secure way to buy cryptocurrencies, for which users must undergo identity verification before they make any purchase.

No, you cannot increase your limits, as they are set depending on the payment method. However, it is possible to free up unused limits by cancelling any incomplete transactions within the day, week, or 30 days.

The fastest way to buy Bitcoin is via a credit/debit card. The process should take less than 15 minutes.

Transactions are near-instant, but it may take a few minutes for a purchase to be completed and coins to be accessible in your wallet. Normally, this would depend on the network transaction time. However, you should have coins in your wallet as soon as the transaction is processed on the blockchain.
About Benson Toti
Title: Crypto and Stocks Writer Benson is a crypto and stocks news writer for CoinJournal since 2019, having previously worked with Cryptogazzette, TechInAfrica, and ByteScout.com. Passionate about crypto and its potential to transform lives, the former educationist continues to positively impact…
Read More
Company Information
Account Information
Payment Options:
Apple Pay,
Bank Transfer,
Bitcoin,
Credit Card,
Debit Card,
neteller,
skrill