From trading accounts to staking accounts, all the way through to hardware wallets, you can buy and store Bitcoin in a number of different ways in 2022. Each type of Bitcoin (BTC) account offers a range of different features, meaning it can be tough to work out which account is best for you. 
Read on for our top picks for the best Bitcoin account and learn which one is right for you.
Our Top Picks for the Best Bitcoin Account
The Top 5 Bitcoin Accounts Reviewed
In this section, we take a closer look at each of the Bitcoin accounts listed above. Read through each review carefully to decide which platform suits your needs the best.
1. eToro - Best Beginner's Bitcoin Account
eToro offers an all-in-one Bitcoin account that allows you to store, buy, and sell Bitcoin securely and easily. eToro accepts a range of payment options including cards and PayPal, has a beginner-friendly interface, and allows you to copy the BTC trades of pros to help you learn.
eToro's built-in Bitcoin wallet offers an extra level of security with 2-factor authentication (2FA), and a dedicated help desk means that users can rest assured that their Bitcoin account is well protected.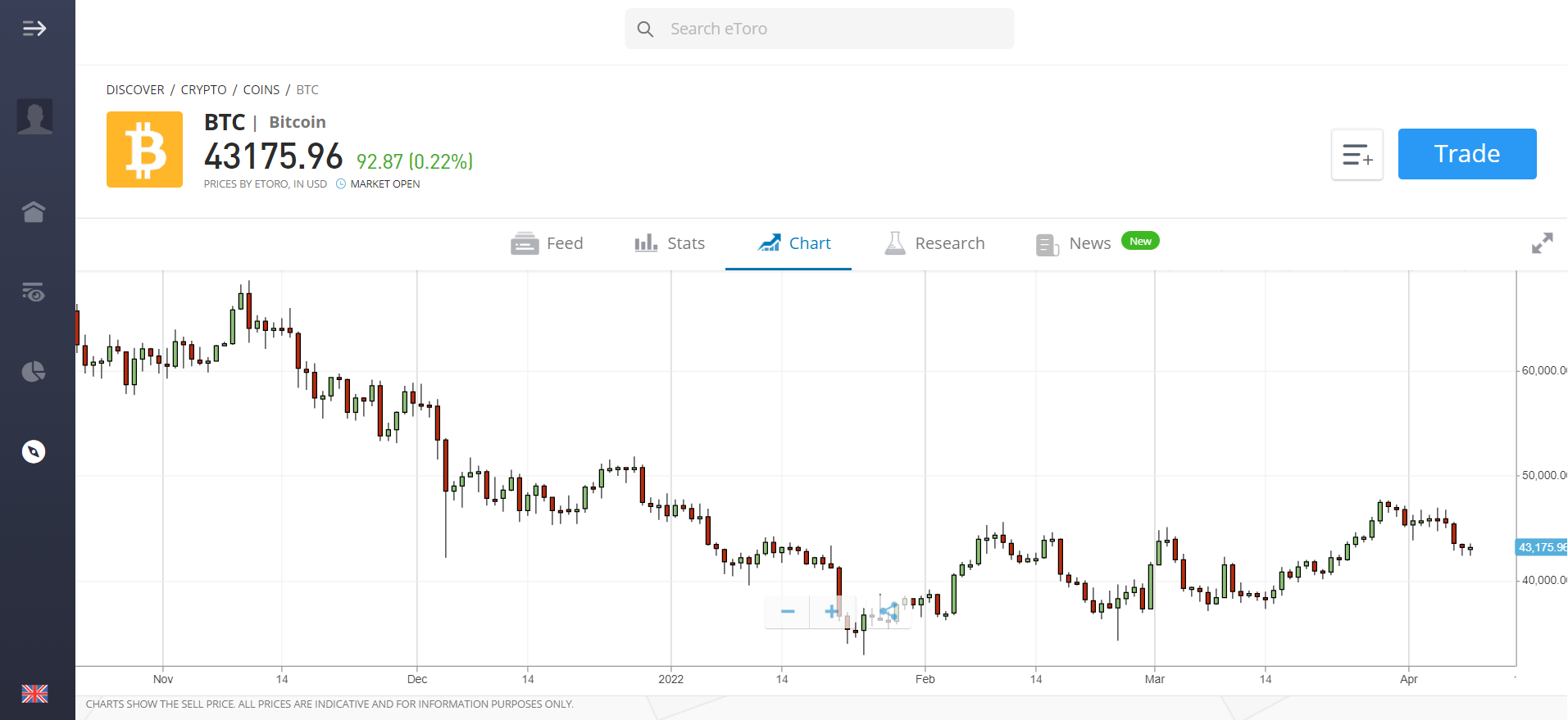 Pros
Buy Bitcoin easily with a range of payment options

Securely store your BTC in a secure wallet

Learn to invest with CopyTrader

Protect your Bitcoin account using 2FA

Trade other assets including stocks and other cryptos
Cons
2. Nexo - Best Bitcoin Staking Account
Nexo is one of our favourite Bitcoin accounts as it allows you to earn passive income on your BTC. Although it's not the easiest account for buying and selling Bitcoin, it does allow you to grow you Bitcoin stack without lifting a finger. Interest rates go as high as 6% APY. You can also borrow cash like USD, EUR, and GBP against your Bitcoin!
Simply create an account, buy Bitcoin from the account's built-in exchange, and your BTC will automatically be staked to start earning interest. You may need to buy some NEXO tokens to maximise your earnings, though, as holding these boosts your available APY.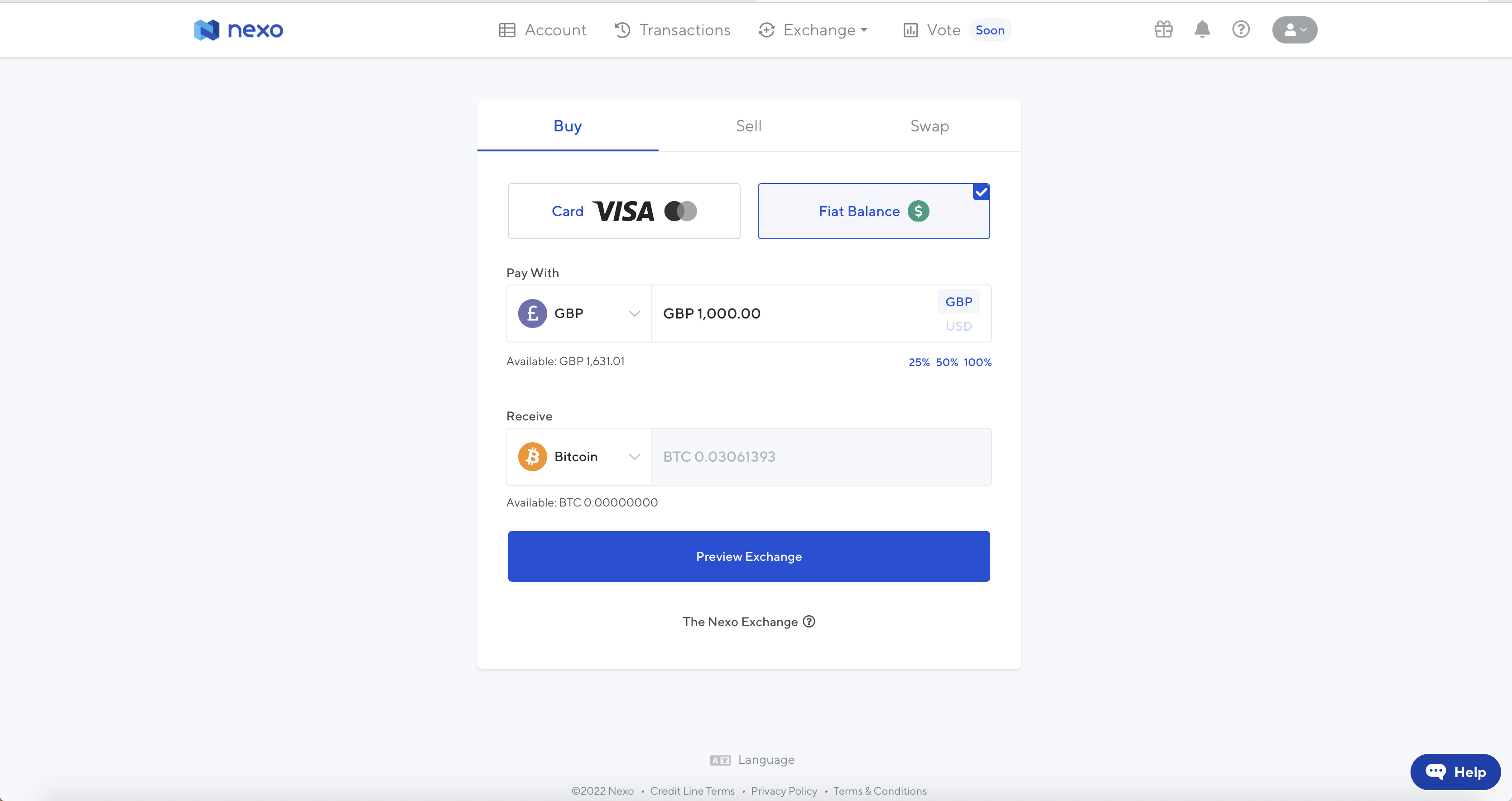 Pros
Earn interest on your Bitcoin

Buy and sell crypto directly from your account

Nexo is insured for $375 million

Available in over 200 countries

Borrow cash against your BTC
Cons
Not a dedicated trading platform

Trading fees are not the lowest available
3. Trezor - Most Secure Bitcoin Account
Trezor offers two Bitcoin accounts in the form of hardware wallets, which are Bitcoin accounts that allow you to store your Bitcoins on a physical device. This is arguably the most secure way to store your Bitcoin, making Trezor the best choice for security-conscious investors.
You can take physical custody of your BTC using either the Trezor One, or the more advanced Trezor Model T. Both offer top "cold storage" security, military-grade encryption, and other features for Bitcoin HODLers.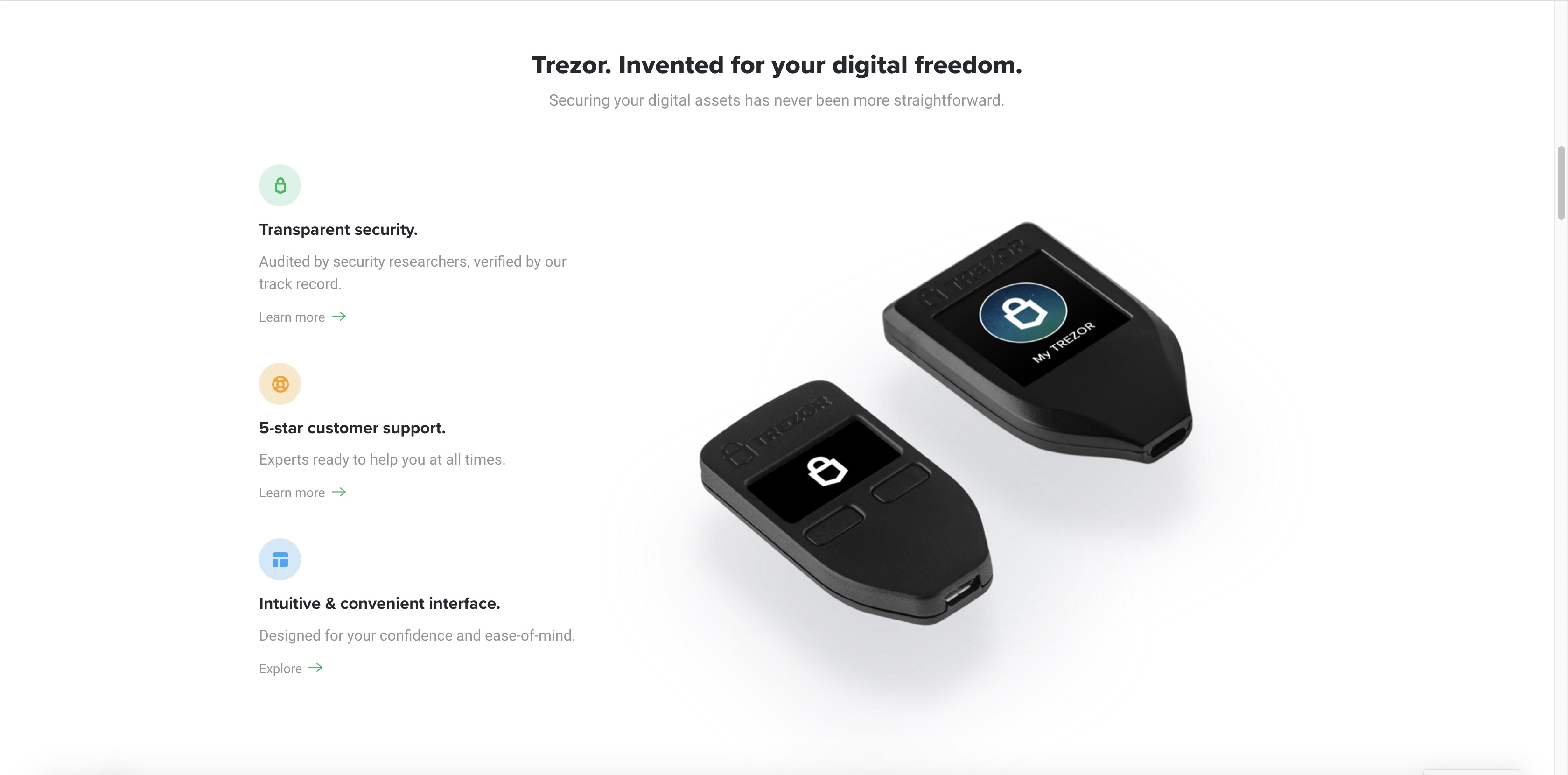 Pros
The most secure way to store your Bitcoin by far

Store other coins like ETH, USDT, SOL, and BNB

Buy and sell BTC using Trezor Suite

Extremely portable

User-friendly despite advanced features available
Cons
Security comes at a price - most other Bitcoin accounts are free, whereas Trezor devices start at around £70
4. Coinbase - Most Popular Bitcoin Account
Investors who want a name they recognise for buying, selling, and storing BTC will probably look to Coinbase, which is a publicly-traded company and even sponsored the Super Bowl in 2022. Coinbase is designed to be super beginner friendly and offers a seamless experience for new Bitcoin investors.
You can buy and sell BTC and also store it securely in the Coinbase Wallet (which has a dedicated app). There are other coins available to trade as well, allowing you to diversify your portfolio directly from your main Bitcoin account.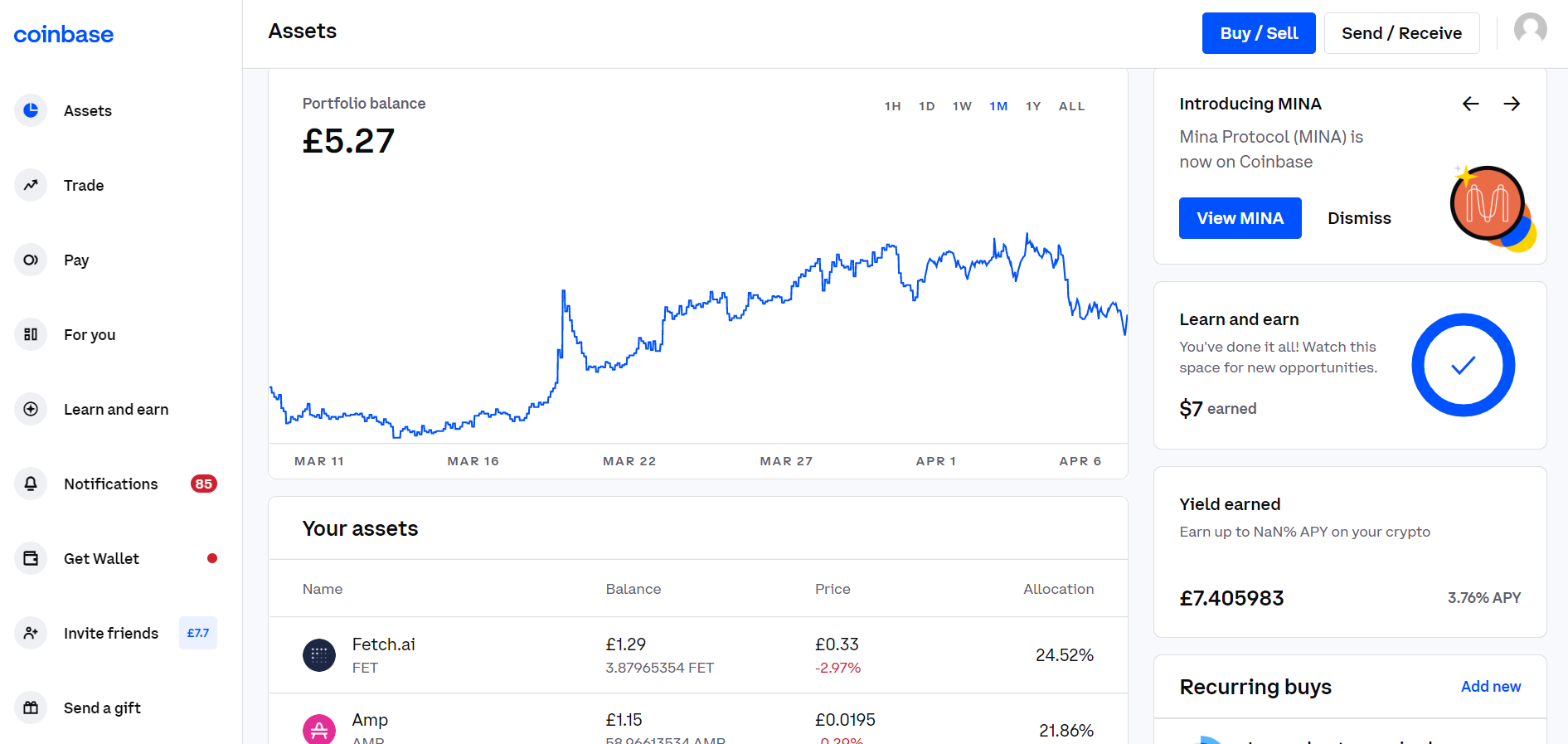 Pros
One of the biggest names in the Bitcoin space

Easy signup and intuitive interface

Various payment methods are available

Dedicated app for Coinbase Wallet to store your BTC
Cons
Fees for buying and selling Bitcoin are higher than other accounts
5. Binance - Best Bitcoin Account for Trading
With low fees, one of the best dedicated trading interfaces, and a range of other coins available to trade, Binance is a great option for people who want to buy and sell Bitcoin for profit. It also offers strong security options for storing your BTC in its built-in wallet.
While the trading interface can be a little confusing for beginners, and Binance has faced some regulatory issues in some countries, it remains a strong option due to its
Pros
The lowest fees for buying BTC

Advanced trading interface with extra tools

Extra security features such as YubiKey and 2FA

A range of payment options is available
Cons
Binance has faced regulatory issues in the UK and elsewhere

The trading interface can be intimidating for beginners

Card payments run on the expensive side
What Is A Bitcoin Account?
A Bitcoin account can refer to one of two things:
A Bitcoin wallet, which is an application that allows you safely store, send, and receive BTC (like a bank account)

An account with a trading platform that allows you to buy and sell Bitcoin using "normal" (i.e. fiat) money
There is almost always some crossover between these two functions, however. The vast majority of trading platforms include a Bitcoin wallet that allows you to store your coins, and most BTC wallets are connected to crypto exchanges so you can buy Bitcoin directly from them using fiat currency.
Being as both types of Bitcoin account largely serve the same set of purposes these days, we have included examples from both categories in this article.
How To Use A Bitcoin Account
It's easy to set up a Bitcoin account, and we'll walk you through how to set one up in this simple three-step guide.
1. Choose a Bitcoin account
Choose which Bitcoin account you want to open based on your personal requirements. See our guide above to see which one meets your needs the best, or get started with our top pick below.
Most Popular
Min. Deposit
$10
Promotion
Accepts customers from the USA
Deposit $100 and get a $10 bonus!* Build a diversified portfolio with crypto, stocks, and ETFs — all in one place.
Trade on the world's leading social trading and investing platform
Description:
eToro offers a wide range of cryptos, such as Bitcoin, XRP and others, alongside crypto/fiat and crypto/crypto pairs. eToro users can connect with, learn from, and copy or get copied by other users.
Payment Methods
Bank Transfer, Wire Transfer
Full regulations list:
CySEC, FCA
2. Create a Bitcoin account and make a deposit
Sign up for an account by entering your personal details and contact information, then submit a photo of your ID and proof of address to verify your account (this is required due to global financial regulations).
Once you've been verified, make a deposit using your preferred payment method (availability will vary between platforms).
3. Buy Bitcoin
Once your Bitcoin account is set up, you can start buying Bitcoin. Head over to the "Buy" or "Markets" section, then select either Bitcoin or BTC.
Choose a trading pair with your native currency (for example, BTC/GBP for those in the UK), enter the amount you wish to spend, and then click "Buy" to complete your order.
How To Choose A Bitcoin Account
To recap, there are several factors you should consider when choosing which Bitcoin account is right for you. We'll delve into some of these below.
Fees - different platforms have different fees for buying and selling Bitcoin, so be sure to check out the full range of fees for each platform.

Security - if you value security, consider getting a cold wallet like a Trezor. Otherwise, look out for accounts that offer 2FA.

Extra features - some platforms, like Nexo, allow you to stake your Bitcoin for passive income. Others will allow for more advanced trading,

User experience - if you are a novice trader, you will want to choose a platform with a welcoming, intuitive interface.

Coins available - for traders who want to buy and sell coins beyond Bitcoin, a range of altcoins may be desirable. Binance is the de facto altcoin exchange.

Customer support - new traders who are skeptical or nervous about investing will probably want to choose a platform with a good customer support offering.

Payment options - if you want to buy with PayPal or a cred/debit card, make sure that your chosen exchange supports this.

Privacy - make sure you sign up with an exchange that looks after your data properly. Avoid accounts that have suffered previous hacks.
Final Thoughts
In conclusion, when choosing a Bitcoin account, make sure you review your needs and choose a platform accordingly. Select a platform based on the type of account you need, as well as the individual features that you value the most.