1xBit Casino supports 52 languages
Supports 24 currencies like Bitcoin, Ethereum, Litecoin, Monero, Dogecoin
Enormous welcome bonuses of up to 7 BTC
1xBit Crypto Casino Review
1xBit is an all-inclusive platform that combines online betting, digital casino, and crypto technology to deliver a limitless gambling experience that is accessible by virtually anyone thanks to cryptocurrency as a funding option.
Many crypto casinos have seen steady growth in 2022 as cryptocurrency offers a unique and frictionless way of transacting on the web.
Online crypto casinos offer a more diverse and contemporary range of games than traditional ones, with attractive offerings that encourage players to sign up and continue to use their platforms.
In this 1xBit review, we analyse the online casino to see how it stacks up against the competition in a fast-growing market.
What is 1xBit?
1xBit is an online casino and sports betting website that leverages cryptocurrency to provide a gambling experience that is accessible to everyone.
The team behind 1xBit casino comprises professional sports and casino gamblers who are also cryptocurrency enthusiasts. They built a platform that natively supports these new currencies.
1xBit was founded in 2016 and has since grown its transaction volumes as new cryptocurrencies and games are added to the platform every year. The most recent feature is the Live Betting feature that enables you to watch a sports match or real casino dealer live and place bets in real-time.
How Does 1XBit Work?

The 1xBit interface is a web platform that acts as a hub for betting games, online casinos, and slots. It features a sportsbook that records bets on a wide array of sporting activities from popular ones like football, basketball, and volleyball to more obscure ones like trotting, floorball, and padel.
1xBit also offers live betting facilities where users can bet on a game as it is happening. This spills beyond physical tournaments into eSports where teams battle in video games. You can bet on various teams in game tournaments like CS:GO, Dota 2, and Valorant.
All the games on the platforms are browser-based. Users can access them at home and on the go.
You need to fund your account to place bets and play games. 1xBet accepts over 30 cryptos as deposit currencies. You can send the crypto directly to your account wallet or use one of the 60 connected exchanges to convert your fiat to crypto.
Pros & Cons
Pros
Incredible promotions, particularly at sign-up (100% matched up to 7 BTC)
Accepts a massive range of cryptocurrencies and stable coins
Offers both casino games and sports betting
Features provably fair games
Free and instant deposits and withdrawals
Bonus points for placed bets
Cons
Geo-blocked in some regions
Doesn't accept fiat currencies
Key Features and Offerings
1xBit offers game features that attract and retain millions of users worldwide. These features include:
Sports Betting
The extensive list of sporting activities offered at the time of writing includes Football, Gaelic Football, Poker, Australian Rules, American Football, Greyhound Racing, Chess, Basketball, Badminton, Golf, Rugby, Alpine Skiing, Baseball, Handball, Snooker, Bandy, Beach Volleyball, Horse Racing, Special Bets, Crossfit, Billiards, Greyhounds, Streetball and Athletics.
Tournaments
1xBit's sports betting offering includes an array of global and regional tournaments like the FIFA World Cup, the Premier League, Italy Serie A, and other major football leagues.
UFC
1xBit maintains a schedule of UFC matches so users can place bets either before or during matches.
eSports Betting
The 1xBit platform features popular video games like League of Legends, Fortnite, FIFA, Pes, Brawl Stars, Clash Royale, CS:GO and Dota2. Users can bet on their favourite teams during matches and tournaments for any of the above-listed games.
Casino Games
1xBit offers digital versions of traditional table games like Roulette, Poker, Baccarat and Blackjack with both classic and contemporary variants of these classic games.
However, slots are where this casino excels. The slot collection includes about 53 video slots across various categories like 3D slots, roulettes, hold and win, cascades, jackpot games, poker, and bingo.
The Casino also features a live version where you access online casino dealers that run games in real time.
Live Betting
The Live Betting feature allows you to bet on matches in progress and even watch them unfold on built-in feeds to inform your betting decisions. The Live tab connects you to live esports games and the 'Live-Multi' option allows you to pull different live games into one dashboard and bet on them simultaneously.
Crypto Deposits
1xBit is a cryptocurrency native platform that supports deposits and withdrawals in 24 cryptos. Because of the nature of cryptos, deposits and withdrawals are free and there are few limits to how much you can deposit to or withdraw from the platform.
Deposit and Withdrawal Limits
Minimum Deposit/Withdrawal: The minimum amount you can deposit or withdraw is 1.00 mBTC (Milibit) which is 0.001BTC.

Maximum Deposit/Withdrawal: None
Supported Cryptocurrencies
Cryptocurrencies accepted by the platform include
Dogecoin

NEM

Bytecoin

Digibyte

Paxos ST

BitShares

Verge

Quantum

Stratis

USDC

True USD

Tether
Promotions and Bonuses
To attract and retain players on the platform, 1xBit offers handsome bonuses. In fact, the platform has some of the most attractive bonuses in the industry with an astonishing Welcome Deposit Bonus of up to 125%.
This bonus code is available both for sports betting and online casino.
The 1xBit Welcome Bonus also matches deposits to the platform by 100% up to a whopping 7 BTC, provided you gamble up to 40x the initial deposited amount within a 30-day period.
The welcome bonus includes
1st deposit (matched 100% up to 1 BTC)

2nd deposit (matched 50% up to 1 BTC)

3rd deposit (matched 100% up to 2 BTC)

4th deposit (50% up to 3 BTC)
This bonus comes with some conditions which include:
At least 5 BTC must be deposited.

Only available for registered active players.

Bonuses trigger on the second, third and fourth deposits.

Users must consent to receive bonuses in the "take part in bonus offers" section of their accounts.

Bonuses for the 2nd, 3rd and 4th deposits are credited if each deposit amount is greater than or equal to the previous deposit.

The bonus must be rolled over before it can be claimed.
Other bonuses are available, and customers who sign up for the platform will be notified of the latest promotions by email. The Welcome Bonus was correct as of writing but may be updated periodically. To remain aware of current bonuses, visit the bonus page.
Mobile App
1xBit has a mobile app for users to access their favourite games and casinos on the go. The app has both Android and IOS versions.
Factors to Consider Before Using 1xBit
Fees and Costs
1xBit does not charge any fees for deposits or withdrawals, as these are usually transacted instantly in one of the 24 cryptocurrencies supported.
While there are no platform fees for deposits and withdrawals, sending a transaction with a blockchain costs network fees, with Bitcoin and Ethereum being the most expensive due to network congestion. In addition to network fees, some exchanges attached to the 1xBit platform may charge for their services.
Regulation and Security
1xBit is regulated in Curacao through the Curacao Internet Gaming Association (CIGA). While regulatory clarity around cryptocurrencies is improving rapidly, some restrictions remain in certain jurisdictions.
The online casino is available in most countries, and the platform employs market-leading security measures to safeguard customers' funds and data. There is even a hot desk to address users' concerns over platform security and a dedicated email for security issues [email protected]
Customer Support
To access customer support, click on the chat box at the bottom right corner of the screen. You should see a list of popular problems listed that you can click on to find more information. If your enquiry isn't listed, type it in the input box.
For serious cases, you can call a consultant or send an email to the support team. They usually respond within 24 hours.
How does 1xBit Compare to Other Crypto Betting Sites?
1xBit is a new generation betting platform that combines sports betting with an online casino and the ability to gamble with your favourite cryptocurrency. While it is one of the most reputable and established platforms in this rapidly growing industry, it is not the only one. If you would like to check out the alternatives, these online casinos are giving it a run for its money.
Is 1xBit Safe?
It is essential to check the credentials of any online casino before depositing real funds. 1xBit is one of the more established casinos, having been around for nearly five years, with a proven track record of servicing the needs of casino and sportsbook players.
Client testimonials on social media suggest a high level of satisfaction from players on the platform regarding platform security.
Cutting-edge security measures employed by the platform, such as SSL encryption, provide some reassurance that your funds and data are kept safe. Two-factor authentication is also available, and we recommend setting this up as an additional layer of security.
Does 1xBit Provide a Provably Fair Gaming System?
Some of the games on the platform are provably fair. At the time of press, there are five provably fair casino games listed under the "Provably Fair" section within Slots.
The platform features games from world-leading developers. Many of these games are fair by default and 1xBit has no control over the development process.
For games that aren't listed as provably fair, you may want to play them with a small stake first until you are comfortable with the process. Alternatively, you can check social media for games that people are playing.
Reasons to use 1xBit
Welcome Bonus
1xBit's welcome bonus is one of the most generous in the online gambling market. New users get up to a 100% deposit bonus subject to the terms listed above. If you trade up to 40x your initial deposit (minimum deposit is 0.001BTC) within the first 30 days, you get rewards potentially up to 7BTC. You also get rewards for your second, third, and fourth deposit, provided that each deposit is equal to or larger in value than the previous one.
Flexible Payment Methods
Thanks to crypto's decentralised nature, users can deposit from all over the world without regional financial restrictions. 1xBit supports deposits in 24 cryptos, and if you don't have crypto, you can use any of the fiat on-ramps to buy crypto on-site.
Regular Promotions and Bonuses
1xBit runs regular promotions and bonuses in addition to the welcome bonus. Some are game specific like sports and casino bonuses, while others are blanket bonuses applicable to your entire account. The platform also runs a promo code store where you can use bonus points to buy crypto, get more lucky wheel spins, get more turns or advantages in games, and much more.
How to Sign up with 1xBit
1. Register for an account
Click on the Registration icon at the top left side of the screen. Enter your email address, password, and promo code (if you have one) in the box provided. You will receive a verification email. Click on the button in the email to verify your email address.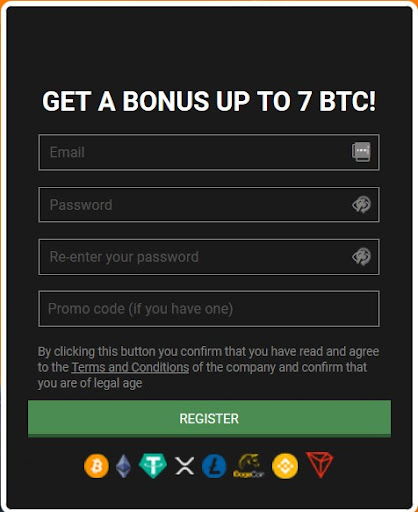 2. Pass KYC
Submit a government-issued ID and a proof of address document like a utility bill that clearly shows your name and address. However, you do not need to pass KYC to be able to deposit and withdraw from the platform.
3. Fund your account
Once your account is confirmed, you can deposit cryptocurrencies into it. Remember to consider transaction fees at this stage. Congested blockchain networks could extend the time it takes for your funds to get to your account. Also, blockchains like Ethereum currently have high processing fees, so ensure you're aware of the network situation of any crypto you send. Also, remember that the minimum deposit amount is the equivalent monetary value of 0.001BTC payable in any supported crypto.
4. Start playing
You can now place bets on games and events and play any of the 600 games on 1xBit.
Final Thoughts: Should You Play on 1xBit?
1xBit is an excellent option for anyone who wants the flexibility to play their favourite casino games and place bets on their favourite sports at the same place using their favourite cryptocurrency. We were impressed with the user interface which caters to experienced and novice players.
1xBit casino features a wide range of cryptocurrencies and industry-leading security measures like SSL encryption, suggesting a serious betting platform intent on securing its place in the rapidly growing crypto casino and crypto sportsbook markets.
The mobile app is available on both Android and IOS. It offers a more straightforward interface with great functionality, providing a convenient way to bet on the go.
We found the 24/7 customer support through live chat or email highly responsive. The sheer amount of games offered provides a great deal of choice for the sports buff and casino regular.
All in all, we would recommend 1xBit to both beginners and more experienced players.
Frequently Asked Questions
Yes. Betting on eSports is a rapidly growing segment of the gambling industry, with serious tournaments and commentary teams a growing trend. Betting lines are available for some of the popular games in the world right now like Fortnight.

The 1xBit platform has been translated into over 60 languages. However, customer support was only available in English at the time of writing. With cryptocurrency a nascent market, some countries are not supported by the platform due to a lack of regulatory clarity. The good news is if you can access the website you can play the games as unsupported countries are automatically geo-blocked.

Yes. The website is well laid out with the various betting markets clearly marked into sections. Navigating the site is intuitive and simple when you are searching for a particular game. The filter option is a great way to locate the game you want to play.

1xBit recognizes users have privacy concerns and wanted to streamline the sign-up process. That is why you can sign up to the platform without identity verification procedures like KYC.

Yes. 1xBIt features a loyalty program to reward active users of the platform.

When it comes to depositing to the 1xBit account, there are several linked crypto exchanges. This number will vary depending on what country you are residing in. It is probably more prudent to purchase your crypto before accessing the platform as we could not confirm exchange rates.
About Onose Enaholo
Title: Cryptocurrency Writer A fast-talking, fast-thinking writer with a background in finance, SEO writing, and data analysis. Onose is a huge crypto nerd with a passion for storytelling using facts and figures, a flair for witty newsletters, and desire to make crypto…
Read More
Company Information
Account Information