Start trading with Guarda Wallet
Over 45 major blockchains supported
Guarda Wallet Review 2022
Describing itself as a "simple and secure wallet", Guarda offers a host of features to users — staking users to earn passive income from their cryptocurrency holdings, making it an ideal platform for long term holders. It supports hundreds of digital assets, including Bitcoin, Ethereum and Tether. Also, it allows its users to be in complete control of their private keys, ensuring peace of mind from potential hack attacks that mean your holdings will be safe.
How to Set Up Your Guarda Wallet
1. Create your wallet: Setting up the wallet is really easy and simple. It has a user-friendly interface to make the process simple to follow. Go to the Guarda website and click "Create Web Wallet," you will then be taken to the next page to set up your password to access your wallet.
2. Set your password: Create a strong, unique password that you don't use elsewhere. The password will be used to decrypt your private keys and grant you access to your wallet — so make sure it's a strong password, then write it down on some paper and store it away safely.
3. Download a backup: Next, you will be asked to download a backup file. This will be a text file containing your private keys. You will need this to access your wallet, so make sure you keep it somewhere separate from your password to make sure your security is not compromised.
Pros & Cons
Pros
Dozens of cryptocurrencies supported
Passive income — through staking so your investments 'work' while held in the wallet
Multi-signature security measures to make accounts safe and secure
Compatible with hardware wallets, such as Ledger
Cons
Does not offer cold wallet storage for holdings
Multi-signature features are not automatically applied, users must apply these themselves
Have to pay additional fees if purchasing assets on the platform
Guarda Wallet Supported Crypto Coins
Supported coins include: Bitcoin, Ethereum, XRP, Bitcoin Cash, Bitcoin SV, Litecoin, EOS, Binance Coin, Cardano, Ethereum Classic, Tron, Stellar, Monero, Tezos, Dash, NEO, Zcash, Cosmos, NEM, VeChain, Dogecoin, QTUM, Ravencoin and Waves.
Bitcoin is the world's most popular cryptocurrency and has the largest value by market cap. As the first cryptocurrency, Bitcoin has established itself as an effective hedge against the wider economy in recent times.
Ethereum is number two and offers smart contracts that allow users to build applications, such as DeFi protocols, on the Ethereum blockchain. This has led to an explosion of DeFi projects recently that all use ETH to power their networks, which could make Ethereum a very much in-demand coin in the coming years.
Coins that can be staked through the wallet include: Tezos, Harmony, Cosmos, Callisto, Tron, EOS, Komodo.
The wallet offers special support to Zcash through its Shielded Wallet. This allows users to maintain all of the privacy features that Zcash (ZEC) offers while facilitating ease of payments and transfer of the security token. The crypto wallet was developed in collaboration with the Zcash development team to make sure that its zk-SNARK technology can still be used.
zk-SNARK technology works in a similar way to TOR browser and other onion encryptions. The information passed along the chain is safe and secure; receivers do not know where the transfer came from, and senders do not know where they will be sending the coins to. This makes the wallet ideal for theurity and privacy-conscious traders who do not want their purchasing data to be collected.
Guarda Wallet Compared
Guarda Wallet boasts a range of features, including the staking for your coins, the option for multi-sig security and support for all the top and current cryptocurrencies and tokens, including stablecoins, such as Tether.
Because the wallet is online, you can't lose or misplace it like a physical wallet, such as a Ledger — the wallet actually supports Ledger too, so it can be a great tool for transferring your holdings to an accessible place if you need to travel.
History of Guarda Wallet
Guarda launched its first wallet in 2017.
Initially, they offered individual wallets for each cryptocurrency — their first being an Ethereum (ETH) wallet — before launching the multi-compatible wallet they have today.
With a focus on privacy, the company says that they are committed to the ideals of blockchain and the protection of the personal data of their users.
In addition to this, the wallet has gradually improved its services, such as added web and mobile versions of the wallet, so users can access their holdings wherever they are.
In 2019, Binance CEO, CZ, gave a shout out to Guarda Wallet as one of the platforms that had offered support to Bianance's development "from the beginning". Binance is now the largest cryptocurrency exchange by traded volume in the world, so an endorsement from its CEO will have been a significant moment for the platform.
In addition, the crypto wallet received praise from many corners of the cryptocurrency community, establishing itself as an easy to use and versatile platform.
In 2022, Guarda Wallet offers a complete product that is easily accessible and secure to crypto traders around the world thanks to its remote capabilities.
Performance, Features and Functionality
Guarda Wallet offers:
Web Wallet - For using your browser to check on your holdings

Desktop Wallet - A built-in desktop app for managing your holdings more securely

Mobile Wallet - It also offers a mobile wallet so you can make purchases on the go. This mobile wallet is automatically synced with all of your other Guarda Wallets, so you can be sure of its safety features.

Shielded Wallet - This is an added feature that allows users to store and send their Zcash more securely. As Zcash is a privacy token, users sometimes have to go to lengths to make sure their transaction data is private. With the shielded wallet, users can store their Zcash on their android devices. The Shield Wallet was designed in collaboration with the developers of Zcash to ensure that zk-SNARK technology — Zcash's advanced verification system — could be integrated successfully.

Chrome Extension - Their chrome extension is a great addition to their list of products. The extension allows users to pay for things with crypto, such as gaming, social media purchases, micro-transactions and crypto projects such as crypto kitties. This is a useful feature for users who don't want to have to have to type out their private keys every time they wish to send a small transaction.
User Interface
Guarda Wallet's website is very well laid out and is one of the better ones we've seen in our reviews.
As seen in the screenshot below, to the left-hand side is the current balances for all the crypto coins and tokens that the wallet supports.
From here, users can easily send, receive and buy crypto coins, as well as see all of their balance history — a useful feature for traders who keep their profits in their wallet and off exchanges as much as possible to track where their trading strategy could be improved.
The crypto wallet also offers exchange features — spotted an altcoin that you think will rise soon? You can exchange some of your holdings in another cryptocurrency, such as Bitcoin, to ride the wave of technical or fundamental analysis you have anticipated.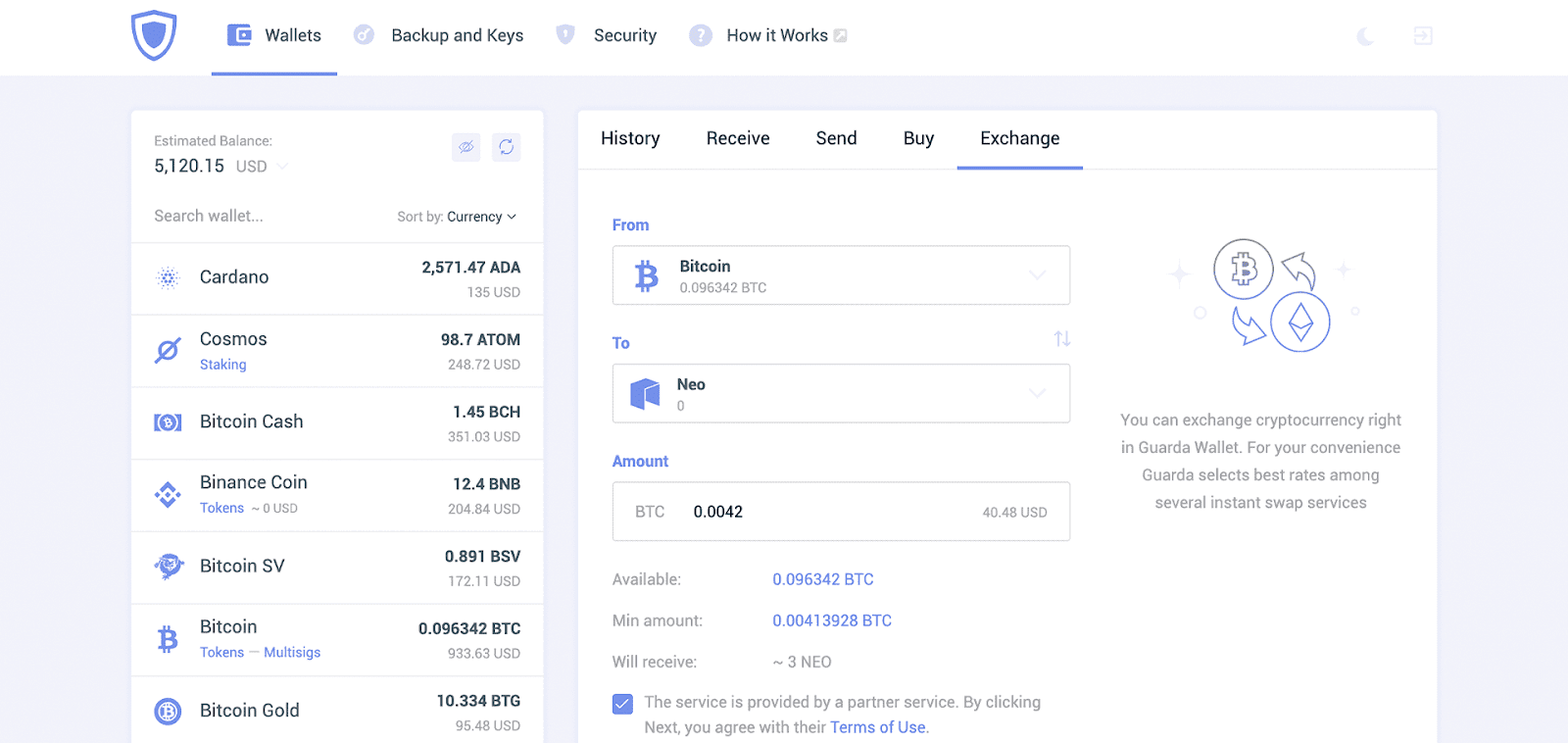 Is Guarda Wallet Safe?
The crypto wallet offers multi-sig security features, as well as private keys that are encrypted with a password that users set up when they sign up to the wallet.
In addition to this, when you sign up, Guarda sends a backup text file containing your encrypted private keys, so be sure to keep this safe on an offline storage device. You will need this key to access your account, so make sure you don't lose it. We would recommend keeping it on an offline hard drive separate from your main computer.
Although cold wallet storage is an objectively stronger security measure that the wallet doesn't have, its remote access features allow for greater flexibility which means you will always have access to your funds no matter where you are in the world.
It also boasts a number of security features for its add on products. Its Google Chrome extension does not have access to the main blockchain, keeping your funds safe from hackers attacking any vulnerabilities in your web browser.
How to Store Your Crypto Coins in Guarda Wallet
Storing your holdings in a cryptocurrency wallet is an important step for keeping your funds safe. Many traders keep their cryptocurrency on exchanges, but this is not advised. Sometimes cryptocurrency exchanges get hacked, such as Cryptotopia in 2019, where users can lose all of their funds in the process.
It is far smarter to keep your holdings in a secure wallet, such as Guarda Wallet.
It has the added advantage of offering cryptocurrency management and staking, which means your investments will continue to grow while you wait to cash out one day in the future.
How to Transfer Your Crypto Funds From/To Guarda Wallet
If you already own some crypto that is stored elsewhere, you will first need to go to the wallet 'Receive' tab. Take a note of the deposit address or copy it to your clipboard.
Then, go to wherever you have your coins stored and send them to your wallet's address, usually labelled as 'Withdraw'.
To send funds, you just reverse the steps above. Find the deposit address on where you would like to send your crypto, then go to the 'Send' tab in the wallet, enter the address and then input how much you would like to send.
Is Guarda Wallet for Me?
I'm a Beginner
If you are just looking for somewhere to keep your Bitcoin holdings while you learn more about trading and the world of cryptocurrencies, then it is a great option for beginners.
Thanks to its easy-to-use interface and encrypted private keys, the wallet has a good balance of security and accessibility for beginners who may be put off by entering long and complex private key strings.
As well as this, its staking for holdings means that users can earn passive income from their holdings while they wait for their investment to mature.
Coins that can be staked include: Tezos, Harmony, Cosmos, Callisto, Tron, EOS, Komodo.
Best of all, Guarda handles it all, so you can earn income from your holdings without lifting a finger!
I'm Advanced
The wallets features are also fantastic for more advanced users who have been in the crypto space for a while.
Thanks to its large offerings of supported coins, advanced users can store their coins, so they don't lose track of what they have in all of their wallets — here, everything is all in one place.
In addition to this, Guarda offers a host of other products and features, such as its Chrome Extension, that allows more advanced users to make easy payments using their digital assets.
Finally, their in-house purchasing and transferring tools make quick purchases possible for traders who like to keep a step ahead of the market and ride those famously volatile moves that are seen in the crypto market.
Fees and Costs
The wallet is free to access and use.
This makes it an invaluable resource for those just starting out in crypto investing or for those that want to keep their overheads low.
There are, of course, transaction/miner fees that are incurred for purchasing and sending cryptocurrency transactions, but these are very cheap in comparison to similar money transferring services that use traditional fiat currencies.
The wallet does charge some fees for making purchases using their in-house purchasing platform, but they are relatively low and will only cost a fraction of your total purchase. These fees are paid to Guarda's exchange partners that charge commissions.
If users wish to avoid this, they can make purchases elsewhere if they find a cheaper service and then transfer to their wallet address.
Final Thoughts
Very often, a great crypto wallet is defined as combining a good user interface with advanced features.
Guarda Wallet's interface manages to balance the two important elements of being intuitive, as well as brimming with numerous features.
The wallet offers support for dozens of crypto coins, tokens and stablecoins, making it an excellent place to store one's crypto investments for the long term. Stablecoin support is incredibly useful, as it allows investors to store the equivalent value of fiat currency in a place that is safe from the reaches of banks and financial institutions.
In short, the wallet is an inexpensive storage mechanism for traders' cryptocurrency that encourages long term holding of assets through its use of staking to reward long term investment strategies. Long term investment requires a great deal of patience, so Guarda Wallets solution is to offer observable benefits to those holding crypto for months, or even years, at a time.
Frequently Asked Questions
Staking is a reward paid to users for their holdings. The reason this money is paid is to make sure there is enough liquidity spread out on the network to keep it safe from 51% attacks. It works a bit like when a bank pays interest on the funds held in account; the bank invests your money and pays you a cut of what they earned. However, with interest rates having been at historic lows for over a decade, investors are looking for new ways to earn passive income from their savings, such as staking cryptocurrencies.

The wallet is free to access and use. This makes it a great option for beginners and those who want to keep their costs low and do not wish to buy a cold wallet storage device.

When you sign up you will be sent a backup text file containing encryption to your private keys. You will need this key to access your wallet, so make sure you keep it safe! Never share this TXT file with anyone, even members of the Guarda team.

To change the password of your wallet you will need to go to the upper left corner of the homepage and click on 'settings' and then 'password'. Bear in mind that you will need your old password to create a new one. Make sure you keep a copy of your password and make sure it is unique to this wallet in case you are hacked on another platform.

On the wallet's home page you can see a list of all your held cryptocurrencies. By clicking on the 'History' tab, you can see your transaction history to keep track of your funds. You can also use the 'Exchange' tab to transfer your holdings into different coins if you wish to do so.
About Alice Leetham
Title: Crypto Content Writer. Alice is part of the content team at CoinJournal, writing accessible and educational pieces on a range of crypto topics. Before joining the team, she was a freelance crypto writer, producing news articles, reviews, and copy for…
Read More
Company Information
Company Name: Guarda Wallet